All marketers want to know how to get their content circulating, and may even hope to have it go viral. But what causes viral growth and viral content?
We may all have slightly different definitions for 'viral content', and that's okay. We can all agree, however, that viral content means content that is well shared. And that is the goal of many marketers, like myself.
Our team is always looking for ways to get our content out there and recognized. We wanted to learn what others are doing to get their content shared, liked, retweeted, etc. We found some great examples along the way, those are included too!
We wanted to pinpoint what aspects make content go viral, here's what we found.
Here's what we found
We put out a short survey that included a scaled question, multiple choice, and fill in the blank. We received 68 total responses.
We had respondents from 15 different industry types give us feedback.
Video GIFS are the most effective at becoming viral
We asked a question in which we wanted people to rate the effectiveness of different types of content in becoming viral.
Each content type had a rating scale of 1-5. Video GIFS were rated number 5 more than any other type of content. The second best type was memes.
63% of marketers feel Video/GIFS are the most effective at becoming viral content.
Webinars were voted to be the least effective and were scored with a 1 more than any other type of content.
35% of marketers said webinars were the least effective at becoming viral content.
Here's how the scale system panned out.  Each number on the x-axis represents the number on the rating scale. Each color bar represents a specific type of content.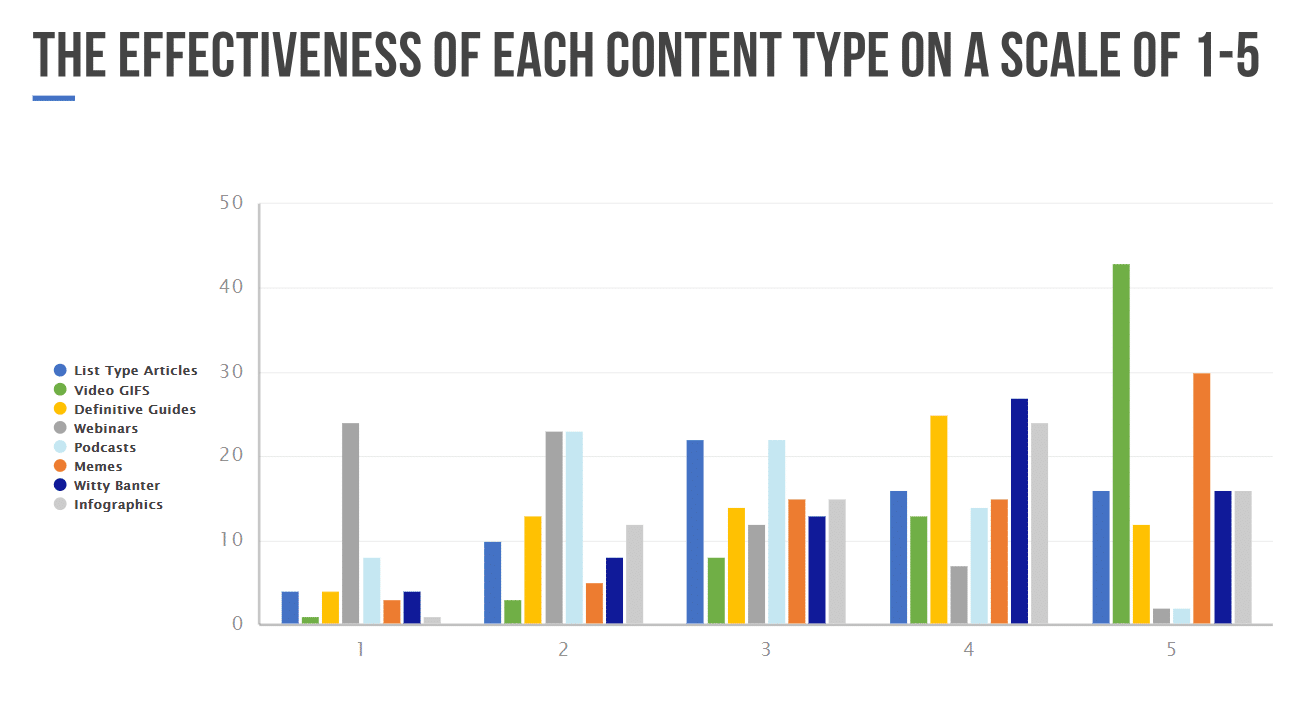 Let's take a look at the highest rated and lowest rated items more closely. If we look at video GIFs by itself, we can see that it was consistently chosen to be more effective at getting content to become viral as each number rating grew in its favor.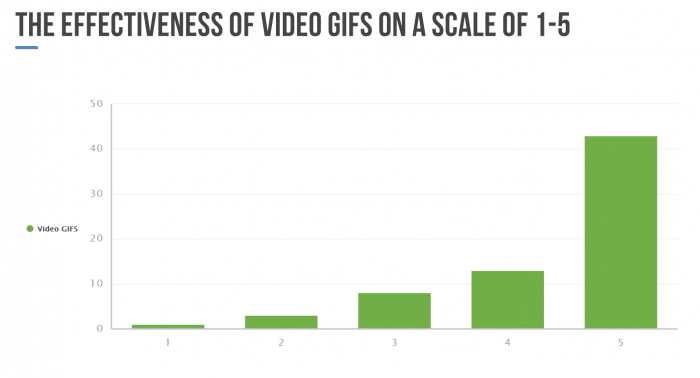 Webinars, on the other hand, were more consistently rated lower on the scale.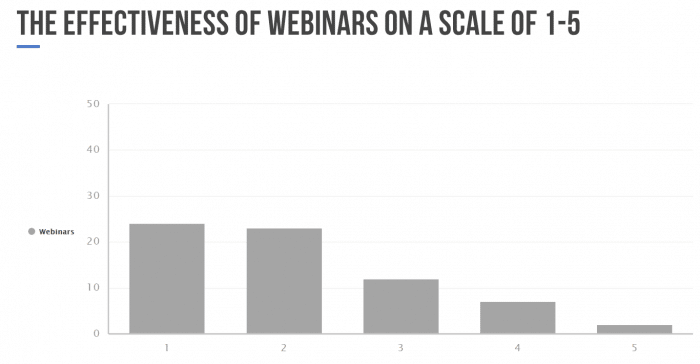 Social media advertising is believed to help the most in creating viral content
We asked: Do you believe any of these items can help aid in the viral growth of content?
75% of respondents selected social media advertising as one of the most effective ways content becomes viral.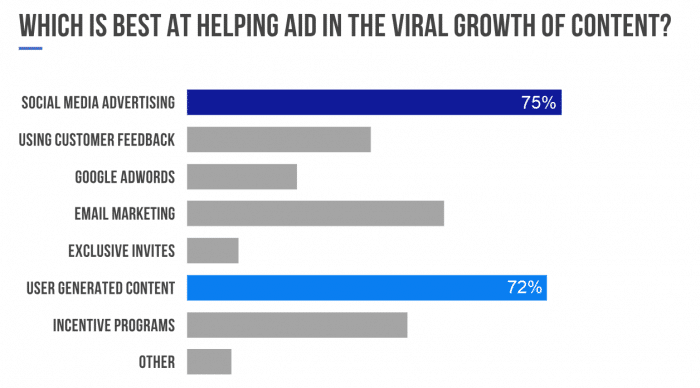 Following that, 72% of marketers felt that user-generated content can help lead to viral content.
There were a few options that were added (those labeled other), which included optimizing SEO, using social media amplifiers, and even using controversy in posts.
Interestingly, all respondents who mentioned they were from an enterprise type business said that user-generated content was helping in making content go viral. No other industry type had agreed on items all the way across the board. Though some other options did come close.
Tips for creating viral content
Most people associate viral content with funny memes and videos. Alex Birkett from HubSpot mentions "Virality has a muddy definition, and I think a lot of people would consider viral content to be Buzzfeed-style content (easily digestible, sensationalist, and slightly silly)".
But it doesn't have to be just that. He goes on to say that "we can narrow the scope of virality to include content that is widely shared in a given community". Alex mentions Pudding.cool's essay on rapper' vocabulary is a great example of this."Data visualization and data journalism are becoming increasingly popular, and because it is a novel style, it is easier to make this stuff go viral. It's just impressive, and the reader experience is excellent".
Let's dive into what has worked in making content go viral.
1. Create Interesting content
Interesting content is shareable content. Mckinzie Bean from Moms Make Cents explains how a popular Facebook profile, Kitchen Fun With My 3 Sons, has perfected their strategy on posting "shareable" content.
She explains, "They post lots of memes and videos that will elicit a response whether it be a comment or share". Because of the type of content, she says "This gets the Facebook algorithm to share their content to a much higher percentage of their audience". She adds, "their page has now grown to over 7 million likes and almost every one of their posts get thousands of likes and shares".
Try something visually appealing
Reuben Yonatan from GetVoIP mentions how infographics can be great viral content. He mentions that Visual.ly has been doing a great job. "they do an incredible job of infographic-led viral content. For example, I had never seen 3D imagery pulled into an infographic before this one". The 3D aspect adds an extra appeal!
Use drama or humor
Dramatic content can create virality. In fact, drama often is what gets people talking the most.  Roman Rabinovich from Eventige Media Group brings up a great example of how 'drama' steers people to interest. "I respect the creativity of the TNT 'Add Drama' viral campaign".
If you haven't seen it, it really does add the 'drama' and piques interest in everyone around.
Like drama, humor works too. Charlie Worrall from Imaginaire Digital talks about the very viral 'Charlie bit my finger' video which was both cute and funny.
He says "This became a viral sensation in the UK and I can say, from experience no one has ever forgotten it".  In fact, the video was such a viral hit that,  "even years after it's release when I started my current job, the first thing my colleagues did was welcome me, get me settled and then came the 'Ouch Charlie'".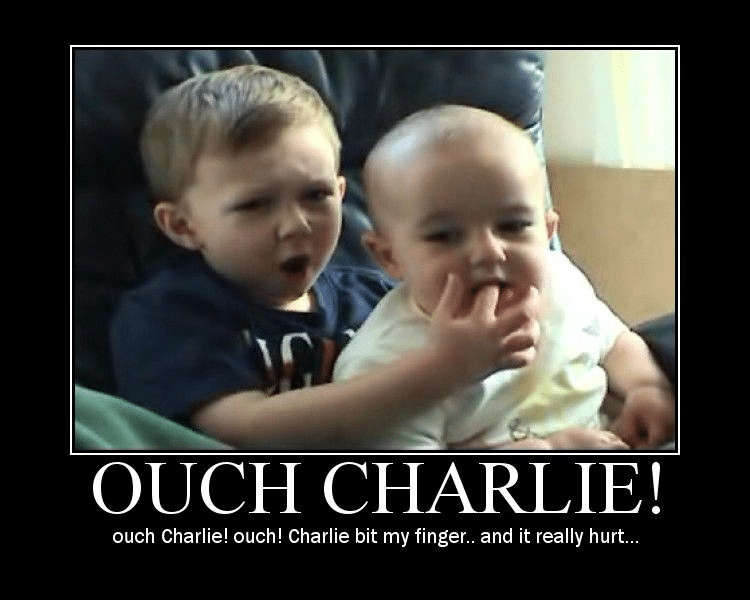 Use emotion in your content
Viral content doesn't always have to be just funny or dramatic. Content that tugs at emotions can achieve the same thing.
Sadi Khan from  RunRepeat says "People share stuff that evokes powerful emotions like awe, anxiety, fear, or joy".
Creating content that makes someone feel some type of way can actually get them to share it. For example, by adding a positive element or "ego-bait" as mentioned by Sadi, and picking the right angle, you can provoke virality to happen in a specific group. Sadi mentions, "We have had quite some success with our studies. For example, the analysis of marathon finishing times to prove women are better runners than men".
2. Get a celebrity behind you
No matter how big or small a brand is, a celebrity endorsement can take it to the next level. Celebrities can reach their following and turn their fans onto the products and brands they use.
A celebrity endorsement can help you take the cake. This is why many brands rely on them to send a message. Matt Erickson, Marketing Director at National Positions, brings up Nike in this viral campaigns blog. Nike has used many famous athletes in the past, including Serena Williams in their Dream Crazier campaign, which went viral – and for good reason. Erickson said, "The campaign encouraged girls and women to dream bigger and 'crazier,' and since it was backed by an influential female athlete, it got the attention it desired (and deserved) and made a huge splash."
Volen Vulkov from Enhancv explains that they have had some viral success by getting endorsements for their campaigns, like this one. "We got endorsements from the likes of Mark Cuban and were seen by more than 2-3 Million people just from Linkedin".
But celebrity endorsements can be even bigger. Alex Membrillo from Cardinal SEO Company mentions DirecTV and Rob Lowe's campaign and how it went viral and is still memorable today.
Alex says "In 2014, DirecTV launched videos introducing Rob Lowe and an alter ego version of Rob Lowe who had cable TV". Though DirecTV is big on it's own, pairing with Rob made it even bigger, especially since the content created was funny.
"The content was funny and clever, making it the perfect type of content to go viral". Because the commercials were funny, "Memes from the commercials also went viral on social media". Like the one from Super Bowl XLIX.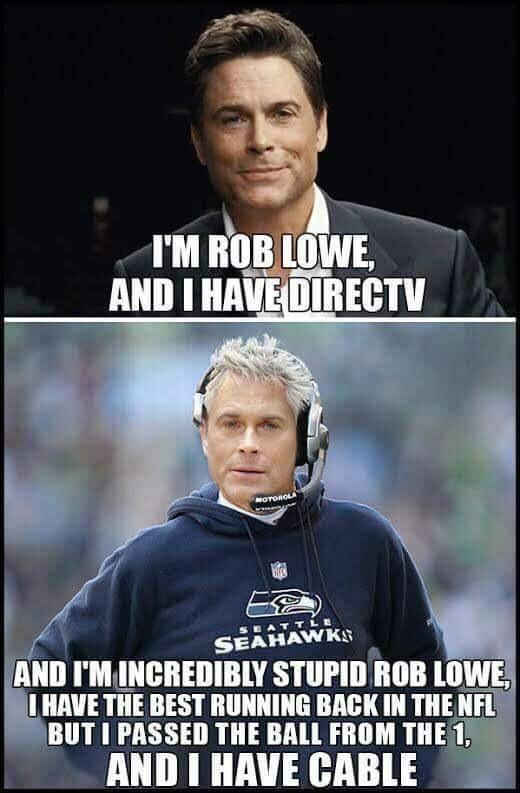 Or try getting a niche expert
There are also those people who hit big in their niche and everything from then on out becomes viral content. Expert in business development Nate Masterson from Maple Holistics talks about Neil Patel, who has really made quite a name for himself. "Nearly everything Neil Patel publishes online becomes a sensation".
Nate says, "The marketing guru has garnered over 5 million backlinks, ranks for close to 1 million organic keywords, and regularly has over 100 thousand views on his videos. In addition to mastering short-form video and long-form written content, Patel has earned one of the most devoted followings in the business world".
And it's true, Many marketers would love to be mentioned by Patel because there is a good chance of being exposed to such a large following.
3. Try user-generated content
Getting people to create content for you or about you is also one of the best ways to increase your reach and brand awareness. These types of campaigns can also lend to creating viral content.
Shawn Pillar from Juicer explains how they "hit a home run with viral branding at Juicer". Shockingly they didn't have to do anything crazy or gimmicky either. "We created a "Free Forever" plan for our social media aggregator website plugin".
But, with a free-forever plan, there has to be a catch, right? Well, sort of. "The only catch is that the free plan comes with our logo displayed in the corner of the feed". But if you think about it, that's a genius way to become viral! Shawn says "Now our brand is displayed across thousands of websites".
Logan Allec from Money Done Right also talks about the perks of using user-generated content to go viral. "User-generated content is an incredible, and often free, way of going viral".
And your chances of having your content blow up is even easier than ever. Logan talks about how one brand uses influencers to hit their target market. "More and more people want to be seen as "influencers," even if they're not compensated, and one brand that has really capitalized on this trend is ASOS with its #AsSeenOnMe campaign".
The campaign was a big success and became a trending topic on Instagram. "This campaign has resulted in over 1,000,000 #AsSeenOnMe posts on Instagram alone featuring ASOS' latest looks".
4. Raise awareness of an issue or topic
Numesko's and 10 baby Things Catherine Nichol talks about how shining a light on an issue in society can create an impacting campaign which can lead it to produce viral content.
"Procter and Gamble is a great company that often produces content that goes viral. They often also tackle issues that plague the society in the best possible way and educate the masses to do good, to be good".
Catherine talks about the 'My Black is Beautiful' campaign. "One particular advert from it stood out and became the subject of the much-needed discussion on racism by portraying heart-wrenching conversations between the parents and children of color about their rights and how they should not tolerate unfair treatment simply based on how they looked".
Another way to create content that goes viral is to talk about a topic that many people experience, but don't often talk about.
James Pollard from TheAdvisorCoach.com talks about an article about anxiety and depression that was shared on Medium.
"It was the most shared article on Medium in 2018 because it generated over 540,000 shares".
He says, "The topic was It's fascinating because it's just a guy sharing his experience about living with depression and anxiety. I think it did so well because he shared a vulnerability with the world and a lot of people can relate to him".
By shining light on issues in our society and topics that people can relate but are too afraid to talk about, you can create motion and that can lead to a ton of word of mouth.
5. Provoke engagement
Another thing that makes content go viral is by creating engaging content. Gregory Heilers from Jolly Content discusses how Josh Fechter (formerly head of BAMF) creates guides and gets people to engage via his Facebook group.
Gregory mentions "you will routinely see dozens of people inside the G Doc guides he shares–for weeks afterward–simple, yet generates huge impact".
The best way he further creates viral content is by allowing others to join in on his discussion. "And, he doesn't monopolize the floor. If other users can add value to the group, he allows them to post. Their content gets similar engagement (if it merits)".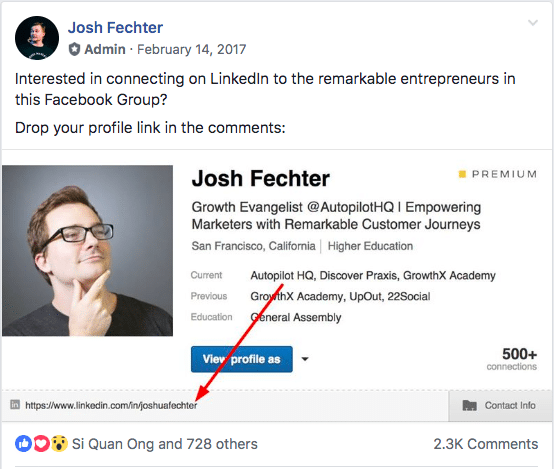 Strong opinions can create quite the fiasco!
Matthew Ross from The Slumber Yard discusses how Barstool Sports creates its viral content. "You may not agree with their opinions and form of comedy but their content evokes emotion and engages viewers".
But how do they do it? "They pick topics that are often hot button issues and take a hard stance one way or the other".
Because they go all in on their stance, "individuals on both sides of the fence engage and get emotional".
Matthew mentions "I've never seen a more loyal and fierce following. For example, the company got its followers to donate more than $50,000 in less than 10 hours."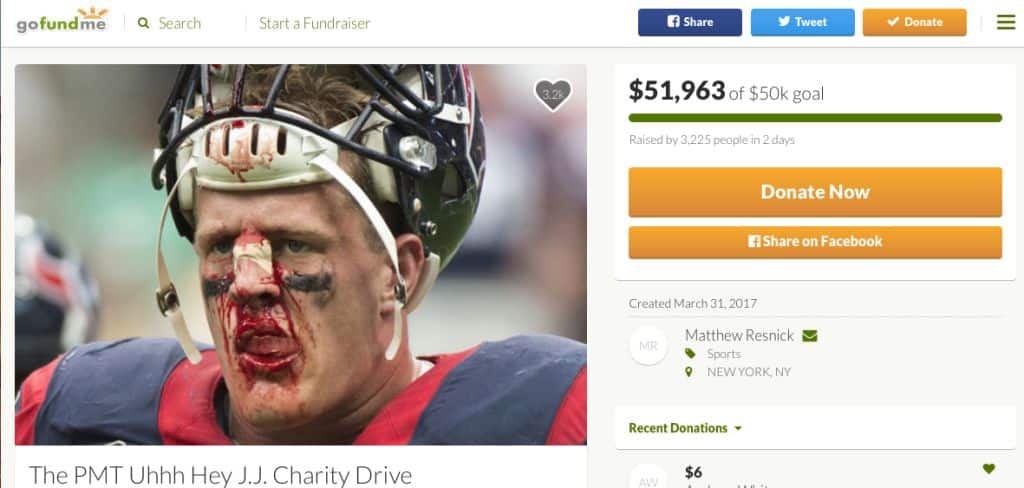 Giveaways are great for provoking engagement
One of the easiest ways to create viral content is to create engagement from a grand giveaway. Stacy Caprio founder of Accelerated Growth Marketing discusses how Instagram paired with a giveaway can generate a lot of followers.
Stacy mentions how Elisabeth Rioux an Instagram marketer has built her two businesses and has 1.8 million followers. Stacy goes on to talk about how Elisabeth generates her viral content, "She does repost giveaways that seem to generate a lot of traction and bring new followers to her brands and I have never seen anyone with as good a viral track record as she has".
Examples of businesses who have mastered virality
We've already talked about a few businesses who have created content that has gone viral. But now we're going to discuss a few brands that have a track record of creating viral content.
For example, The ever popular Wendy's Fast Food chain is also well known for its roasts. So much, in fact, they a National Roast Day. "Wendy's Twitter game is legendary", says Beth Cooper of KNB Communications (view their article on behaviors that help your content go viral).
Let's dive into some more brands who have viral success.
Old Spice
As soon as someone says Old Spice, you can probably picture the voice and the man on the horse.
Roger Maftean from Zety says "The Wieden+Kennedy Old Spice 'The Man Your Man Could Smell Like' Campaign was absolutely phenomenal".
The campaign worked because it accomplished two things. "It appealed to women but got men to buy it as well, using comments and questions posted on social media platforms".
To put some numbers to this viral campaign, "The campaign gave Old Spice nearly 1,000 percent increase in Twitter followers, so it was massively successful".
Anu Ramani from Isoline Communications mentions how Old Spice relaunch in 2010 went above and beyond what was expected. "The amazing, terrific, hilarious Old Spice relaunch in 2010 was my seminal example of a viral campaign that succeeded even beyond the creators' own dreams".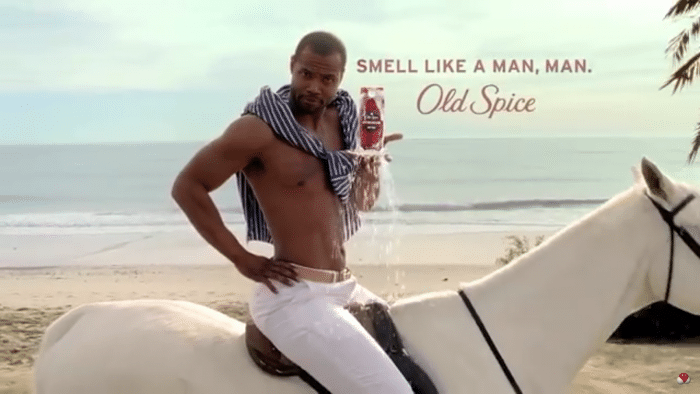 The ALS Association
Viral videos can come every once in a blue moon. But the ALS Ice Bucket challenge was in itself a viral sensation.
Avinash Chandra from BrandLoom talks about how the ice bucket challenge initially started "by a Boston College alumnus it later became a worldwide success after it was associated with ALS Therapy Development Institute".  It was so popular that "the viral challenge raised 115 million dollars within a short time for search into ALS.
Jakub Kliszczak from CrazyCall mentions that the viral challenge has reached celebrities. Which most can consider the ultimate form of user-generated content. "They've managed to create a viral challenge that reached the top-of-the-top influencers and celebrities including ex-USA president, billionaires such as Bill Gates, and the most famous sportsmen such as Lionel Messi and Cristiano Ronaldo".
Leo Friedman from iPromo explains "Social media can be a catalyst for viral content". He says "The ALS Ice Bucket Challenge took social media by storm and was one of the most viral campaigns with over 17 million participants".
"Visibility and awareness were created for the brand through multiple marketing channels". It also helped that numerous celebrities joined in on the challenge. "Having celebrities such as Oprah, Bill Gates, and Tom Cruise participate made the campaign a viral worldwide success".
Dollar Shave Club
"Average attention span of a person is 8-10 second on internet" Affan Vohra from BestVPN.co  reminds us. And if you don't gain attention in that time, you might miss out on the viral effect."Dollar Shave Club is a Top of the Mind brand with respect to video viral content".
Affan says "Viral content can be created or uniquely curated as well. It has to follow a trend or create a trend of its own like Dollar Shave Club".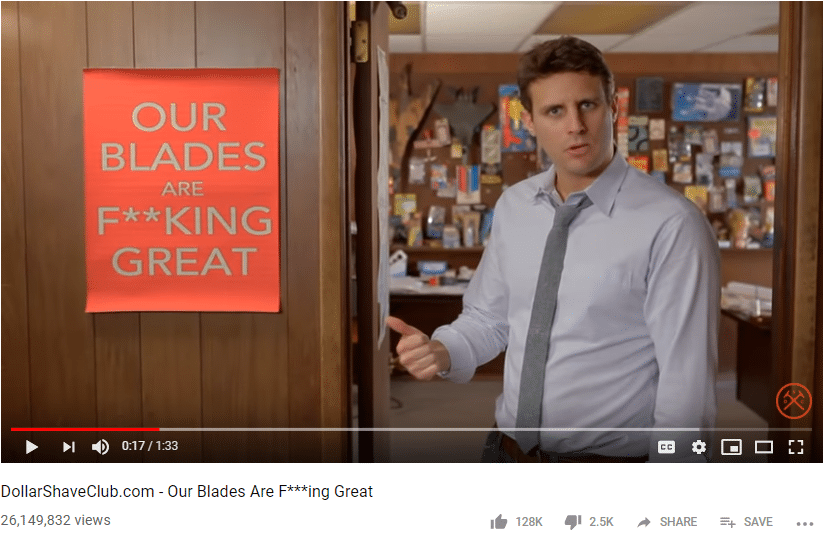 Dave Bowden from Irreverent Gent explains that in his niche of men's style and grooming Dollar Shave Club has hit the mark. "I still marvel at is the "Our Blades are F*cking Great" video from Dollar Shave Club".
Dave explains that they tapped into the market with a new concept. "When it debuted in 2012, the concept of cheaper, direct-delivered blades was foreign to most people". Pairing that with humor, gave them an appeal to many people, creating that viral effect.
"They brilliantly used humor to introduce the company, explain its business model, and endear themselves to their target market. And it worked: Within a few days the video had been viewed more than 3 million times, and Dollar Shave Club immediately became the leader in the direct-to-consumer blades market".
Kentucky Fried Chicken (KFC)
KFC has tried numerous humorous tactics for creating a stir. And quite a few of their campaigns have gone viral.
Paige Arnof-Fenn from Mavens & Moguls talks about how KFC got people talking about them their #KFCcrisis. She says "Kentucky Fried Chicken crisis: I thought it was brilliant how they positioned it, the humor was spot on and it made their point and got people talking about them in a crowded category".
Chris Smith, I Am Net Worthy mentions that "KFC always has awesome campaigns that go viral". He provides good insight saying "The key here is including your customer and follower base".
He brings up his favorite KFC content "my favorite is that they followed 6 people named Herb and 5 spice girls". You know to represent the 11 herbs and spices they are known for. Chris mentions that the person who figured it out was rewarded too. "They sent a portrait to the person that figured it out". Here is more on the KFC campaign. You see that after it caught on, people were cheering for KFC's marketing team.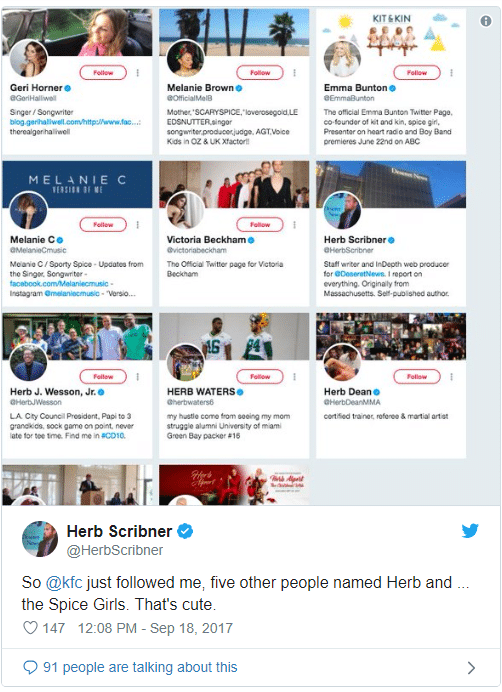 He mentions "The takeaway here is to include your audience. They are on your team and want to see you succeed. Build off of their love for your product and watch your fun stunts go viral".
Coca-Cola
Coca-Cola is one of those names that people recognize and know. It's been around forever and already has taken the cake among its beverage competitors. For example, people may just say they want a coke when ordering a soda.
But that hasn't stopped them from creating viral marketing campaigns. Aaina Bajaj from Signity Solutions mentions "In recent times, I feel Coca-Cola Brand has done great viral content marketing".
"Their "Share a Coke" Campaign is quite successful".  And it's still active today, as people are still creating UGC and sharing their images of them holding a coke with their name on it. And Coca-Cola has had so much success with this campaign they have actually used it to market new audiences.
For example, in the Coke Store, you can order custom bottles for special occasions.

Burger King
Burger King is one of those brands that everyone knows of already, but still pumps out content that becomes viral. Whether it be a quick tweet or a funny commercial, they know how to keep a customer's attention.
David Reischer from LegalAdvice.com Corp hits the nail on the head, "Burger King fast-food chain has very cheeky advertisements that are humorous, witty and represent the brand well".
Nicolas Straut from Fundera says "Burger King is currently the king of social media virality". He explains "On top of viral social media feuds with other brands, they've deployed campaigns like their funnel cake fries effort where they liked celebrity tweets from 2010 in order for the celebrities to tweet about it".
That is pretty funny, but the kicker is, "Burger King finally tweeted: some things from 2010 are worth revisiting—like your old tweets. and funnel cake fries. get them now for a limited time".
This campaign gained a lot of traction and caused quite a stir. "This low-effort campaign even earned them a video by Casey Neistat who is normally paid by brands like Mercedes and Samsung to make videos".
Marvel Entertainment
Most people can name a Marvel superhero, which should give you insight into how popular the brand is. With each new movie they make, viral content appears.
Jason Thibault from Massive Kontent says "Marvel Entertainment has impressed me the most in 2019".
"They're releasing Avengers: Endgame—arguably the largest movie ever made—at the end of April". That alone could get fans up a roaring. Just one month before the movie debuts they started a campaign. "On March 26th Marvel launched their viral '1 Month Countdown #AvengersEndgame' campaign".
"Dozens of 'Avenge the Fallen' images got posted across all of the star's Instagram, Facebook and Twitter accounts". This content was well received by its fans. Jason mentions " By the end of the day, the posts had received millions of likes, comments & shares making it one of the largest one-day viral social campaigns ever launched".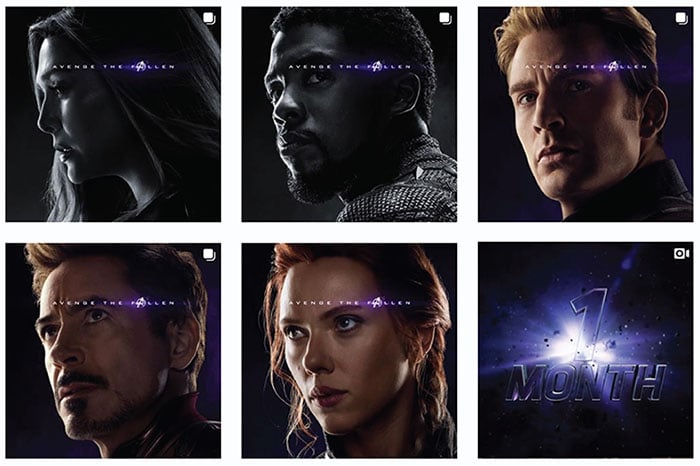 Nike
One of the most famous sports brands out there is Nike. Part of it is their product, the other part is marketing. Between viral campaigns and famous endorsements, there is no shortage of content.
Alayna Pehrson from Best Company says "Nike creates high-quality videos showing their products in action". She says "Obviously, this type of content is meant to get more people to purchase their products, however, it also is something that often goes viral".
Alayna brings up the latest campaign the "Dream Crazier" video. "This video got millions of views. I noticed it incorporated emotion, a powerful message, and had a clear target audience". Watch the Dream Crazier video here.
Ventures attached to a well-known name
Sometimes content the goes viral happens because it's based on or produced by a well-liked brand. Ollie Smith ExpertSure mentions how Rip Curl a popular surfing company, has created an online publication. "Their online publication known as 'The Search' has generated more than 2 million Facebook followers through its viral content".
Rip Curl's fans and customers are into surfing, so by creating a publication to go along with their existing fan base, they have been able to hit a sweet spot. "It records the search for big waves, features great photography and stories – all from surfers. In my view, it is the ultimate viral success".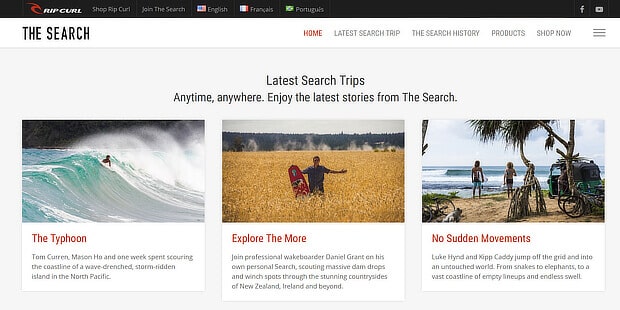 McCall Robison from Best Company mentions another way an already well-known business can branch out and create content based on other popular brands and events.
She mentions how Hootsuite, the popular social media managing platform, created a video that played on the popular tv show Game of Thrones. "Their video "Game of Social Thrones" went viral because it piggybacked off of a trendy television show that is always getting a lot of buzz".
She says  "Hootsuite made their content marketing campaign into a video that was similar to the opening of every "Game of Thrones" episode. It elicited interest because it was familiar to Hootsuite's intended audience but it was also innovative and intriguing in a way that showcased Hootsuite and what it has to offer".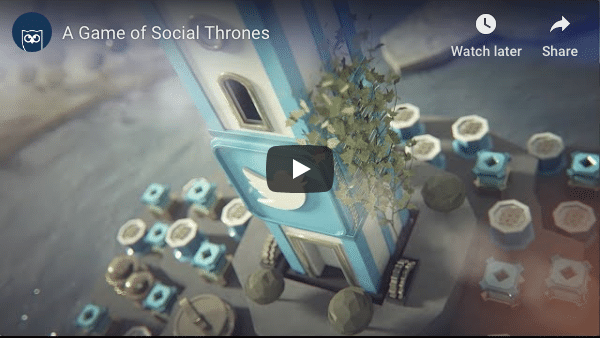 What makes content go viral?
So what makes content go viral? Well, it can be a variety of things. Most people use humor or emotion to elicit sharing. Which is why videos and memes are so often shared. They can help capture both the message and quick wit that people enjoy and like to share with others. You may find that reoptimizing content can also go a long way.
As it pans out, videos, GIFS, and social media advertising are well-loved and for good reason. These all seem to play a role in what makes content go viral. People love sharing funny and interesting video type content. And brands can help boost it by social media ads.
Get notified every time we post new roundup surveys