Agile marketing gives businesses an opportunity to achieve many objectives, within a short period, at a much faster rate without sacrificing efficacy and quality.
Companies that are truly agile enjoy continuous rapid growth, are more prepared to solve both internal and external problems, and enjoy more satisfied employees. And digital technologies have made it even easier to become agile.
Everyone wants to be agile, but are you really leveraging agile marketing? Or are you far from being agile? To find out, you'll first need to know the answer to this important question – exactly what is agile marketing?
What is agile marketing?
Agile marketing is a data-driven marketing approach that:
Constantly looks for and works on problems, solutions, and opportunities in real-time, using data and analytics
Rapidly runs many tests at once and evaluates results
Satisfies customers through the rapid solving of problems
Is able to support running many campaigns at once, and can address several new ideas weekly, when executed well
Relies on real-time metrics rather than opinions and guessing
Focuses on collaboration across the organization
Expects, welcomes, and quickly responds to change
Lets changes and the response to those changes guide marketing decisions, rather than always sticking to an immovable plan
According to Agile Marketing, "the goals of agile marketing are to improve the speed, predictability, transparency, and adaptability to change of the marketing function."
If you want to make your marketing processes more agile, and need inspiration, take a look at how IT and software development teams function. Agile marketing takes inspiration from the software development process. Developers use this method to rapidly develop usable products and bring them to market. Often a team of developers come up with development objectives over a certain amount of time, maybe a week or two. Each member of the team is tasked on a few items. At the end of the set time or once the project is complete, a review is done to gauge certain metrics.
Similar to the software development method described above, agile marketing is a tactical approach where teams identify and fully focus their collective efforts on high-value projects. These teams complete projects cooperatively, measure their impact, and improve the results over time, in a continual and incremental way.
To finish the projects cooperatively, teams use a process known as "sprints."
After each sprint, they measure the impact of the projects.
Then, they continuously and incrementally improve the results over time. So, the agile marketing process operates in a loop or cycle.
Whether a project was valuable or not, agile marketing embraces failure so long it comes with lessons and produces future potentially powerful projects. In other words, failing is a valuable tool, as long as a team doesn't fail the same way more than once!
One note: many marketing teams embrace parts of agile marketing strategies and think that they're becoming more agile. However, to truly become agile, you need to go all-in, and fully refine your marketing strategy to align with agile marketing principles.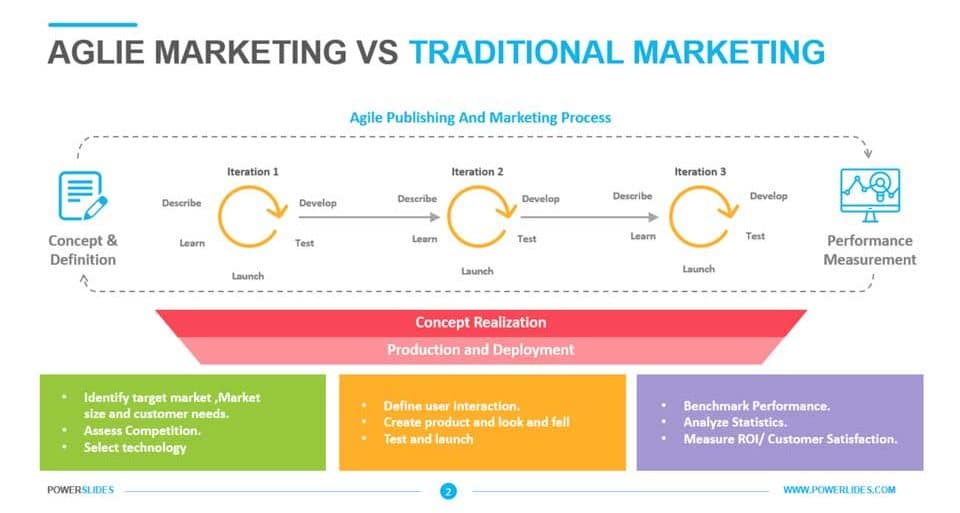 Benefits of agile marketing
Agile marketing has many advantages to leverage. Here are the top benefits of agile marketing:
Agile marketing requires a clear focus:  Once you decide you want to accomplish a goal, all your efforts are focused on that objective. Different strategies are tested over time to see which one works best.
Agile marketing lets you get the most out of your team: Agile marketing allows teams to respond to change in a timely manner. The ability of a team to adjust to new changes after testing iterations allows companies to get the most out of their teams.
Agile marketing creates consistent growth: As mentioned above, agile marketing is driven by analytics. This makes it possible to develop reliable marketing strategies, backed by real-time data rather than blind guesses. If looking to improve conversion through SEO content, for example, you'll find ways to improve your content to boost conversion, based on the data you collect.
Agile marketing produces clear results: Looking to increase your revenue? According to research by McKinsey & Company, companies that have shifted to an Agile marketing methodology see their revenue increase 20–40%. Why is this the case? The fast sprints and frequent interactions that are integral to agile marketing allow teams to gauge their performance regularly. Why cling to approaches that don't get you real results? By building performance indicators into their strategy, agile marketing teams can measure progress. (You could also look into performance marketing).
Agile marketing vs. traditional marketing
There are many other reasons why shifting to agile marketing is worth it. A traditional marketing approach, where projects follow a rigid and linear timeline, often results in projects taking forever before completion. In contrast, the agile approach makes it simple for teams to complete similar projects in sprints hence resulting in better results. Let's highlight how agile marketing offers distinct advantages over traditional marketing
Agile marketing is collaborative: The agile approach allows teams to work together to achieve a common goal. Every member of the team contributes actively to the success of the project. Basically, agile marketing eliminates the traditional hierarchies and silos that often result in projects taking much longer to complete.
Agile marketing is fast-paced: Agile marketing makes it easier to split huge projects into short sprints of 2–6 weeks. During those sprints, teams meet, and each member goes over what they did and what they plan to do. And during the frequent stand-up meetings, challenges are addressed, new goals are set and progress measured, to keep the sprints on track.
Agile marketing is driven by analytics and testing: Agile marketing is driven by real-time data analytics to continuously source promising opportunities or solutions to problems in real time, deploying tests quickly, evaluating the results, and rapidly iterating. For example, in content marketing, you can rely on real-time data to see how your content is performing. Analyzing that data make it simple to make the necessary adjustments on time.
Agile marketing is rapidly iterative: This allows teams to make changes to content already produced. That is when the agile approach is used in content marketing. New versions of content are developed that boost performance and as well as address customer needs.
Agile marketing features
Let's have a look at key features that every team must consider in agile marketing implementation.
Sprint: This is the length of time given to a team to complete its current projects. Often, this ranges from two to six weeks.
Teamwork: In the agile framework, every member of the team has to contribute even when one of the members own the project.

For example, a marketing project can first be segmented into different tasks: a landing page, ad campaign, content creation, and so on.
Next, these tasks are carried out simultaneously by different team members.
Then, eventually, the team will review and make adjustments to the strategies based on the lessons learned.

Board to track project progress: There has to be a centralized way to track your sprint that everyone has access to. It can be a software (like Asana, Monday, Trello, or ProofHub), whiteboard, or anything else that will help you track progress.
Stand up meetings: Every day, a team needs to have a brief meeting.

During this meeting, each team member goes over what they did the previous day, what they plan to do that day, and the challenges they may have encountered.
Also, the team identifies any issues and roadblocks that are preventing them from meeting their sprint goals. These challenges are addressed before the session ends
The daily stand-up meeting helps smooth out most obstacles, such as emails going out late because someone is sick.
This approach makes sure each team member is up-to-date on projects and progress, keeping everyone on the same page.
The agile framework
The agile framework is made up of seven main components, starting in a linear fashion but quickly turning into a cyclical model.
Strategy: Begin by setting your goals for the project. First, you'll need to audit your current tactics. For example, if you plan to focus on content, find out what value your audience gets from your content and what they're still seeking. Analyzing your current strategies and tactics helps you see what is working and not working for you.
Launch:  Release a launchpad website (and/or another launchpad campaign, like a social media page) as early as you can, and make sure it is live. This will quickly enable your business to start gathering performance data you can use for redesigning. A launchpad website is easy to create. It is possible to have one ready in less than a month, compared to the time needed to build one the traditional way.
Continuous improvement: Based on the data you collect about the performance of the launchpad site, your team will be able to identify necessary improvements to make during sprints. Remember to compare your results with the goals you set during the strategy stage.

Plan-Build-Learn-Transfer (cycle of continuous improvement): For iterative development and continuous improvement, you must repeat this cycle: plan, build, learn, transfer.

Plan: Determine what you want to fulfill during your sprints. It is during this process you pick items from your wish list.
Build: Build the launchpad by completing your tasks. Remember to include ways of collecting your performance metrics.
Learn: Review the data from your tests to see what is working for you and what is not.
Transfer: Finally, share the information gathered after your current launch stage, so your team can decide what adjustments to make in the next iteration.

The agile marketing process
To achieve continuous improvement, marketing teams need to follow the Agile marketing process by continually setting up goals and accomplishing targeted tasks.
SMART Goals: The agile process depends on the setting of SMART goals:  specific, measurable, achievable, relevant and timely. Goals must be prioritized and revisited in future iterations.
Journey mapping: You have to keep your prospects on long-term goals. Mapping out a long-term marketing strategy with future goals and tasks ensures your team stays on track.
Key performance indicators (KPIs): It is crucial to come up with KPIs that you will work with as you test your launchpad. KPIs let you know what you need to adjust in the subsequent iteration.
Personas: Developing descriptions of your ideal audience members will guide the development of content and features in your launchpad.
Sprint: The agile process is like a sprint, not a marathon. Sprints are quick and short bursts of activity that enable your team to make a website or other campaign live in a matter of weeks.
Jobs to be done (JTBD): JTBD is a list of tasks that need to be completed. These tasks are compiled during frequent meetings. JTBD will also include wish list tasks that you need to save for a future time.
Common agile marketing myths
Below are two agile marketing myths you are more likely to encounter in your journey to agility.
Myth #1: Agile marketing is just scrum.

Fact:  Not all agile teams use scrum, so equating agile with scrum is a big mistake. Scrum is one way to be agile, but not the only way. And based on a 2016 survey of over 800 marketers, scrum is the least popular agile methodology. Clearly, going agile does not necessarily mean using scrum.

Myth #2: Agile is anti-planning.

Fact: This is simply not true. Agile marketing includes planning, requires planning and embraces planning. In other words, agile planning requires a strategic vision as well as short-, medium-, and long-term marketing plans. The strategy is just more adaptable to changes than traditional marketing is.
Conclusion
As the marketing landscape continues to change and traditional marketing approaches become less important each day, it is crucial for businesses to be prepared for the future (you may even look into a digital marketing agency for help). For businesses that want real, rapid results, the future is agile marketing. Ready to take advantage of the new possibilities agile marketing offers? It is not too late to get started.