Guest Post
Izaak Crook is the Content Marketing Manager at
AppInstitute
, a SaaS App Builder platform that allows anyone to create their own iOS and Android app without writing a single line of code.
"Content builds relationships. Relationships build trust. Trust drives revenue."—Andrew Davis. Touted as the 2nd most influential content marketer in the world, Andrew Davis sure knows what he is talking about. The quote perfectly sums up the marketing scene at the moment. Now more than ever, consumers are demanding quality content before committing to a brand.
Businesses and brands have devised several ways of communicating this content to the consumers. From social media, word of mouth, to blogs and websites. Key among them, however, are mobile apps.
Statista predicts that by the end of 2018, the number of mobile users will reach 4.93 billion. Another study indicates that of the total time spent by adults on mobile phones, 90% is spent on mobile apps.
For a business or marketer, such numbers reveal how prime a channel mobile apps are for marketing purposes. They are capable of allowing a brand to reach millions of people who spend an average of five hours per day on their phone.
How can a brand do this though? How can a business leverage mobile apps for a successful marketing strategy that will convert to revenue?
1. Develop a Mobile App That Adds Value to Your Consumer
There are two ways of marketing your product using mobile apps; using an already established app that belongs to someone else or creating your own.

When using someone's app, then you buy an advert space and every time a consumer uses the app, they can see your advert somewhere on the app. While this is perfectly fine, most users find numerous advertisements on an app annoying and they end up ignoring them. Also, advertising your product on someone's app is very limiting because there are useful strategies such as push notifications that are lost to you because you are not the official publisher of the app.
The idea, therefore, is to develop your own app. Note, however, that you have to be extremely careful when developing the app. Consumers can see through a hastily crafted mobile app meant only for advertising. As mentioned above, content is everything. Consumers want an app that adds value to their lives.
Example of an App That Adds Value to Users
Charmin SitorSquat is an app that allows users to find nearby restrooms whenever they are traveling. Users are able to rate a restroom as sit if it was good, or squat if they did not like it. Users can also add restrooms to the database while tagging restrooms with special amenities such as a baby changing table.
When it comes to advertising, there is a very tastefully done reference to the Charmin toilet paper. With an estimated 7.2 million searches across online and mobile platforms since its launch, you can bet most of the users doing the searches are using the Charmin toilet paper.
Lesson?
Develop an app that is not only an advertising channel but one that adds immense value to your users' daily lives. Users will not only trust your brand more; they will feel indebted and in turn, ensure your brand is their first choice.
2. Use Push Notifications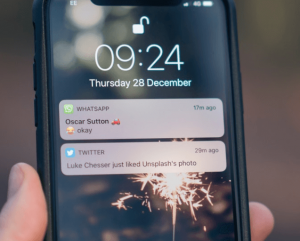 The first thing to note is that you can only use push notifications if you are the official publisher of a mobile app.
A push notification allows a publisher to send a message that will pop up on the mobile device prompting a user to take a certain action. For example, an online store app can send a push notification informing users of an ongoing flash sale and prompt the user to click and find out which items are on sale.
Push notifications have three key benefits.
The user doesn't have to be using the app to see the notification. They appear more as an SMS or mobile alerts and the publisher can send them anytime.
Push notifications are difficult to ignore. Unlike emails which can go unopened or end up as spam, push notifications cannot. Statistics actually state that push notifications have a twice as high click-through rate compared to emails.
Push notifications improve the overall user experience, something a user always appreciates and even if they are not customers yet, they can be easily converted.
3. Use The Mobile App to Leverage Loyalty Programs
Reputable reports and statistics tell us it costs five to twenty-five times more to acquire a new customer and that 67% of existing customers spend more than new customers.
With that in mind, it is clear that holding on to existing customers is vital for any brand. Loyalty schemes are meant to reward customers who are willing to work with a particular brand again and again. By doing so, the customer feels appreciated and he/she becomes more inclined to stick with the brand longer.
There are various ways to initiate a loyalty program. A point system, for instance, where frequent clients earn points that they can redeem for certain products.
Using a mobile app is a great way to personalize loyalty programs and make them more valuable to a user. A brand can send personal notifications whenever a customer's points qualify them for the redeeming of a particularly valuable product or service.
Such loyalty programs not only prove to the customer that the brand cares, they also demonstrate a brand's willingness to ensure the relationship with the consumer continues.
4. Use The Mobile to Improve User Experience
There are more than two million mobile apps in the various stores. That means your app must be valuable enough that the customer is not tempted to uninstall it. The only way to do this is to ensure you improve the user's experience.
Make it easier for a user to order a service or product via the mobile app. Based on the user's previous purchase, make it a point to inform them whenever a new product they might be interested in becomes available.
Whenever you do this, you are slowly cultivating a customer who will stick with your brand for life.
Ultimately, Please Remember
Mobile App marketing is not a strategy that can work on its own. It requires that you integrate the app with your other marketing strategies.
For instance, your app will need a marketing campaign, preferably through social media, to bring it to people's attention. Your app also needs to be connected to a content-full website or blog that allows potential customers to learn more about your product.
When you consider SEO, no matter how amazing your app is, if the customer cannot find you on Google when doing further research, they will be inclined to trust you less.
So, use mobile apps for your marketing, but do so in conjunction with other marketing strategies for best results.