Interactive content can help you get up to five times more page views. (Yes, five times!) On top of that, it's great at helping marketers stand out from the competition, educate prospects, and much more.
Why?
Not only is interactive content visually appealing to look at, but visitors can interact with it too. No wonder, this type of content is one of 2021's content marketing trends to follow.
Plan on creating more interactive content yourself? Dive in as we share 10 brilliant examples to inspire you.
What is interactive content?
Before we get into the ways marketers are using interactive content, let's establish a definition of what this type of content is.
Interactive content is a specialized form of content that invites readers to interact and engage with the piece. Most interactive content still focuses on a specific topic, but invites reader participation to derive personalized outcomes.
Popular examples of interactive content include calculators, quizzes,  assessments, dynamic infographics, and videos. While this usually requires more resources to create, it gives readers a memorable experience unique to your brand or website.
How 43 marketers use interactive content
We wanted to start by learning about what sort of interactive content other pro marketers are using for their site. Our first question, therefore, is what types of interactive content are being published today?
It turns out polls/surveys and quizzes are the most popular form of interactive content that 42% and 40% of marketers use, respectively.
Data visualizations ranks third, with 33% of the marketers leveraging it. Another 28% also use clickable infographics, and 23% employ web tools to help visitors accomplish a task.
Other commonly used types of interactive content include assessments, calculators, interactive ebooks, real-time product recommendations, and others you can see in the chart below.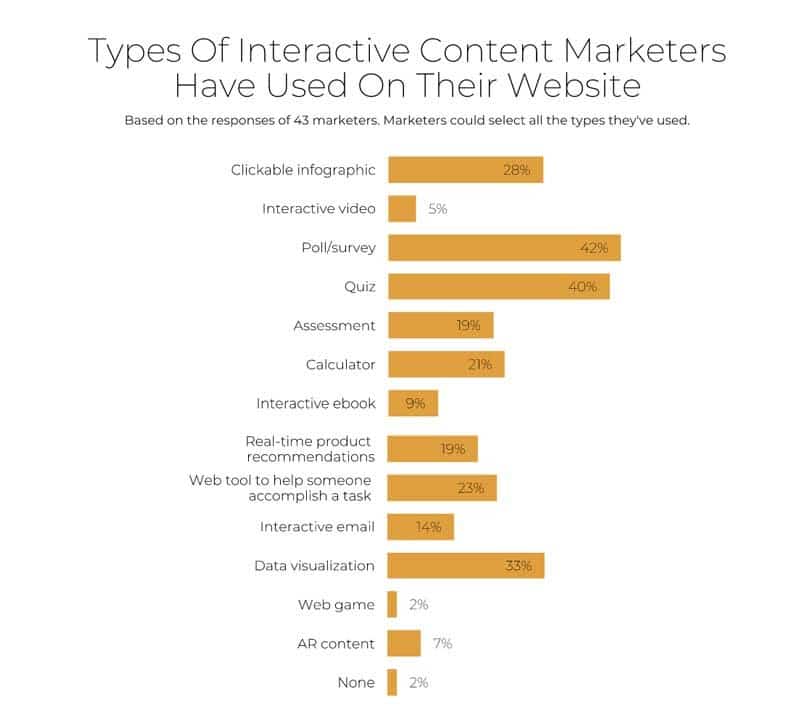 Next, we inquired about how effective interactive content is for them, and got some interesting takeaways. On a scale of 1-10 (where 10 is the most effective):
Content marketers think interactive content stands at an 8.53 for engaging prospective customers.
In comparison, marketers gave in-depth but static content a 6.21 for engaging prospects.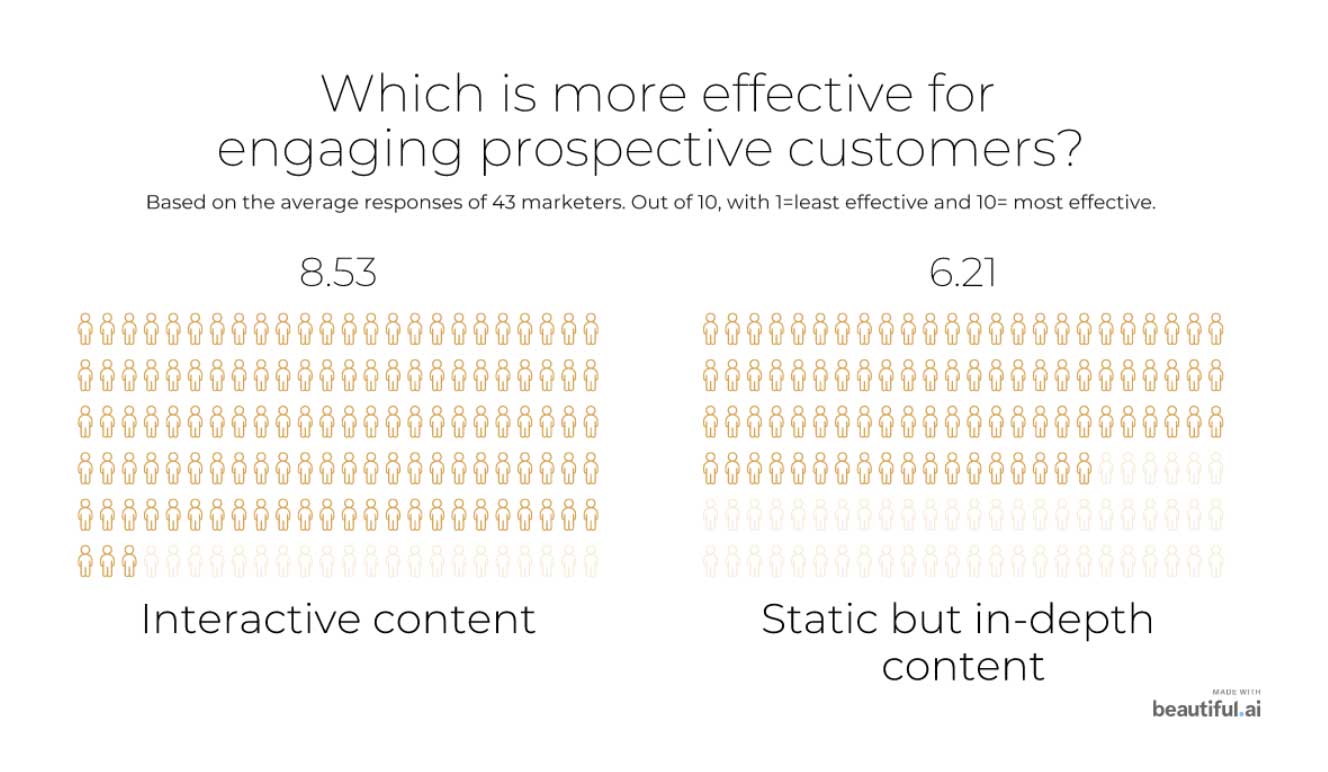 Another question we asked was about how effective interactive and static content are for educating prospects. Again, on a scale of 1-10:
Marketers gave interactive content an 8.37 for educating prospective customers.
They gave 7 to in-depth but static content for educating prospective customers.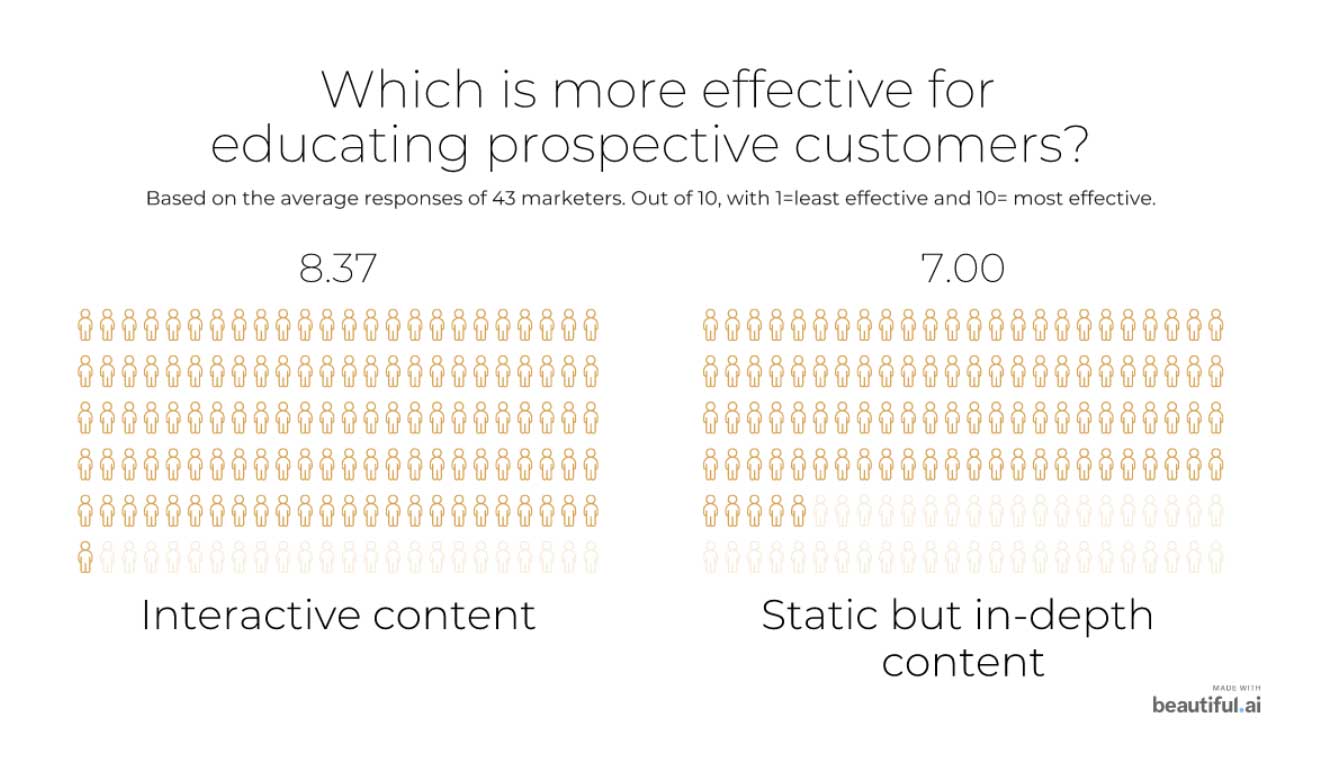 Another purpose content serves is convincing people to take action, such as filling out a lead generation form. Naturally, we asked about it too. Here, on a scale of 1 to 10:
Marketers rated interactive content at 7.7 for convincing someone to fill a lead gen form.
Marketers gave in-depth but static content a 5.91 for convincing someone to fill a lead gen form.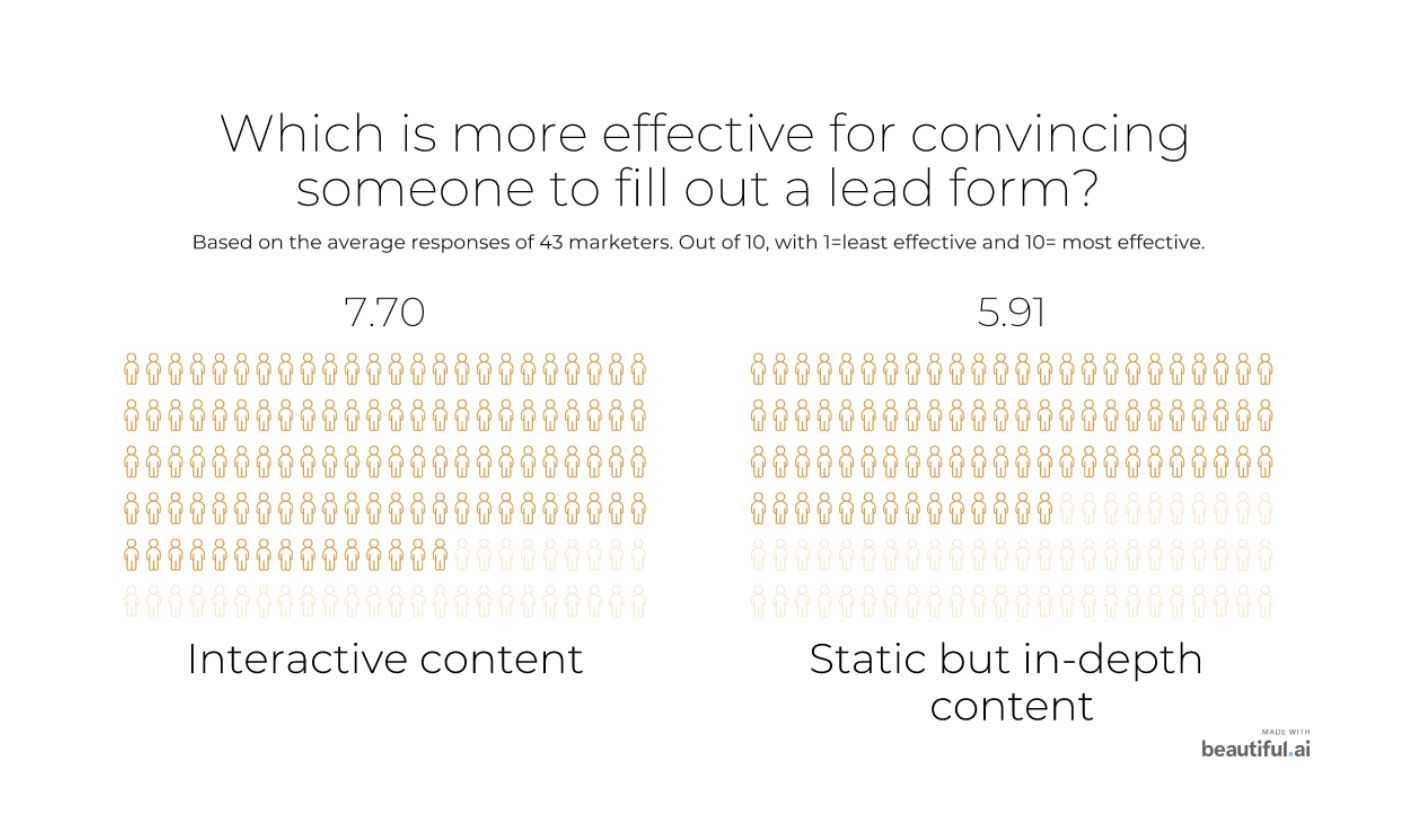 Lastly, we asked about how interactive and static content compared to each other when it came to nurturing qualified leads. Here's what they had to say:
Marketers rated interactive content at 7.53 for nurturing qualified leads.
Marketers gave in-depth but static content a 6 for nurturing qualified leads.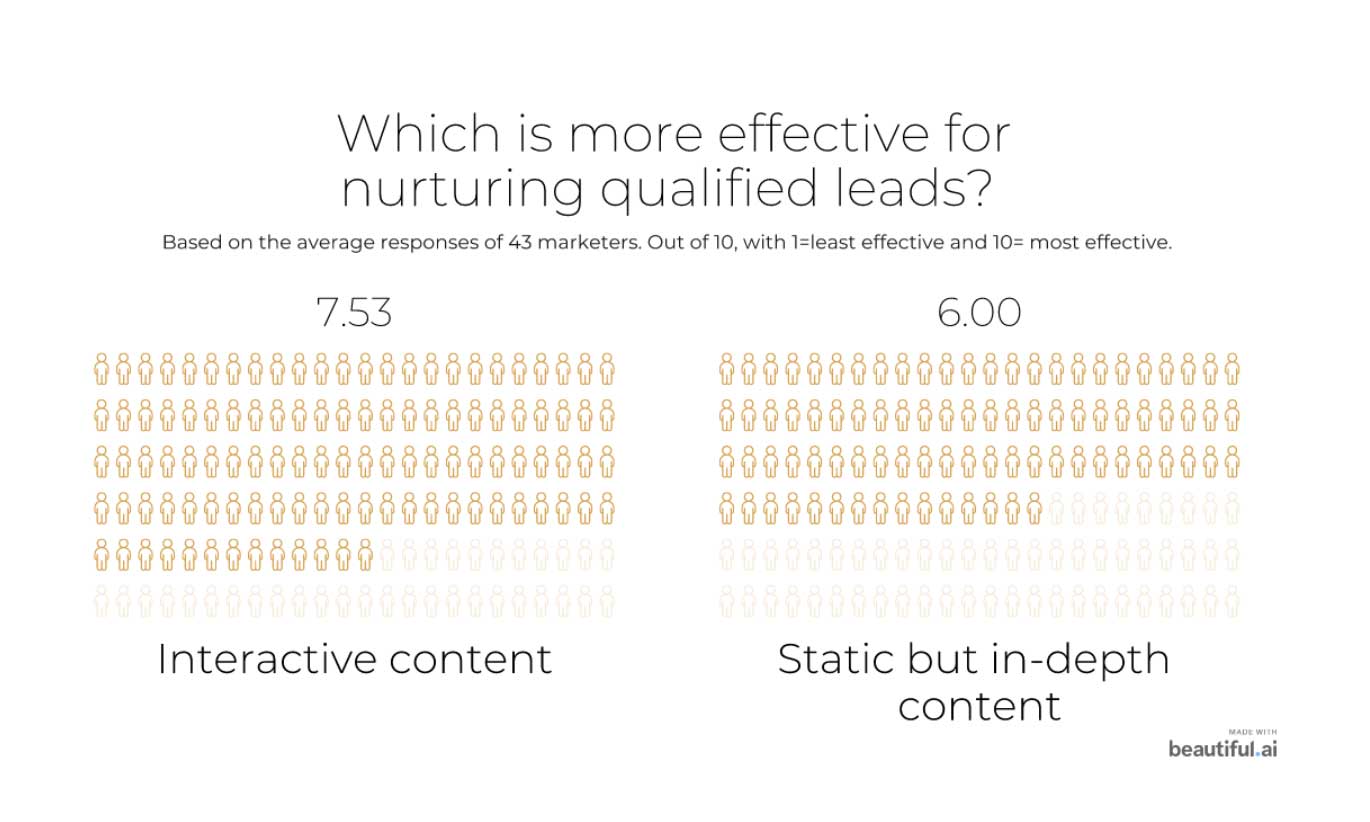 Interested in exploring more ways to generate leads other than leveraging interactive content? Here are top lead generation strategies shared by 54 experts.
10 interactive content examples to check for instant inspiration
Convinced you need to create more interactive content for your business? Here are ten examples to inspire you:
1. The Washington Post's solar eclipse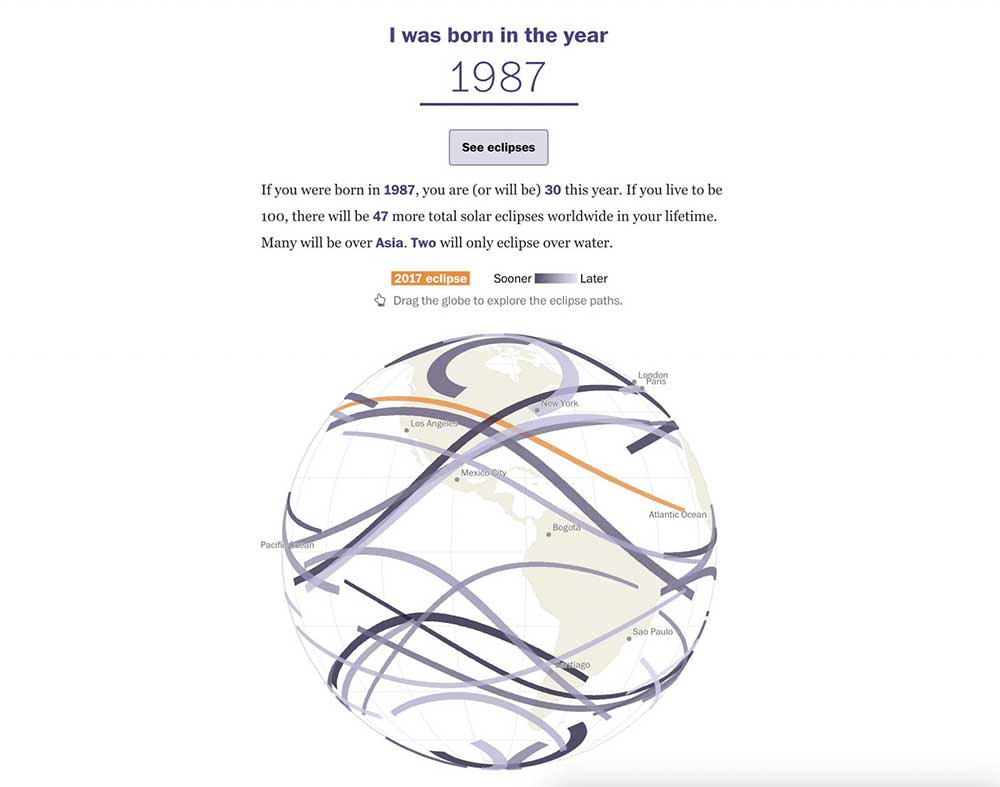 "Complicated things like astronomical phenomena are difficult to understand," notes Nozzle's Boyd Norwood. And it's exactly the reason why this piece of interactive content is such a hit – it makes it easy to understand something complicated.
Not only does it make things easy but also turns them into "an exciting and understandable visual form" in Norwood's words. "Also, the calculator above it is effective because it engages its users on a personal level; it tells them something about themselves and people like that."
2. Unicef's COVID-19 quiz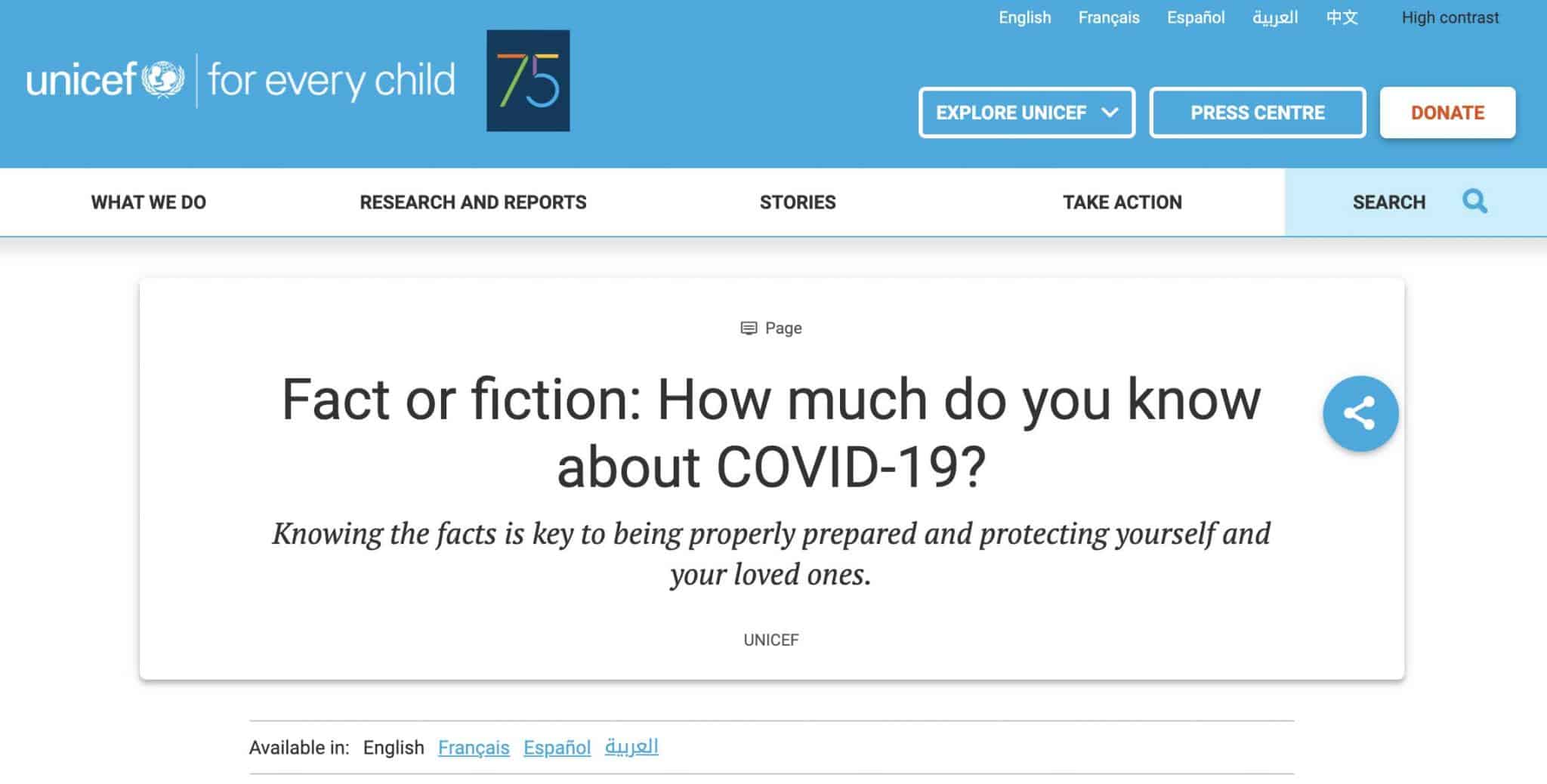 This interactive content makes it simple to verify information. When it comes to stressful situations, false information is bound to fly around. But the fact-or-fiction quiz helps filter reality from rumor/false information.
As Francesca Nicasio from Payment Depot explains, "Everybody's worried about the pandemic and there's a lot of conflicting information that has people confused. Unicef using their reputation as a trusted organization and an interactive quiz to sort out what's true and what's not is brilliant."
3. Information is Beautiful's Hollywood film breakdown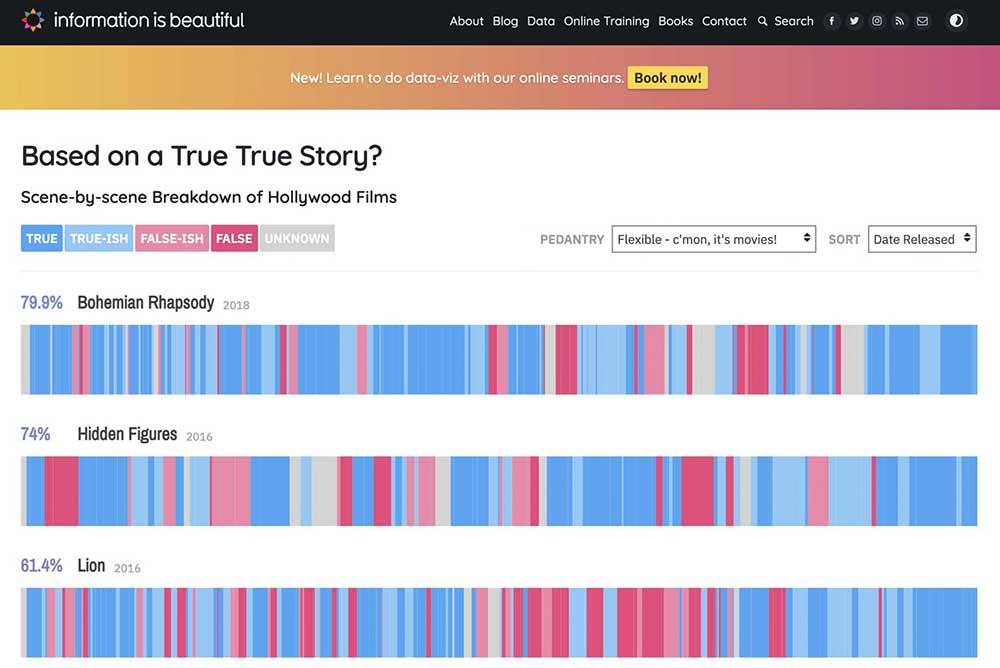 Another example of a winning interaction content example is shared by Jonathan Frey of Urban Bikes Direct. "This interactive piece shows just how historically accurate certain reality-based movies are, providing a continuous visualization of every scene.
"Aside from the engaging visual design that compels you to lean and in and absorb the breakdown analysis, my favorite aspect is how it gives the user the ability to set their own level of 'pedantry,' depending on how much slack they want to cut movies for taking some artistic license with factual events. It's fun for everyone – especially movie nerds like me."
Talk about pairing fun with audience engagement!
4. Netflix's interactive shows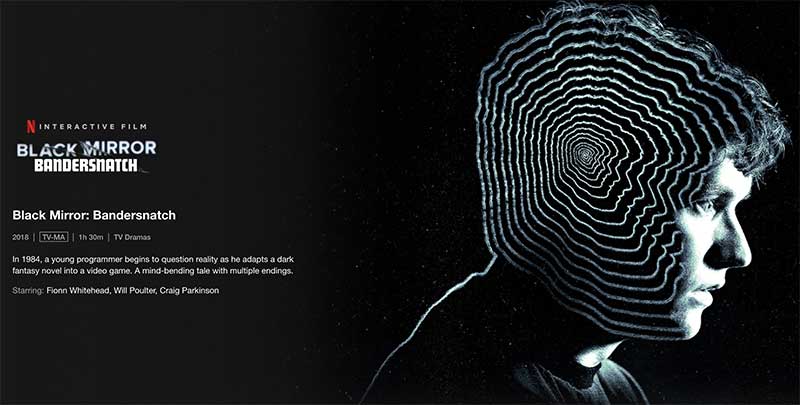 "Here, people are offered various choices at some crucial moments, and the story progresses accordingly," says GoodFirms' Nathan Sebastian.
"After extensive research, Netflix started pushing the boundaries of storytelling with the children's content first. Later, 'Bandersnatch,' Black Mirror's live-action interactive spinoff for adults, came as the first big success with the format. I know of people who've watched the episode again and again with all the possible endings!"
5. 16Personalities' personality test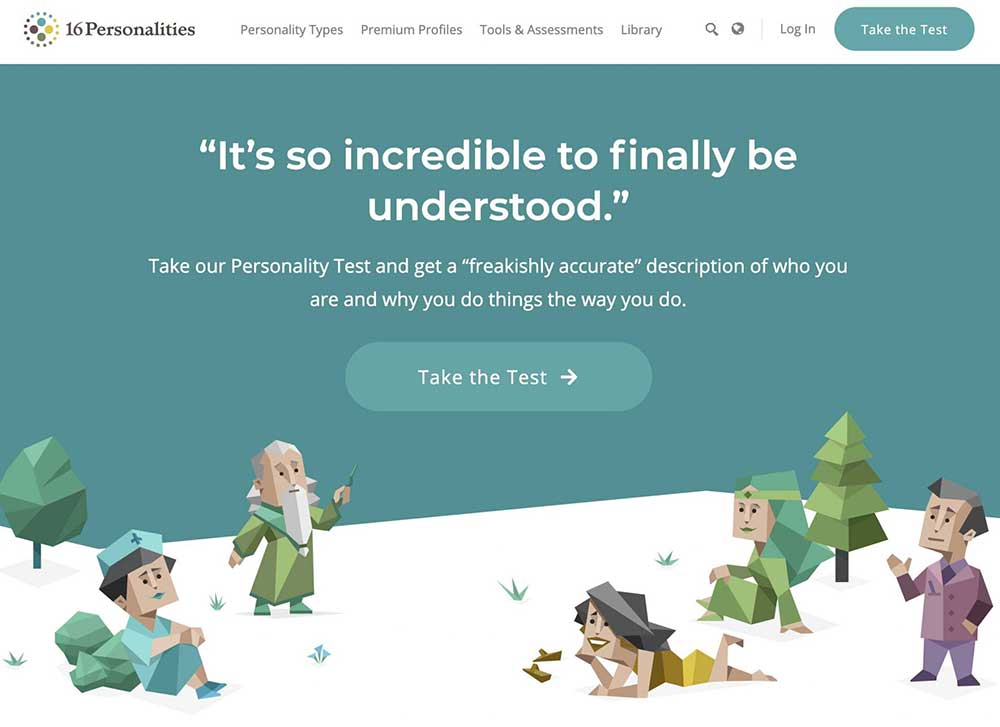 You know how people are always curious about finding out their personality type? Well, 16Personalities decided to make it easy (and fun!) to determine your personality type.
Ray Blakney from Live Lingua talks about it: "The entire quiz was created using public domain information of the Jungian archetypes to tell people who they are. It makes people feel like you understand them as part of the process. From there, buying the extensive report is a very easy upsell."
6. SleepFoundation.org's Bedtime Calculator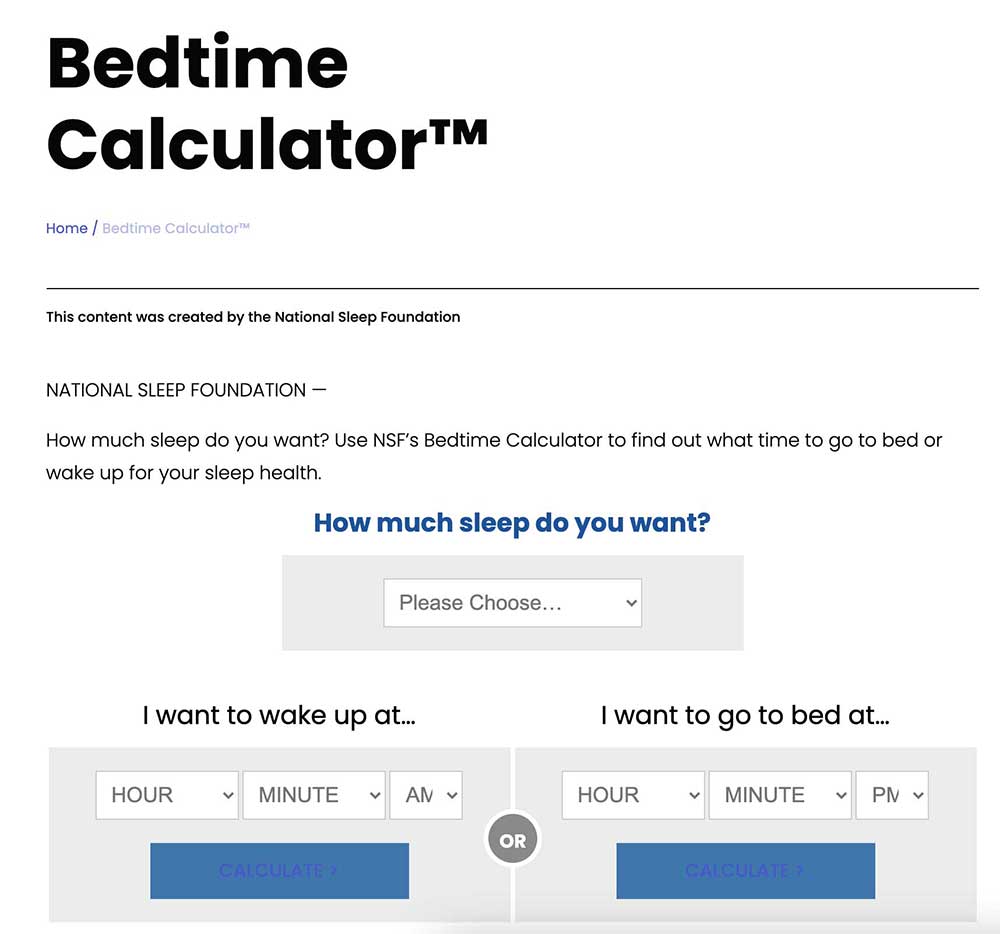 "This bedtime calculator is meant to be a simple tool, so I love that they kept it simple," John Ross from MCAT Test Prep Reviews highlights. Tell them when you'd either like to go to bed or wake up, and it will respond with the corresponding bedtime or wake time needed to achieve a healthy night's rest.
"Marketers so often try to overcomplicate their interactive features with descriptions, detailed instructions and non-intuitive functions."
Besides being simple, the calculator is "intuitive and engaging," says Ross. "People have very limited attention spans, so an effective tool is one that takes less than 30 seconds to use, and this tool easily does that."
7. SmartAsset's Mortgage Calculator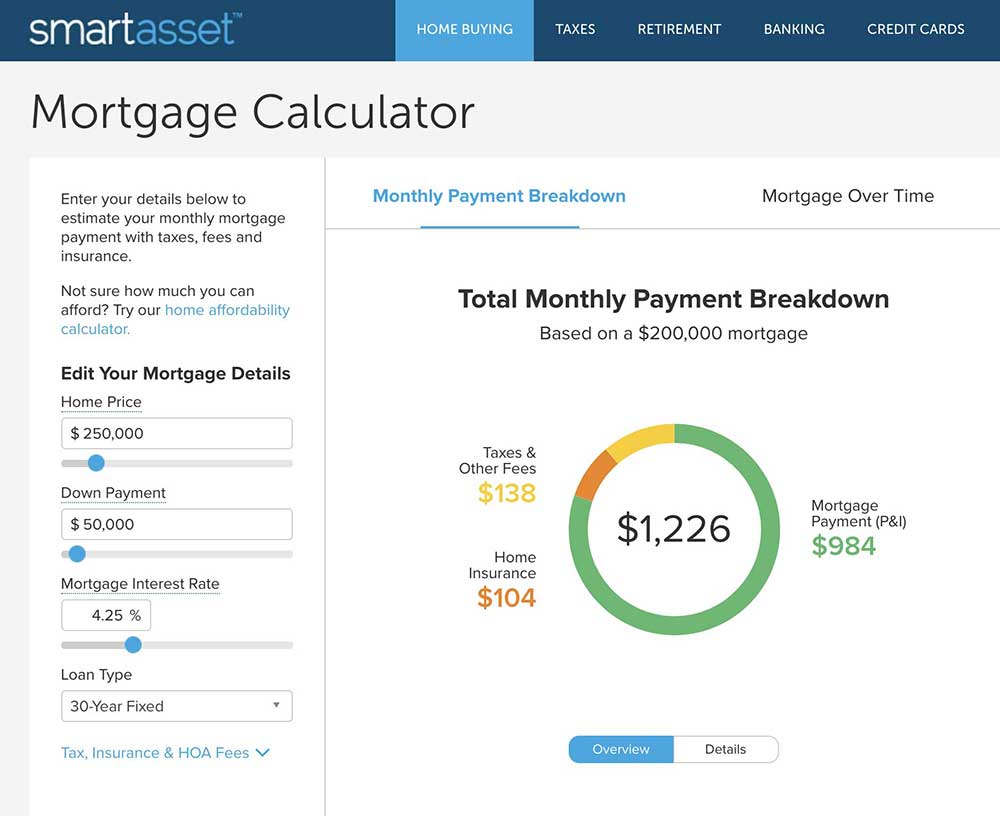 Speaking of calculators, here's another one mentioned by Melanie Musson of AutoInsurance.org.
"This piece has exactly the interactive content I want without anything unnecessary," Musson outlines. "It allows the user to customize the information by using sliding bars so they don't have to type in numbers. It's clear, it's colorful, and it's easy to use. The important information stands out, and it allows the user to easily try several scenarios."
8. Forbes' College Matchmaker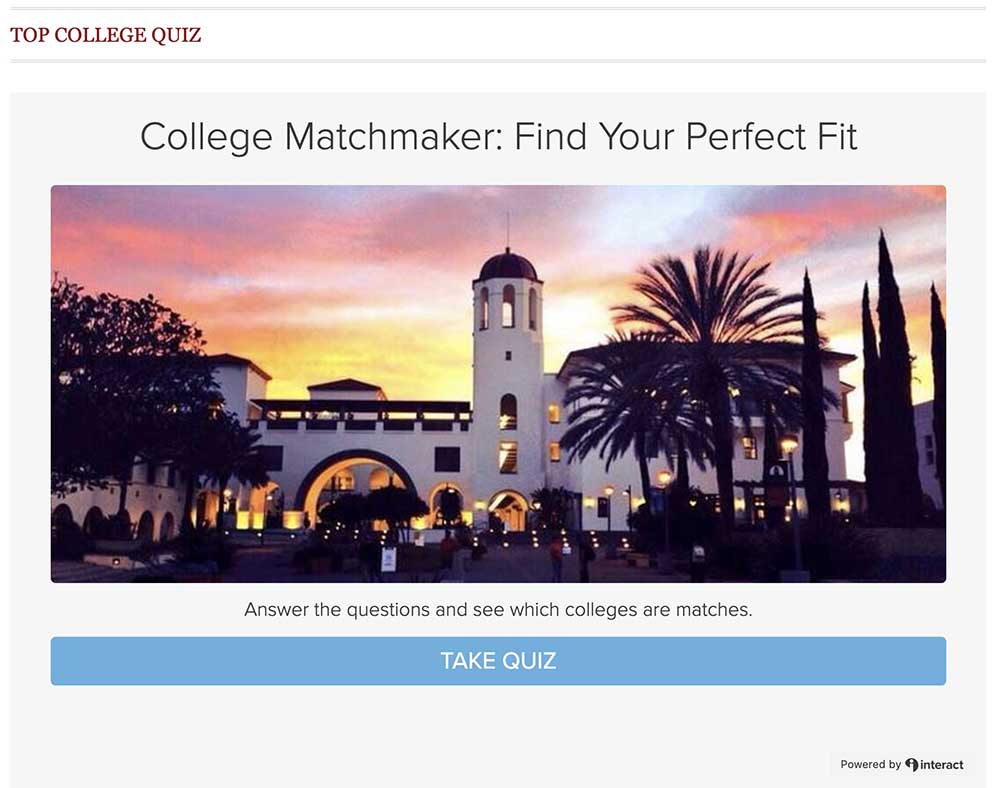 "This quiz got published in 2015 and it racked up 144,000 completions in just a few weeks. Now, that number's in the millions," shares Nikola Roza of SEO for the Poor and Determined.
"What stands out to me is Forbes created a simple quiz for a very hot topic at exactly the right time. College students who are about to graduate from high school and trying to pick the right college (bear in mind, this is a decision that will shape their lives for the next five to eight years and mold their future) are a sizzling hot market for this quiz.
"This quiz was so effective because it filled a need in a fun way, and I'm impressed it was all done for free. Because if you load that page you'll see beneath the quiz it says 'powered by Interact'. So the quiz was made with the free version of Interact quiz builder."
9. Buzzfeed's quizzes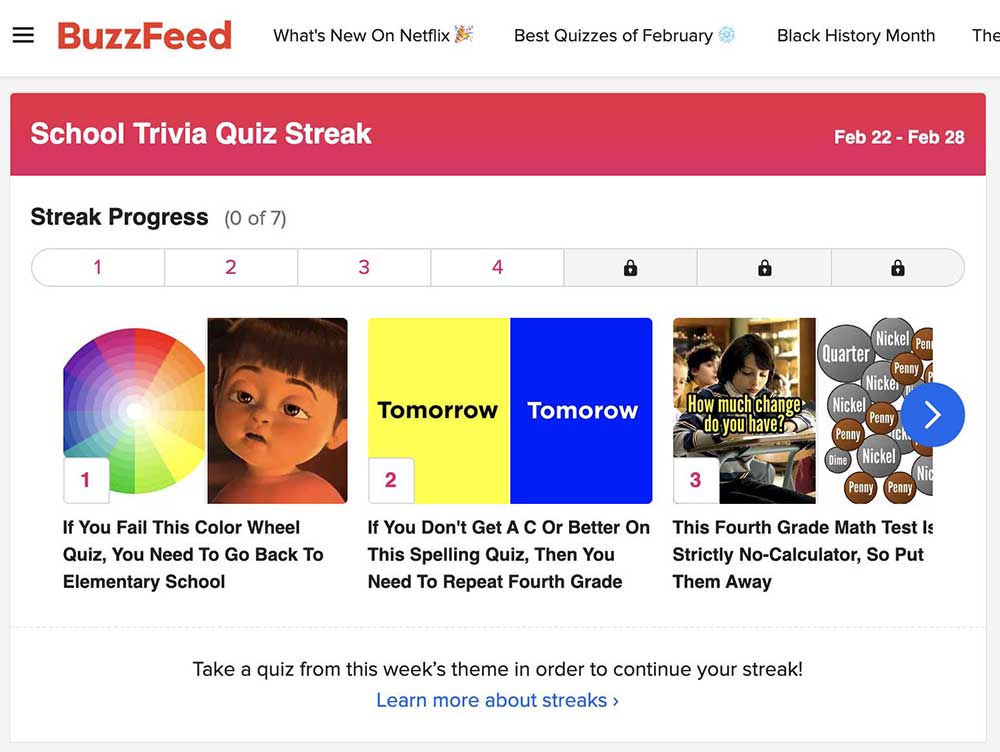 Buzzfeed's quizzes are always a hit when it comes to interactive content examples.
"After scrolling through the content, it takes less than a couple of minutes to come across a variant of one of Buzzfeed's ever-popular quizzes," CocoSign's Caroline Lee points out. "And these quizzes get 75% of their overall traffic from social networks, so it's no wonder why these quizzes get so popular."
"I believe people's insatiable curiosity does the majority of work here," Michal Suski from Surfer SEO muses. "They want to see if the quizzes are right about their 'personality,' based upon the books they've read or if it can guess their age based on some silly questions and answers. I think Buzzfeed hit just the right spot with these quizzes in terms of their visitor persona."
10. My Disney Experience mobile app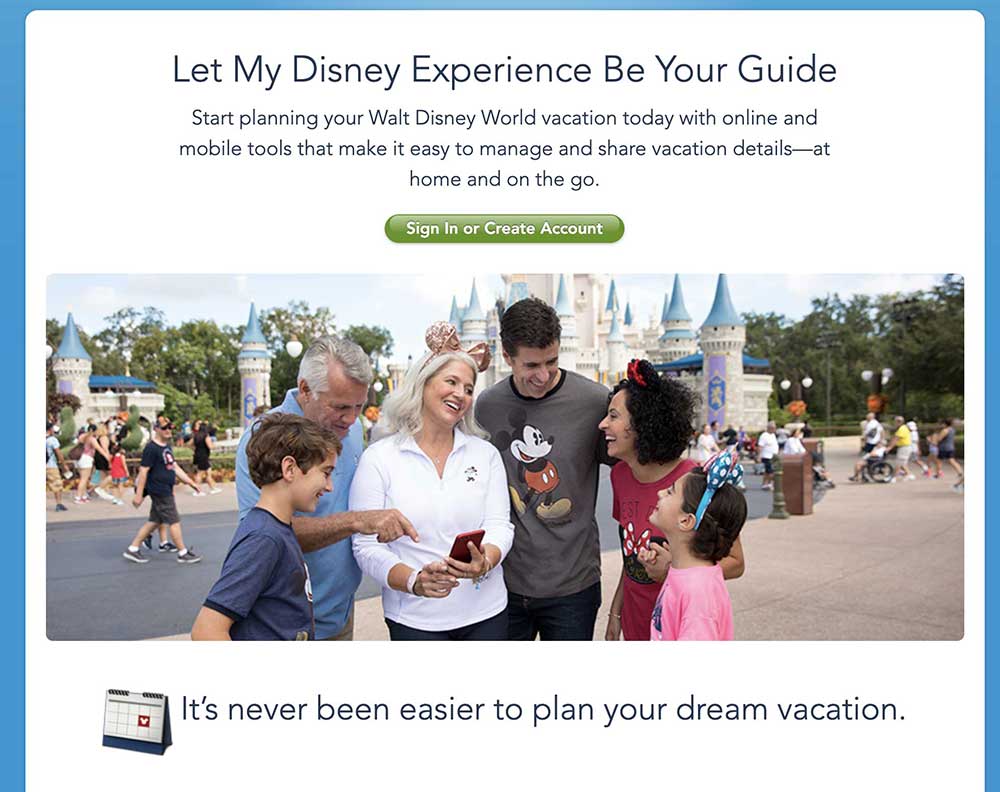 This last example of interactive content comes from Planable's Luciana Nitu who counts the following reasons for its success: "First, all of the content is in real-time, which means you get to see the wait times. The app enables you to take a virtual tour of the place and plan your route around the park.
"On top of that, you can check where to meet specific characters from their movies. The app allows you to interact with theme parks in fun new ways."
What's more, "you get to manage your photos from the park more conveniently with Disney PhotoPass. All of these things add up to create a great enhancement to the Disney Park experience. It's tough to find anything more comprehensive than that, I believe this is the ultimate interactive content."
Wrapping up
From quizzes to helpful calculators, the rule of thumb with creating high-converting interactive content is to make it helpful and engaging. Get that right, and you'll nail creating interactive content that grabs your audience's attention, as well as captures and nurtures leads.