Have you ever had a really great experience with a brand?
Maybe a company offered you a personalized experience, or a VIP treatment in addition to some killer discounts and coupons. Did you tell your friends about it? 
A good customer experience (CX) prompts you to want to tell the world about it. Chances are you told your peers about it or posted it on social media. And that's what inspires brand advocacy. When a customer spreads good vibes about a business, they become a brand advocate.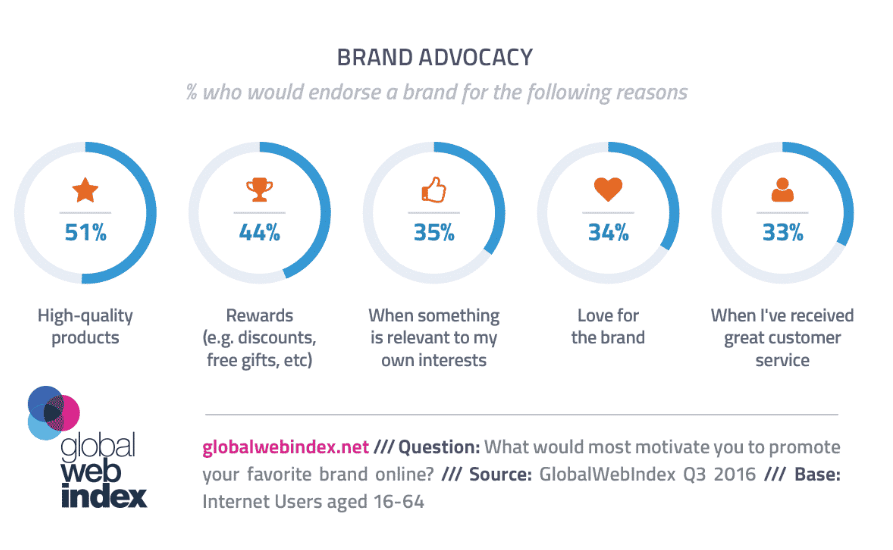 And advocates have power. Studies show that an overwhelming 93% of consumers trust recommendations from family and friends over any other form of advertising. 
Companies have recognized the power of referrals and word-of-mouth marketing, and are leveraging them through advocacy programs. In this guide, we'll discuss what a brand advocacy program is and its benefits. We'll then guide you through the steps to creating an advocacy program that drives results. Let's dive in! 
What are brand advocacy programs?
A brand advocate is someone who promotes your brand through word-of-mouth marketing. Brand advocates are real people who know your brand and what it stands for, and who have become your promoters. Besides word-of-mouth advertising, these individuals also spread the word through positive reviews of your business on your website, social media, and other review sites like Yelp. 
Brand advocacy happens every day whenever there are happy and satisfied customers. But it's not until you nurture and cultivate your advocates that you get to see the true power of advocacy marketing. Businesses can achieve this through a brand advocacy program. A brand advocacy program incentivizes customers and fans for recommending your brand to others.
A brand advocacy program is a marketing strategy that encourages loyal customers, employees, and fans to actively promote and endorse a brand. Simply put, it's a form of modern business marketing that focuses on creating brand advocates. 
Brand advocacy program benefits
Brand advocacy is beneficial to a business because it's authentic. And as mentioned, people trust word-of-mouth recommendations more than any other type of marketing. Besides the trust brand advocacy builds with your audience, brand advocacy also offers many other benefits:
1. Brand advocacy creates brand awareness
Brand advocacy can be one of the most powerful ways to create brand awareness. 
When a customer advocates for a brand, they help expand your brand's reach to new audiences. Advocates provide an organic way to create brand awareness. The more the recommendations, the higher the number of people who get to know your brand.
2. Advocates create buzz
The beauty of brand advocacy is that it creates buzz around your products. And buzz is all you need to penetrate a market deeply. 
Buzz makes people curious about your brand and why it's stealing the spotlight. 
The more people visit your website or social media pages, the more leads you can generate and grow your business. An increase in social visits can increase your following, while an increase in traffic can create a positive loop for Google, leading to higher rankings on SERPs. 
3. Advocate sharing portrays your brand in a positive light
New customers often rely on referrals and reviews from online review sites to form an opinion about a brand. This means they value the information they obtain from these channels and most likely act on it. 
Brand advocates portray a brand in a positive light in all their promotional efforts. This way, they help create a positive profile about the company in the customer's mind—whether through word of mouth or testimonials.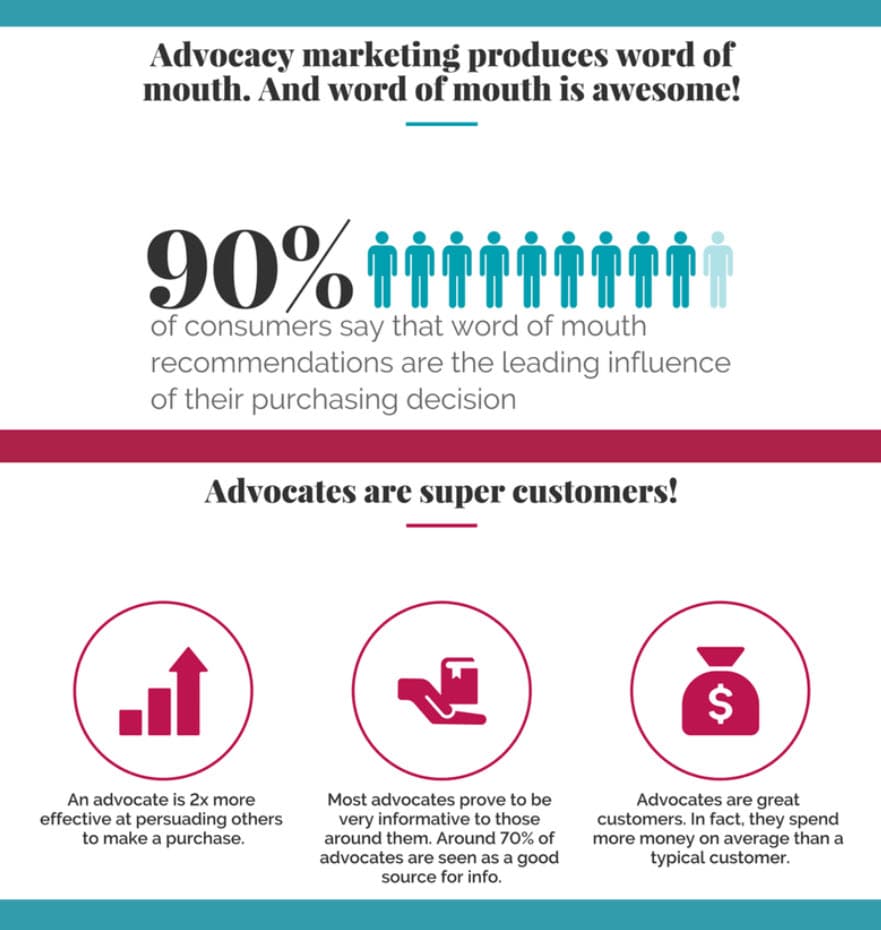 4. Brand advocacy increases customer retention
Advocates help to draw more consumers into the business through their recommendations and positive experiences with the brand. Their enthusiasm motivates others to check out the brand for themselves, so it will drive sales of your products or services.
Moreover, the likelihood of these customers sticking around increases if their experience with your business is satisfactory. Satisfied customers are also likely to become loyal customers and new brand advocates. 
Types of brand advocates 
Brand advocates come in several different types. Knowing what sets each type apart will help you select the right type – or types – for your brand's needs. Some of the most popular types of advocates are:
Referrers: These customers tell their friends and family about your brand via a referral program. They can promote you as often as they like. When one of their referrals results in a purchase, a referrer earns a reward. 
Affiliates: These content creators talk about your brand in their content, and place a trackable link to your site so their audience can purchase from you. Any purchases made through the affiliate link earn the affiliate a cash commission; this encourages affiliates to keep featuring you in their content. 
Ambassadors:  These official representatives of your brand promote you online and offline. Brand ambassadors agree to promote your brand for a certain length of time and at a certain frequency, and are bound by a contract. 
Employee advocates: Sometimes, employees are the best advocates for your brand, since they know your brand well and are experts on what makes it stand out. Why not incentivize all your employees – not just your sales team – for promoting you and driving sales?
Referral partners: These advocates are more formal than your typical customer-referrer, and sign a formal contract to promote you. But like the more informal referrers, referral partners will only share your brand with people they've already built a relationship with. 
Brand advocates vs. brand ambassadors
Is a brand advocate always the same as an ambassador? Advocates and ambassadors are similar because they both promote you enthusiastically and genuinely. In fact, as we mentioned above, ambassadors are a type of advocate.
But often, brand advocacy programs are less formal than brand ambassador programs.
Most brand advocates can promote your brand on their own cadence. They don't always have requirements to promote your brand at a certain frequency, like ambassadors do, and usually aren't bound by a contract. But your best informal advocates will still promote you regularly, purely because they love you and want your brand to succeed.
Steps to a successful brand advocacy program
Brand advocacy should be an integral part of your marketing strategy. 
Your advocacy program should apply to both employees and fans so as to drive maximum engagement. This is an opportunity to encourage people to become a part of your brand and create something special. But where should you start? Follow these steps to create a brand advocacy program that drives results. 
1. Identify potential brand advocates
The first step in designing a brand advocacy program is to identify potential brand advocates. 
Not everyone who interacts with your brand is a potential brand advocate. You'll want to carefully analyze your fans, customers, and even employees to determine who's worth the title of advocate.
For those who follow your brand on social media, you can start by checking who engages with your posts more. You could use tools like Google Analytics and social listening platforms to gather data on customer engagement and demographics. 
Speaking of engagement, note that not everyone who follows your brand on social media is a potential brand advocate. 
A 2017 Harvard Business Review study revealed that likes, shares, and engagement are not predictors of action at all. To identify the strongest candidate, you'll need to listen. Social listening can help identify people who always recommend your business/products. 
The people with promoter potential are those who always provide feedback, independently talk about your product offerings, and praise you in their own words. Find them—they have the potential to become your greatest brand advocates.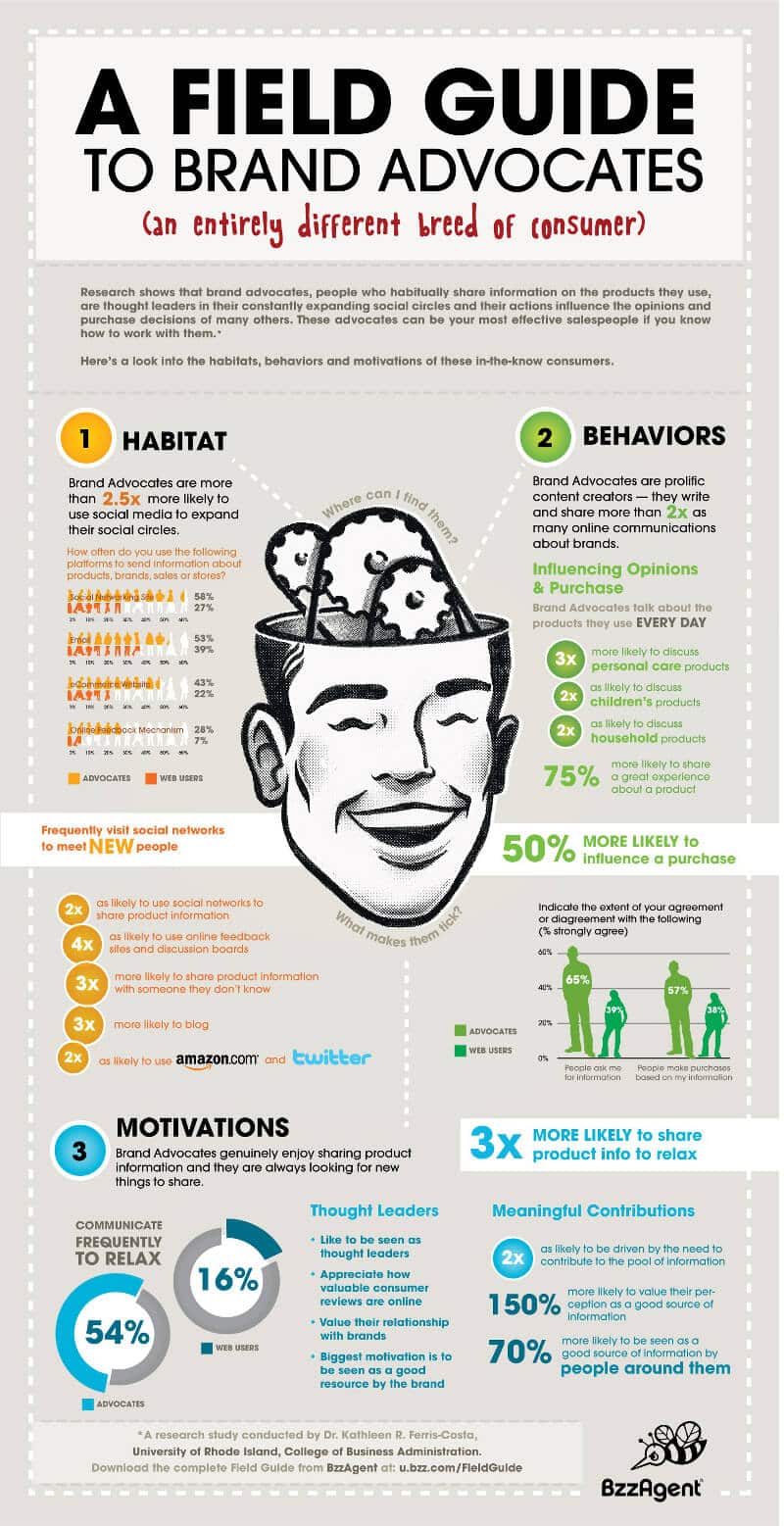 2. Promote advocacy through your content strategy
One of the best ways to encourage engagement from your advocates is to create easily accessible and shareable content. 
Creating content that resonates with your audience helps drive engagement, builds trust, and generates credibility. While you could create many different types of content, UGC is the most authentic way to create resonant content. 
According to Searchlogistics, 79% of buyers say user-generated content highly impacts their buying decision. Your advocates can achieve better results by leveraging UGC in their promotional efforts. 
3. Incentivize advocates with rewards
Once you've got the right advocates, nurture them. 
Make sure your advocacy program includes various opportunities and rewards for the participants. But why incentivize your advocates when they're already willing to help you for free?
Don't think of the incentive as a payment or "bribe" for recommending your brand or products. You're not buying someone's advocacy. You want your brand advocates to be authentic when sharing your messaging. After all, loyalty can't be bought. 
Think of incentives as a way to say "thank you" for being a part of the brand. Your advocates are giving up their time to create content, spread positive vibes about your business, and even defend it online. Naturally, you'd appreciate them for their hard work and effort. 
So, what incentives or reward programs should you use? 
Provide exclusive discounts and coupons
Give advocates the VIP treatment they deserve
Host events for them
Offer free products
Recognize them on your marketing channels
You could also use gamification and leaderboards to encourage friendly competition among the advocates.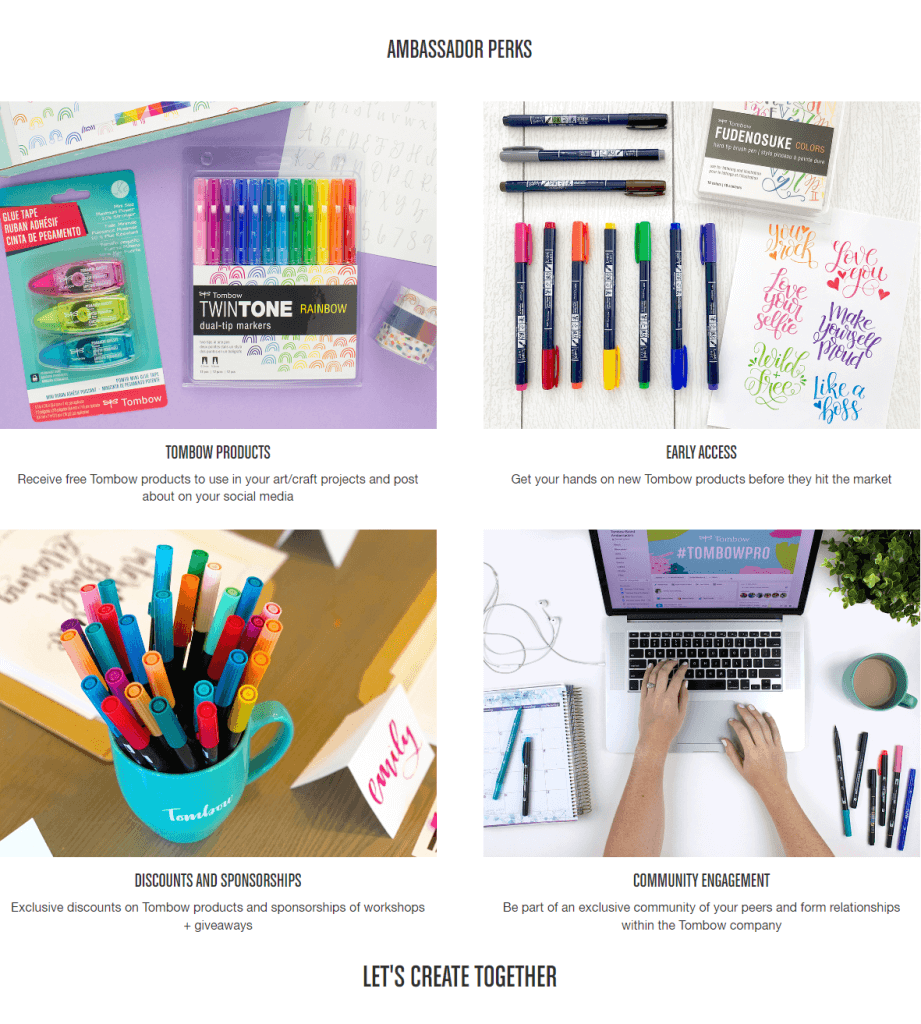 4. Empower advocates through training
Your advocates can't properly promote your products if they don't know how your products work. Empower them through training!
You could host regular webinars and workshops to teach advocates about your brand, products, and messaging. You could also offer free learning resources, such as e-books, to help them better understand your business and what sets it apart from the competition. 
Additionally, have an open line of communication where advocates can easily reach you should they have any questions or concerns. 
5. Create a community of brand advocates
The most successful businesses know that a community is only as good as the people in it. 
Brand advocates help grow the brand's visibility online and offline by recommending your products to consumers, which stems from a genuine belief in your brand. Creating a community of advocates helps foster business growth in many ways. 
For instance, creating a community can bring advocates together where they can share tips and ideas and unearth insights you can use. Moreover, communities are a great way to get new product ideas from your advocates, as well as collect and apply feedback to your existing offerings. You can also create a wider fan community, and mobilize advocates to offer support to other customers within that community. 
6. Use brand advocacy software
Brand advocacy software can help you easily mobilize advocates and create effective brand advocacy programs. These systems provide the tools to support and encourage customers to endorse, comment on, and recommend business products and services. 
The software monitors and records the performance of each advocate. It creates links unique to each advocate, so you know which advocates are responsible for the most purchases. Better still, it increases advocate engagement with messages and reminders. 
Not all brand advocacy software is created equal. Some program software can only manage one type of advocacy, so they're not flexible. But Referral Rock software can mobilize all types of brand advocates, including customers, employees, ambassadors, and other fans.
7. Measure and optimize your brand advocacy program
Measuring the performance of your advocacy program is important to justify the budget you spent on it and identify areas that need improvements. 
Every brand advocacy campaign you create must be tied to the KPIs you want to achieve. Metrics such as referral rates, engagement rates, and social media shares can help you determine the effectiveness of your advocacy program. 
To continuously improve your brand advocacy initiatives, regularly measure performance to determine what works and what has room for improvement. 
Monitor conversion rates and website analytics to gain insights into what campaigns have the best ROI. Use this knowledge to develop your advocacy strategy and develop fruitful long-term relationships that drive sales. 
The power of brand advocacy for long-term success
Brand advocacy plays a critical role in growing your business because it's authentic and can easily expand your reach organically. This customer-centric marketing strategy offers many benefits, such as brand loyalty, increased brand awareness, and long-term business growth. 
If well executed, a brand advocacy program can be your silver bullet to increased customer loyalty, retention, and sales. It can also create buzz online, leading to increased social mentions, traffic, and sales. Ready to harness the power of advocates? Find out how Referral Rock can help you create and automate a brand advocacy program today.