Planning a social media campaign is only part of the picture. The rest of it involves measuring your progress using established social media metrics that determine how successful a campaign is.
The catch? Not all social media metrics are created equal. Meaning, some are highly valuable, while others aren't worth the pursuit as they don't reflect actual progress.
So what are the social media metrics you should be monitoring?
In this post, we round up the top nine metrics that experts themselves are tracking. We also asked what they consider to be vanity metrics and not worth the effort. Finally, we share the actual tools marketers are using to track social media metrics.
Ready to learn? Let's dig in.
The most popular social media platforms
We kicked things off by asking which social media platforms marketers used the most. Facebook and LinkedIn took the lead, with Twitter on their heels.
Here are the numbers: 86% of marketers leverage Facebook and LinkedIn for their social media marketing, while 81% use Twitter.
As for more visual platforms, 76% use Instagram and 46% play with YouTube marketing. The least popular were Snapchat, Pinterest, and TikTok. One five, three, and one marketer (respectively) of the 37 marketers we surveyed use them.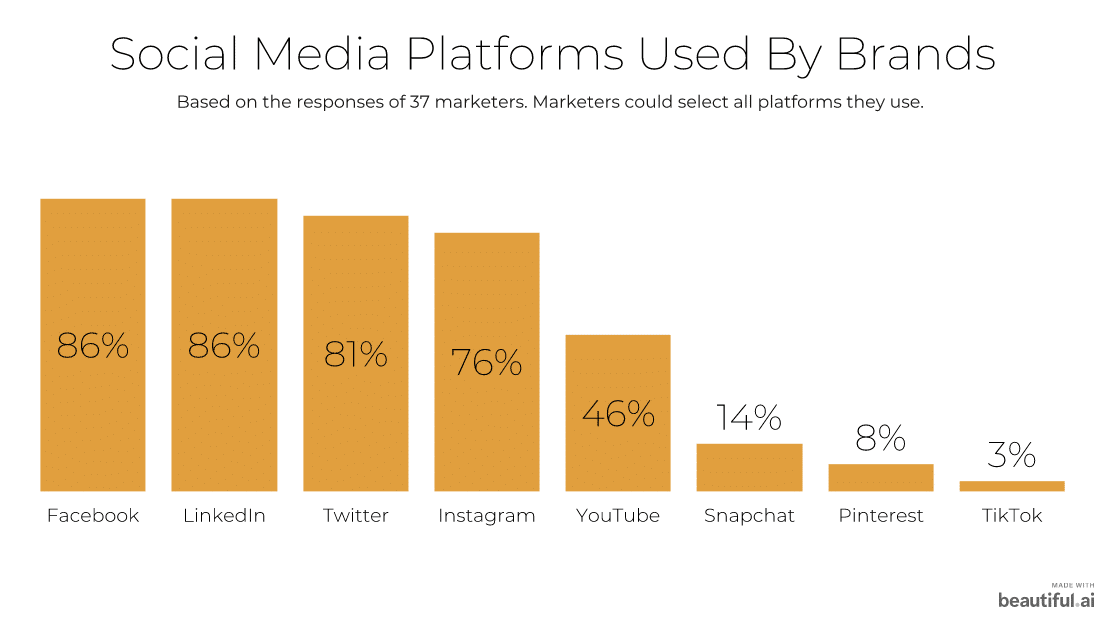 Social media posting frequency
Now that you know which social media platforms are popular, the question that naturally follows is: How often do marketers post on social? Most of the marketers, 32% to be specific, post every other day.
Another 24% post at least once daily and 11% post twice daily. A smaller 8% said they post thrice daily, and another 5% post over three times a day.
On a less frequent cadence, 11% and 5% of marketers posted twice and once in a week, respectively. Only 3% said they posted two to three times in a month.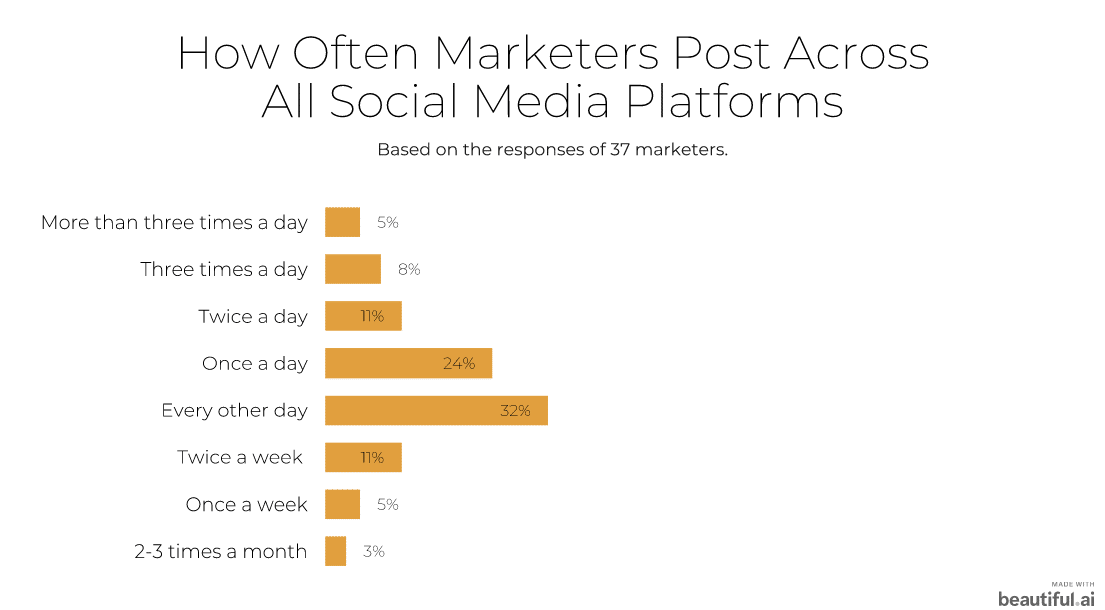 How do marketers stick with their publishing frequency? The majority 92% said they have a planned posting calendar, which means only a few marketers, at 8%, don't formally plan their posts.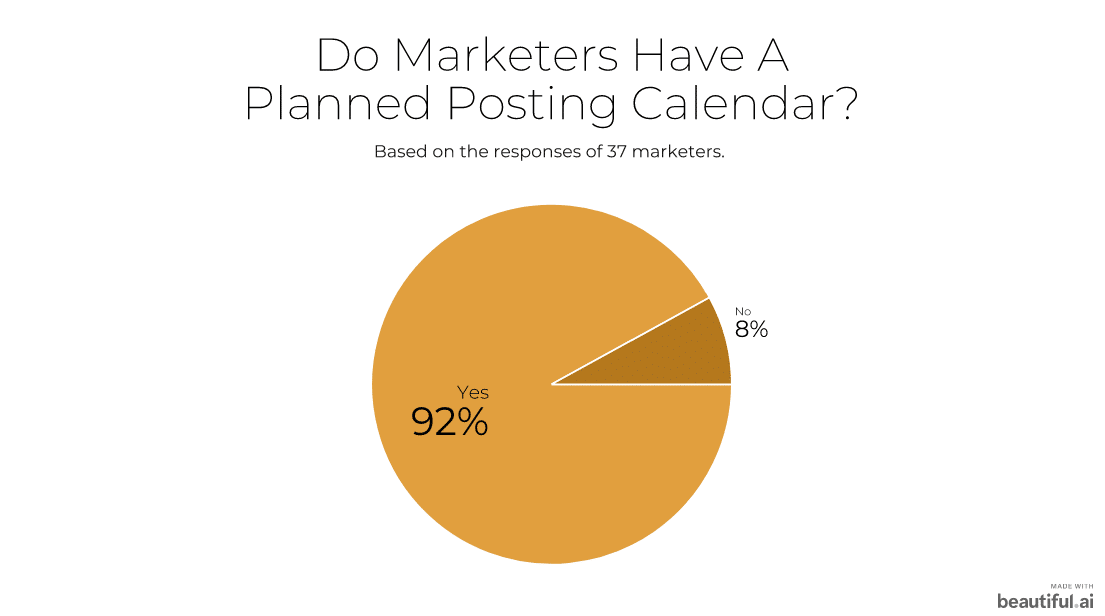 Setting social media goals
Since we're discussing social media metrics, it made sense to inquire about goal-setting. Some interesting results turned up here: 73% of marketers set and track detailed, measurable social media goals. The remaining 27%, on the other hand, are currently working on their goals.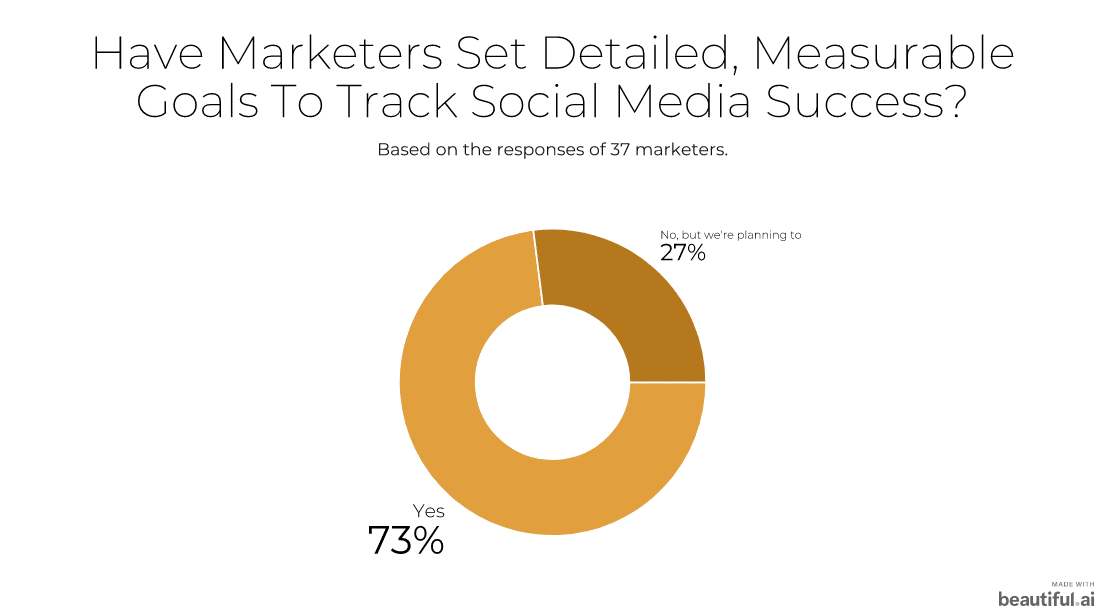 Now for which goals marketers set on social media:
89% of marketers set the goal of increasing their brand awareness
73% have a goal to grow their followers
63% are set to generate high-quality leads
62% aim to boost their brand reputation
Other goals include increasing website traffic (59%), growing presence in search results (49%), and increasing sales or purchases via social media (35%).
Tracking social media metrics: Platforms they monitor, tools they use, and more
With goals out of the way, we got to the meat of the matter: social media analytics. Here, we asked three questions, starting with:
Which social channel do you track metrics on?
Again, Facebook took first place, with 81% of marketers tracking metrics on the popular social platform. Twitter and Instagram came in second, with 68% of marketers monitoring the two channels. About half, at 51%, also tracked metrics on LinkedIn.
On top of that, 32%, 8%, and 3% of the marketers tracked progress on YouTube, Snapchat, and Pinterest, respectively. Here's the visual breakdown: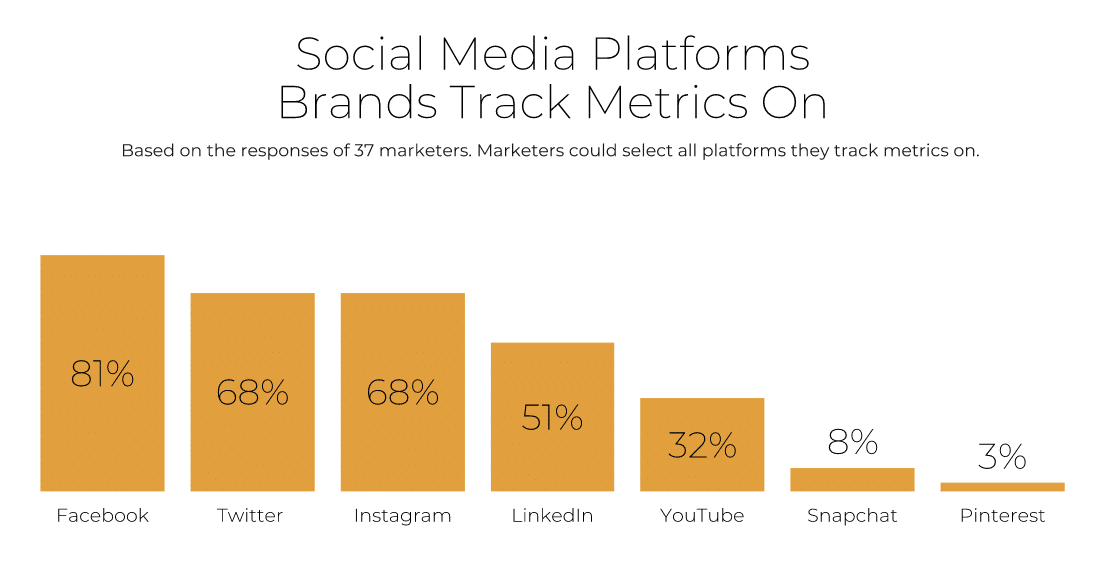 Which social metrics do you track?
Next, we asked marketers to choose what specific social media metrics they keep tabs on. We learned:
65% tracked website visits via social channels
38% noted purchases that came through social media
51% monitored traffic to social media pages
73% kept tabs on their likes
68% monitored their shares
65% tracked their comments
62% observed their follower count and brand mentions
27% checked their social sentiment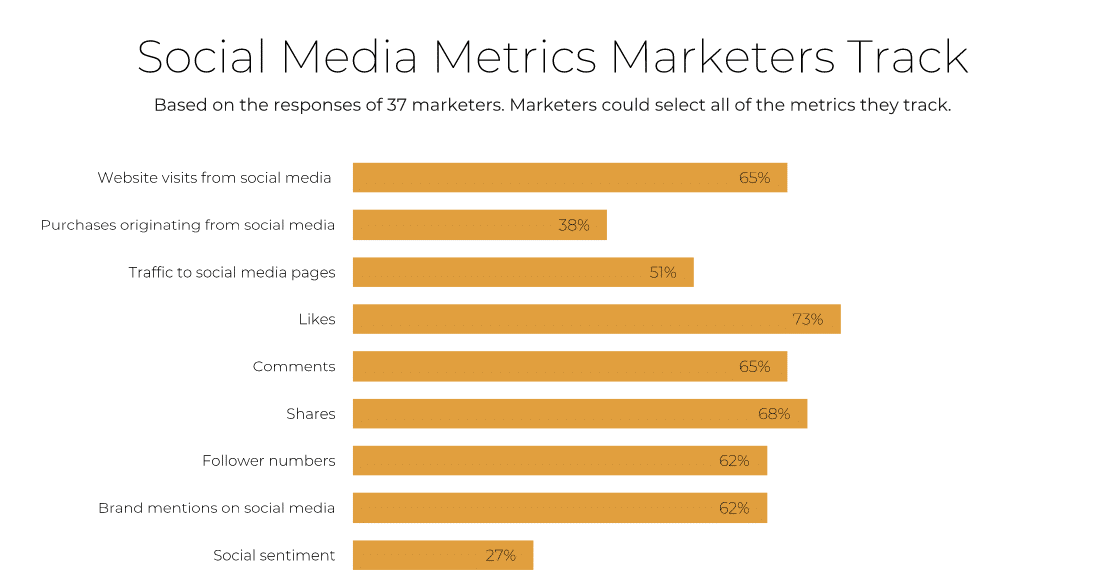 Tools to track social media metrics
Lastly, we curated a list from the tools that marketers use for monitoring their social metrics. These tools are:
Native analytics tools, such as Facebook analytics, Instagram analytics, and the like
Hootsuite
Google Analytics
Sotrender
Later
SEMRush
Buffer
Iconosquare
IGBlade
Hubspot
Sprout Social
KeyHole
Traject Social
Rival IQ
Zoho Social
Buzzsumo
9 essential social media metrics to track
Before we give you the complete list of social media metrics our experts think are essential to track, we want to make one thing clear: The exact metrics to track depend on your goals or campaign objective.
"It really depends on what you want to measure and how you want to display that information," notes Abhishek Joshi from Dog with Blog. For instance, "I track engagement rate and follower growth as an index toward how our social channels and content strategy are performing amid our audiences.
"With respect to reporting, I sum up interactions (URL clicks, comments, likes, shares) and divide by the impression count to calculate engagement rate, and accordingly devise our content strategy and social media performance. I also track website traffic that's originating via social media. We have set up UTM campaign strategy on Google Analytics for the same."
In short, "there's [no] one-size-fits-all answer to this," in Outsmart Labs' David Azar's words. "For an awareness play, metrics such as estimated ad recall lift (eARL) provide valuable brand retention insights, while conversions (be it add to carts, purchases, leads) are those most important for those whose campaigns depend on user behavior and action."
Now that we've established there's no fixed formula, let's look at some of the basic social media metrics that can be helpful to track for most business goals:
1. Brand mentions
"Mentions may be one of the most important social media metrics to track," points out Jordan  Lassiter of Optimism Miami SEO. Why? "Because you gain valuable insight into what people are saying about your brand and how it's being perceived by others."  
Yulia Vinokurova of Chanty is of the same opinion: "The most important social media metric for us is the number of brand mentions we get because those are earned and not bought or built."
Want to track brand mentions all over the internet? Vinokurova tells you how: "Google Alerts is a great way to track this because it monitors every time your brand, business, or product is mentioned across the entire internet. This can allow you to track trends in your audiences, like language and location. You can also see what platforms you are most successful with and adjust your social media marketing plans accordingly."
2. Conversions
Next up, monitor your conversions from social media. Rachele Wright of Wright Outcomes comments, "Conversions, in some capacity, is the most important metric to track. You can use social media to build a brand and relationships, but that ultimately should lead to action.
"Whether it's conversion of people clicking the link in your bio and taking action on joining an email list, purchasing something, or even just sending you a DM. You want people to move forward with you in some capacity, so you want your efforts to convert."
3. Cost/results
"This equates to your return on investment for social media," clarifies Alana Basloe from Original Herkimer Cheese. "You may have high engagement or website purchases. However, you need to look at how much you spent to get that result."
Put another way, if you've been investing a lot of time and resources to get a handful of link-clicks, you might want to reevaluate your social media strategy.
4. Click-through rates or link clicks
This metric "lets you know how often your content is actually intriguing your audience," observes Kintell's Mark Hayes. "I would say this is one of the more important ones – it's a real, genuine interaction and is much more meaningful than likes. It's a prospective customer's way of saying, 'Alright – I'm interested. Tell me more.'"
Petra Odak from Better Proposals agrees. "Click-through rate is extremely important for us because it shows us how interesting the content is to our readers and whether it was able to get them from the platform to our website."
Based on their goals of "driving traffic to our blog," Dakota Butler from Trend Capital elaborates, "link clicks are crucial for us to track. Link clicks can give insight into what posts and copy are actually getting users to go to our site."
5. Engagement
According to My Pet Child's John Cho, "Engagement [is a crucial metric] because if no one is interacting with it, sharing it or using it, you've wasted your time."
"Engagement at least gives an idea of how many people saw and cognitively processed your content," explains Abir Syed from UpCounting. Other metrics, like "revenue is a tough one, as attribution to the brand awareness generated from organic social media will not always be strong. It's a weak metric in the grand scheme of things. And the number of followers isn't too informative, especially with low organic reach."
6. Engagement rate
Closely related to tracking engagement is the engagement rate metrics. Chelsea Flower of Scott Social explains "this metric shows the overall engagements (likes, comments, saves, and story replies) as a percentage of profile impressions to indicate how engaged people are with the brand, RivalIQ.
"The best way to increase your followers consistently and organically is to leverage your current audience! Tracking brand mentions, retweets, and shares can help you adjust your strategy and maximize sharable content."
7. Shares
Another super important social media metric according to the experts we surveyed is shares. Sturgeon Chrisie of Second Skin Audio talks about it: "We always like to look at the number of times our content has been shared. Each time your post is shared by someone else, it's shared with an audience you may have not reached before.
"We focus on posting the most interesting and engaging content possible so people are more likely to share it with others. We know when our content gets shared a lot, it's going to lead to more interest in our business and more traffic to our website."
8. Website referrals
Andrei Vasilescu from DontPayFull insists, "the most important social media metric to track is the number of website visitors that come directly from social media profiles.
"The primary target of our social media marketing is to drive online traffic to our business website. Our social media content is made especially for this target. The number of online visitors our website gets within a specific time frame after publishing new social content determines the success of that social content."
In the same vein, Tankarium's Sherry Mae adds, "The most vital metric we track is the site traffic we receive from our social media channels. It tells us the effectiveness of our social media strategies in boosting traffic to our site.
"Traffic from our social media contains mostly high-quality leads with a proven history of making purchases. We attribute the cause to the coinciding interest with our brand's offerings.
"After all, these are internet users who followed our page to read interesting and entertaining posts about our niche. That makes them more likely to convert than traditional users who stumbled on our site by accident."
9. Virality rate
Anna Tatelman from Tampa SEO Services puts the last essential metric on the table. "One of the most crucial social media metrics to track is the virality rate. Your virality rate reveals how many users have shared your social media post in relation to how many unique views that post received," she elaborates.
"This is one of our favorite metrics because it reveals which of your content pieces are not simply receiving likes, but getting active engagement. While a post with 100,000 likes is exciting, those 100,000 likes aren't necessarily helping your business if the post has a 0.5% virality rate. On the other hand, if you have a post with 5,000 likes and a 20% virality rate, that post is ultimately doing far more to promote your business."
3 social media metrics that don't really matter
Now that you know the nine social media metrics you should be tracking, let's see a list of some that might just be wasting your time:
1. Likes
"Likes are completely irrelevant and comments are becoming more and more irrelevant, especially on platforms like Instagram," indicates Wright Outcomes' Rachele Wright.
Here's why: "We digest and consume so much content on a daily basis, the mindless action of double-tapping on something or hitting a like button is just something that doesn't accurately reflect engagement.
"Additionally, with the increase of bots and people commenting just to get their own brand name out there, it's hard to really track if a comment is relevant to engagement as well."
What's more, "a 'like' has no direct correlation with true awareness or purchase intent," shares David Azar from Outsmart Labs. "That isn't to say qualified potential customers or leads can't originate from the humble like, however, there are more advanced and qualified metrics to track in order to assess real intent and value."
2. Follower count
"Follower count is useful, but only to an extent," says John Cho from My Pet Child. "With new algorithms, you could have 100,000 followers but your posts are only reaching one-third of them, so follower count isn't the most reliable metric when it comes to using data for strategy. Engagement and reach are much more important to track."
On top of that, "while [followers] can be indicative of the popularity of a brand," notes Peter Mann from SC Vehicle Hire "you could be very popular but not sell a single product to your audience, or have a small following that is very loyal and purchases all your products."
Jae Williams of Just Faith Records echoes the same, "I believe the number of followers one has on social media can be misleading because one could have 10,000 unengaged followers and have a lower reach than someone with 2,500 engaged followers."
3. Reach
Alongside reach, Madison Schneider from NXTsoft describes likes as "vanity metrics [that] are misleading to track." "While they can have a correlation to the market's perception of your brand, they don't always show the full picture.
For example, if you are getting lots of likes but have no pipeline built up, what is the point? Sales leads are the only goal, but at some point, you need to see and be able to attribute an ROI to the marketing efforts."
Takeaway message
At the end of the day, the right social media metrics you should track depend on your goals. Generally, engagement metrics, the results from the resources you're investing, website referrals, brand mentions, and conversions are some essential metrics to keep an eye on.