Partnerships have become a key driver in today's business environment to expand reach, drive sales, and enhance brand presence. But in order to effectively leverage the full scope of partnerships, you need a strategy and the right tools. That's where partnership relationship management, or PRM, comes in. 
Partnership relationship management is a comprehensive framework that enables businesses to effectively manage their partnership ecosystem. It includes strategies, processes, and technologies required to optimize partner engagement, streamline communication, track performance, and drive success for all parties. 
Want to learn more about modern-day partnership relationship management and how to make it work? 
In this article, we will cover:
What partnership relationship management, or PRM, is
Benefits of partnership relationship management
What you should expect from PRM software
The difference between CRM and PRM software
How to select the best PRM software
Partnership relationship management best practices
Conclusion – wrapping things up
What is partnership relationship management (PRM)?
Partnership relationship management is a trifecta of elements – strategies, processes, and software – that work together as a synergistic whole to manage partnership dynamics. 
Strategies inform your direction toward your goals
Processes help give form to the steps you need to get there
Software (or automation) grounds all your ideas into activities that produce measurable results. 
The term partner here refers to any individual or enterprise you enter into a formal relationship with to market or sell your products and services. It's a broad term that can encompass any number of different business types. You could have retailers, consultants, VARs (Value Added Resellers), and MSPs (Managed Software Providers) as your partners. You could even have affiliates, referrers, and ambassadors as your partners. 
The key is managing these relationships as part of a "co-selling" environment, where all the partners are vested in each other's success.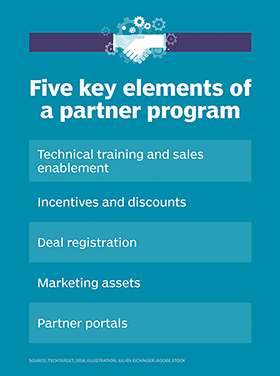 Key elements of a PRM ecosystem
A PRM ecosystem typically involves all or most of the following elements:
Partner recruitment, whereby you have the tools and the resources to attract, evaluate, and onboard partners effectively. 
Deal registration, whereby partners have a streamlined process in place to register their deals, track and coordinate them, and gain visibility into their sales activities and ROI.
Dedicated partner portals, where you can create individualized or personalized experiences for each partner based on your mutual agreement and goals. 
Partner onboarding and training, for the smooth integration of new partners and ongoing support and management. 
Lead management and lead distribution features, which give both partners (and marketing and sales teams) insights into lead qualifications and conversions, the sales process (including indirect sales and channel sales), and transparency on the metrics. 
Marketing automation features, to plan, launch, scale, and measure new product marketing activities.
Administration and reporting features, to give you a bird's eye view of all your partners and their performance and to manage or customize partner experiences from a central vantage point. This will help you also plan who gets to see what and when and control access to sensitive information.
Communication tools, to manage and streamline communications through emails, webinars, notifications, and alerts with partners.
Integrations with other tools, to go beyond marketing and/or sales management and relationship management, such as integration with CRM or customer relationship management. 
That's a lot of components, but specialized software will help you manage all workflows and business processes of a partnership relationship management system. This software is known as partner relationship management software (PRM software). 
We'll cover more about selecting and using a PRM platform later in this article.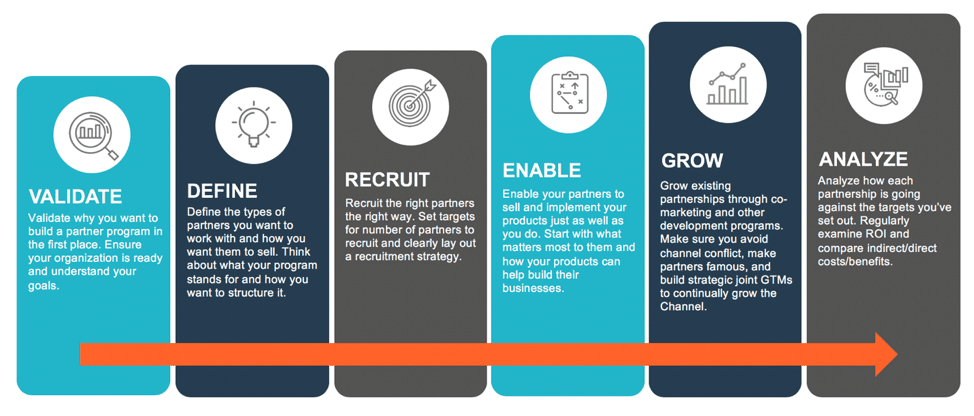 Benefits of partnership relationship management
Partnership relationship management is a no-brainer when considering how automation has evolved over the years. With traditional partner management, you were restricted in many ways in terms of what you could do and how effectively you could manage relationships. The availability of complex software and tools means you can extend your marketing and sales capabilities in new, exciting, and different ways.
Partnership relationship management is no longer a linear concept. To really leverage the full scope of PRM, think of it as a holistic system where partners are mutually aligned to achieve goals.
With the right PRM strategy and software, you can easily manage several types of partners at once – such as affiliates, retailers, distributors, resellers, integration partners, ambassadors, and referral partners. Onboard any type of potential partner who can contribute to your expansion. You're not limited to how many partners you can onboard and the types of formal relationships you can enter into.
A well-thought-out PRM strategy helps you keep track of all aspects of managing partners under one umbrella, with the ability to integrate with all your other favorite tools and platforms. Manage goal-setting, recruiting, onboarding, training, communication, tracking, and incentivizing, all from one place. 
Strategic PRM creates a robust onboarding and training experience so your partners are fully engaged. Focussed onboarding and training, personalized for each partner, based on the partner program agreement, signals your commitment to your partner, motivating them to do their best. In that sense, a solid PRM strategy encourages partner loyalty and reduces partner churn. PRM is a long game, and your partners should want to stay the course with you.  
A PRM strategy helps you and your partner identify and align on goals, agree on the management process, and cohesively drive collaborative efforts to reach your goals. In conjunction with PRM tools, it becomes much easier to coordinate partner management, your own sales teams, and your marketing campaigns.
What to expect from PRM software?
Let's look at some of the major features that you can expect from PRM software, next:
Unique tracking links: PRM software creates unique tracking links for each partner, making it easy for you to track sales individually and collectively. You'll be in a better position to accurately monitor and measure partner sales, giving you valuable insights into the effectiveness of the partnership and drive data-driven decisions and resource allocation.
Real-time data: PRM tools help you organize and centralize data from your partners and their customers in real-time. The real-time visibility into partner performance helps you evaluate how successful your partnership currently is. Based on the business intelligence received, you can identify areas for improvement, address challenges, and pick up on opportunities to drive more revenue. 
Customization of partner portals: PRM software makes it easy to create seamless partner onboarding, training, and communication experiences through customizable partner portals. These portals serve as a hub for partners to access essential marketing resources, notifications and updates, training materials, and creatives, fostering collaboration and knowledge sharing. 
Because PRM software provides a user-friendly and personalized experience, PRM software empowers partners to represent the company effectively and ultimately drive more sales.
Automated and instantaneous partner incentivization: PRM systems can support instantaneous payout support for partners based on the amount of sales they're generating. Prompt rewarding of partners for their efforts cultivates a highly positive and motivating partner ecosystem. It also strengthens the relationships between companies and their partners and encourages ongoing engagement and loyalty. 
What's the difference between CRM and PRM software?
To realize the full value of partner channel management, it's important to effectively manage both customers and partners. CRM, or customer relationship management software, supports the management of lead and customer relationships. Meanwhile, PRM software deals specifically with managing partner relationships and sales. So, a CRM on its own will not be adequate to manage partners. 
CRM software is primarily designed for direct sales strategies, wholly focusing on managing leads and customers throughout the sales lifecycle. The software covers such aspects as gathering customer information, nurturing leads, tracking customer interactions, segmenting leads, and organizing/customizing marketing campaigns.
You can also use CRM software to close deals, onboard your customers, and develop customer retention strategies to hold on to customer loyalty for longer. 
PRM software is tailored for sales strategies involving partners, who carry out the marketing or selling of products on your behalf. PRM solutions enable businesses to track and reward sales generation achieved by individual partners, analyze data to measure KPIs (key performance indicators), and create custom partner portals for onboarding and communication. 
PRM software comes with analytics that link and provide data on customer information specific to the deals initiated and/or closed by partner enablement. Moreover, PRM software can seamlessly integrate with CRM systems, allowing the two-way flow of information on leads and sales between the partner and the business. 
Selecting the best PRM software
Choosing the best PRM software is critical to the success of your partner management strategy. Here are the primary factors to consider during the selection process:
Ensure that the PRM software is specifically designed to handle the types of partnerships you want to manage. Different industries and different partnership models may have their own unique requirements. 
Check that the PRM software integrates seamlessly with your existing software, especially your CRM. When the integration takes place in a smooth manner, you will be able to more efficiently manage the partner ecosystem. 
Assess the value of the dashboard and analytics capabilities of the PRM software. Look for a wide range of metrics with meaningful data aggregation and 360-degree insights into partner sales and performance. 
Look for features that facilitate and streamline partner engagement with your partner program, whether that's through messaging, collaboration, data sharing, or communication. 
Review the level of customer support provided by the PRM software vendor. Check online reviews and talk to customer services directly to address any concerns you have. They should be able to address queries quickly and resolve technical issues without disrupting your partner platform. 
One of the most desirable features of PRM software is transparent pricing. The vendor should be able to provide a pricing structure, without you having to contact them first. There shouldn't be any nasty surprises in terms of hidden fees or extra charges, so you know upfront whether the software works within your budget. 
The best PRM software: Referral Rock
Referral Rock provides the ultimate PRM software to take your partnership marketing to new heights. The feature-rich platform empowers businesses to effortlessly manage various types of partners, from channel partners and affiliates to ambassadors and referral partners:
Streamline partner engagement and tracking: Use Referral Rock to automate every step of your partnership process whether it's partner engagement, tracking performance issuing rewards, or analyzing data. Both you and your partners can monitor campaigns and track KPIs directly from a single intuitive dashboard.
Customizable partner portal and experience: Referral Rock provides a fully customizable partner portal and partner experience. Ensure a consistent and individualized experience that keeps your partners engaged and motivated.
Expertise and premium customer support: Referral Rock's in-house experts will help you onboard and tailor your partner program to your specific business needs. Our dedicated customer support team has received rave reviews for their knowledge, responsiveness, and commitment to your success. 
Seamless integrations and data flow: Integrating your PRM software with other tools is essential for cohesive partner management. Referral Rock has you covered with over 30 integrations, including popular options like Zapier, HubSpot CRM, and Salesforce. Seamlessly communicate information between platforms, ensuring data consistency and eliminating manual data entry.
Fair and transparent pricing: Referral Rock offers flexible pricing plans, starting at just $200 to $800 per month, enabling businesses of all sizes to leverage the power of our PRM software. No hidden fees or surprises – just straightforward pricing that fits your budget.
Join the ranks of thousands of satisfied businesses that have harnessed the power of Referral Rock's PRM software. Sign up today. 
Partnership relationship management best practices
If you're considering creating a partner relationship management system, here are some best practices you'll find beneficial:
Get to know your partners
Getting the necessary insights and intelligence into your partner will help ensure you align well with each other. Check for the following: 
What are each partner's needs and objectives (as a creator or as a business)?
What are their strengths and weaknesses?
Who exactly will you be working with? Form relationships on a human level, not just a business level.
If you're working with another business, what's their vision and what are their values?
Set and track mutual goals
Next you want to set and track mutual partnership goals that you wouldn't be able to achieve on your own. Refer to the following questions to establish concrete goals:
What will the partner accomplish for you? (Reach a new market? Open up a new distribution channel?)
What are the partner's core duties and expectations?
What will you accomplish for the partner, and how?
What distribution channels will the partners use?
How will your and your partner's offerings (products, services, expertise, relationships with an audience) add value to each other?
What measurable, time-bound KPIs will you track, to measure how well you're achieving these goals (sales amounts? New leads? Conversion rates?)
Create a partnership agreement
At this point, you'll be looking at setting up a partner program agreement. Ensure that your partnership terms are laid out clearly so both sides are clear on expectations and deliverables.  
You and your partner must sign the agreement before the partnership officially starts. Both partners are then clear about how they're going forward and there's less chance of challenges due to a lack of communication afterward.
The exact terms depend on the partnership's type and your partner program goals. But essential sections worth including are expectations, rules for promoting your brand, incentive terms, rules on confidentiality, and grounds for termination of the agreement.
Onboard and train partners strategically
Every onboarding and training should be tailored to the individual partner, based on their strengths and their audience profile:
What channel(s) will you use for onboarding? Zoom? Async videos? Your partner portal?
What key information do partners need to market/sell your products – including unique selling points and how to use the products?
What are the standards for how your brand should be represented?
How should the partners market and sell your products/services to their audience? 
What are the rules for how your partner can and can't promote your brand?
What tools, assets, and resources will you provide them, and how?
What do they need to know about your PRM software, partner portal, sales tracking, and sharing their partner links?
What are your payment terms (the incentives and what must be done to earn them)?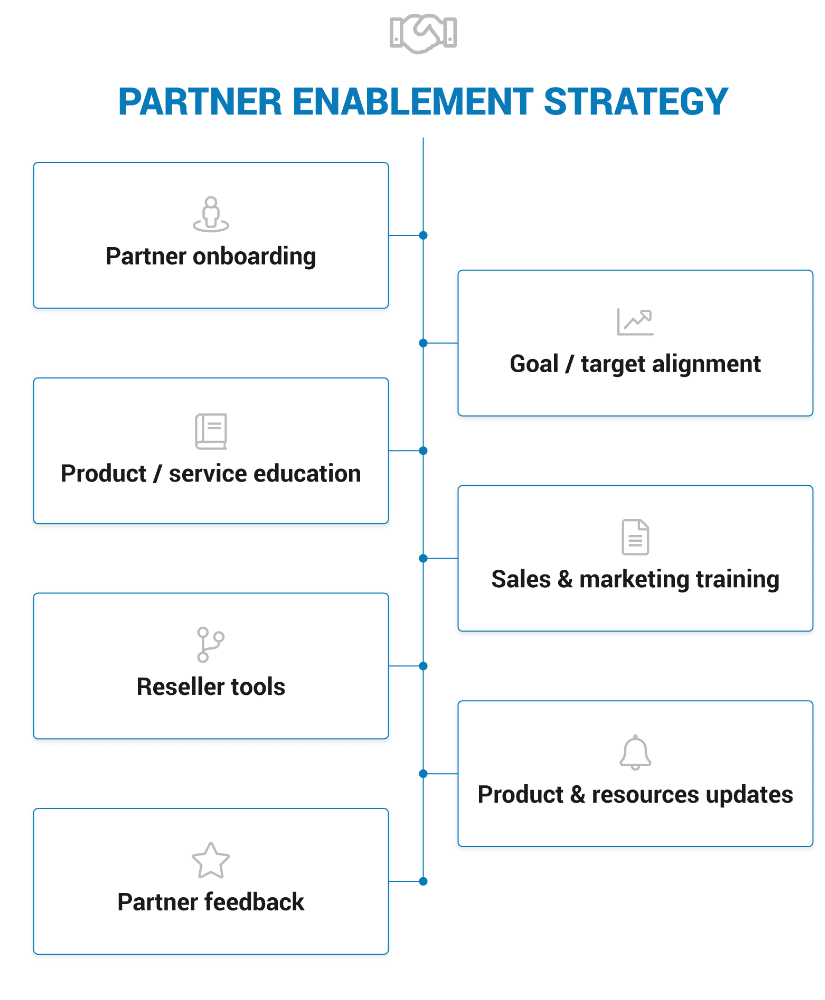 Communicate regularly with partners
A vital component of partner relationship management and channel marketing is ongoing communication. Creating opportunities for communication on a consistent basis signals your genuine interest in the engagement and its success.
Schedule Zoom check-ins, where you can talk about how the partnership is progressing and address any challenges that can come up. 
Notify partners through email or Slack on updates as and when they happen. Alternatively, use the messaging available on the PRM platform and follow up with email. At the same time, partners should also be able to reach you and have communication channels to do so. 
Ensure you provide all the required assets and creatives to partners to help support and drive their marketing and sales activities. Think white papers, product images, marketing copy, and so on. Your partner portal is an ideal place to house these assets and make them easily accessible for your partners. 
Use your partner portal to stay on top of partnership tasks and timelines – and to communicate about them in a seamless fashion. 
Regularly measure your partnership's success
Last but not least, consistently measure how successful your partnership is.
Set up regular performance reviews where to identify, analyze, and discuss partnership sales data. You can do this during check-ins to allot dedicated times for this.  Then, develop a plan of action together on the basis of this data. What could they do better on? What are they doing well? Remember to talk about the good together with the not-so-food and use the plan as a means to troubleshoot and map concrete actions for improvement. 
Your partners should have complete visibility on the same data. Ensure they have access through the PRM portal that you've created and customized for them. In terms of recommended metrics, ensure you track and analyze the sales generated through the partnership, leads generated, customer base growth, and conversion rates within the stipulated time frames. You can also track other metrics that you feel are important based on your partner's input.  
Wrapping up
Being able to effectively leverage partnerships will be crucial to growth and sustainability over the next few decades. Partnership relationship management is one strategy that can help you streamline and effectively manage partners to achieve great results.