Affiliate software is vital for the best affiliate management, as it gives you full control over your affiliate program, tracks your program results, and automates key processes. What is the best affiliate marketing software? Our top 16 list will help you narrow down the most ideal affiliate management software for your brand's digital marketing strategy.
Here's a quick overview of our top picks:
Best affiliate software (overall): Referral Rock
Best affiliate software for B2B and SaaS: Referral Rock
Best affiliate software (simple) for ecommerce: LeadDyno
Tailored solution for Shopify ecommerce sites: UpPromote
Tailored solution for WordPress and WooCommerce sites: AffiliateWP
Referral Rock is the best affiliate software because of its ability to handle multi-step sales processes, top-notch expert services to help you launch your program, and flexibility to run multiple types of trackable word-of-mouth programs. 
Top 16 affiliate software tools
We're here to help you make the right affiliate software choice. Below, we cover each option's features, pricing, customer support options, and integrations. Plus, we've included each affiliate software's client review score, based on top review sites like Capterra and G2.
1. Referral Rock
Best affiliate software overall, Best affiliate software for B2B and SaaS

Referral Rock's affiliate marketing software helps you manage, track, and compensate affiliates efficiently, so you can rapidly generate sales and grow your business.
Our affiliate software tool has the flexibility to manage all types of affiliate and partner programs, including influencer marketing programs where you track influencers as affiliates. Plus, you can also run customer referral programs, ambassador programs, and other word-of-mouth marketing programs with Referral Rock, based on what best fits your brand's needs.
Referral Rock's robust, user-friendly platform automates every step of the affiliate or referral marketing process, allowing both online and offline businesses to scale and measure the success of partnership programs. 
And if you need any help, our customer service team is known for its excellent support at every step of the process. 
This affiliate software is best for: All types of businesses, in all sizes, that want to build strong relationships with affiliates. It's especially awesome for businesses that have multi-step sales processes, like B2Bs. 
Advantages
Disadvantages

Can run other types of programs, like referral and ambassador programs 
Top-rated customer service
Wealth of integrations
Lots of customization options
Robust data reporting
Suitable for multi-step sales processes
API available

Ecommerce businesses wanting a very simple affiliate program software will find a better fit elsewhere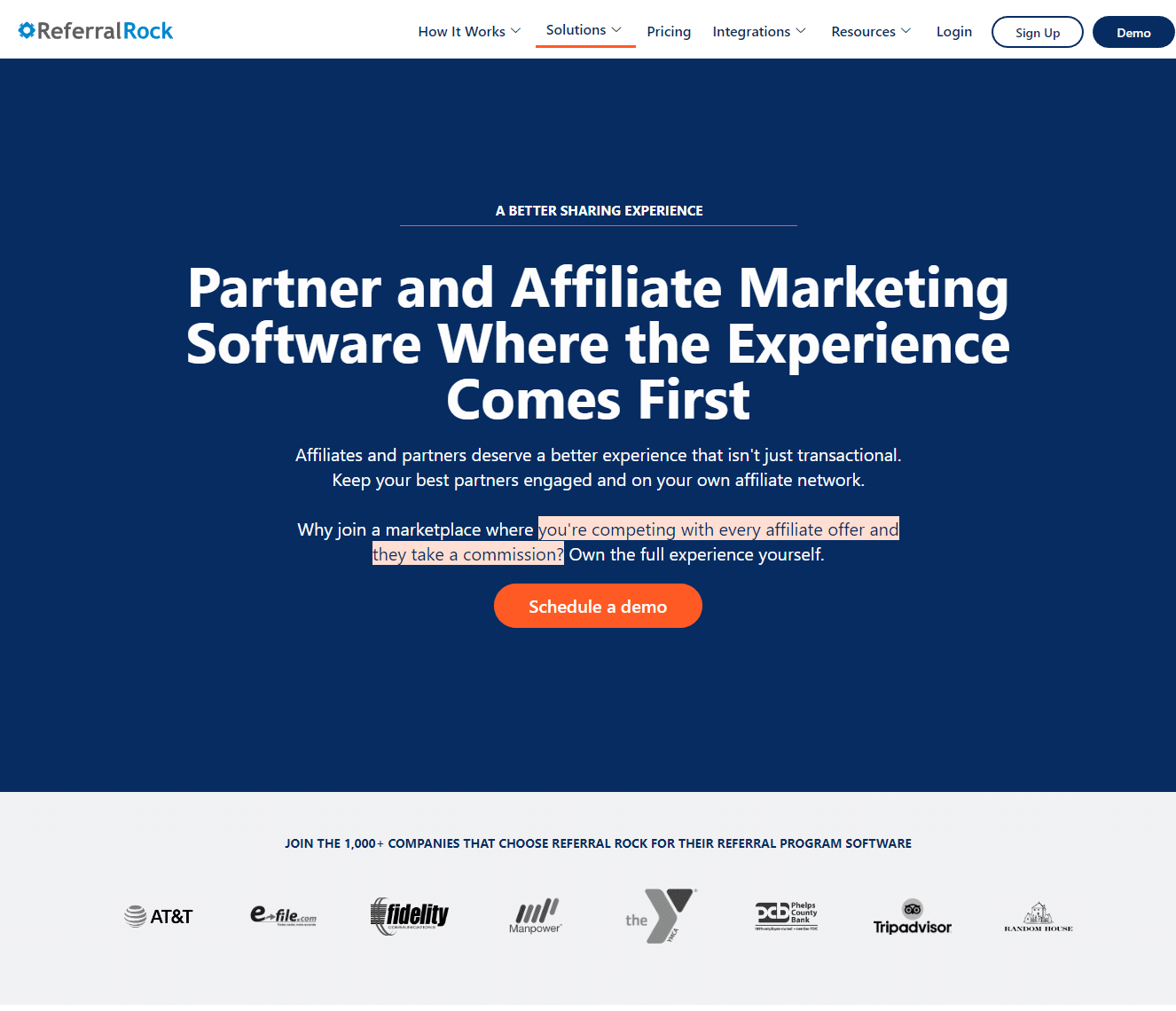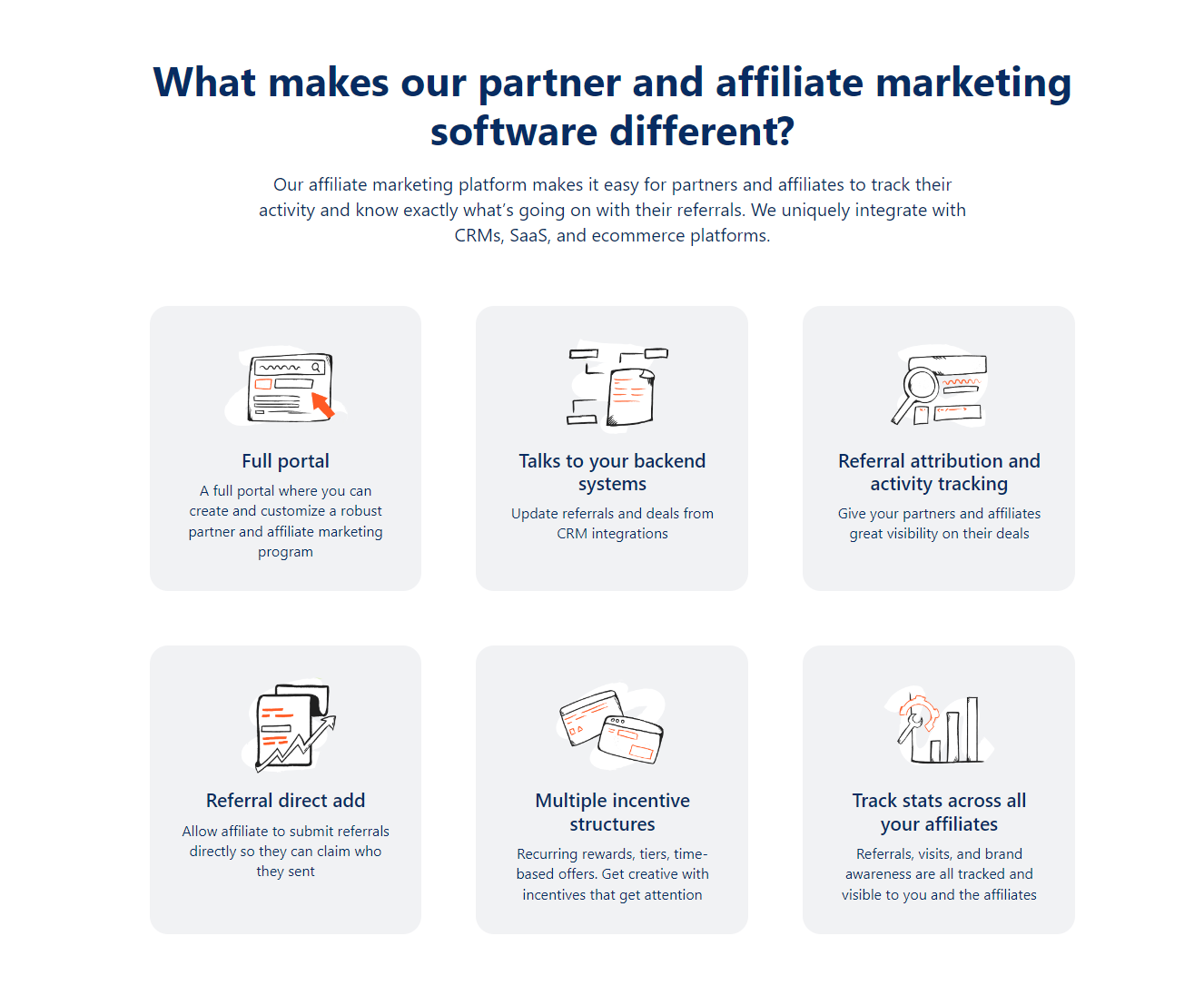 Top features
Customize the affiliate experience: Once you determine the affiliates or other partners you want to enroll, you can easily create and personalize the program, including through customizable affiliate landing pages.
Focus on relationship-building: Go beyond the transaction with our relationship-focused software, which helps you build strong connections through communication with affiliates.
Track and manage leads and affiliates: Track and capture every purchase made from each affiliate link or referral link, and quickly compensate each affiliate. Both you and your affiliates can monitor campaigns and all key performance indicators, right on the platform's dashboard.
Wealth of integrations: Referral Rock affiliate software seamlessly integrates with HubSpot, Salesforce, and plenty of other marketing and sales tools you're already using. Referral Rock also offers a mobile app and API integration, and lets you automate workflows with Zapier. 
Exceptional support: Expert services to help onboard and tailor the program to your unique business needs.
Our take: Referral Rock has a robust suite of affiliate management and tracking features, with expert services and specialists to guide you through every step of launching and managing your affiliate program. Automated engagement is also a plus, as Referral Rock helps keep affiliates motivated. And you'll be able to customize the program to your needs.
Of course, we may be a bit biased. But don't just take our word for it – our affiliate software has received stellar ratings on review sites for customer service, product, and fair pricing.
| | | | |
| --- | --- | --- | --- |
| Pricing | Free demo or trial | Customer support | Review score |
| $200-$800/month; enterprise plan also available  | Free trial and demo available | ​​Onboarding specialists, customer success managers, chat support, product and resource guides, support center, webinars | 4.5 out of 5 (70 reviews)  |
2. LeadDyno
Best simple ecommerce affiliate software

LeadDyno affiliate program software includes automated welcome emails, affiliate dashboards, and quick payment of commissions. With one-click sharing, your affiliates can easily share with their audiences. Affiliates can track their own progress in real time on their personal dashboard.
This affiliate software is best for: Ecommerce brands that want a simple solution
Advantages
Disadvantages

Lots of automation features
Customize your portal and affiliate payments

Not suitable if you aren't an ecommerce brand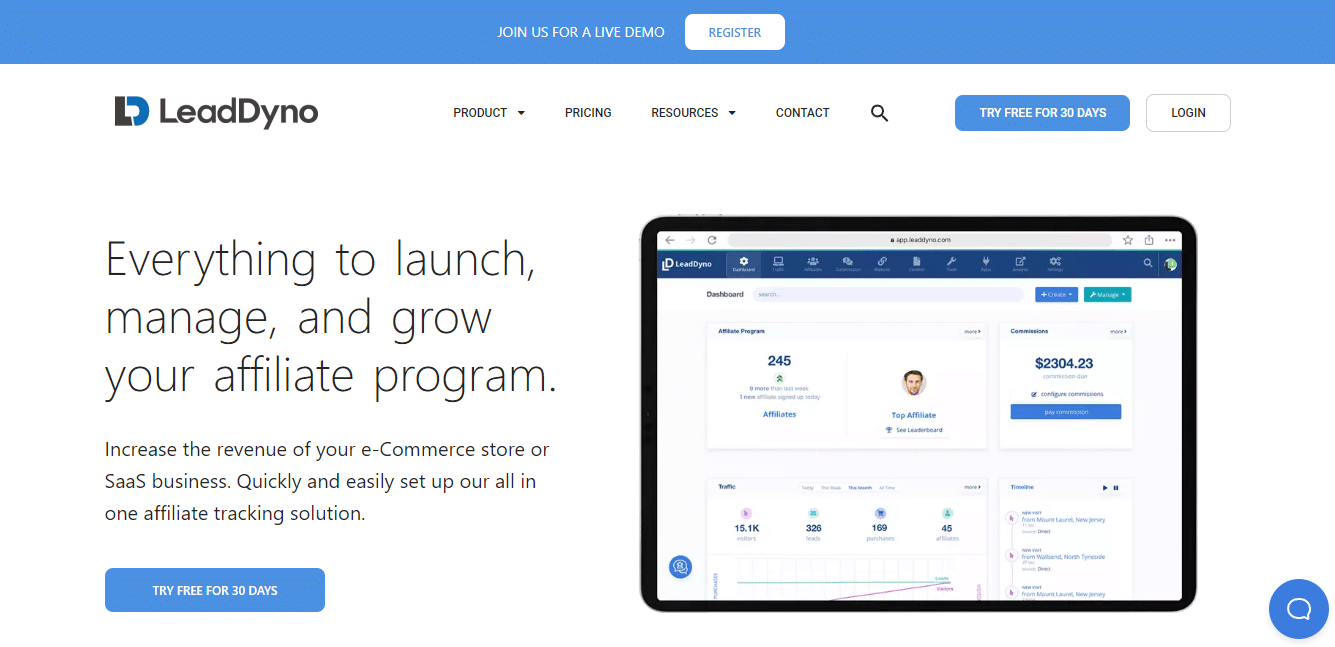 Top features
Immediately track visitors, leads, and sales that come from affiliates with the user interface. Track affiliate marketing via links, coupon codes, or custom affiliate websites.
Custom affiliate portal, including mobile app access for affiliates, with shareable branded content and access to their sales and commissions.
Customize affiliate payments, including for multi-level marketing structures. Pay affiliates in bulk and set different commission tiers for different affiliates.
Our take: LeadDyno is a simple affiliate solution. It's a good choice if you're an ecommerce business that wants a simpler software. But it definitely won't work for SaaS businesses or B2Bs with multi-step sales processes.
| | | | |
| --- | --- | --- | --- |
| Pricing | Free demo or trial | Customer support | Review score |
| $49-$749/month; enterprise plan also available | Free trial and demo available | Live chat, email, phone | 4.29 stars (132 reviews) |
3. UpPromote
Tailored affiliate software solution for Shopify ecommerce

UpPromote: Affiliate Marketing is one of the top recommended affiliate apps on the Shopify App Store, with more than 60K users globally. This all-in-one solution allows you to build and manage your marketing campaign easily. UpPromote is suitable for all business sizes, and implements customization upon request for Enterprise customers.
This affiliate software is best for: Ecommerce brands running the Shopify platform
Advantages
Disadvantages

Shopify expertise with a strong reputation
Free and paid plans available

Probably won't work if you're not a Shopify-based site
Can't integrate a CRM