If you're thinking of starting an affiliate program, or have already created a blueprint for one, congratulations! You've taken the first step towards scaling your business to the next level by partnering with affiliates. 
But before you take that massive leap of faith and dive right in, make sure you understand what affiliate management entails, including how to leverage affiliate software to streamline the entire process. 
In this article, we will cover:
A list of the top 15 affiliate software programs to choose from
Why you shouldn't use an existing network for managing affiliates
Key elements of, and top tips for, successful affiliate management
What is affiliate software?
Affiliate software (also called affiliate marketing software, affiliate management software, or affiliate tracking software) is a marketing tool used to create and maintain an affiliate program. It helps you automate, streamline, and centralize the end-to-end operations of your affiliate marketing campaign. Plus, it lets you track the success of your program, so you know if you're reaching your goals.
Thanks to affiliate software, you won't have to manage all the nuts and bolts of your program manually, which isn't the best use of your time or resources.  Marketing software also helps you launch your program faster and customize it to your needs. With the help of affiliate marketing software, your affiliate program will be professional, efficient, and instantly more appealing. 
What does affiliate software do?
Using affiliate marketing software, you can:
Run an affiliate marketing program that's fully owned by your business, without paying additional fees to an existing affiliate network.
Take advantage of a tracking solution that logs all affiliate sales and commissions for you, giving you 360-degree visibility. Plus, as you own all your affiliate data, you are equipped to make informed decisions.
Automatically award affiliate commissions when your affiliate partners earn them, keeping them happy.
Easily communicate with and build strong relationships with your affiliates.
Set up portals for affiliate training and asset distribution.
The 15 best affiliate software programs to choose from
What is the best affiliate marketing software to use? Our top 15 list will help you narrow down the most ideal affiliate management software for your needs. Check our list to learn each option's features, pricing, customer support options, and the other software that the tool integrates with. Plus, we've included each affiliate software's client review score, based on top review sites like Capterra and G2.
| Software | Pricing | Demo or free trial? | Customer support | Review score |
| --- | --- | --- | --- | --- |
| Referral Rock | Starting at $200/month | Free trial, demo | Onboarding specialist, customer success managers, chat support, support center, product and resource guides, support center, webinars | 4.5 (55 reviews) |
| TUNE | Starting at $599/month | Free trial, demo | Live chat, help site (knowledge base), support ticket submission, email, phone, training courses | 4.33 (166 reviews) |
| Kartra | Starting at $99/month | Demo | Live chat, help desk, phone support | 4.33 (176 reviews) |
| Post Affiliate Pro | Starting at $129/month | Free trial | Live chat, knowledge base, member portal, email, phone support | 4.58 (633 reviews) |
| Affise | Starting at $500/month | N/A | Email, live chat, dedicated onboarding manager | 4.54 (120 reviews) |
| UpPromote | Paid plans starting at $22/month | Demo and free plan | Email, in-app chat feature | 4.6 out of 5 (31 reviews) |
| Partnerize | N/A | Demo | Knowledge base, live chat, phone | 4.56 (73 reviews) |
| CAKE | N/A | Demo | Live chat, knowledge base, 24/7 phone and ticket support, additional professional services | 4.5 (76 reviews) |
| Ascend by Pepperjam | N/A | N/A | Live chat, knowledge base, email | 4.48 (7 reviews) |
| Circlewise | N/A | N/A | Help center, knowledge base, email | 4.8 (74 reviews) |
| AffiliateWP | Starting at $149/year | N/A | Knowledge base, support center | 4.58 (103 reviews) |
| Scaleo | Starting at $299/month | Free trial, demo | Knowledge base, email, chat, development team, dedicated account manager | 4.8 (44 reviews) |
| iDevAffiliate | Starting at $89/month | Free trial, demo | Live chat, support center, video tutorials, phone support | 3.92 (10 reviews) |
| LeadDyno | Starting at $49/month | Free trial, demo | Live chat, email, phone | 4.29 (132 reviews) |
1. Referral Rock

Referral Rock's affiliate marketing software helps you manage, track, and compensate affiliates efficiently, so you can rapidly generate sales and grow your business.
Our affiliate software tool has the flexibility to manage all types of affiliate and partner programs. Plus, you can also run customer referral programs, ambassador programs, and other word-of-mouth marketing programs with Referral Rock, based on what best fits your brand's needs.
Referral Rock's robust, user-friendly platform automates every step of the affiliate or referral process, allowing both online and offline businesses to scale and measure the success of partnership programs. 
And if you need any help, our customer service team is known for its excellent support at every step of the process.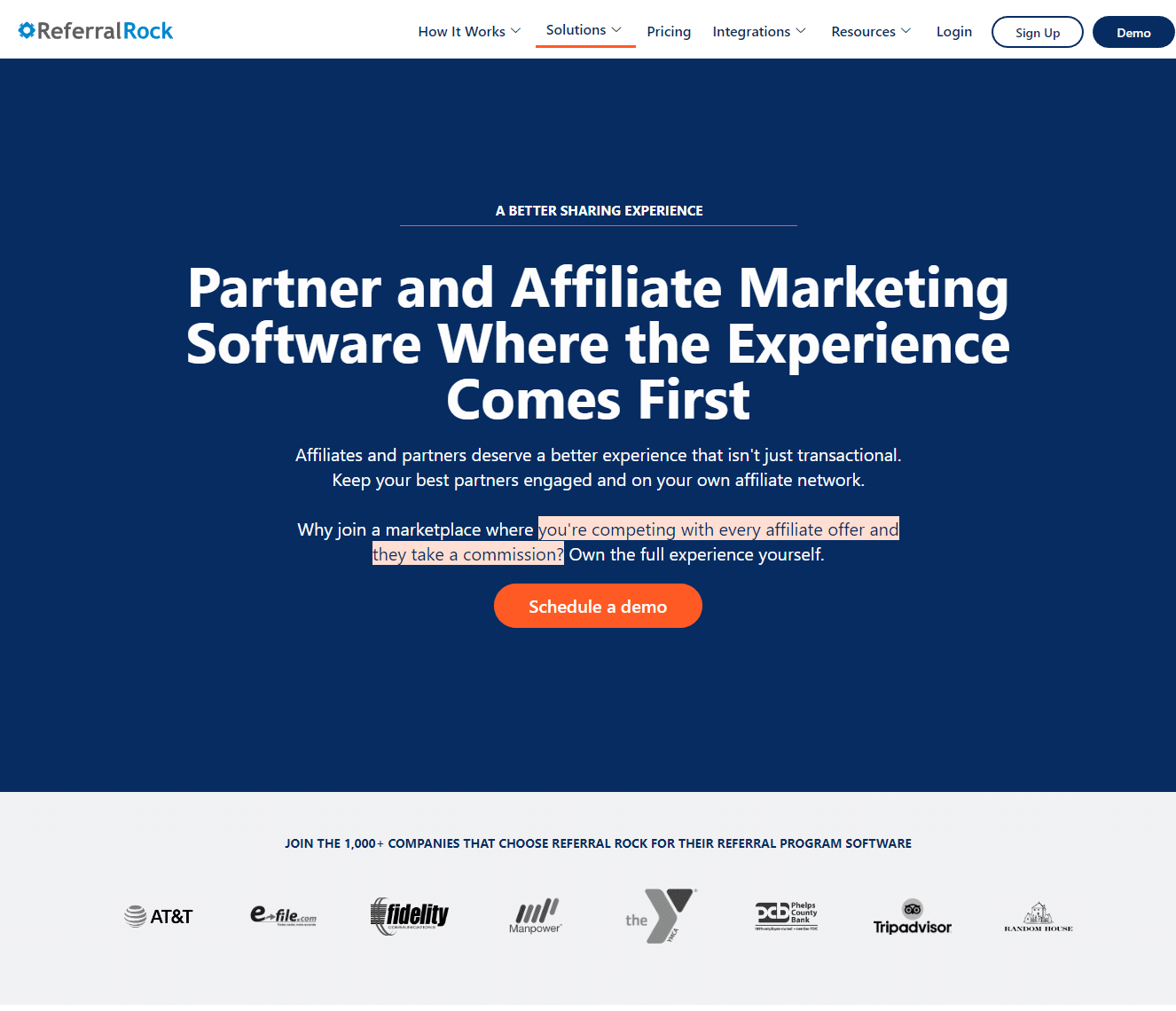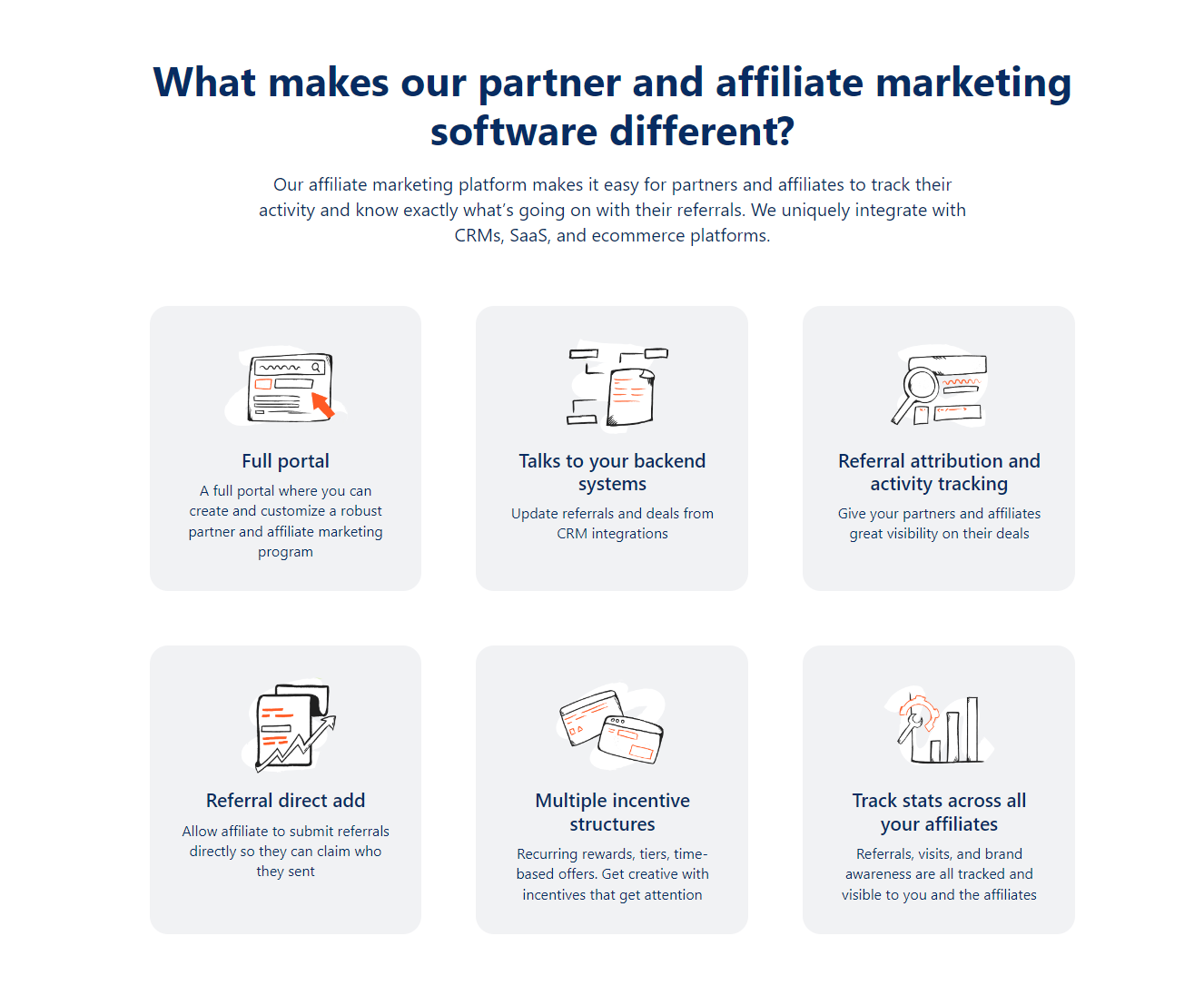 Top features
Customize the affiliate experience: Once you determine the affiliates or other partners you want to enroll, you can easily create and personalize the program, including through customizable affiliate landing pages.
Focus on relationship-building: Go beyond the transaction with our relationship-focused software, which helps you build strong connections through communication with affiliates.
Track and manage leads and affiliates: Track and capture every purchase made from each affiliate link and quickly compensate each affiliate. Both you and your affiliates can monitor campaigns and all key performance indicators, right on the platform's dashboard.
Wealth of integrations: Referral Rock affiliate software seamlessly integrates with HubSpot, Salesforce, and plenty of other marketing and sales tools you're already using. Referral Rock also offers a mobile app and API integration, and lets you automate workflows with Zapier. 
Exceptional support: Expert services to help onboard and tailor the program to your unique business needs.
Our take: Referral Rock has a robust suite of affiliate management and tracking features, with expert services and specialists to guide you through every step of launching and managing your affiliate program. Automated engagement is also a plus, as Referral Rock helps keep affiliates motivated. And you'll be able to customize the program to your needs. Of course, we may be a bit biased. But don't just take our word for it – our affiliate software has received stellar ratings on review sites for customer service, product, and fair pricing.
| | | | |
| --- | --- | --- | --- |
| Pricing | Free demo or trial | Customer support | Review score |
| $200-$800/month; enterprise plan also available  | Free trial and demo available | ​​Onboarding specialists, customer success managers, chat support, product and resource guides, support center, webinars | 4.5 out of 5 (55 reviews)  |
2. TUNE
TUNE was one of the first cloud-based SaaS platforms developed to support affiliate marketing early in 2009. Over the years, the software has developed into a full-fledged partner marketing solution, servicing the likes of Personal Capital, Groupon, Shopify, and Zillow, among many others.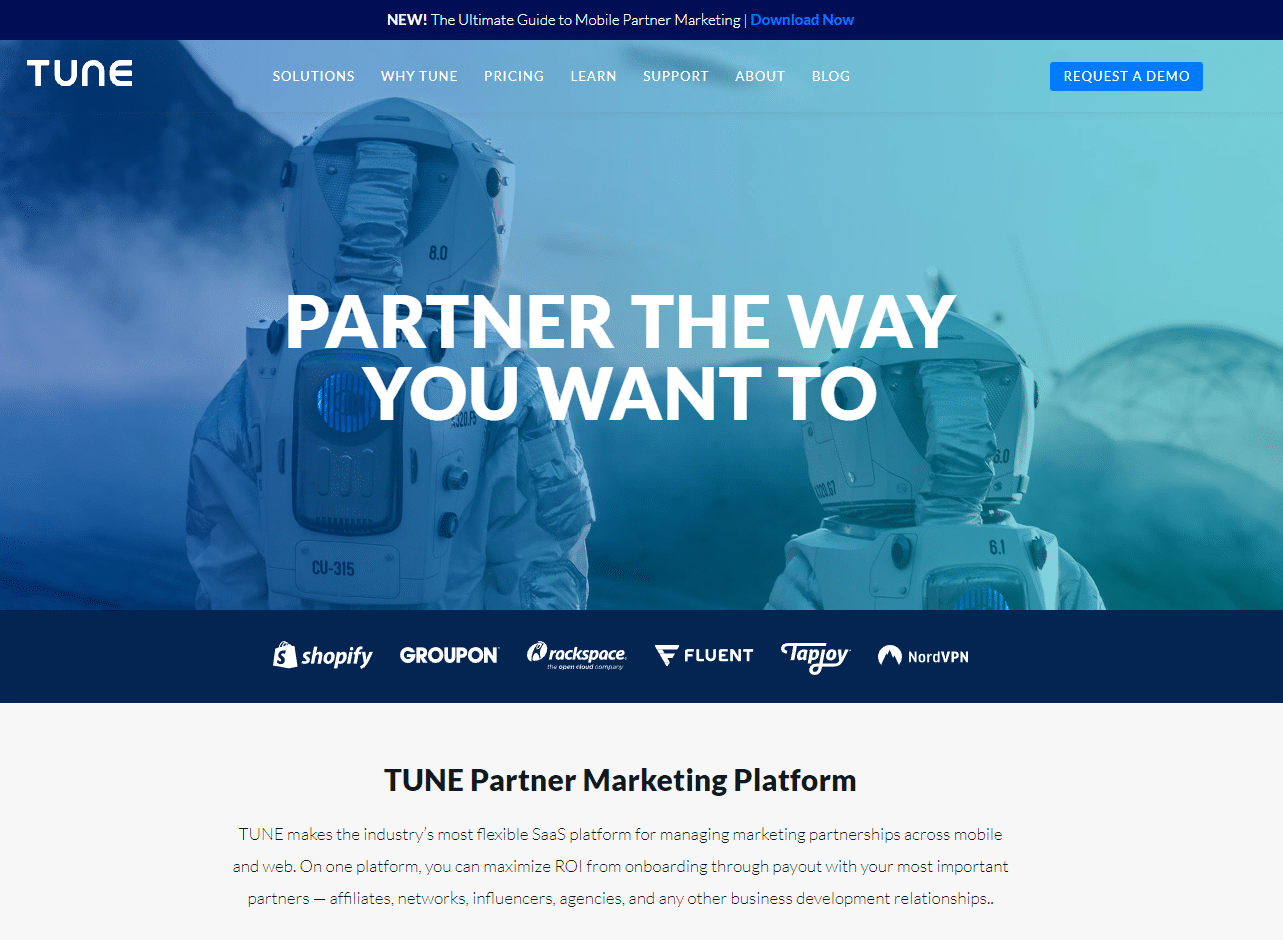 Top features
Flexibility: It can be integrated with any partner across any digital channel, whether that's app, web, mobile, or desktop. This allows you to centralize all your marketing efforts. 
Extract more meaningful information from the data optimization functionality. Measure cross-channel applications with cookieless postback tracking, deep dive with real-time reporting, and more. 
Create your own functions using TUNE's API. This two-way API gives you access to over 650 end-points.
Our take: TUNE is one of the most popular affiliate software choices, with a wealth of affiliate tracking and customization features to take advantage of. However, some reviewers say the learning curve is steep when you're first starting out with TUNE, so things may be rough for beginners. Plus, their plans are pricey, relative to the features they offer. 
| | | | |
| --- | --- | --- | --- |
| Pricing | Free demo or trial | Customer support | Review score |
| $599 – $1500/month; custom plans also available | Free trial and demo available | Live chat, help site (knowledge base), support ticket submission, email, phone, training courses | 4.33 out of 5 (166 reviews) |
3. Kartra

Kartra's affiliate marketing software helps you manage and optimize your affiliate relationships from a single centralized platform. Take advantage of the platform's single-click simplicity for incentivizing, paying, and communicating with your affiliates.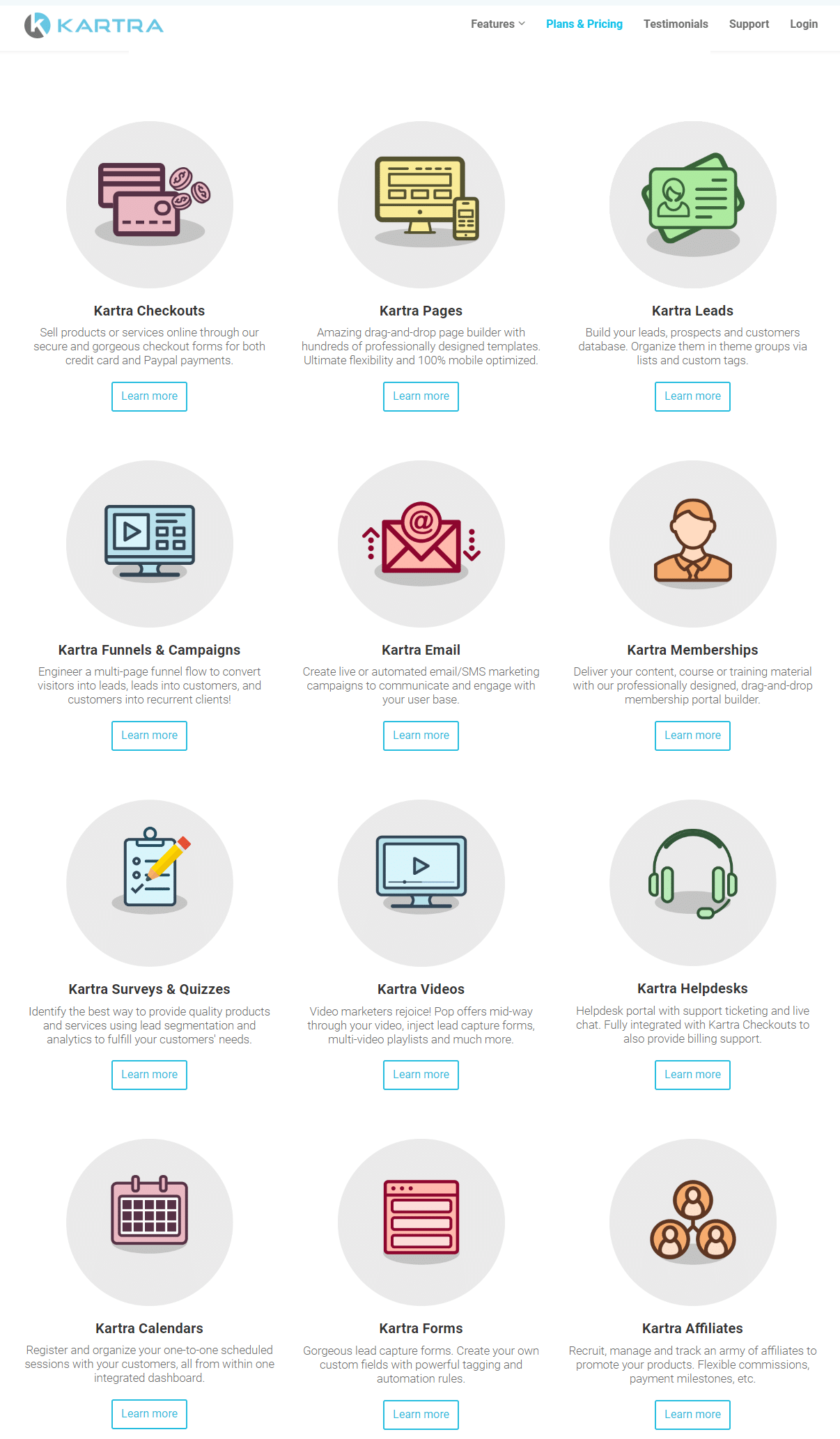 Top features
Choice of custom high-converting landing pages available for affiliates to use. Also, create multiple links to multiple landing pages.
Set up payment milestones: For instance, establish a minimum amount of sales to unlock payments, set up a withhold reserve period to cover refunds, or create a progressive payment release plan.
Integrate joint venture brokers: Allow joint venture brokers to recruit affiliates for you, earning a second-tier commission each time their affiliate base scores a sale.
Our take: Kartra makes it easy to screen and manage affiliates. However, the platform isn't very focused. The software includes many features outside the affiliate realm, so you could end up shelling out extra money for features you don't actually need.
| | | | |
| --- | --- | --- | --- |
| Pricing | Free demo or trial | Customer support | Review score |
| $99-$499/month | Free demo and $1 trial available | Live chat, help desk, phone support | 4.33 out of 5 (176 reviews) |
4. Post Affiliate Pro

Post Affiliate Pro is an established affiliate software, having been around since 2004. The platform allows you to manage multiple affiliate programs, track and measure affiliate marketing performance, assign commissions, and issue payouts on a single platform.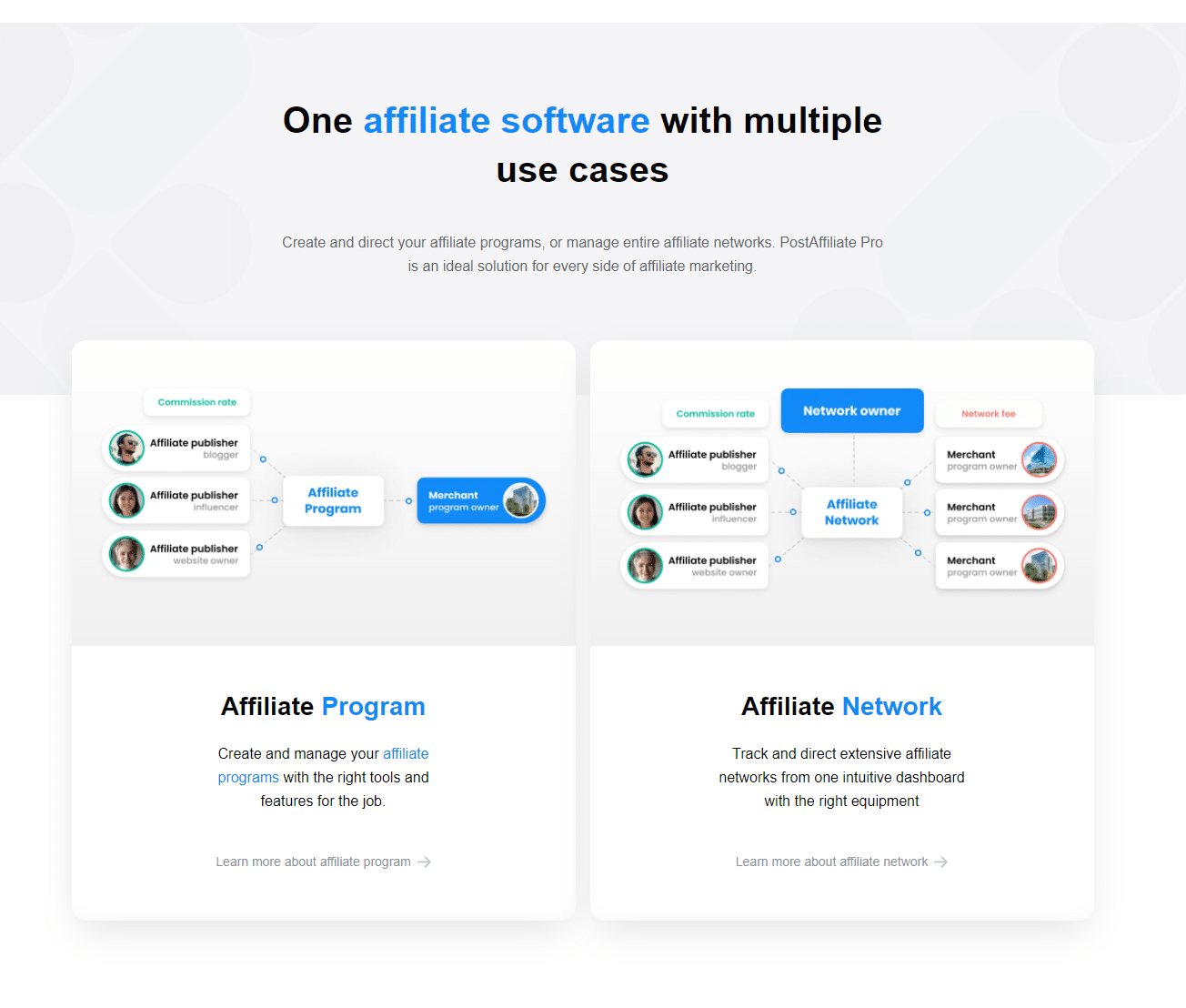 Top features
Easy-to-use affiliate software. An intuitive dashboard makes it easy to work with the platform. 
Offers integration with over 200 CMS and payment gateways including 2Checkout, Authorize.net, PayPal, Stripe, Wix, and WordPress.
Exceptionally rated customer service available 24/7, all year long.
Our take: Post Affiliate Pro has lots of integrations, so there's a good chance it will fit well with your existing marketing mix. It also offers lots of flexibility in design, promotional options, and affiliate compensation. But some reviewers have said it can be confusing and shaky, and support also gets mixed reviews. 
| | | | |
| --- | --- | --- | --- |
| Pricing | Free demo or trial | Customer support | Review score |
| $129-$599/month | Free trial available | Live chat, knowledge base, member portal, email, phone support | 4.58 out of 5 (633 reviews) |
5. Affise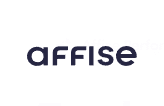 Affise offers two distinct affiliate management solutions – Affise Performance for performance marketing and Affise Reach to recruit new influencers and partners for your affiliate program. The ecosystem is designed to reduce marketing efforts while driving revenue. Affise also ensures transparency and reliability on user data with its  ePrivacyseal and SOC 2 Type II certification.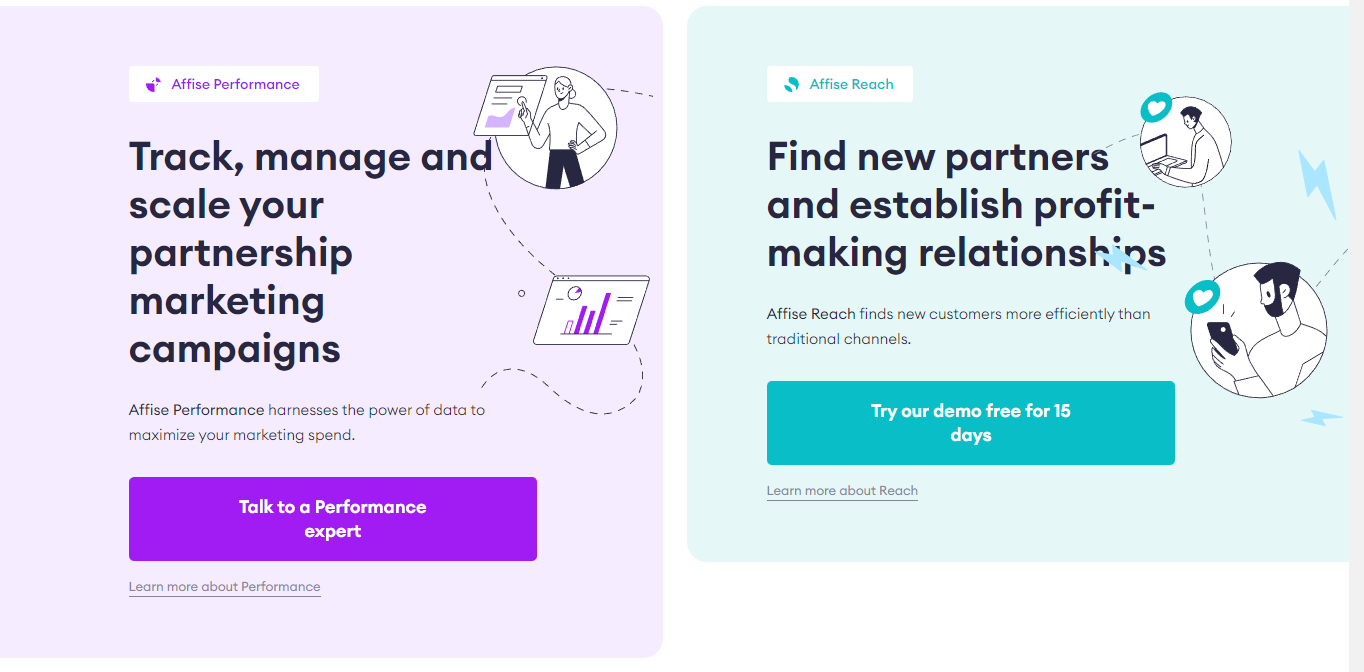 Top features
Create customized data overviews using advanced filtering and visualization options to streamline your marketing efforts. 
Save time and money with automated anti-fraud tools and easy integration with your existing tech stack using Affise's API.
Advanced tracking technology:  track C2S (client-to-server), S2S (server-to-server), promo codes (coupons), clicks, impressions, conversions, various types of attributions, and more.
Our take: Reviewers say Affise is easy to use, but several have also reported errors and bugs that affect the experience. And if you're looking to build other types of partnerships (beyond just affiliate partnerships), you'll likely want to choose another software. 
| | | | |
| --- | --- | --- | --- |
| Pricing | Free demo or trial | Customer support | Review score |
| $500-$800/month; custom and commission-based plans also available | None listed | Email, live chat, dedicated onboarding manager | 4.54 out of 5 (120 reviews) |
6. UpPromote

UpPromote: Affiliate Marketing is the top recommended affiliate/referral app on the Shopify App Store, with more than 60K users globally. This all-in-one solution allows you to build and manage your marketing campaign easily. UpPromote is suitable for all business sizes, and implements customization upon request for Enterprise customers.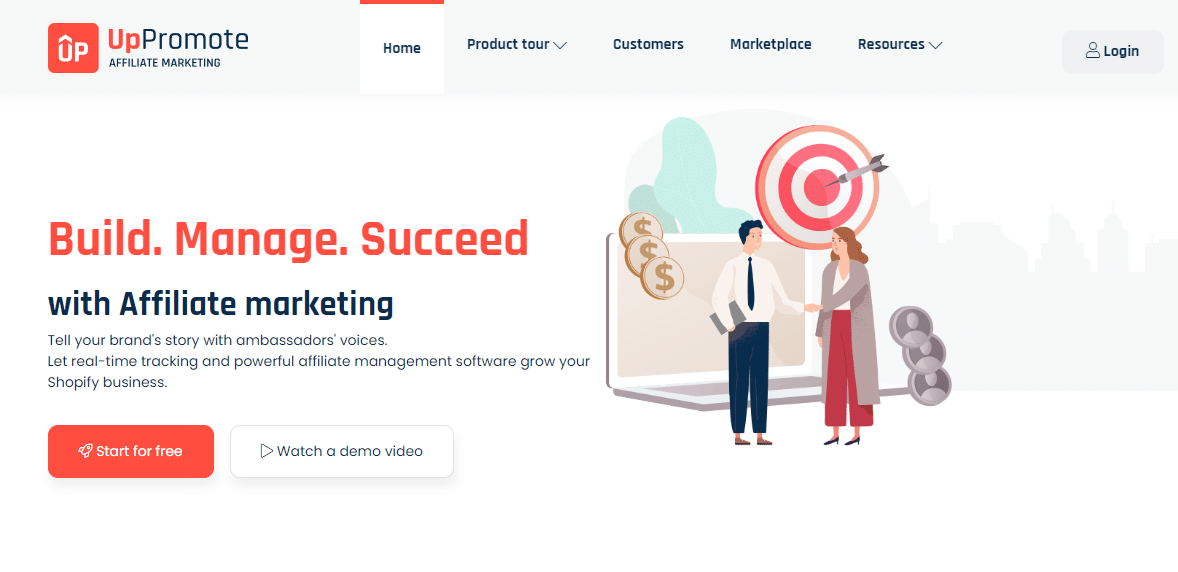 Top features
Easy setup/onboarding: Quick onboarding process and guideline systems and automated functions can help to save time, such as auto-generated affiliate links/coupons and auto approve affiliates/referrals.
Build and manage affiliate campaigns: Create unlimited affiliate programs with different commission offers. Track all referral orders and affiliate performance automatically.
Support to grow your affiliate team: Free listing on UpPromote Marketplace. Furthermore, the customer referral feature is the highlight tool that will allow customers to promote your products when shopping in your store without joining affiliate programs.
Our take: Reviewers say UpPromote is a great tool for growth and sales. However, it's also mentioned that the interface can be a bit complex.
| | | | |
| --- | --- | --- | --- |
| Pricing | Free demo or trial | Customer support | Review score |
| $0-$140/ month | Demo and free plan available | Email, in-app chat feature | 4.6 out of 5 (31 reviews) |
7. Partnerize

Partnerize provides partnership technology that automates all the tedious tasks associated with affiliate management, to help businesses find and convert their target audience at scale. It's a comprehensive suite that offers partner discovery capability, recruitment, optimization, payment, brand safety, and fraud prevention capabilities.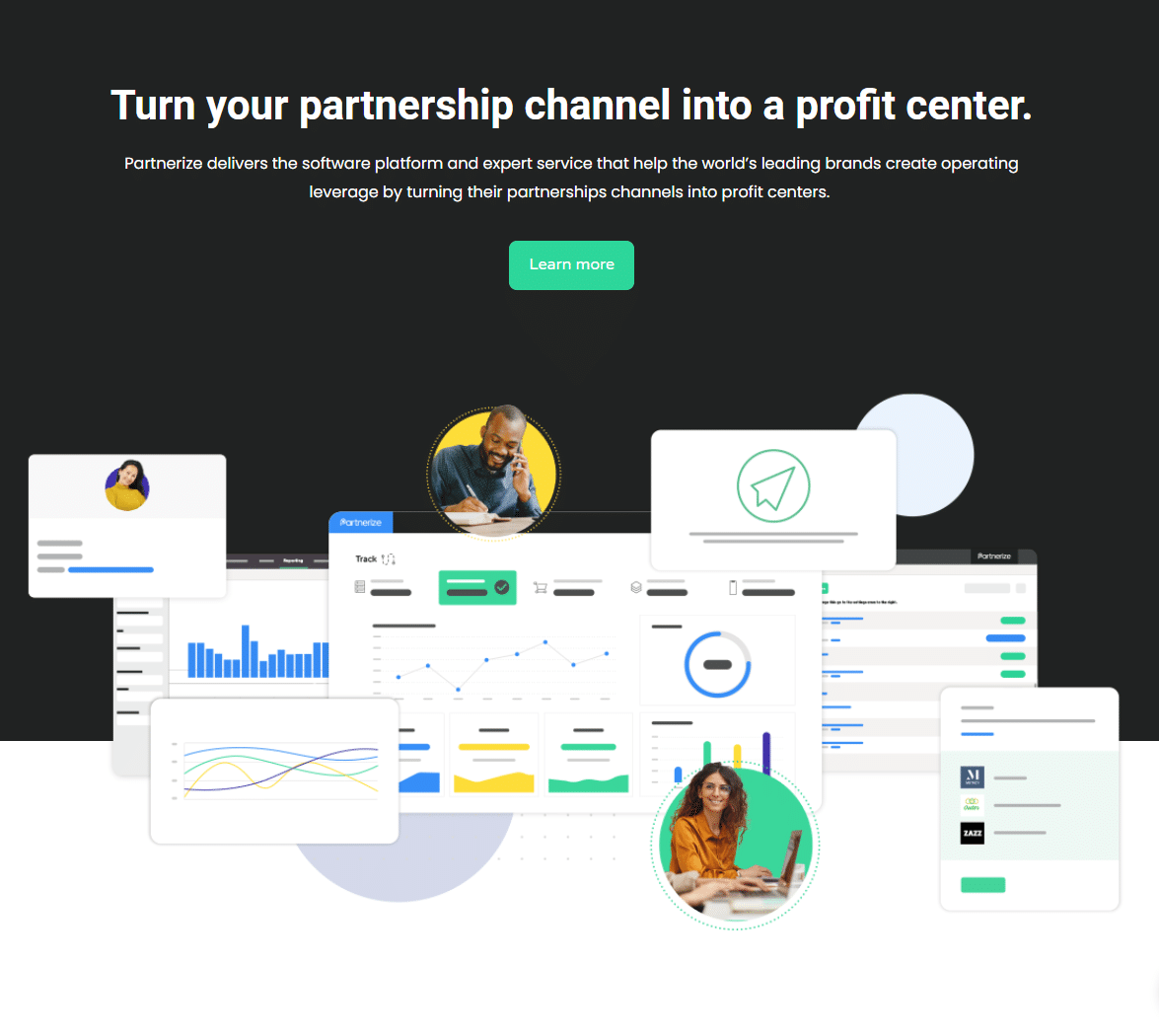 Top features
Easily identify and recruit affiliate partners most relevant to your brand from categories such as content, influencer, loyalty, and coupon.
Easily implement solutions such as first-party, server-to-server, batch, and mobile app tracking. Or, leverage the suite of ecommerce plugins for turnkey activation and tracking of your partner program.
Use comprehensive visuals, easily-digestible reporting, and on-demand performance analytics mapping to gain full visibility into your partner data.
Our take: Partnerize functions a lot like an affiliate network. Although it's easier to find affiliates with Partnerize than with most platforms, affiliates can compare your program side-by-side with all other programs on the network (making it harder to compete with other brands). Also, you don't truly own the affiliates on the Partnerize platform, and it's harder to recruit affiliates and keep them engaged.  On top of all this, reviewers say Partnerize is difficult to use. 
| | | | |
| --- | --- | --- | --- |
| Pricing | Free demo or trial | Customer support | Review score |
| No pricing listed | Free demo available | Knowledge base, live chat, phone | 4.56 out of 5 (73 reviews) |
8. CAKE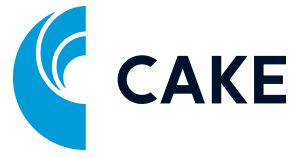 CAKE's affiliate marketing software solution helps you manage and measure partner performance with precision for improved profit margins. The software is currently used by over 500 advertisers in over 50 countries worldwide. CAKE's core selling points are data accuracy, security, and stellar customer support.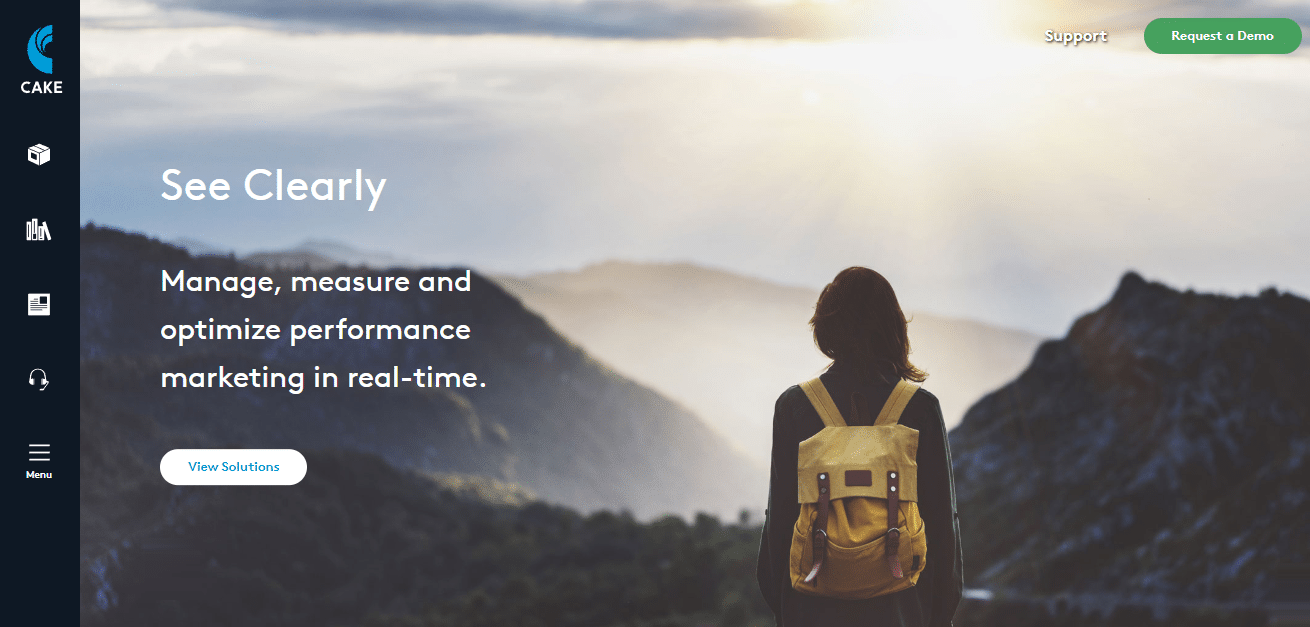 Top features
Gain real-time insights into partner and campaign performance, customizable alerts, granular data, and unique commission structures to reward partners.
Use custom parameters such as location, device, browser, traffic caps, and redirects for real-time monetization of traffic. Ensure accurate measurement for each impression, click and conversion for proper revenue and payout attribution.
99.9% uptime on a global infrastructure hosted by Amazon Web Services (AWS).
Our take: CAKE offers plenty of features to customize your program, monitor affiliate data, and help prevent affiliate fraud. Unfortunately, the platform isn't transparent about pricing, so it's hard to say how much you'll need to invest. It's likely on the expensive side, meaning it may be out of reach if your business isn't big enough. 
| | | | |
| --- | --- | --- | --- |
| Pricing | Free demo or trial | Customer support | Review score |
| No pricing listed | Free demo available | Live chat, knowledge base, 24/7 phone and ticket support, additional professional services | 4.5 out of 5 (76 reviews) |
9. Ascend by Pepperjam

Ascend by Pepperjam is a full-cycle affiliate marketing platform. Perform outreach activities to find quality affiliate partners, track performance, manage payouts, and protect your investment across all media channels using the company's compliance monitoring technology. Pepperjam was recently acquired by Partnerize.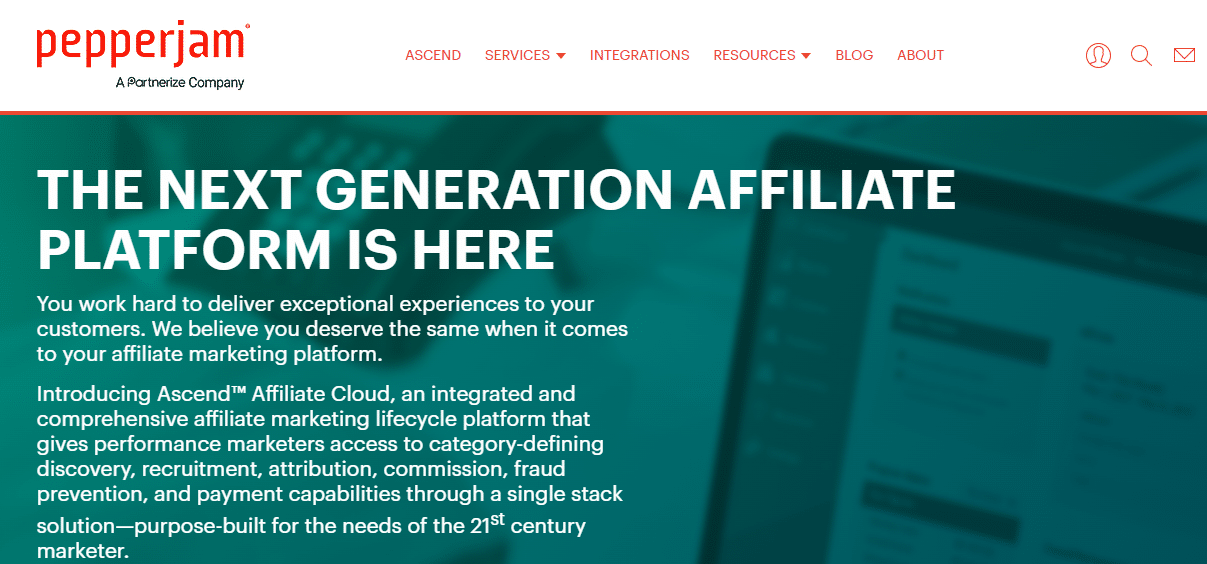 Top features
Optimize your partner mix by using Ascend's verified, data-driven recommendations for diverse, dynamic partnerships based on the unique attributes of your most profitable customers.
Automate your affiliate partner recruitment using the algorithm-driven discovery engine.
Identify cost savings with front-and-center widgets and KPI tracking that help maximize your returns on marketing spends.
Our take:  Although some reviewers rave about the strong UI, others say it's clunky and hard to navigate. We've also heard that Pepperjam charges by the user, which might mean it's on the expensive side (and it's hard to know, since Pepperjam isn't transparent about their pricing). 
| | | | |
| --- | --- | --- | --- |
| Pricing | Free demo or trial | Customer support | Review score |
| No pricing listed | None listed | Live chat, knowledge base, email | 4.48 out of 5 (7 reviews) |
10. Circlewise

Circlewise has experience in developing more than 200 partner programs in over 10 European countries to date. According to its website, the company has tracked over 600 million events and boasts over 10,000 publishers to choose from. Circlewise also offers unique add-ons not available elsewhere in its partnership hub.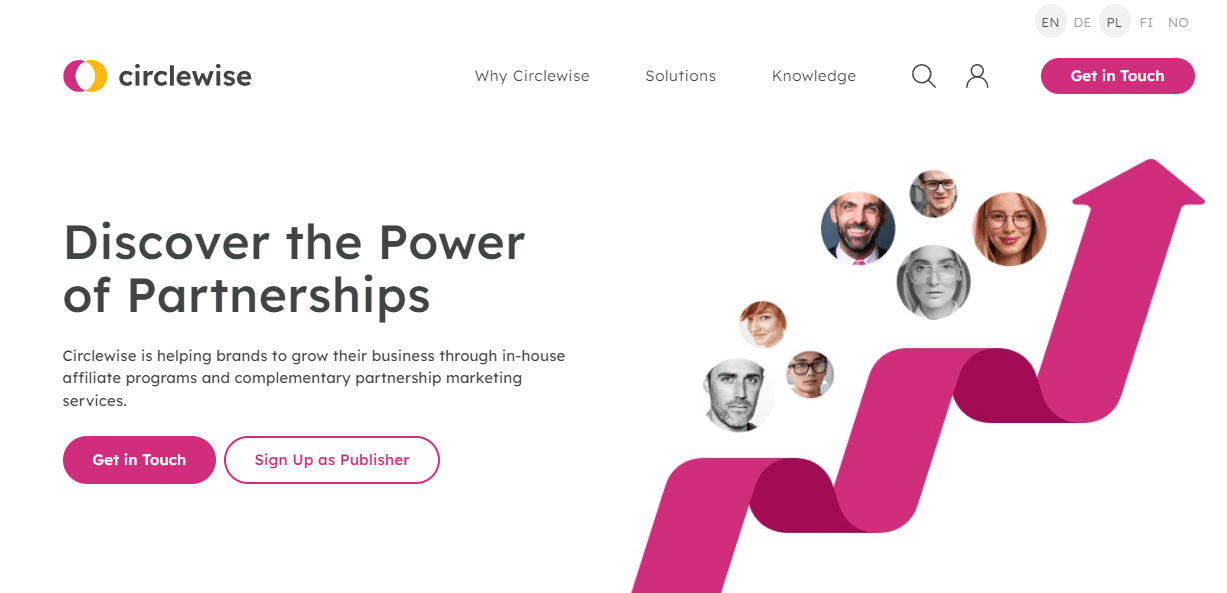 Top features
Customizable platform enables users to match the software to the brand colors and design.
Self-service dashboard offers the ability to create, edit, and pause offers at any time supporting the ability to instantly adapt to market requirements. 
Get accurate performance analysis reports that track activities across all affiliate channels in use.
Our take: Circlewise operates as a marketplace – very similar to an affiliate network. It's easy to find affiliates using the platform. However, the platform owns these affiliates (your business doesn't have full control). Plus, affiliates can easily compare your program to competitors' programs, so it can be hard to recruit and engage with affiliates. We have heard that you can scale your spend up or down with every month, though, so that's intriguing. 
| | | | |
| --- | --- | --- | --- |
| Pricing | Free demo or trial | Customer support | Review score |
| No pricing listed | None listed | Help center, knowledge base, email | 4.8 out of 5 (74 reviews) |
11. AffiliateWP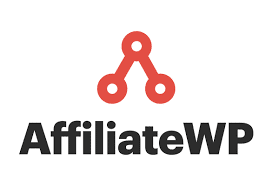 AffiliateWP is specifically designed for WordPress and WooCommerce sites looking for a 'plug and play' solution. It is an advanced feature-packed WordPress plugin that seamlessly integrates with your WordPress or WooCommerce site, helping you track your affiliates and referrals with ease.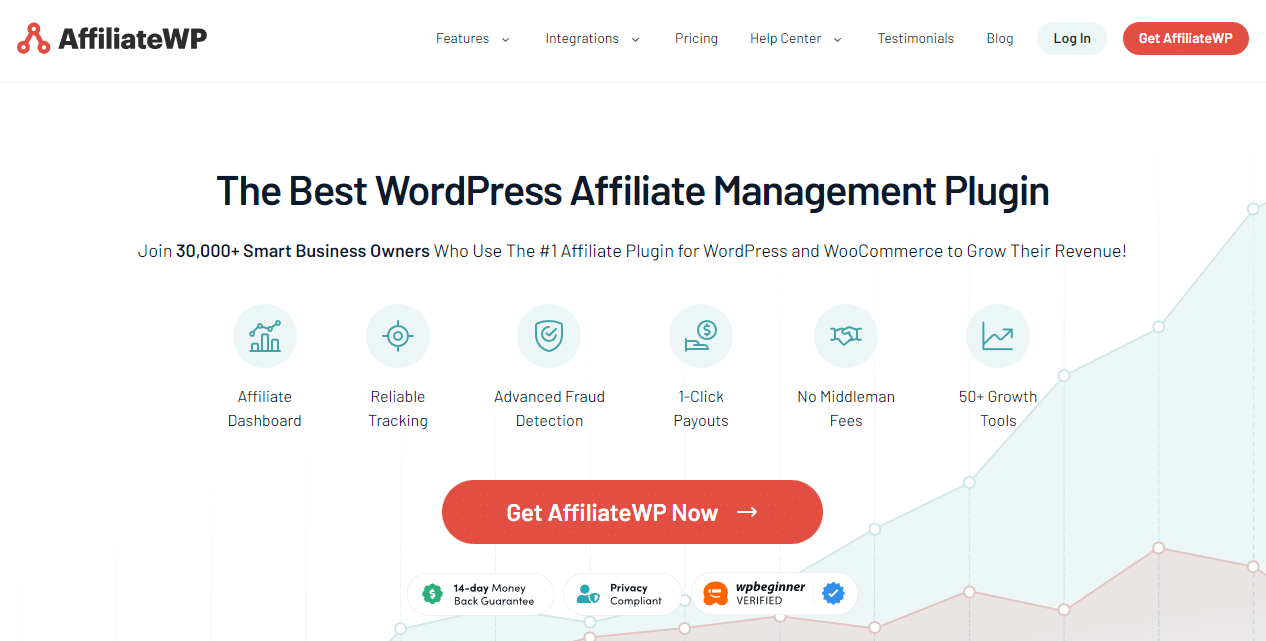 Top features
Because it's a plugin, downloading and activating AffiliateWP on your WordPress backend is all it takes to complete the setup process. 
Offers easy payment solutions via direct payouts to bank accounts or debit cards for your affiliates.
Provides a dedicated affiliate area for your affiliates to track their performance, view earnings, retrieve their referral URL, find creatives, and more.
Our take: AffiliateWP boasts several detailed affiliate tracking and affiliate management features built especially for WordPress and WooCommerce. But if you're using another ecommerce platform (like Shopify or BigCommerce), AffiliateWP isn't the right option for you. 
| | | | |
| --- | --- | --- | --- |
| Pricing | Free demo or trial | Customer support | Review score |
| $149-$599/year | None listed | Knowledge base, support center | 4.58 out of 5 (103 reviews) |
12. Scaleo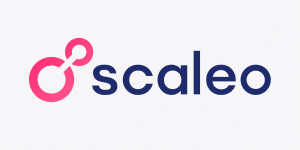 Scaleo offers a simple and easy affiliate management solution to track, analyze, and optimize your affiliate business. The solution can be applied effectively for affiliate networks as well as advertisers and media buyers. Scaleo's usability is enhanced by its AI-based back-end and interface.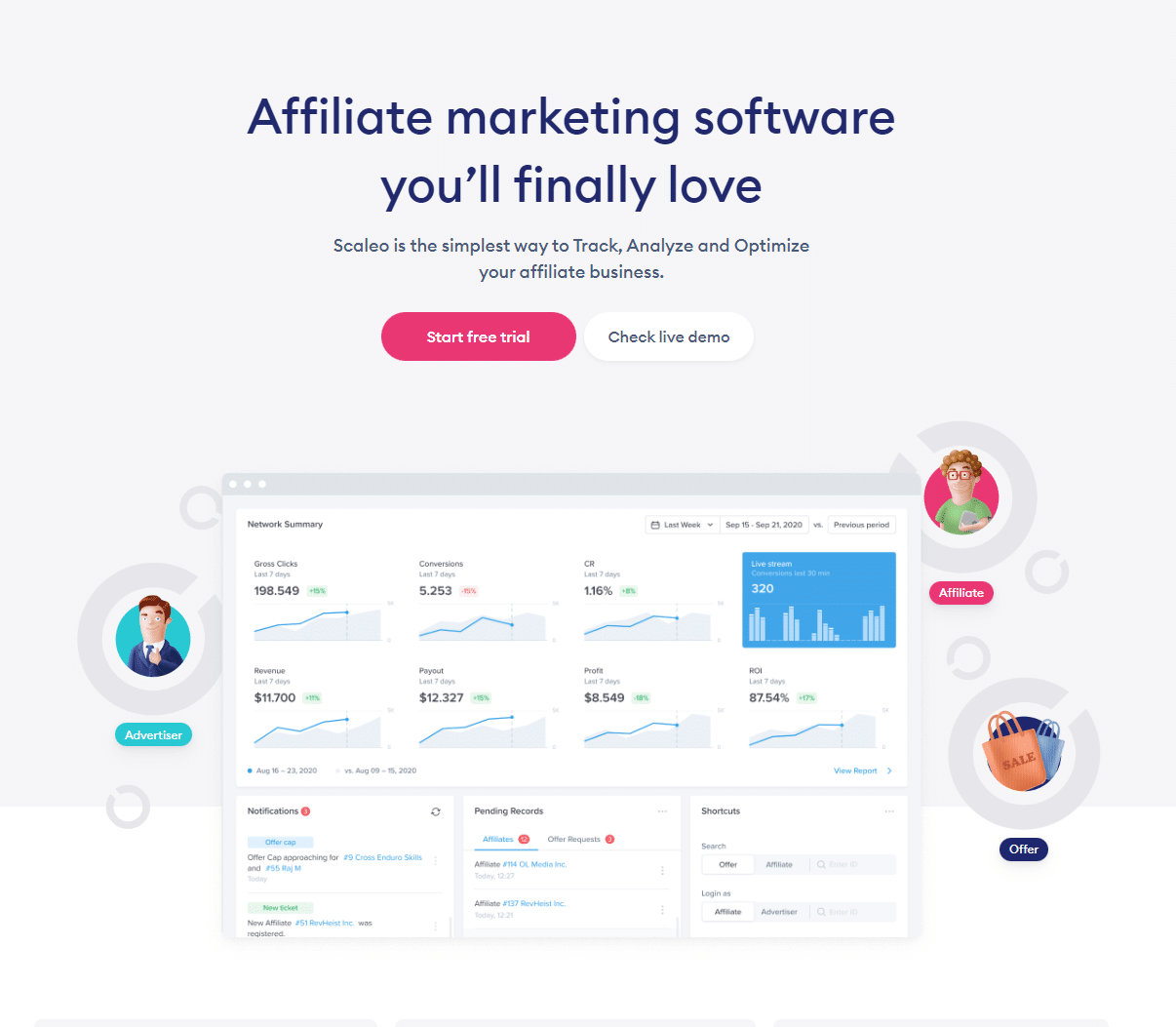 Top features
Availability of real-time data and instant reporting backed by over 30 different data breakdowns and over 50 data points. 
Inbuilt Anti-Fraud Logic eliminates fraudulent traffic from affiliate campaigns.
Fully customizable white-label affiliate software solution.
Our take: The detailed focus on preventing fraud is definitely an advantage. The use of AI is interesting, but we're unclear about how this may help you manage and track your affiliates' efforts.
| | | | |
| --- | --- | --- | --- |
| Pricing | Free demo or trial | Customer support | Review score |
| $299-$999/month | Free demo and trial available | Knowledge base, email, chat, development team, dedicated account manager | 4.8 out of 5 (44 reviews) |
13. iDevAffiliate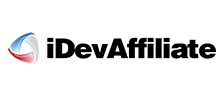 iDevAffiliate is a feature-packed affiliate management solution that's easy to set up and simple to use. iDevAffiliate currently offers integrations with over 175 shopping cart partners, including the likes of BigCommerce, Shopify, Stripe, and WooCommerce.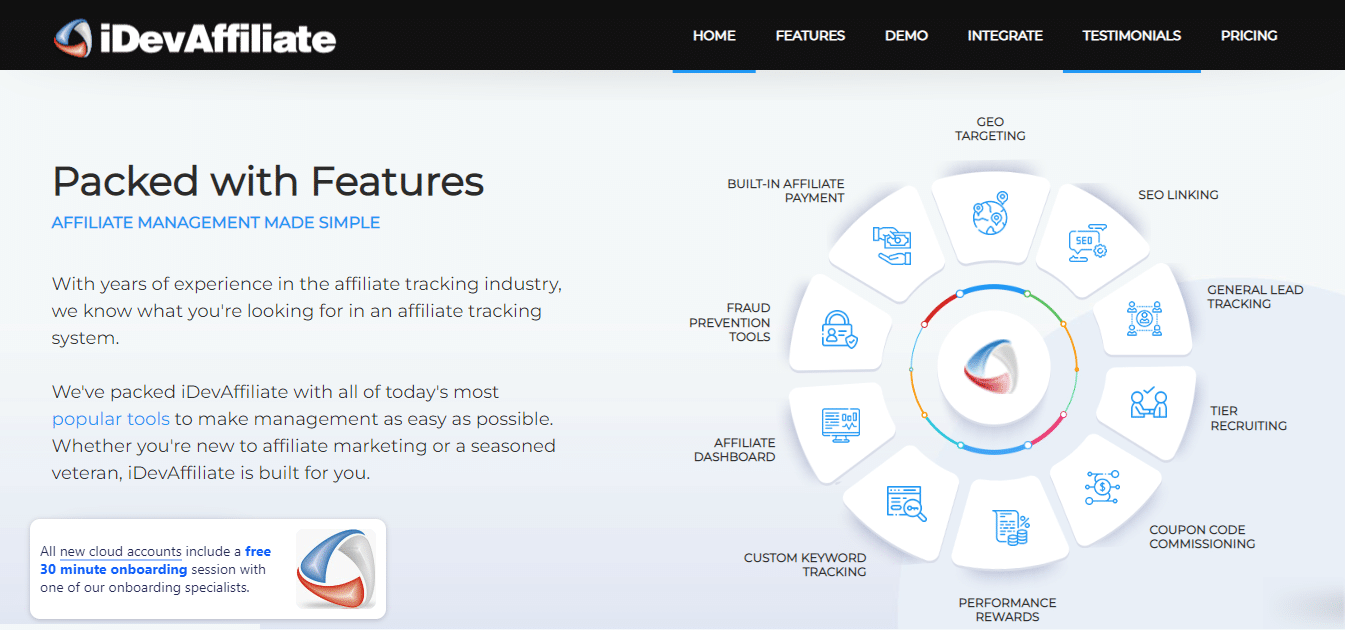 Top features
iDevAffiliate offers multi-tier affiliate recruitment functionality. Your affiliate partners can earn additionally from affiliates they recruit under themselves.
Affiliates can easily share marketing content across all the popular social media channels including Facebook, Twitter, YouTube, LinkedIn, and Pinterest. 
iDevAffiliate also offers coupon code tracking, a plus for word-of-mouth marketing. Easily assign coupon codes to your affiliates to support their marketing initiatives. 
Our take: iDevAffiliate is one of the most experienced platforms on this list. If you're planning on self-hosting, the one-time price seems very beneficial. Reviewers say that the customer support quality can be mixed, however.
| | | | |
| --- | --- | --- | --- |
| Pricing | Free demo or trial | Customer support | Review score |
| $39-$79/month; one-time purchase licenses available | Free demo and trial available | Live chat, support center, video tutorials, phone support | 3.92 out of 5 (10 reviews) |
14. Tapfiliate

Tapfiliate's cloud-based affiliate tracking software enables you to create, track, and optimize your own affiliate programs. Create an affiliate program quickly, then sit back and watch as your affiliates promote you. The software also allows you to customize the reward structure for your affiliates.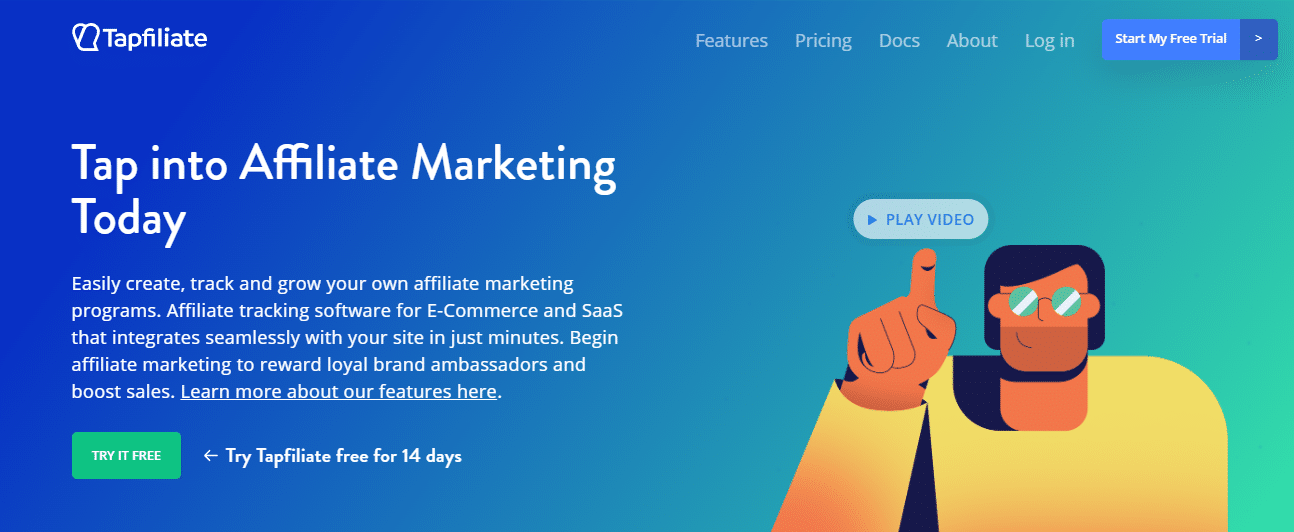 Top features
Onboard affiliates with a custom, personal dashboard, and give them promotional materials including professional-looking links and codes, branded affiliate pages, banners, and social media post templates.
Integrate with Shopify, Woocommerce, WordPress and more.
Flexible rewards, including percentage commission, fixed cash, one-off, recurring, and lifetime commissions. Set performance-based bonuses or create reward tiers to motivate affiliates.
Our take: Tapfiliate appears to offer a good suite of customization and affiliate tracking features. We couldn't find much in the way of customer support, though, besides the portal of self-service docs. Some reviewers also note that you can't pay affiliates from the platform, so that's another drawback.
| | | | |
| --- | --- | --- | --- |
| Pricing | Free demo or trial | Customer support | Review score |
| $89-$149/month; enterprise plan also available | Free trial available | Self-service docs | 4.48 stars (68 reviews) |
15. LeadDyno

LeadDyno affiliate program software includes automated welcome emails, affiliate dashboards, and quick payment of commissions. With one-click sharing, your affiliates can easily share with their audiences. Affiliates can track their own progress in real time on their personal dashboard.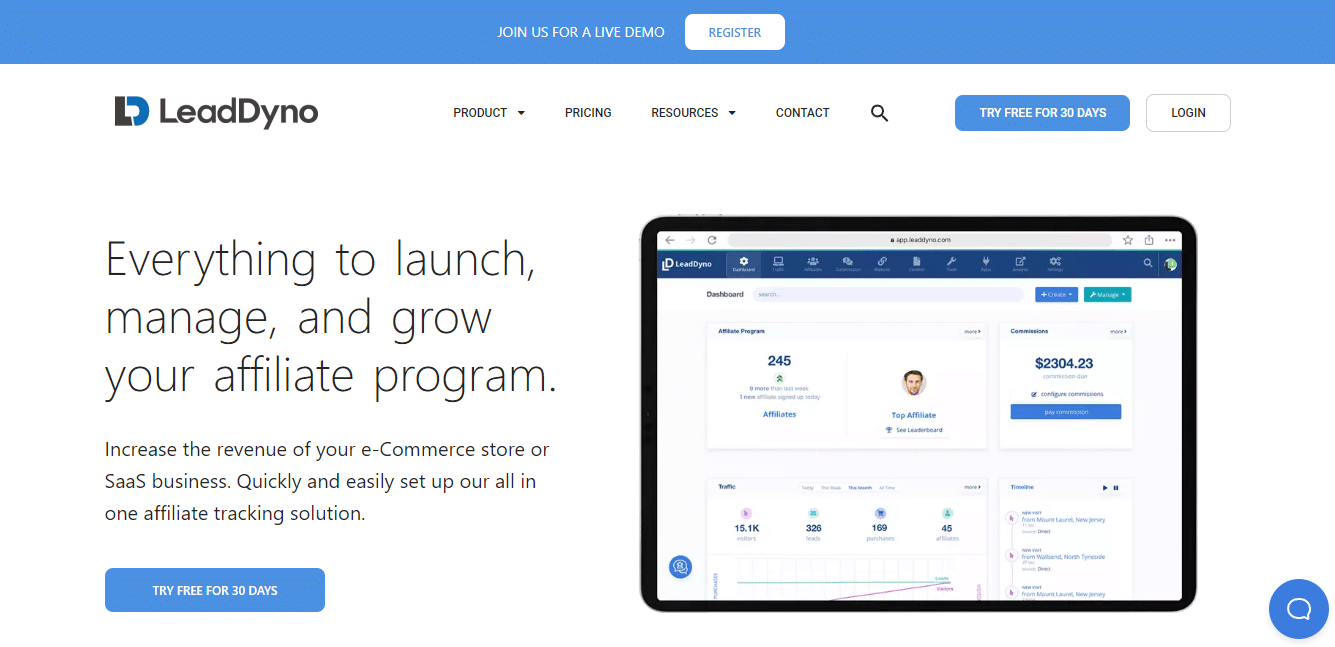 Top features
Immediately track visitors, leads, and sales that come from affiliates with the user interface. Track affiliate marketing via links, coupon codes, or custom affiliate websites.
Custom affiliate portal, including mobile app access for affiliates, with shareable branded content and access to their sales and commissions.
Customize affiliate payments, including for multi-level marketing structures. Pay affiliates in bulk and set different commission tiers for different affiliates.
Our take: LeadDyno is a simple affiliate solution. It might be a good choice if you're an ecommerce business, but it definitely won't work for SaaS businesses or B2Bs with multi-step sales processes.
| | | | |
| --- | --- | --- | --- |
| Pricing | Free demo or trial | Customer support | Review score |
| $49-$349/month; enterprise plan also available | Free trial and demo available | Live chat, email, phone | 4.29 stars (132 reviews) |
What is affiliate management?
"Affiliate management" encompasses a lot more than simply being in charge of your affiliates. It also involves developing long-term relationships with affiliates: content creators who will promote your products on their own channels (websites and social media profiles) and link to your company website. 
As such, affiliate management requires the ability to build strong, mutually beneficial relationships through active communication, engagement, motivation, and incentivization. 
Beyond the more apparent business development aspects, affiliate management also involves administrative tasks such as creating a structure for your affiliate program and setting the wheels in motion. As an affiliate manager, you'll also need to track affiliate sales via those links to your website, and efficiently reward affiliates with commissions on every sale (to keep them happy).
Why you shouldn't use an existing network to manage affiliates
You may be wondering whether you should choose one of the affiliate software programs above, or whether you should outsource your program to an existing affiliate network instead.
It's normal to feel overwhelmed at having to choose between using an existing network and building your own affiliate program with software.
 With all the work involved in affiliate management, an existing affiliate network may seem attractive, because the network finds affiliates for you and handles all parts of the affiliate management process. 
But we suggest you create your own affiliate network with affiliate management software, because using an existing network can have several disadvantages:
Existing networks don't support the building of strong relationships between affiliates and your company. Instead, they manage affiliates for many companies at once – and it works to their advantage when affiliates divide their time between brands. So, an affiliate network won't be invested in helping your brand build close relationships with affiliates. 
Existing networks don't have an incentive to engage affiliates and motivate them to make more sales for your company. Rather, they earn more money when affiliates make sales for multiple companies. In this scenario, you become just one of several competitors trying to stay afloat within the same network. 
Recruiting quality affiliates can be costly. Often, the top affiliates in a network will go to the companies that can afford to pay the highest commissions. After all, networks are an affiliate's market, not a brand's market. This can hinder your efforts in building your brand and creating a large, loyal customer base, especially if you're a small business or startup.
You won't be able to communicate with affiliates, as the networks own all communications with affiliates. Again, this points to a pitfall as far as relationships go. You won't have the benefit of leveraging relationships to create new sales opportunities or build additional avenues of growth.
You won't own affiliate data. Since the network owns all affiliate data, you won't be able to make the most informed decisions on how to manage your affiliate program.
You'll end up paying extra fees to the network – often up to 30% of affiliate sales. That's in addition to the commissions you pay affiliates. You can completely eliminate this cost when you create an affiliate program exclusively for your business.
Ultimately, it's better to build and manage your own affiliate network – making use of affiliate software – rather than going with existing affiliate networks. Software lets you communicate smoothly and nurture close relationships with your affiliates. It also streamlines the entire program from start to finish, including automation, affiliate tracking, and rewards. 
Review affiliate management platforms carefully. Some of them, like Partnerize and Circlewise, function too similarly to affiliate networks. Your business will sacrifice control of your data and relationships if you choose a network-like platform.
How to choose the best affiliate management software?
We've established that affiliate software is the best choice for running your affiliate marketing program, but how can you determine which affiliate software provider is the best fit for your needs? Consider the following:
Does the software integrate well with your CRM and other software in your existing tech stack?
Does the software let you fully customize your affiliate program, including your commission structure, branding, portal, and how you communicate with affiliates?
What metrics does the software track, to give you a detailed view of how the program performs?
Does the software include automated engagement tools to help keep affiliates motivated?
What other tasks does the affiliate software automate?
How user-friendly is the software? Can you set up a program in days, without the need for complicated coding?
Is there extensive customer support available?
How does affiliate management work?
Now that you know why software is needed for the best affiliate program management, and how to select the one that fits your needs, it's time to dive into what exactly affiliate management entails. In affiliate management, you function much like a liaison between your company and your affiliates. Your key responsibility is to keep your affiliate marketing channel or channels running smoothly, and generate incremental revenue for your business over the long term. 
The end-to-end process of affiliate management can include any or all of the following steps:
Finding and recruiting affiliates
Finding the right affiliates who align with your brand vision and goals, share a niche or audience, and can deliver results, requires effort. Your revenue benefit is only as strong as your affiliates, so you must be sure that you've recruited reliable and good-fit partners for your brand.
Relationship-building
Effective affiliate management involves building strong, long-term partnerships between your company and your affiliates. Having all your systems and processes in place is important. But being someone that your affiliate partners want to keep doing business with is mission critical. The ability to create, nurture, and foster relationships is a necessary component of any form of business development, including affiliate management.
Affiliate tracking
Affiliate data will help you refine your marketing strategy – collecting concrete and measurable results is key. Tracking affiliates' sales activity helps you determine whether you're hitting your revenue goals. Tracking affiliate program metrics also helps you figure out what you're doing right and wrong when it comes to affiliate management, so you can make informed decisions on what to continue and what to change. 
Development and training of affiliates
Another core component of affiliate management is training and development. Depending on how complex your product or process is, affiliates may need initial guidance and phased training sessions to help them get acquainted with your product and the right way to promote it.
Continued affiliate support
Equipping affiliates doesn't stop with training – continuous affiliate support is essential. This includes being available for affiliates to address any concerns, questions, or challenges they have. It also includes providing any digital marketing assets affiliates can use to promote your product. 
Ongoing communication
Affiliate management also requires regularly communicating with affiliates through frequent check-ins. You must be accessible and transparent to your affiliates. Email your affiliates, or schedule group sessions with them, to provide the latest updates and listen to their needs and questions. Schedule one-to-one sessions with your affiliate superstars to further develop your partnership and increase your combined impact.
Reporting
Often, affiliate managers have senior management executives that they report to in-house. If this is the case for you, expect to periodically update management on your progress and show that your affiliate program is generating suitable results. You may be given ROI targets to meet. You may also be assessed regularly to see how you're faring against expectations.
Program optimization
Affiliate management is an ongoing process, as opposed to a one-time or quick event. You'll need to tweak the program and implement changes whenever there's room for improvement or enhancements. The ultimate goal is making sure the affiliate marketing program is working at its best. This also includes coaching affiliates on how to improve their sales and providing incentives where needed. 
Security, fraud detection, and fraud prevention
Last but not least, secure your affiliate program and its related assets, and mitigate the risks associated with affiliate fraud. If affiliates unethically manipulate the way they use affiliate links to generate more revenue, they could drain your cash without delivering legitimate leads and sales. Making your program secure, and implementing fraud prevention measures, can help reduce or eliminate the threat.
Affiliate management tips: Building the strongest relationships
Affiliate software can do the tracking for you and automate many aspects of affiliate program management. Thus, software is fundamental to creating a great program. But building strong relationships with affiliates is another key to success – and that takes human connection and effort.
So, how do you successfully manage affiliates from a relationship-building perspective? Follow these tips for supporting your affiliates and nurturing healthy connections.
Have affiliates sign an affiliate marketing agreement that details their responsibilities, commission rate, and terms of participation. 

This lays out exactly what to expect and protects your brand from fraud as well as potential legal complications.

Thoroughly train new affiliates on how best to promote your brand.

Provide language and messaging guides that encourage ideal customers to convert
Showcase what sets your brand apart from competitors
Discuss your brand's unique value
Clarify what your affiliates can and can't say about your brand

Set up weekly, biweekly, or monthly group sessions – or one-on-ones – with your affiliates to check in and build relationships.

Hold regular affiliate webinars or set up an exclusive online community to update affiliates, answer questions, provide additional training, and build a strong sense of community among your affiliates.

Make sure affiliates always have a way to reach you with questions/concerns, whether that's via email, phone, or a feedback form.

You want to be open and available to your affiliates. While you don't have to be on call 24/7, tell them how quickly you will respond so affiliates have clear expectations. 

Give affiliates easy access to brand assets and promotional materials in an easy-to-find location inside your affiliate dashboard or portal.

If your affiliates find the overall experience easy, they're more likely to follow through with promotions.

Think beyond just offering discounts for affiliates to share. Focus on supporting affiliates to create quality content that speaks to your customer's needs.
Set and track sales goals for your affiliate program, including conversion rate goals. You want to know how well affiliates are doing and what you can do to improve affiliate performance.
Segment your affiliates.

Know which affiliates are top-performing and could be rewarded with extra perks.
Identify the ones who aren't performing as you expect and could benefit from extra training.

Show affiliates they are valued, so they are motivated to stay active in your program.

They're partners who are bringing value to your company. So, make sure they feel appreciated in return.
Conclusion
Affiliate software is fast becoming a necessity for businesses serious about scaling. Software can help you take much of the guesswork out of affiliate management and provides a lot of extras that make planning, reporting, and affiliate tracking seamless. When choosing affiliate management software for your business, look for value offerings, great customer support, and a solid industry reputation.