There are multiple clear benefits to starting a customer referral program for your brand. Referral programs offer steady growth and maximum ROI with minimal investment. With word-of-mouth marketing empowering your network of happy customers to spread the word, there's no question as to why so many brands seek out referral rewards programs.
But what types of referral incentive should you offer, if any? Which rewards are the best fit for your particular brand and market?
The best referral incentives draw in the customer and entice them to get others to sign up. A good referral incentive should also remain relevant to your brand, without costing your business too much money. Although finding the right reward may seem daunting, don't worry. We can help you find an incentive that your customers will truly want.
Today, we'll cover what referral incentives are, why you need them, types you can choose from, and how to determine the right referral rewards for your business. 
What are referral incentives (referral rewards)?
Referral incentives are the rewards you give customers via your referral program.
Most commonly, they're given to existing customers when they successfully share your brand with their peers. In that case, when an existing customer refers a friend, and that friend makes a purchase, the existing customer receives a referral reward as a thank you for bringing in the new business. 
But sometimes, referral programs will reward the newly referred customer, to motivate them to make their first purchase. And other times, both the referring customer and new customer will receive referral incentives.
There are many different types of referral incentives, including:
Cash back
Discounts (percentage off)
Store credit
Free products
Branded swag
Why do you need referral program incentives?
If you're new to referral marketing, you might be wondering why you should offer a referral incentive at all.
Why reward customers for bringing in new leads?
How does your company avoid taking a loss in this situation?
And what are the benefits for your company?
Here's the bottom line: Referral incentives offer current customers a clear motivation to tell their friends about your brand. 
By offering a reward for their referral, you're incentivizing customers to sing your praises more often, to more people, and enthusiastically enough to close the deal. When customers benefit from rewards, they are more likely to market on your behalf.
Plus, the impact of a referral reward could multiply several times over. If new customers sign up and then refer their own network to earn more rewards, you'll continue to grow your business, possibly exponentially.
Word-of-mouth marketing is an effective way to grow your brand, all while letting customers do the work on your behalf. Encouraging this word of mouth with a referral reward can ensure more leads on a larger scale.
The cost of incentives: Are referral rewards expensive?
One of the biggest concerns about referral rewards is the perceived fees associated with giving them. If you're apprehensive to start a referral program for this reason, let us debunk that myth and help alleviate your concerns:
First off, referral rewards don't have to be expensive. You should offer a reward that aligns with the price of your brand's services.
If you sell big-ticket items, you can give big-ticket rewards.
But if you're a smaller business or have a lower average order value, your rewards should be smaller, too.
This ensures that your new customer's purchase pays for the reward (and then some), and that additional referral fees aren't coming out of pocket.
And regardless of your business type, referral rewards tend to be less expensive than most other ways of acquiring a new customer. That is, assuming you play it smart and choose rewards your brand can afford. Referral incentives also cost only a fraction of the revenue they'll help you acquire, since referred customers tend to stay loyal to your brand for longer periods. 
Plus, rewards are only paid when a newly referred customer has made a purchase. That means you won't pay unless you see results. 
Yes, customers can try to cheat the system to gain more rewards. But by using the right referral program software, you can detect fraudulent activity such as fake referrals. Referral software is designed to track when customers try to refer themselves or engage in other suspicious activity, so there's no need to worry about rewarding customers for fake leads.
How to decide on your referral rewards
Now that we've covered why you need a referral reward, and alleviated your concerns, it's time to select the right referral incentives for your business. To do so, you'll need to make three main decisions:
Who will you reward?
What type of referral incentive will you offer?
How will you structure your referral rewards?
1. Who will you reward?
One of the first things to decide is who you want to motivate with your referral rewards program. 
Deciding this key step helps lay the groundwork for your entire rewards program. When you know who you're targeting, you can better plan how to reach them with pointed rewards and incentives. You'll also know how to create key messaging and your program structure.
There are four main options for who to reward in referral incentive programs:
One-sided (rewards the referring customer only)
One-sided (rewards the new customer only)
Double-sided (rewards both the referring customer and new customer)
No incentives
One-sided referral incentives
In this type of referral program, the referral incentive only goes to one side of the program – either the current customer is rewarded, or the new customer is. Let's look at both types of one-sided rewards.
The current customer gains
By giving a reward to the current customer, they become more motivated to share with others – more likely to share the news of your company and sing your praises. This brings in many warm leads, increases customer retention, and promotes brand loyalty.
However, without an incentive to purchase from you, the newly referred customers are less likely to close the deal. A referral can also look less than authentic when current customers stand to gain, but not the new customer.
One-sided incentives for the current customer are best for companies looking to grow brand awareness, or for companies selling budget items. Without a larger budget to reward both parties, companies can save with a one-sided incentive program.
Example: James Clear's 3-2-1 referral program offers an informative PDF as a referral reward, but only to the existing customer. 3-2-1 is a free newsletter, and rewarding only the existing customer (with a knowledge-based reward that doesn't cost Clear anything) helps keep referral program costs very low.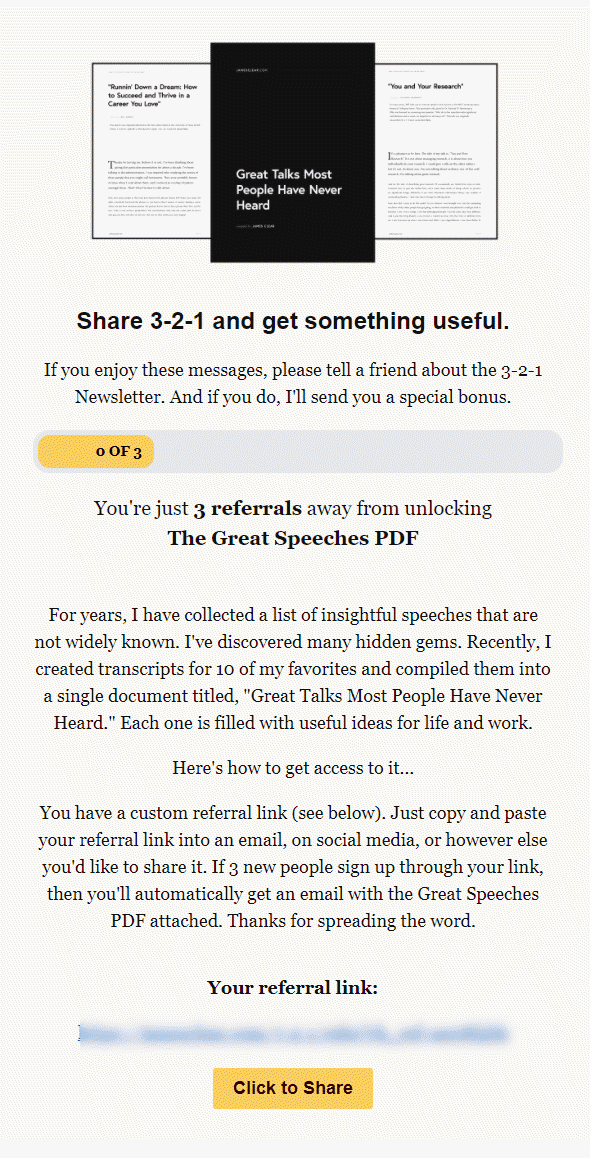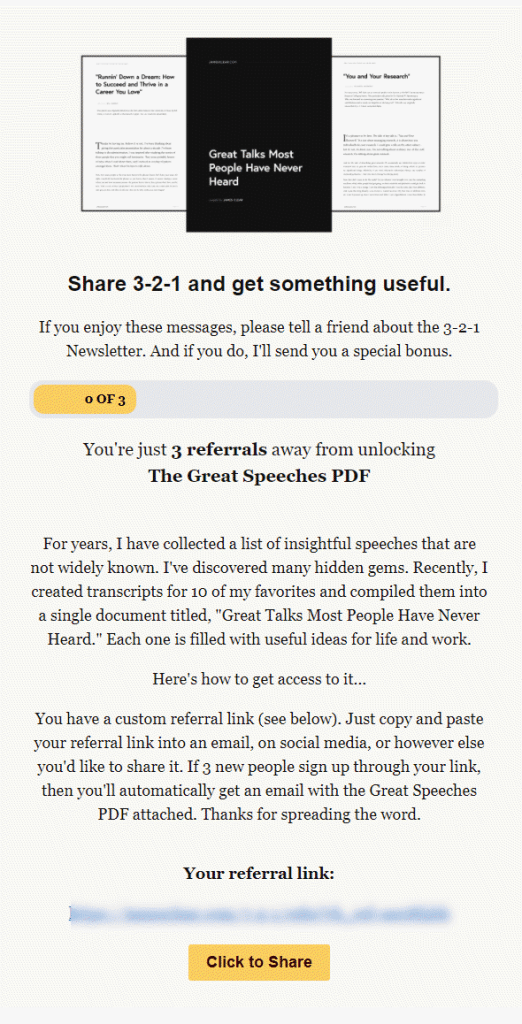 The new customer (referred friend) gains
When the referred friend earns an incentive – especially one that lowers the cost to try your product – they are extremely likely to make their first purchase. If they've already been wanting to try out your products or services, now they can do so with less risk. 
However, if you reward only the new customer for signing up, the existing customer probably won't be as motivated to make referrals, as they'll wonder why there's nothing in it for them.
Offering the new customer an incentive is best for subscription model brands. It also works well for luxury brands or companies with a high purchase frequency. Giving a reward to the buyer can close a deal that a customer otherwise would have walked away from. It can also create a good rapport, hopefully leading to repeat customers.
Example: Instead of offering rewards to existing customers, meal subscription box company Blue Apron lets customers send a free meal box to their friends. As it lets referred friends try out Blue Apron at no cost, and doesn't result in any gain for the referrer, this referral reward feels very altruistic.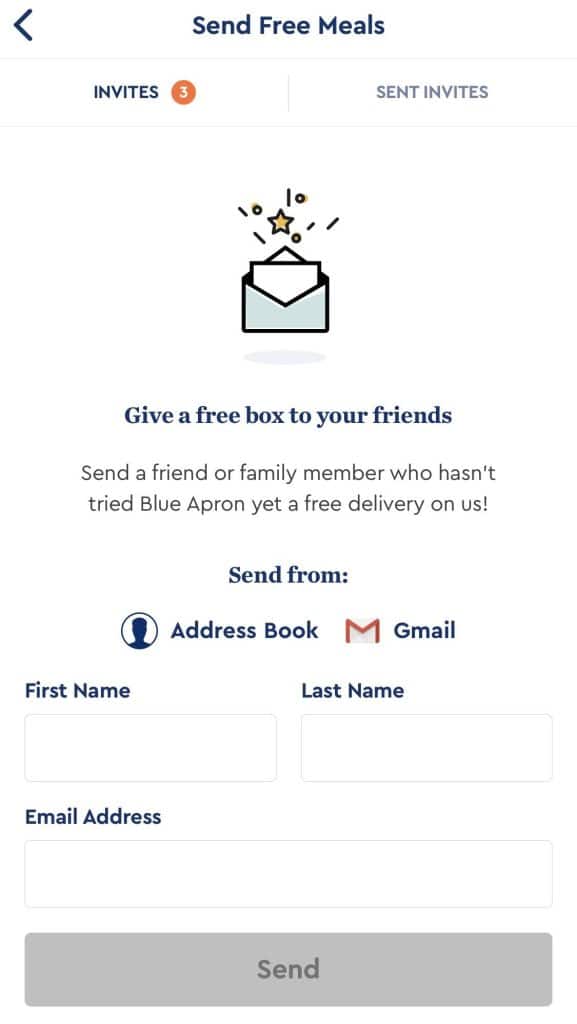 Double-sided referral rewards 
When both parties have something to gain, you can really increase the traction of your referral program, whether you're in e-commerce, run a B2B business, or occupy another type of industry.
In double-sided programs, it's win-win-win. Both customers have something to gain – the current customer and the new lead – and you earn a new sale. All-around, these types of programs see the most success, bring in the most dollars, and gain the most new business. Current customers refer more people, and more leads sign up.
However, these rewards might not be the best call if your business is getting started, as they are the more expensive option. Some companies aren't able or willing to give out this many rewards for financial reasons.
Still, double-sided rewards are great for almost any industry, especially for businesses that have the resources to implement this type of plan. For the best results, though, you'll need to utilize referral software, so you can track sharing and efficiently give out all these rewards once they're earned.
Example: Cosmetics company Colourpop offers a simple, double-sided reward that's easy to understand. When a referral brings in new business, both the referring customer and new customer receive $5 in Colourpop credits.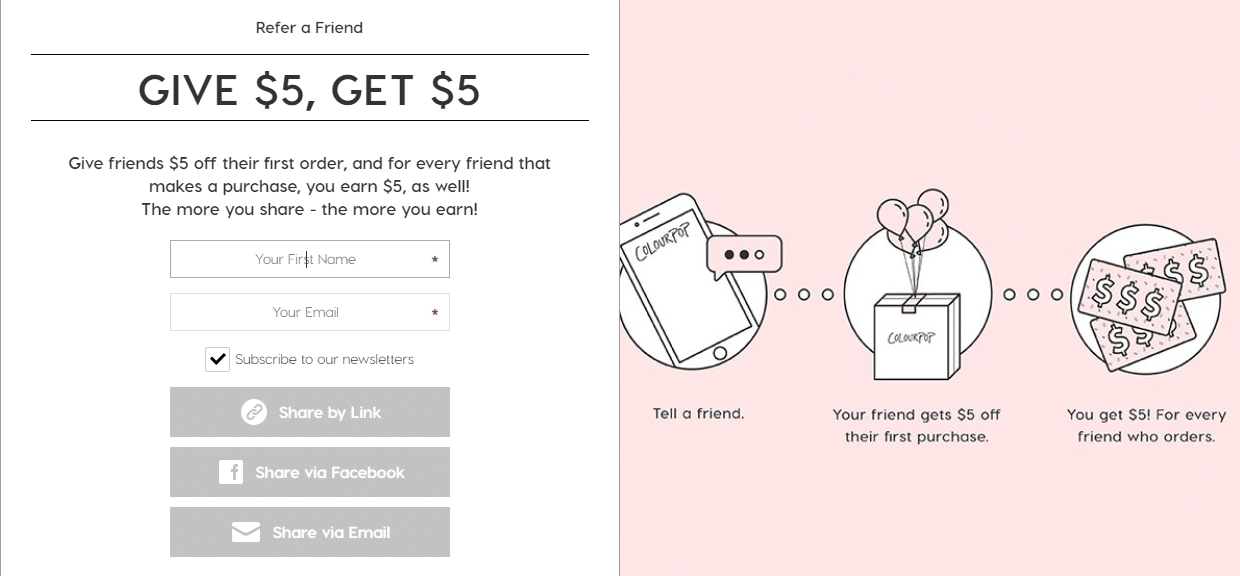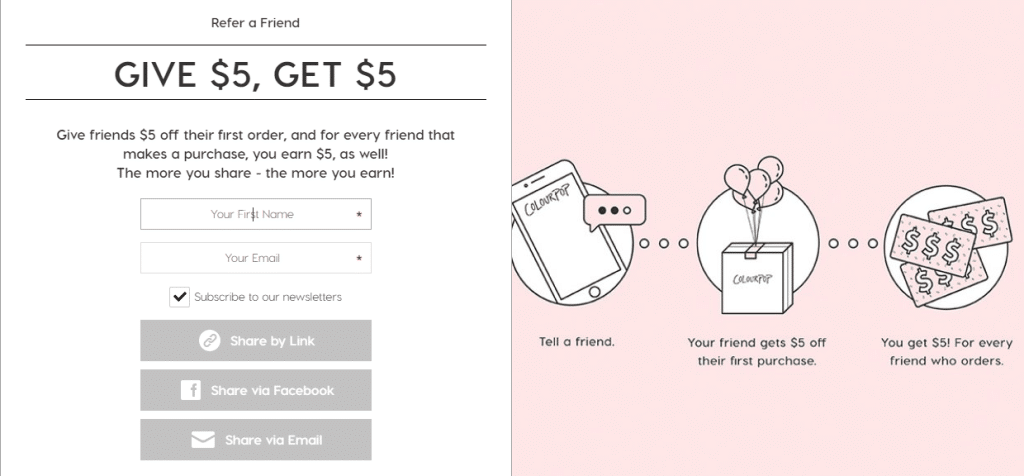 No referral rewards
You can also create a referral program that does not offer any rewards. Brands with this approach focus on more traditional marketing options, and rely on word-of-mouth exposure to happen on its own. 
One benefit of this method is that it ensures that referrals are genuine. Without a reward, people who are inclined to share do so willingly, expressing that they have true positive feelings about the brand.
However, there is a much smaller chance that customers who refer a friend will do so, and friends who are referred are much less likely to convert leads into new customers. So, referral programs with rewards fare much better than this option.
No-reward referral programs are best for companies that don't have a budget to offer incentives. They can also be used to establish a rapport with new audiences. Luxury brands might be less likely to offer rewards, too, as incentives may seem off-brand for their market.
2. What type of referral incentive will you offer?
Next, it's time to find the right type of reward to meet your brand's needs. What will entice your customer base, and make them most motivated to refer their friends? Often, it will depend on your average purchase value and frequency:
Companies where purchases are high-value or infrequent tend to do best with cash rewards, swag, gift cards, or charitable donations.

Companies where the average purchase value is very low (or publishing companies that offer free content) will usually offer swag or content-based rewards, since they don't cost much to give out in bulk.

Companies where purchases are regular or frequent will usually perform best when rewarding store credit, discount codes, upgrades, a free month of service, or a free item.
Now, let's take a look at each incentive style in detail.
Store credits
Using store credits (or gift cards to your own store) as a referral reward can be an effective way to pump funds back into your business. By giving customers credit to use at your company, they're more likely to purchase from you again. It can also be a way to save on your referrals – because you're offering up credit, not cash, it comes at a discounted cost.
This is the reward of choice for many businesses with high-performing referral programs.
For instance, Uber Eats sent customers a $5 credit toward a future order after they referred a new customer.
And Airbnb used a credit system with tiers of rewards for newly referred customers – up to $65 off their first booking.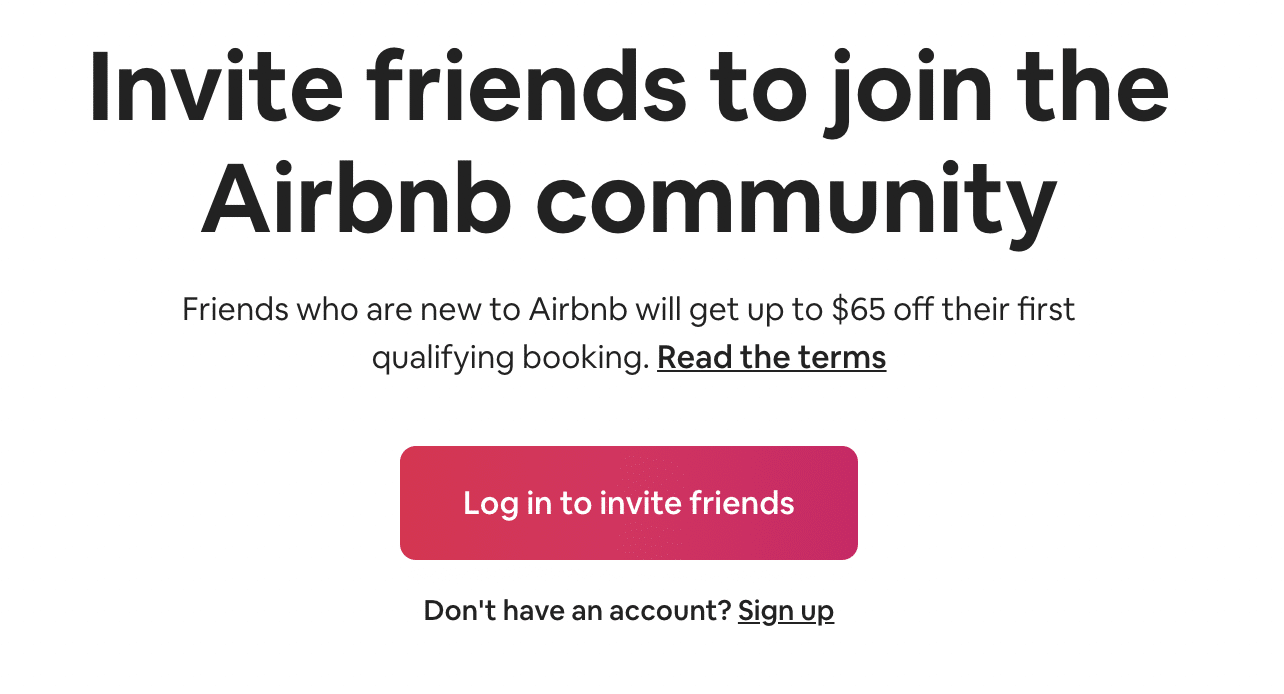 Credit rewards can be especially beneficial for brands with repeat customers and high purchase frequencies. But if a customer won't be likely to purchase from you again for a while, it's best to choose another referral incentive type.
Discounts
With this reward, customers earn a percentage off their next purchase. It's a great way to entice past customers to buy again. Discounts can be offered as a static amount, for instance, 20% off your next purchase or 40% off a future order. Or, you could offer discount tiers (a better discount after someone has made a certain amount of referrals).
Discounts may not be the best fit for items that last for many years or are more expensive. As customers will be unlikely to purchase again soon, a discount on a future purchase won't be a good motivation for them to bring in new referral leads.
Unlike store credits and cash, discounts also don't "stack." Customarily, only one discount can be used per order, so it might be harder to motivate repeat referrals with discounts that a customer can't use.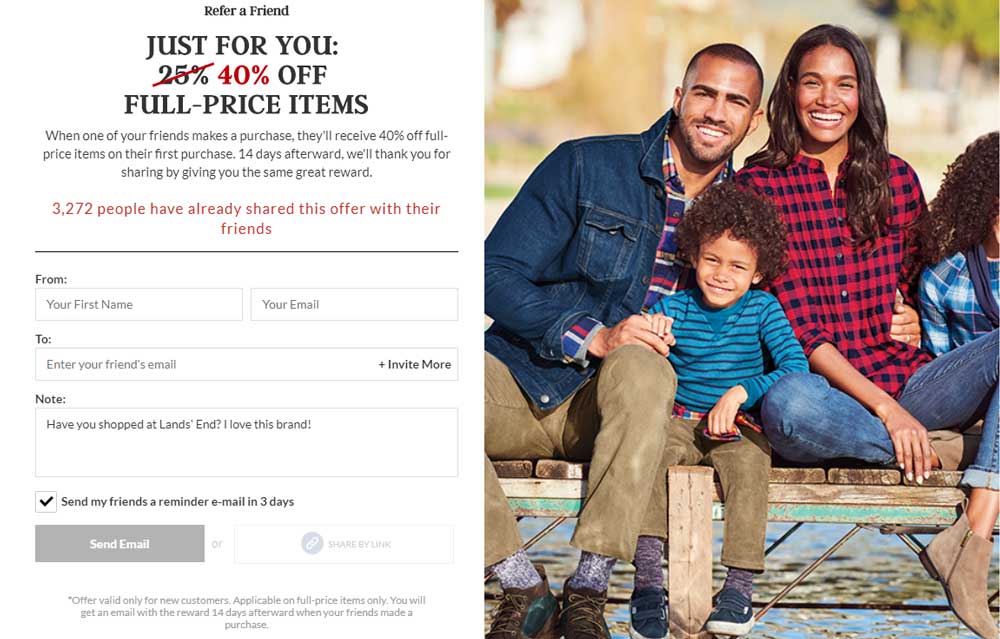 Cash back
Who doesn't love free cash? Cash is one of the most popular customer referral rewards to date. It speaks to folks where it matters – right in their wallets. Plus, people can spend it on whatever they choose. 
In some cases, offering cash doesn't align with a brand's identity. But in other cases, it hits close to home, and then some.
For instance, PayPal's referral incentive program offers $10 to both referring customers and their friends.
Meanwhile, Leesa, a mattress company, sent $50 cash to users' accounts once their friend purchased a new mattress.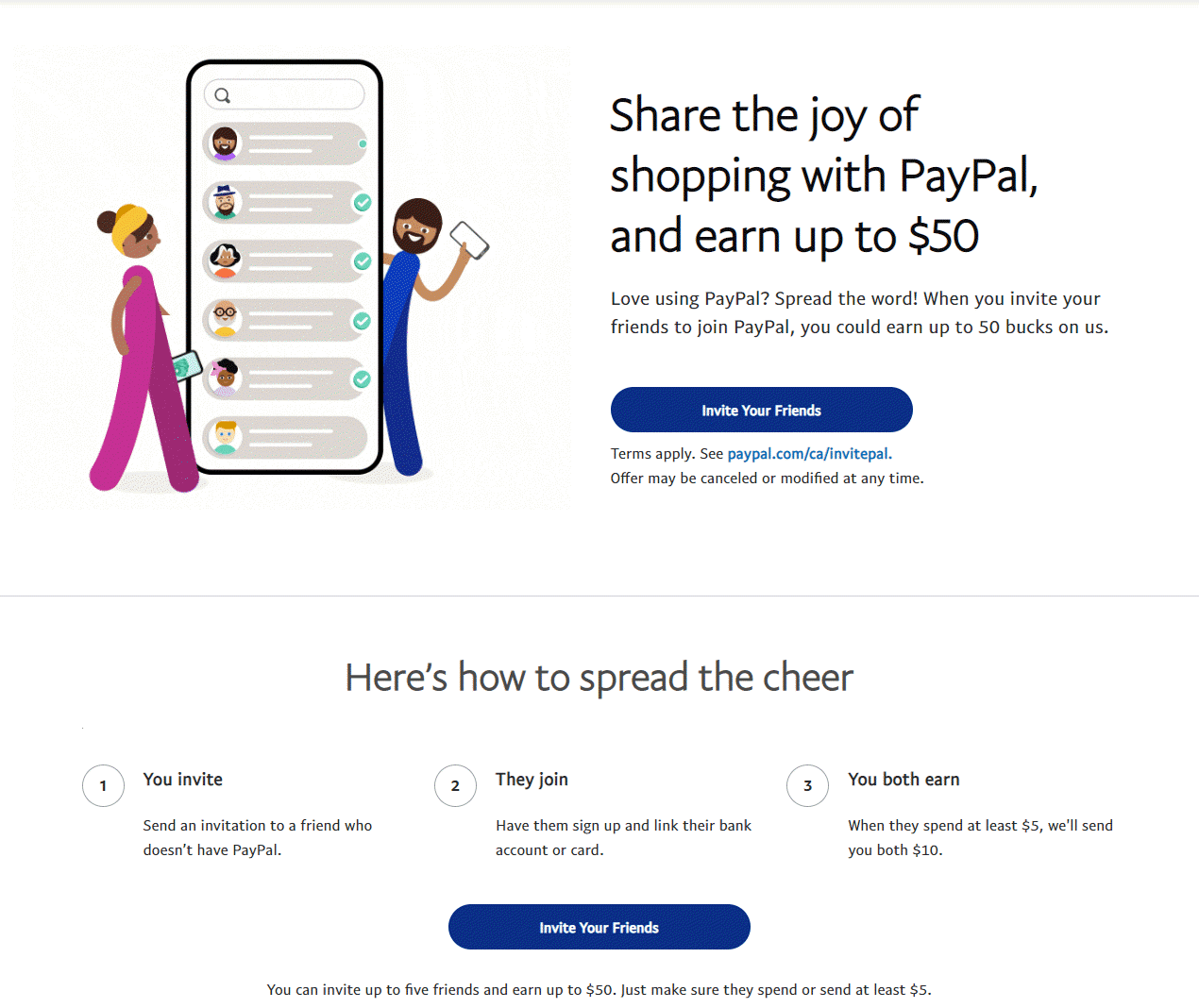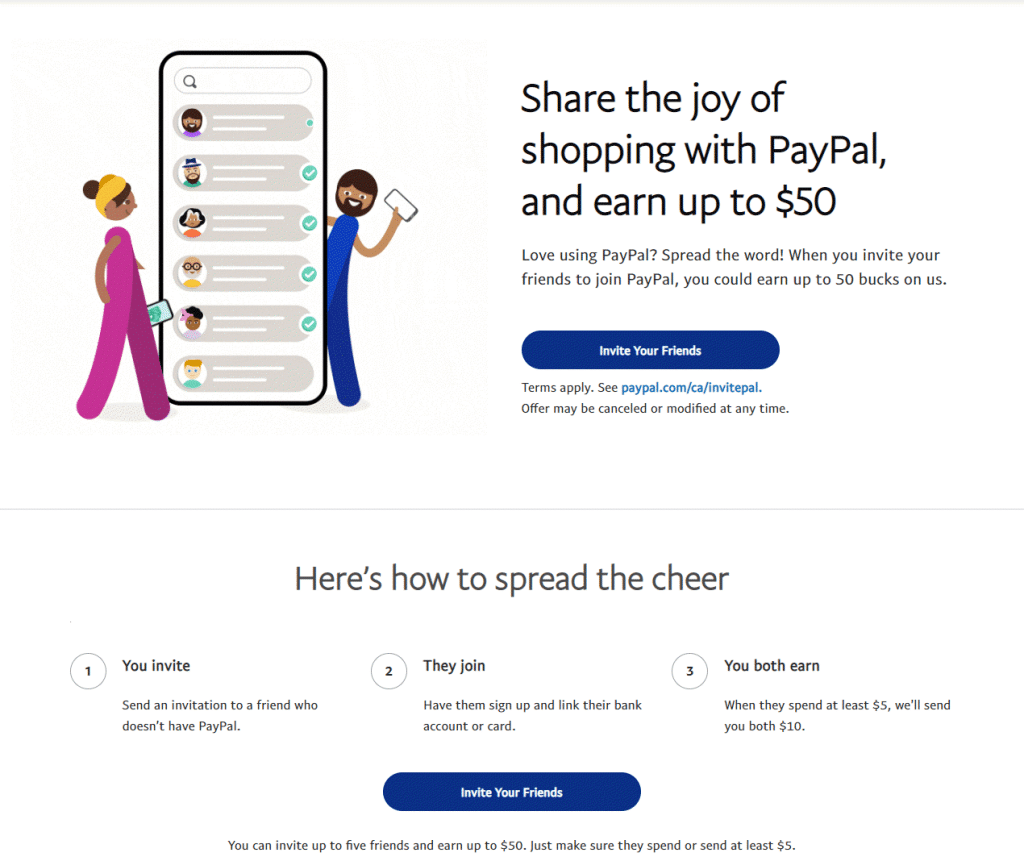 In both cases, these rewards aligned with the companies offering them.
PayPal is made to receive and send cash, so providing funds straight to the consumer was right on brand.
And since people are unlikely to purchase another mattress for many years, Leesa's cash offer makes more sense in getting customers to follow through.
Free products
Free products serve as another reward incentive to excite customers. You can choose from a wide variety of items that can be handed to consumers. Which products to give out? Select them based on what's affordable for your company (they must be valued well below your average customer acquisition cost) and what you think customers would want most. 
Giving them a free item that your company makes or sells will boost sharing and generate more enthusiasm about your products or services. Even better, customers who receive the reward might share what they earned on social media, leading to more positive buzz.
This is also a great way to get customers interested in your new releases or under-utilized products. Offer those products as rewards, and watch the excitement around them ramp up. Take Harry's, for instance – by offering free products in their referral program, the brand collected 100,000 emails before the company even formally launched!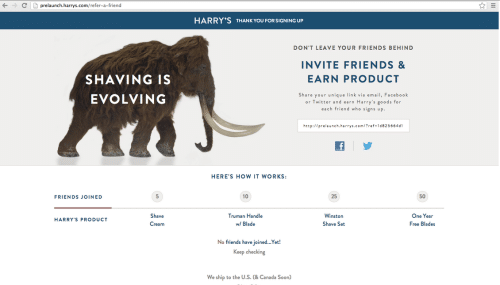 Free service or feature access
If you're a service-based or SaaS business, you don't have to miss out on "free product" rewards. Try offering free added perks that would normally come with higher-level service plans, credits towards features, or temporary access to premium or higher-level features.
Just like with the free products, these rewards will whet a customer's appetite. They might become more likely to pay for the features they gained temporary free access to, or refer more friends for longer access times.
Dropbox does this especially well – they offer free additional storage space for every successful referral, which has led to exponential growth for the company.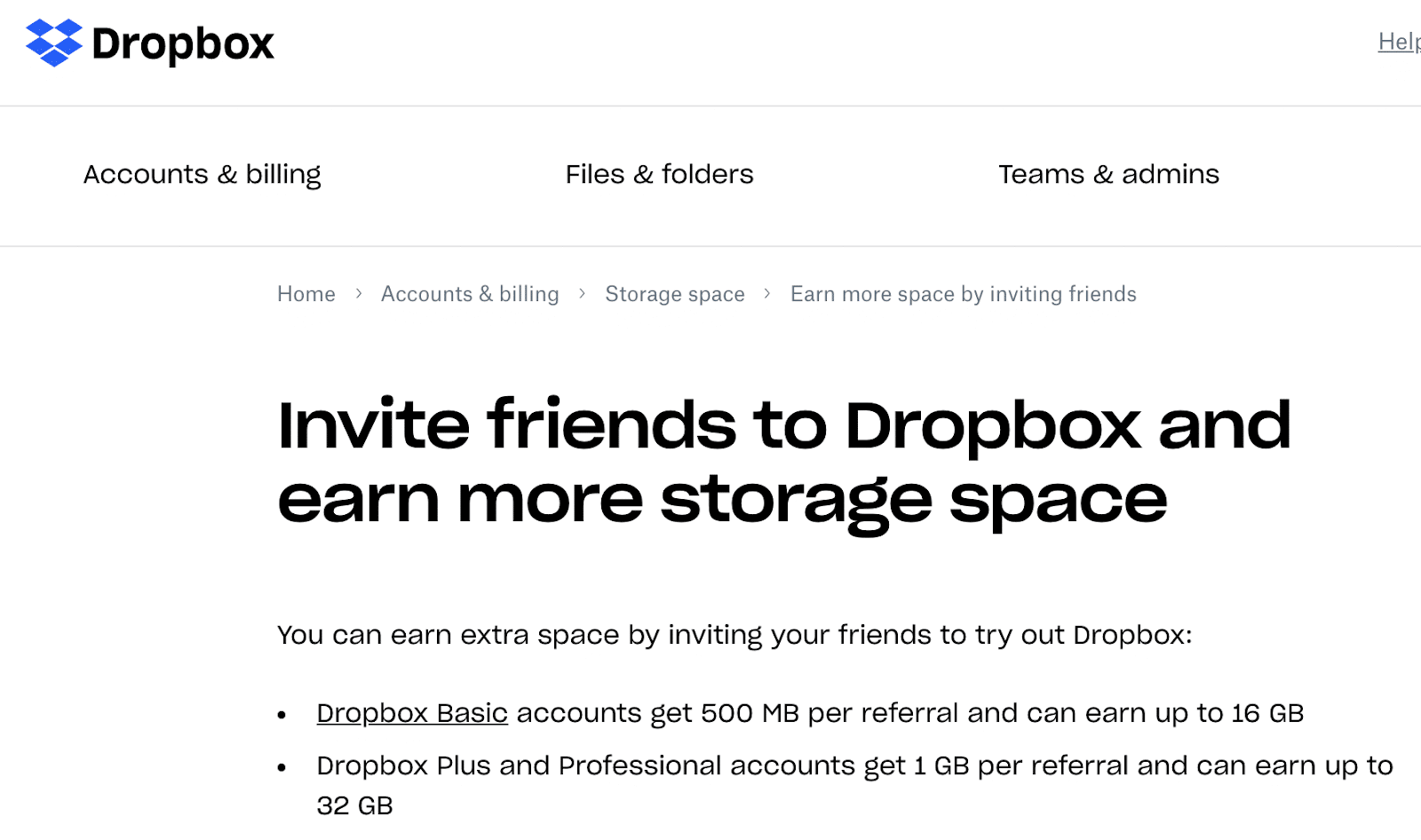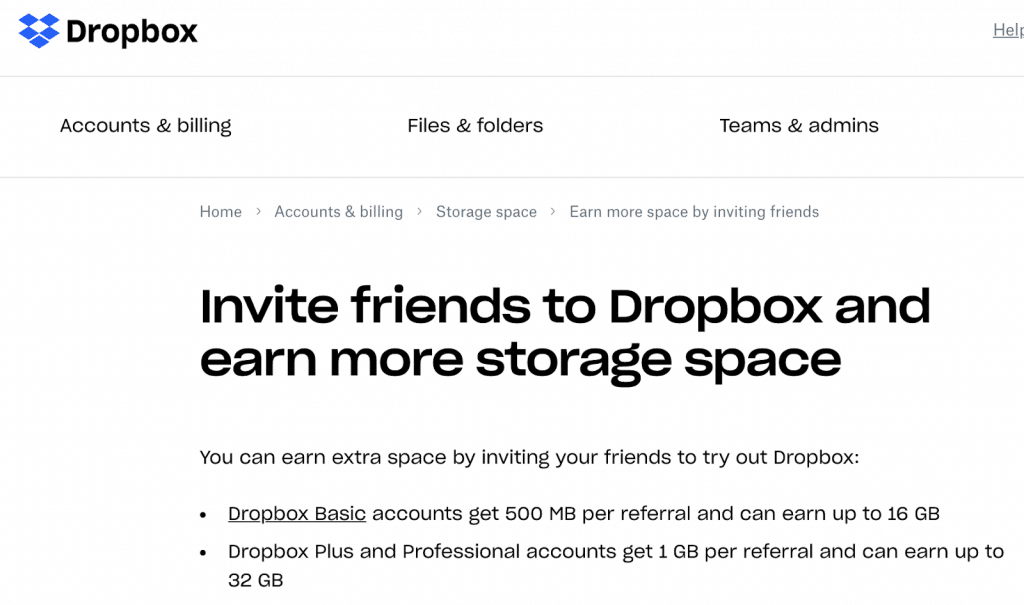 Gift cards
Another alternative to cash is gift cards for other, non-competing brands that your customers love. For instance, you could give customers:
A gift card to a popular brand such as Amazon or Starbucks
A universal gift card, like Visa
The right to select a gift card from several options you offer, presented as a gift card "menu"
Often, you can get gift cards at a deal, so fewer funds are spent without lowering the customer reward.
Gift cards can also be customized for your industry. For instance, if you sell artisan cheeses, perhaps you could offer a gift card for cutlery or custom cutting boards.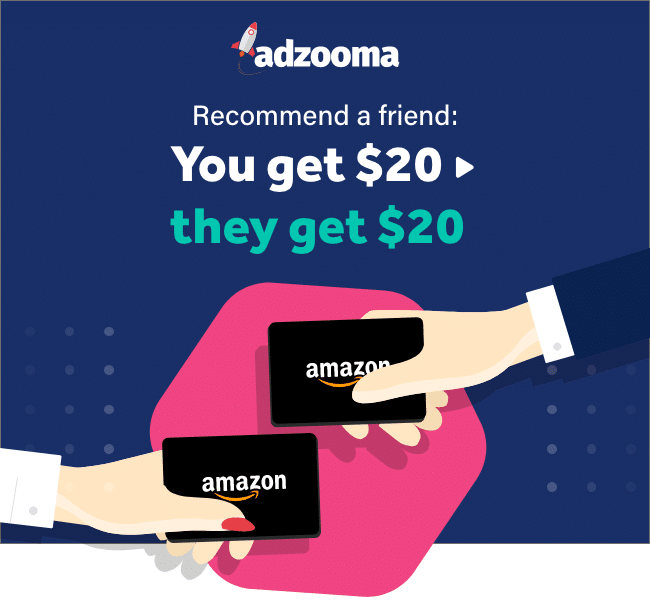 Free month subscription or membership
If your business offers a subscription service, or operates on a membership model, you can entice customers with a free month of their current plan or an upgraded plan. This is another key way to introduce customers to new features of your service or membership. 
Providing a free period gives newbies a taste of what you have to offer, bettering the chance that they'll turn into a long-term subscriber with a discount on their next order. Meanwhile, since referring customers already enjoy your service, they'll be glad to earn more of it for free.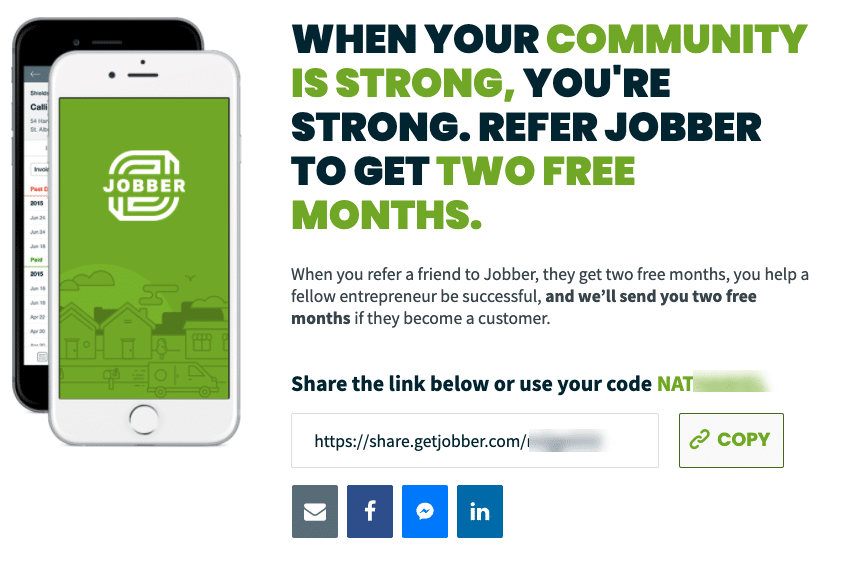 Branded swag
New customers and free advertising in one fell swoop? This can be yours when you offer branded swag in your referral program. Any item that displays your logo or branded assets counts as swag, whether that's a t-shirt, hat, stickers, custom mug, or something else.
Once customers earn this swag and use it in their everyday life, that gets your brand in front of even more eyeballs. And when you order the swag in bulk, it's usually extremely cost-effective (making it a great option for free newsletters like Morning Brew and The Hustle).
Just make sure the swag you offer is something your customers want to earn and use – and is worth talking about on its own. 
Donations to charity
If you can't provide the options above, aren't interested, or simply want a community connection embedded in your referral rewards, charitable donations are another option. This reaches customers at their heartstrings and empowers customers to make a difference.
Rewards can be given to the charity in cash, or brands can provide products to those in need for every referral. Referral programs can also give the customer a choice between several charities to donate to, as business insights brand Vena does.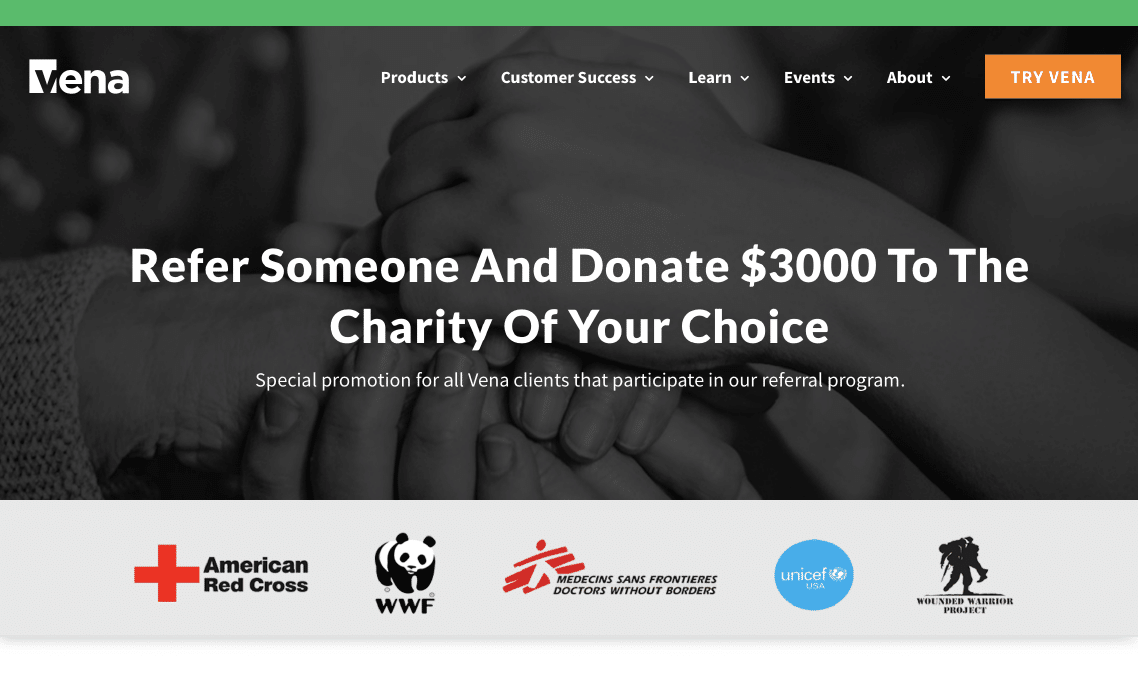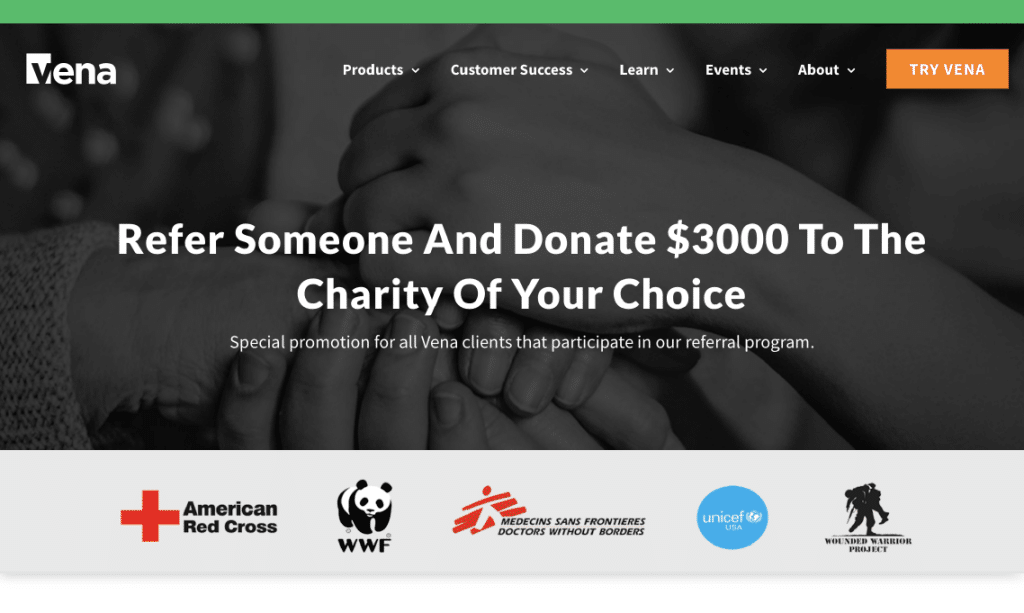 3. How will you structure your referral rewards?
Next, it's time to create the framework for your referral rewards, including when you will dole them out to your customers. Looking at these next details can help make this plan easier, so you can create a plan that's pointed toward your customer base.
When will you give the referral reward?
In other words, what action means that a referral is successful? Usually, a reward should be given out when a newly referred customer makes a purchase. If you have a B2B business with a longer sales cycle, though, you might choose to give referral rewards when leads are qualified, to keep referring customers motivated.
Will you break the referral process into stages?
Many times, the purchase process is divided into many steps, especially if your business is B2B. For instance, it may involve qualifications, consultations, demos, and trial periods before a customer completes the actual purchase process. But if a referrer has to wait too long before they earn their reward, they might lose motivation to keep referring friends.
In cases like these, it's helpful to break the referral reward system into steps. This means the referrer stands to earn a different reward for each step the new customer completes.
For instance, you might award $5 for the consultation process, $10 if they reach the trial period, and $20 more if the new lead signs up with your brand.
Or, you might give a smaller reward when a referred lead is qualified, and then a larger reward when that lead signs up for a paid subscription.
With the right referral software, it's easy to implement, track, and give out these multi-step referral rewards without breaking a sweat.
Will you use reciprocal rewards?
Reciprocal rewards take place when the referring customer and the new customer receive the same reward. For instance, when a referred customer signs up, and both that new customer and their referrer receive $30, that's reciprocal. However, you don't have to go this route. Many brands sway their referral rewards so that one party earns more than the other. 
Will you use a tiered reward structure?
A tiered reward structure allows customers to earn different amounts based on how many referrals they draw in. Some brands offer a bigger reward for the first time a customer refers a friend, then smaller rewards going forward – such as $50 for the first referral, then $20 for all subsequent leads. The shock factor gets customers excited to share the good word, while the process excites them and creates loyalty, causing them to keep referring, even with smaller rewards.
Another option is to increase rewards with more referrals. Someone who brings in 1-5 customers can earn $40, then $60 for referring 6-10 new customers, and so on. 
Will you give a reward for every single referral?
Decide if you want to provide a reward for every referral that comes in, or only give out rewards once people have reached a certain number of referrals. If choosing the latter, remember that customers are unlikely to put in work for a small reward, so the incentive should be something that's worth their time and effort.
Will you limit referral rewards?
Some referral programs have an earning cap, which limits the total rewards customers can receive from referrals. This cap could be in place over a month or year, or be a lifetime limit. However, using a cap is not required, and it's often better to offer unlimited referral rewards. If customers can keep earning referral rewards, they're more likely to keep sharing, meaning more dollars for your business.
Will you use a different reward structure?
There are other options you can use with your referral rewards to inject even more fun into your refer-a-friend program. Stir the pot and grow your business through these alternative ideas, such as:
Referral contest
Launch a referral contest and see who can bring in the most referrals in a given period. Offer a valuable prize to the winner and watch the newly referred leads roll in. You could launch a one-and-done referral contest, or hold monthly (or otherwise sporadic) competitions to ramp up referrals. 
Referral contests work best if they run on top of your regular referral program, though, so every referral still earns a reward. This way, all customers will still be motivated to participate, and won't be turned off by the slim odds of winning.
A great example is men's apparel and accessory brand Huckberry, which uses seasonal contests to boost interest about their brand. They already offer $20 rewards for every successful referral, but during contests, the big winner earns $1,000 in Huckberry cash. Second- and third-place advocates get a prize, too.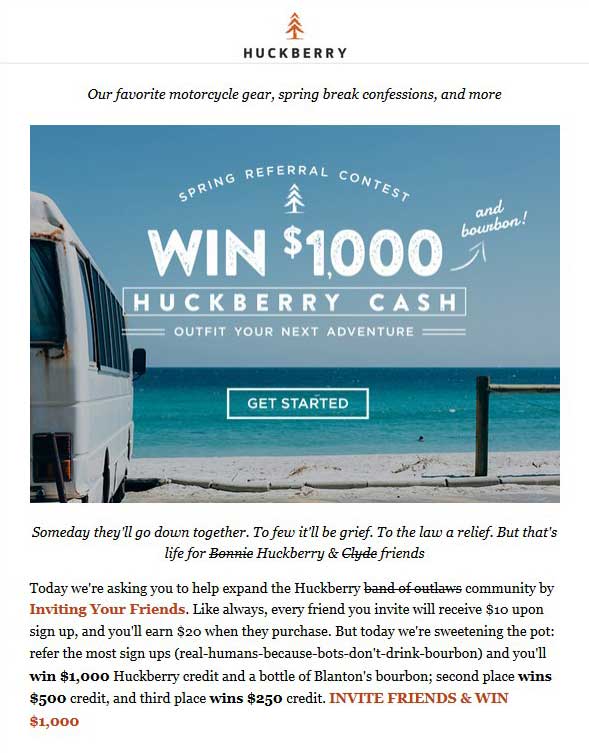 Advocate of the month program
Nothing sparks customer loyalty like a little recognition. That's also one of the biggest reasons referral programs are successful – people like to be appreciated for a job well done. With an advocate of the month program, you do just that: recognize folks for all they've done for your brand.
You can create gamification and have folks put their best skills to work. Then, rank competitors by the number of referrals they've brought in, and award the monthly title to the first-place advocate. Alternatively, you could randomly pick the winner from everyone who made a referral within the month.
What should the advocate of the month earn? That's up to you, but make sure the reward is valuable. You should also spotlight the advocate on your social media channels, as a way to promote your referral program.
Other gamified structure
Let people have fun while they earn through gamification. Gamification allows customers to earn points and rise in ranks as they make more referrals. Choose how many referrals it takes for someone to reach the next "level," add a progress bar so they can see how many referrals they need to "level up," and grant both virtual and physical rewards as customers achieve a new rank. And if you choose to use leaderboards that track which customers have made the most referrals, that's an awesome way to unleash customers' competitive side!
Referral program incentive examples
Take a look at these referral reward examples for a better idea of what you can do with your own referral program, as well as how successful referral program templates have helped customers profit multiple times over.
Morning Brew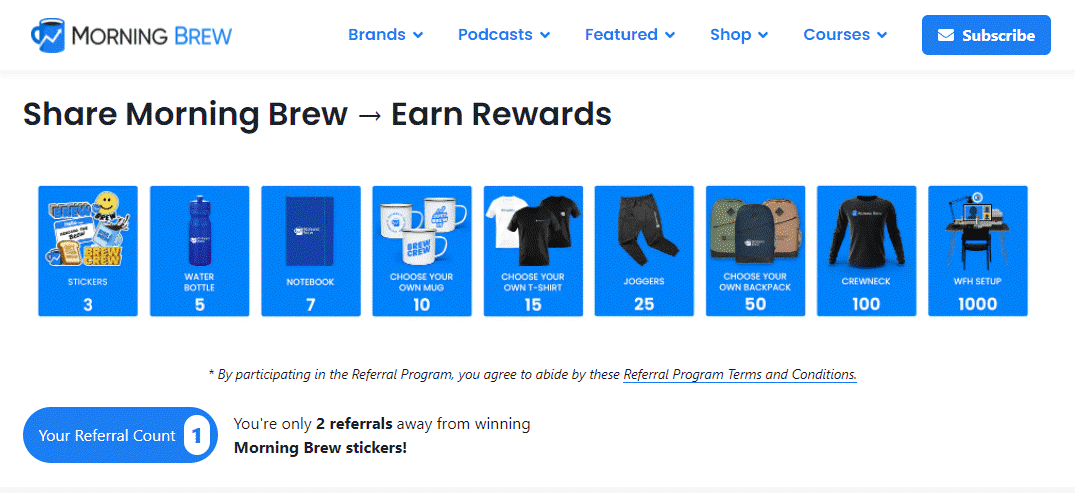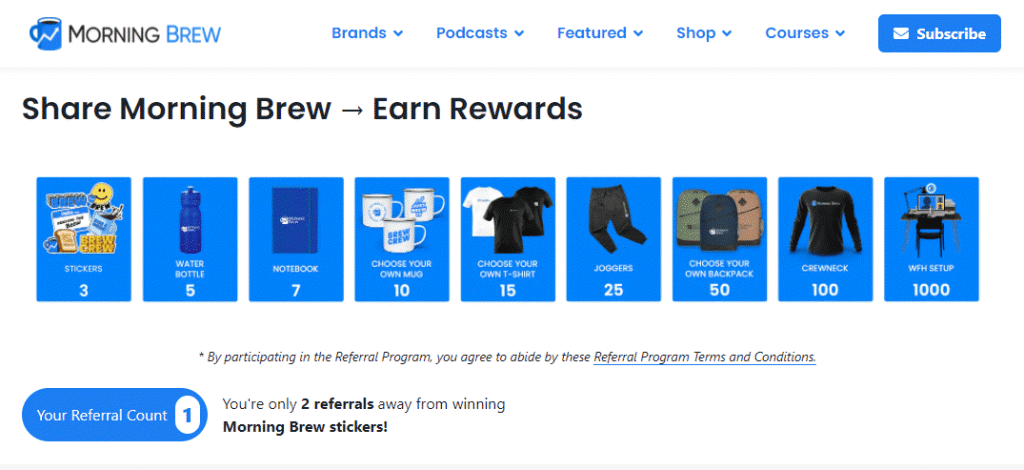 Morning Brew is a free newsletter that's made to reach young professionals. Their key phrase, "Share the Brew" is used in their referral campaign, encouraging current subscribers to get their friends and coworkers to sign up.
The newsletter uses a one-sided and tiered referral program, which rewards only the current subscriber for their referred customers (they're a pioneer of this rewards structure for newsletter referral programs).
Rewards vary, but are mostly focused on swag. We love the element of choice involved, as some of the tiers let customers choose from several design options for their referral reward. Customers earn higher rewards for bringing in more subscribers. And any super-advocate who brings in 1,000 referrals earns a very worthy final reward – a complete work-from-home makeover.
Daily Harvest
Daily Harvest is a superfood delivery service where consumers can earn fresh foods delivered to their door. Users can refer their friends to earn extra credits to use toward future boxes. These rewards are reciprocal – once a referral signs up, they earn $25 off, as does the customer who sent them.
The referral reward stays the same across the board, and users earn the same amount, no matter how many new folks they draw in. With no reward limit, customers can keep referring and earning.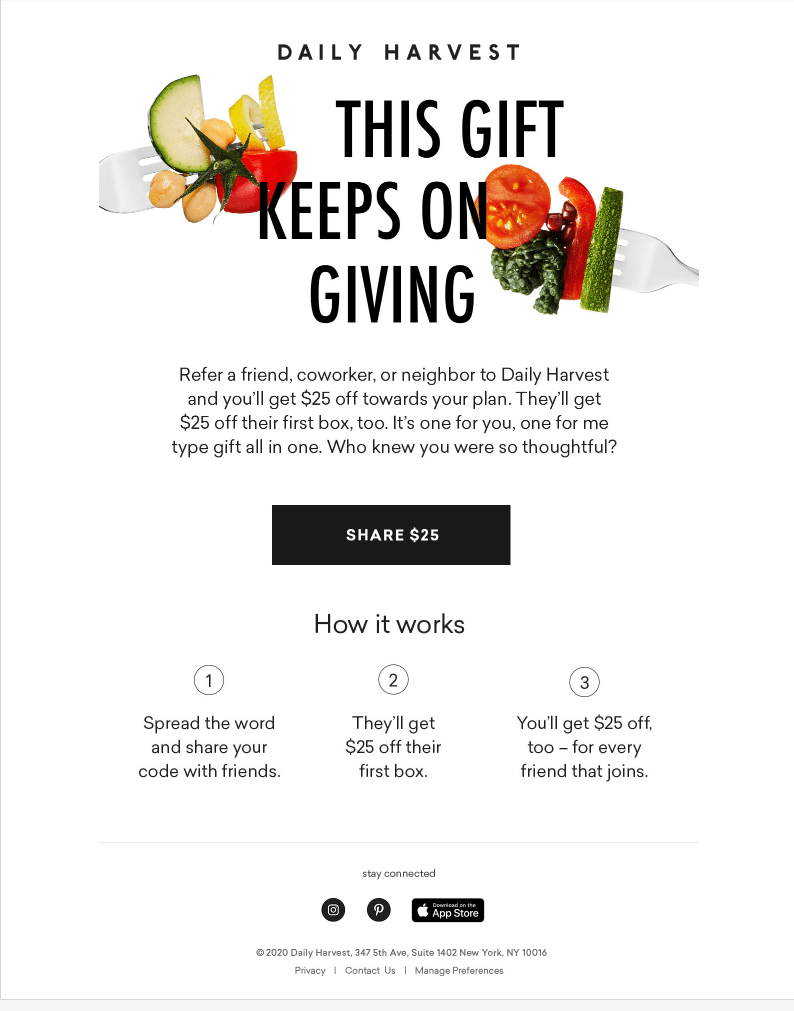 Primary
New customers at children's clothing brand Primary can earn 20% off with a referral code, while referring customers earn $10 store credit. Primary offers a great example of switching up referral incentives between the existing and new customer. Primary's rewards don't cap out either, so customers can keep sharing their unique code in order to earn more credit every time they reach out.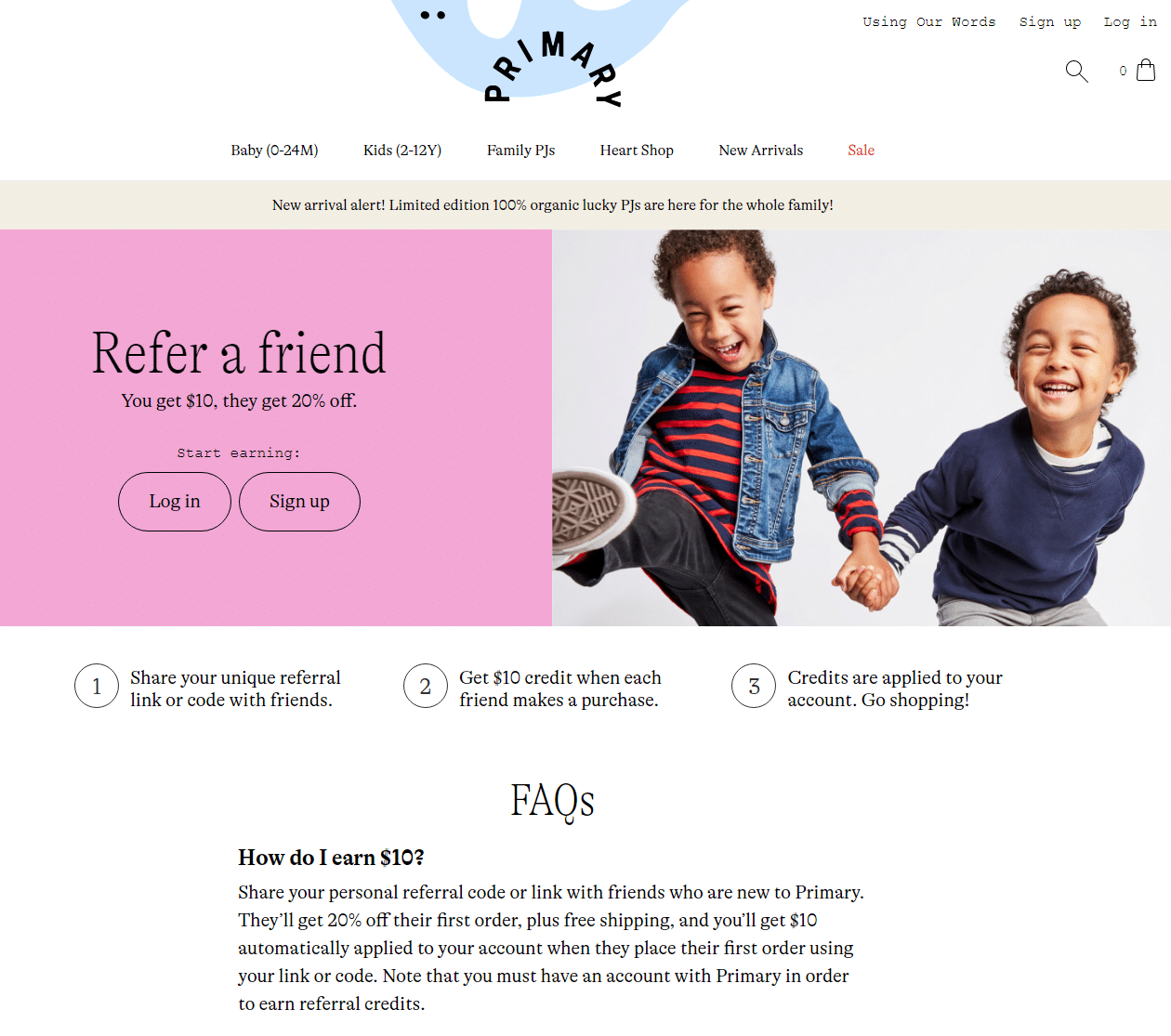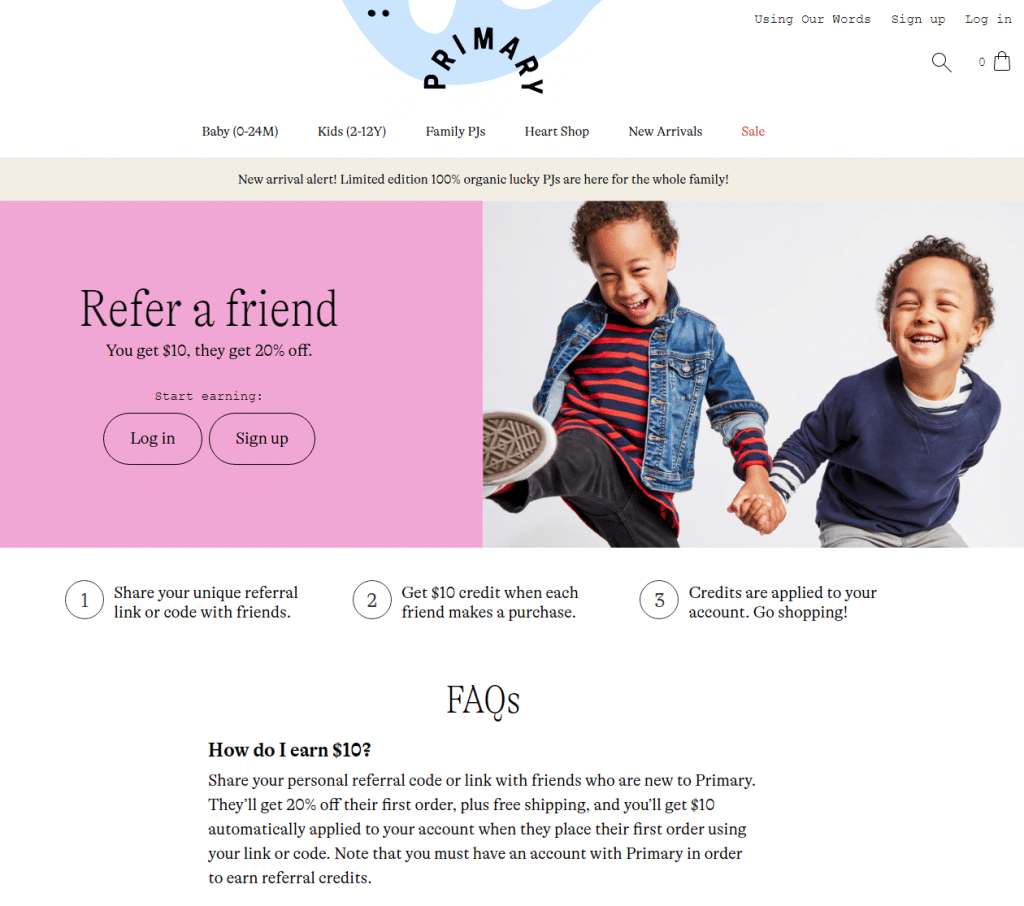 Wrapping up
Referral programs allow you to profit and grow your customer base, all while reaching your customers where it matters most – through word-of-mouth marketing. The element of a referral incentive motivates customers to share your brand regularly and enthusiastically. When formatting your referral rewards, it's important to look at your price point, what reward types will entice your customers most, and what program structure makes the most sense for your brand. 
For more resources you can use to build your referral program, check out these related articles: