Morning Brew and The Hustle – two of the most well-known email newsletters – share a growth secret that you can steal for your own newsletter. It's all about turning your subscribers into your ambassadors, using a newsletter referral program. 
A newsletter referral program can help you leverage existing subscribers' powerful recommendations to grow your email list. 
Even though you won't necessarily see the same growth as the above big names, you'll still create a cycle of sharing that generates positive ROI. 
A referral program doesn't cost much to set up.
And if you take the right steps, your sharing engine could possibly go viral. 
In this guide, we will cover what a newsletter referral program is, the benefits of a newsletter referral program, and some of the best practices for starting one.
Plus, we'll break down the big names' success stories, including tips you can snag for your own publishing business. 
What is a newsletter referral program? 
A newsletter referral program is a system that mobilizes your existing subscribers to share your newsletter with people they know.
When subscribers get a certain number of friends to sign up for your content, you give them rewards – physical products, access to exclusive content, or both.
By offering these incentives to motivate subscribers, there's potential for huge growth via a referral system.
As a bonus, if you set up the program with referral software, the software makes it easy to track the source of each referral. It also lets you efficiently reward subscribers instantly once they've made enough referrals. 
Do newsletter referral programs work? 
As several studies have shown, word of mouth is an extremely powerful marketing strategy. Newsletter referral programs are one way to accelerate word of mouth and make it trackable – and are the reason why Morning Brew and The Hustle have experienced incredible subscriber growth.
Not every newsletter referral program will see such exponential growth. However, if you follow best practices (which we'll share below) and use the right software, a newsletter referral program has the potential to grow your subscriber base significantly. 
Why start a newsletter referral program? 
You stand to gain many benefits when you add a referral program to your newsletter. Below are some of the reasons to start a newsletter referral program: 
Creates brand awareness: Email newsletter referrals can greatly expand your brand reach and help you access more readers who hadn't heard of you before.
Empowers existing customers to promote your newsletter: A referral program not only motivates your subscribers to share your newsletter, but also mobilizes them to act as your brand ambassadors (who want to refer friends repeatedly).
Brings in new subscribers through the power of trust: People trust recommendations from people they know, far more than they trust promotions that come straight from your publishing business. When your subscribers share your newsletter with their friends and family, those peers are more likely to sign up for your content themselves.
Lowers subscriber acquisition costs: Your existing subscribers are already your fans; they may even promote your newsletter for free. A referral program encourages them to promote you more often by rewarding them for bringing in new customers. And unlike other forms of marketing, referral programs only reward subscribers after a successful sign-up, making them more reliable. 
Creates a viral loop: One of the best parts of a referral program is that it creates a viral loop, which keeps growing your subscriber base. Put simply, your subscribers refer their friends, who sign up and later refer their own network, and so on. The circle keeps rolling to create a continuous system (viral loop) for bringing in new subscribers. 
Increases subscriber loyalty: When subscribers forward your newsletter to like-minded friends, you're likely to acquire new subscribers who'll stay around for longer. After all, they're interested in your niche, and they trust their friends. 
Makes word-of-mouth easy to measure: If you set up your email newsletter referral program with the right software, it becomes easier to track, measure, and gain valuable insights to improve your referral campaign. 
Before you start a newsletter referral program 
To start and run a successful referral program, newsletter publishers need to have the following things in place beforehand: 
Have a base of loyal and engaged subscribers: Your subscribers are the ones to spread the word about your newsletter. Thus, you must have a loyal and active base of subscribers who enjoy your content, and who are willing to share it with their network, before a referral program can see success. 
Know your subscribers' demographics: From their age to their interests, knowing your subscribers already helps you prepare relevant content for them. Now, this knowledge will help you produce messaging that encourages subscribers to share with friends.
Know the value you provide to subscribers: Be clear about your unique value proposition – what you offer that motivates subscribers to sign up and keep reading your newsletters. 
Understand how subscribers communicate with their friends: Whether it's via email, text, or social media, you need to know which platforms subscribers use to share exciting things with their peers. You'll want to incorporate these sharing channels into your program.
Know what rewards subscribers would love: Whether it's physical products, access to gated content, or bigger-ticket giveaways, determine the type of incentives that would motivate subscribers to share your newsletter. But those rewards must also be cost-effective for you as a publisher.
Best practices for starting a newsletter referral program 
Ready to launch your newsletter referral program? First, get familiar with these best practices to drive success.
 Apply these tips to build an effective newsletter referral program: 
1. Know how you'll track and automate the process 
When you use referral software to run your program, managing the process will be a breeze. Referral software tracks which subscribers are responsible for which referrals, and automatically sends referral rewards when subscribers earn them.
The software also generates a unique referral link for every subscriber, which subscribers can copy and share wherever they want. 
This makes your newsletter referral program easy to run and manage, saving you from the hassles of a DIY setup. 
Some referral software platforms easily integrate with the email software or publishing system you use to send your newsletters. Be sure to choose one that syncs with your existing publishing stack.
2. Choose motivating but sustainable rewards 
As much as your rewards need to be lucrative, they must also be cost-effective. This is especially important if your newsletter is free to subscribe to and only depends on ads for revenue. 
Some of the best newsletter referral rewards include: 
Branded swag that subscribers love and that will remind them of your newsletter

Order and buy these rewards (say, stickers and t-shirts) in bulk, like Morning Brew did. This will reduce your program's customer acquisition cost. 
Remember, branded swag also displays your logo, so it also acts as a free promotion for your newsletter. 

Access to premium content

This could include an eBook, exclusive extra newsletter content (such as a limited Sunday issue), or access to an insider social media community. 
These rewards cost nothing to offer. 
3. Design a strategic, tiered reward system 
The way you structure your rewards system is key to keeping things sustainable. Many top newsletters use tiered reward systems for their programs, where subscribers gain more valuable rewards the more referrals they make. 
Your rewards should be cumulative, but it should take multiple referrals to earn each reward – including the first one. 
When planning, be strategic about your referral program rewards, especially the smallest ones. 
Your system should include three different reward types, based on cost:
Lowest cost (for 10 referrals and under) 

Should be motivating, but cost less than $1 per subscriber
Could be small swag like a sticker pack or magnet, content access, or an invitation to a social community

Medium cost (for 15-100 referrals) 

Larger swag that's still cost-effective when bulk ordered
Could be t-shirts, sweatshirts, mugs, hats, notepads, or pint glasses

The big-ticket reward (for at least 500-1,000 referrals) 

This one's exclusively for your super-advocates, who have helped you achieve significant growth all on their own.
Make the reward huge and exciting – a worthy thank you! 
You won't have to pay out many of these rewards, so you can afford to splurge a bit. 
Take inspiration from Morning Brew – they offer an ultimate work-from-home makeover, complete with the latest tech, to anyone who successfully refers 1000 friends. 
Or, take a cue from The Hustle, which offers a one-on-one meeting with the newsletter's founder in exchange for 1000 referrals.
4. Make sure subscribers know about your program 
Your referral program won't get any traction if your subscribers don't know about it – so, be sure to promote it.
The best place to promote your referral program is right in the newsletter. After all, that's your product that your subscribers see value in (and that's where you've already built your audience).
But don't plug the referral program in the exact same way every day or week. Going that route runs you the risk of getting ignored.
Instead, vary where you place the referral promotion, switching the placement across the top, middle and bottom of the newsletter. The wording of the promotion should also vary. 
Above all, mention the program in every newsletter you send, even if it's just a single-line statement like, "Enjoying [newsletter name]? Share us with friends!" 
It's best to personalize the promotions based on the number of referrals someone has made, to show the next rewards on offer. 
In addition to these promotions, you might also consider sending automated but personalized emails dedicated to the referral program. Send the first one about a week after someone subscribes. 
5. Gamify the referral experience 
To keep subscribers on their toes, try gamifying your referral program. There are several ways to do so, but the goal of any gamification is to make the referral program as enjoyable as possible. 
 For instance, you could run limited-time contests, where referrals earn entries into a draw for a big-ticket reward. 
One referral should equal one entry ticket. This means the more friends customers refer, the higher their chances of winning. 
But referrals racked up in the contest should still count toward regular rewards, so everyone wins.
By running sporadic MacBook referral drawings with this structure, Morning Brew has achieved massive success. 
Alternatively, try a contest where people who make the most referrals in a limited time earn a valuable reward.
For instance, The Hustle once gave a profitable SaaS business (valued at $25,000!) to the reader who made the most referrals in a given time frame. 
You don't need a reward that expensive, but be sure the incentive is still worth competing for!
Even if you don't run a contest, display a progress bar or icon to monitor performance of how many referrals someone has made – and how many they need to reach the next reward tier. 
You can even give your reward tiers exciting names, for more subscriber engagement. 
6. Make sharing easy 
As a rule, every newsletter should include the subscriber's personal referral link, so they can share it right from the newsletter. 
Also, create a referral program landing page with more options for sharing, such as social networks, emails, or SMS – and link out to it from every newsletter you send. Be sure to include the referral link on that page as well. 
The bottom line? Make sure readers understand why and how they should share, as quickly as possible. It should take only a few steps for a subscriber to share with their network. 
The best newsletter referral program examples
You've heard plenty about these powerhouses already – the Morning Brew and The Hustle referral programs. But how did they structure their programs to achieve exponential growth?
Let's dive into what these programs nail, so you can apply their secrets to your own newsletter referral program. 
Morning Brew
One of the most well-known business newsletters, Morning Brew caters to young professionals. Thanks to its referral program, "The Brew" grew its revenue by $10 million in just one year!
Secrets to steal for your own referral program:
Like clockwork, you can find the Morning Brew referral program promotion at the bottom of every daily newsletter

But the newsletter changes up the wording and graphics to keep subscribers engaged

Branded swag rewards are enticing, but affordable for "The Brew" 

We love the GIF that cycles through the rewards (in the email newsletter), and the attractive reward lineup at the top of the referral program page
Subscribers can copy and paste their unique referral link directly from every newsletter (and from their personal referral dashboard)
Personal referral dashboard lets subscribers instantly send a referral email to their friends

It's pre-written, so subscribers don't have to think about what to send
But subscribers can still customize the email as they wish

Facebook, Twitter and LinkedIn social sharing options maximize the program's impact
Tickers motivate subscribers by showing them how many referrals they've racked up, and how many are needed for the next reward 
Dashboard keeps track of the status of every referral

This way, subscribers always know the status of their referrals, and can check in with a specific friend if they haven't subscribed yet

Referral tracking ensures that every new sign up gets credited to the correct referring subscriber's account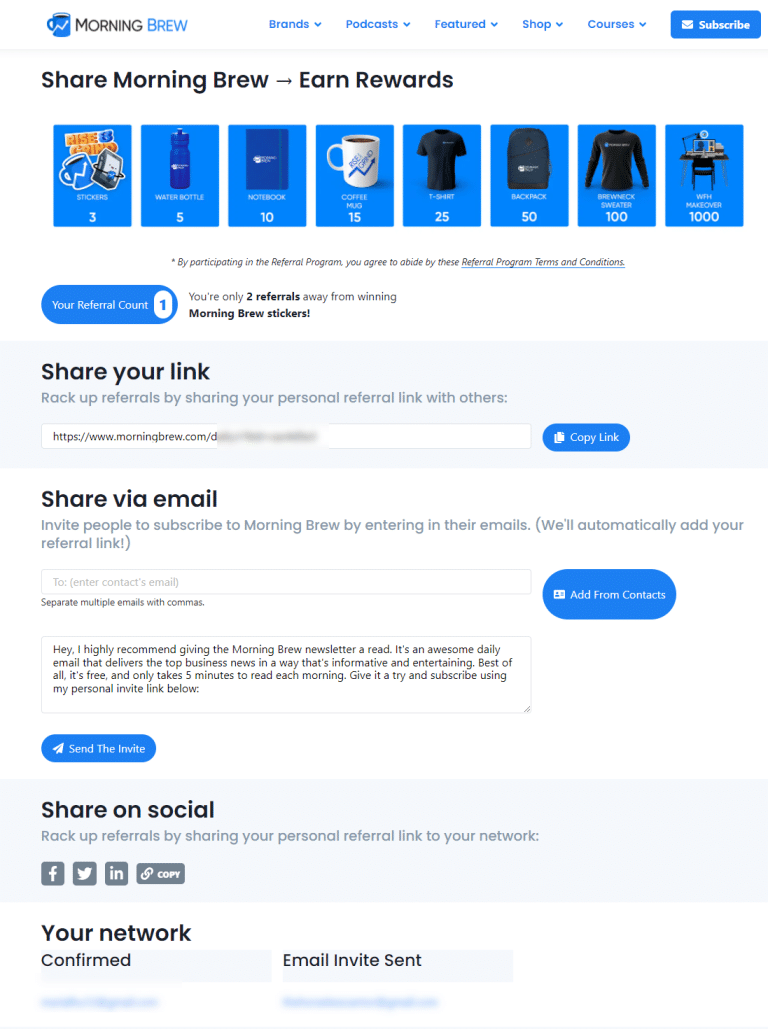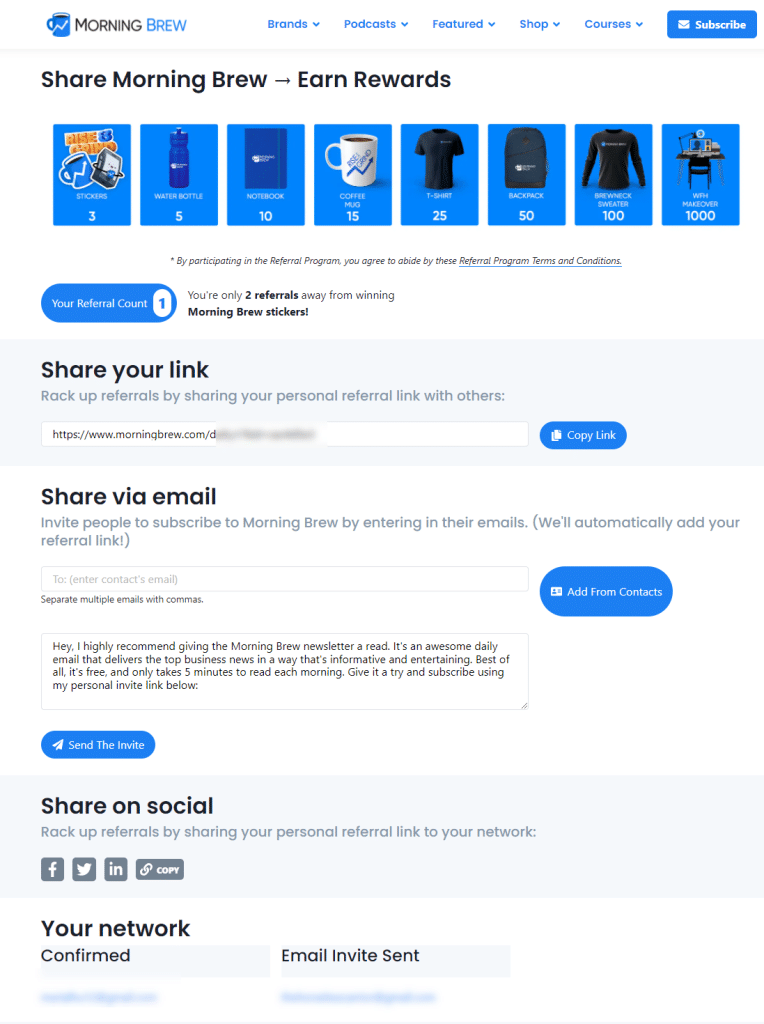 Every so often, Morning Brew runs its famous Macbook Pro drawings, where each referral earns an entry into the giveaway.

When this giveaway's running, the newsletter places referral program promos at the top of the newsletter, as well as a random place in the middle (so subscribers will need to read through to find the link)
Like with its regular referral program, "The Brew" always varies the wording associated with this promotion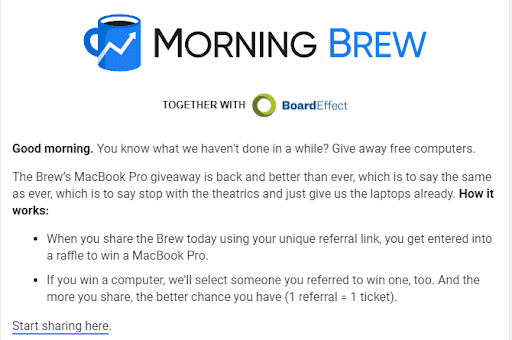 And when a subscriber makes 1,000 referrals, their work-from-home space gets a free makeover – a worthy reward to motivate super-advocates
The Hustle
The Hustle promises "business and tech news in 5 minutes or less." The newsletter's referral program is also streamlined for quick, effective sharing.
Secrets to steal for your own referral program:
Personalized referral section based on the number of referrals a subscriber has made
GIF cycles through all the available rewards, to effectively capture a subscriber's attention
Content and bulk swag rewards are affordable for The Hustle to pay out
Catchy tagline ties into the "product" of the newsletter: "Spread the news. Help us grow."
Easy-to-find red "share" button (complete with emoji!) directs subscribers to their personal referral page
Instant-copy referral link is available in every newsletter, for rapid sharing

Referral link is also at the top of the personal referral page 
Multiple social sharing options (Facebook, Twitter, WhatsApp), plus an SMS option
Attractive rewards menu shows all the incentives – and referrals needed for them – at a glance 
Opportunity to meet The Hustle's founder is available to super-advocates with 1,000 successful referrals
Tickers keep track of the referrals made, those needed for the next reward, and sent vs. confirmed referrals. 

This way, subscribers always know the status of their referrals, and can check in with a specific friend if they haven't subscribed yet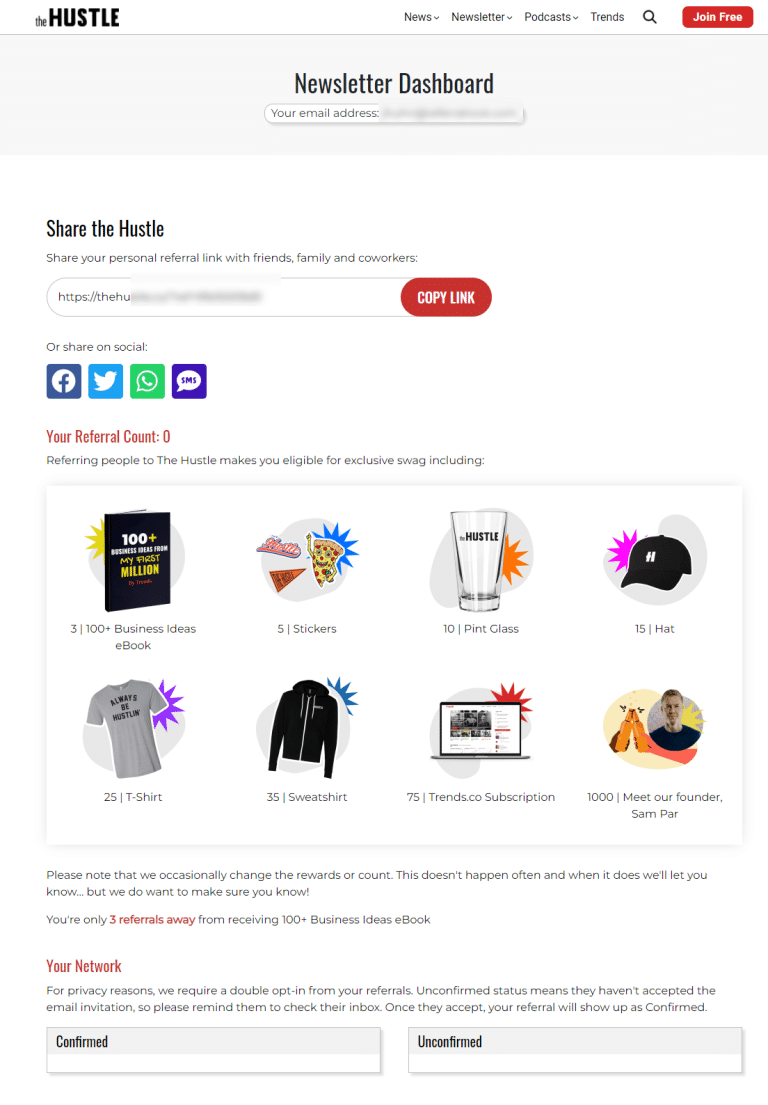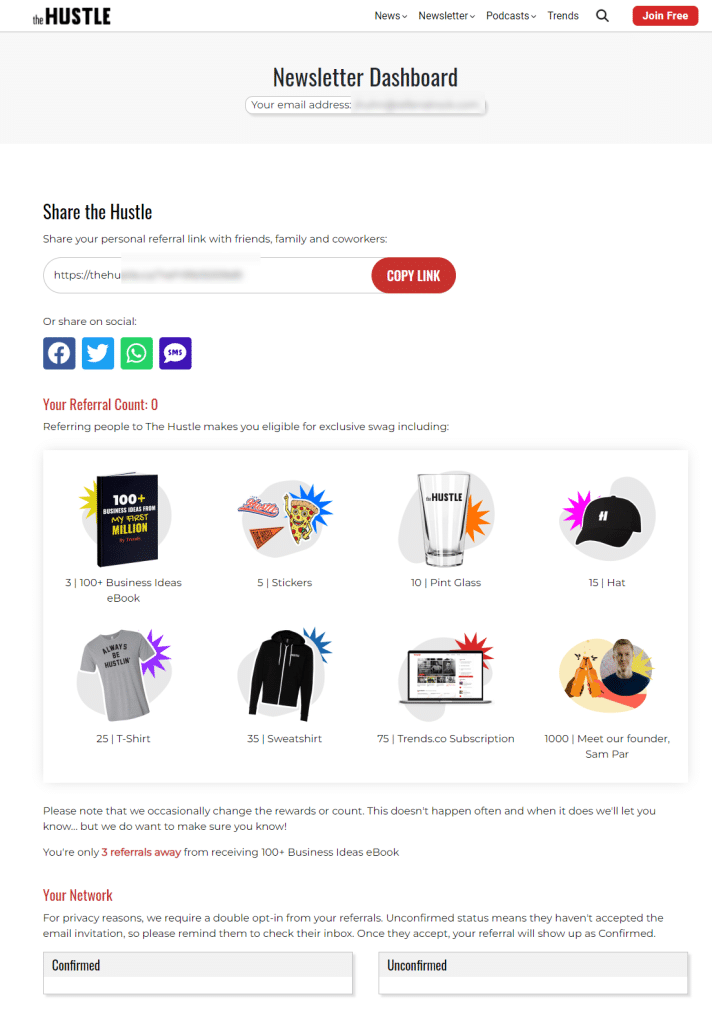 Conclusion
Newsletter referral programs are quick to structure and set up. If you have the essentials in place before starting, and follow best practices, a newsletter referral system has a huge potential to grow your subscriber base. 
Of course, you'll also need to pick high-quality referral program software that can work perfectly with your publishing system, so you can reap the maximum benefits of a referral program.