Promoting your referral marketing program can make or break your efforts. Don't let your program get lost in the shuffle; promote it and let your digital marketing efforts thrive.
After all, you went through the hard work of putting your program into place, so now it's time to put it to work. Referral programs are great ways to grow your brand and let your happy customer base market on your behalf. With word-of-mouth marketing, existing customers share their experiences and draw in new customers all on their own. Meanwhile, your referral incentive entices them to do so. It's a great way to grow your business –  all you have to do is put it into action.
Need more proof? As many as 87% of professional sales teams say that referrals are the best way to gain new leads. In addition, companies with reward programs see more customers who come in and remain with the brand as customers or subscribers. Yes, referred customers are more likely to stay on for the long haul.
 In addition, companies with reward programs see revenues that are 86% higher than their counterparts (who don't utilize a referral program).
You can take advantage of these impressive stats, too, by promoting your referral program on several different marketing channels. Take a look at these proven steps below for advice and know-how on getting your referrals to work for you in turn increasing productivity.
1. Use email marketing to promote your referral program
Email is a great way to keep in touch with your current customers and to reach them personally – on their time. Because folks check their email when it's convenient, you can be sure that you're catching them on their schedule. First things first, you need to build and clean your email list regularly for a seamless process.
Writing a smart email message can entice customers, and you can link them directly to the referral program page for easy sharing. Visual aspects, such as a hero shot, can also show users what it's like to get their reward, which can further entice them to share your brand to friends or family members.
Consider this an easy way to promote customer acquisition.
2. Promote your referral program on your homepage
The same goes for your homepage. Take advantage of landed traffic by letting users know what they can get from your referral program. Use a featured image or a banner ad on which users can click as an effective marketing strategy. This tells them about the reward and takes them straight to it in one fell swoop.
Keep your referral program marketed on the homepage in order to keep it top-of-mind, and to give customers easy access to rewards.
3. Spotlight your referral program on your high-traffic web pages
Use that traffic you already have on your website to your advantage. You likely have key pages that receive the highest amount of traffic. These vary by industry, but are often the home page, about us, and contact us pages. Because you have more viewership on these pages, they offer a great opportunity to tell people about your referral program.
Use an eye-catching graphic or tell them in bold what they can earn when they refer your business to a friend.
4. Promote right after a purchase
A great time to promote your referral program is right after a customer has purchased from you. They will be excited about their recent transaction and eager to spread the word. Once your customer completes their checkout, this is an ideal time in which you can tell them about your referral program.
You can do this by sending a follow-up email, or using a referral landing page that expresses the referral reward and program terms. Take them straight to the landing page once they order, and talk up your refer-a-friend program. Or, follow up a few days later with an email that encourages them to entice others. You can also use a confirmation email to capture their attention. Include a graphic and link right with their receipt to capture this positive momentum for future referrals.
5. Promote your program on your social media account
Referral promotions can receive extra traction through social media. Use your social media platforms to help share your referral program. You can do this with boosted posts or social ads, or simply with standard posts that explain how users can earn a prize or cash reward for sharing your brand. Be sure to make the post visually appealing and add a link. Making it as enticing and as easy as possible can only excite users even more.
6. Highlight the program on user account pages
If your platform has a section where customers can log in to your website, this is a great place to highlight the referral campaign. They will likely spend a good amount of time on this page when ordering, checking statuses, and more, which means you can readily catch their attention by hosting a referral page with templates. Add the referral program to their drop-down with a title like "Refer and Earn" or "Get Cash Back" to further entice them.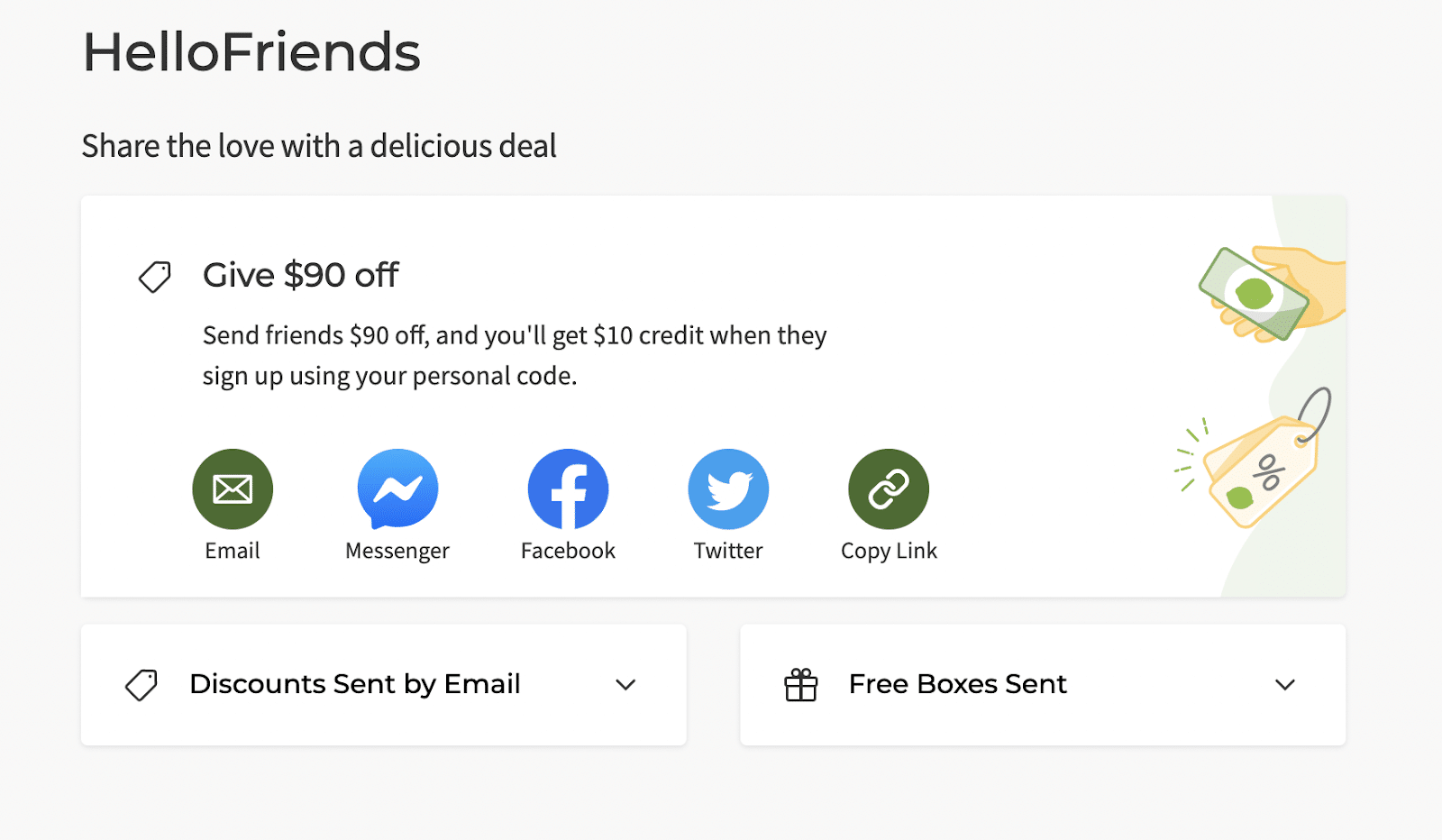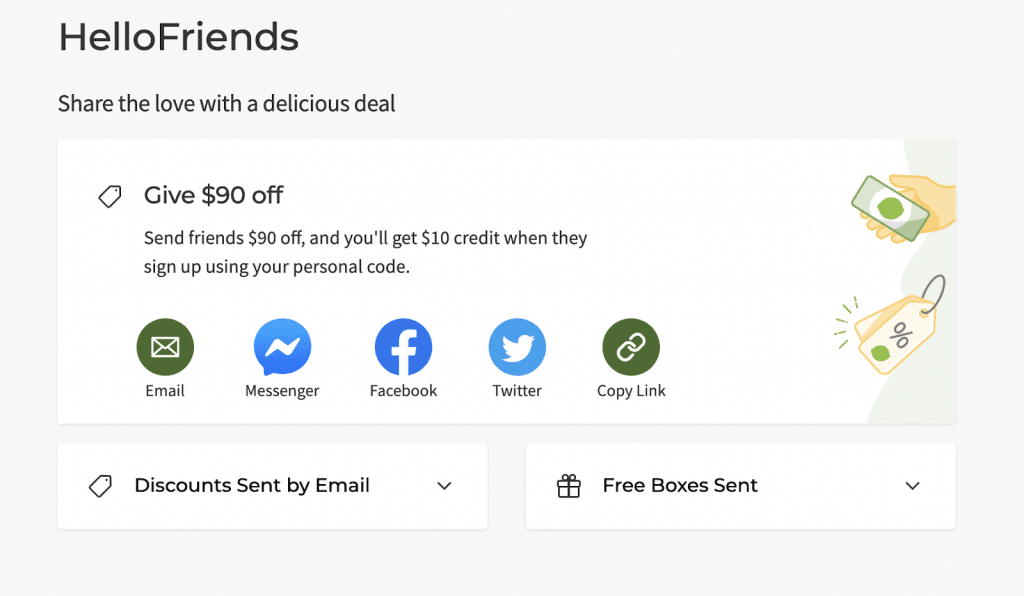 You can see this example with HelloFresh's website. This meal delivery service hosts a banner button at the top of their website where users can click and share referral codes via any number of channels, including social, email, and a direct link.
7. Use referral program pop-ups
Another way to promote your referral program is with pop-ups. Create an eye-catching graphic that you can put directly in customers' eyesight. Telling them what they can earn in this pop-up will invite them to click and earn, increasing conversion rates.
You can also determine when the best time to show these pop-ups may be. For instance, try showing a pop-up after a purchase, or once someone's had a positive experience with customer service to increase customer loyalty.
Head here to learn best practices about using referral program popups.
8. Add social sharing buttons for your customers
Next, you can encourage customers to send referral links directly to social media by providing links. With this simple process – one click and they can share – users will be more likely to add your customer referral program to their feed. You can even make it easier by pre-writing content with the link. (They can also write their own content, but won't have to.) This is fast and smart content marketing, as customers will reach many friends at once with their posts.


Because users will receive their incentive every time someone purchases thanks to their link, they will want to share with as many people as possible. Therefore, they will want to share via social. Consider the power of this simple, yet effective addition.
9. Share reviews as social proof
Some customers will want "proof" that you have a good product or service, so they'll turn to product reviews before they buy. The same goes with your referral program – some customers will want proof to ensure a company is worth their time and effort before they refer. Make it easy for them by sharing testimonials and stories, where customers who have previously referred their friends share their positive experience with the program. You can easily turn positive reviews into graphics that can be shared on social media, along with a link to the program. This offers a fast and effective way to tip the scales in your favor.
Add reviews as social proof to advance your referral program's momentum.
10. Create a dedicated referral program page
A landing page that is made specifically to funnel customers to a referral is a great way to bring in new referrals. You can also channel traffic to this page from all other digital sources. Create a page that specifically outlines how your referral program will work. Here, customers can gain access to all of the info they need, as well as know what type of reward they will get with each referral.
11. Promote the program in social media bios
Here's one more place you can drop your info. Place a quick line about your referral program right in your social bio. Something quick like, "Refer a friend and earn" or "Get $50 when you refer a friend" – then share the link to your program. This might seem like a small gesture, but it's one more place you can drop the link and entice customers to get more people to sign up.
Because social media is so widely used these days, customers are more likely to check a bio to gain quick info (and a link) about a company.
12. Mention the program in your email signature
Meanwhile, you will be sending out emails on a regular basis. So why not add your referral program link right into your signature? This is a section that many users will see (including those you work with directly), which means it's high-quality real estate to share a link. as well as any quick corresponding info about the referral program.
You can easily add this to your signature, and encourage employees to do the same. This is one more simple way to spread your referral link with current and new customers alike.
13. Add CTAs in blog posts
A CTA – call-to-action – is considered a best practice across all industries. A CTA tells customers what they can do next and how they can get the most out of your brand. For instance, how to get more information, where to sign up, etc. A smart CTA gives specific instructions and a link for moving forward.
When promoting your referral program, your blog post's CTA can remind them to get their friends to sign up in order to earn. For example:
Refer a friend and earn. Click here to learn more.
Want to earn cash? Click to see how.
Refer a friend and earn [reward]. Find out more here.
14. Ask brand ambassadors to promote the program
Find momentum with your referral program with the help of brand ambassadors. Brand ambassadors work directly with your brand to help your company grow its reach. They will share your referral program, usually in trade for a reward of their own, enticing others to participate by referring friends.
Brand ambassadors use many different channels, including video, social media, blogs, and emails. The benefit of working with a brand ambassador for your referral program is that they can reach an audience that you cannot. They also have loyal followers who trust their judgment, meaning they will be more likely to trust their reviews and help promote you by signing up and referring their own friends.
15. Run a social media ad campaign
Run a social media ad campaign in order to reach a new audience. Boosted or sponsored posts can be tailored to reach a specific audience, meaning you can choose who will see your ad based on age, location, interests, or another qualifier. Drop the referral program directly into the ad so users can see you not only host a great service, but a way to earn rewards along the way.
Social media ads can also be affordable – $100 and up – while still gaining results that can boost your referral program.
16. Host an early-launch program
Creating a launch can make your brand elusive and exciting to join. Consider your referral program launch like any new release –  giving people early access can hype up the fun. Choose a small group of best customers or influencers and let them join early to gain momentum with your referral program.
Better yet, you can use this as a trial run before new customers join the program, so you can work out any kinks and get the program in tip-top shape moving forward.
17. Find your best promoters through NPS, then invite them to share
Before you start your referral program, consider seeing how willing customers will be to use the program. An NPS – that's Net Promoter Score – shows how willing each customer will be to share your brand with friends and help promote your referral program. From there, you can target customers who are most willing and will be the most beneficial catalysts for your brand.
Set up a short survey, then based on the results, you can create a referral program that best suits those users and their wants.
18. Share the program with your most loyal customers
Loyal customers are the bread and butter to helping your brand succeed. They are the folks who help you make money, who put you on the map, and who put you where you need to be. They will also be the ones to sing your highest praises. Therefore, it's helpful to get them on your team.
Ask these customers to refer friends for an even higher chance at gaining new leads from their friends and family members. The reward will likely make them more excited about your brand. (As we mentioned above, think about asking these customers to be the first to try out your referral program.)
19. Promote with text messages
Your customers are constantly on their phones, so adding a mobile element to your referral program promotion can pay dividends. Reach customers with automated text messages in order to encourage their participation in a referral program. Because users will "opt-in," you can rest assured that you aren't reaching customers without their consent. Texts are a great way to quickly reach customers and to let them know, in real-time, about any changes or upgrades to your reward program.
It's important not to text too often, but by following an intermittent schedule, you can reach customers directly in their pockets to let them know about brand incentives.
20. Use entertaining videos
Fun videos are another way to capture customers' attention. Inform them about your referral program in the video, while showing just how happy recipients are to have signed up for this service. The video can explain how everything works, with the added benefit of getting folks excited to use the referral program. Plus, you'll have plenty of room to inject your own branded flair.
Consider this proven tool as an effective way to market your referral program.
21. Ask past program participants to spread the love
Once a customer has had a good experience with your referral program, they're more likely to repeat the process. However, asking them to put in a good word can even further spread your cause. As others hear about Joey and Stevie having a great experience with referrals, they'll be more likely to participate.
Besides, asking for a review can be a gentle reminder to once again send in a referral to your incentive program. Don't underestimate just how far the effort of positive reviews can take you.
22. Promote offline and during events
Digital marketing can get you far, but not everyone is online. Reach this corner of your audience by advertising offline. Depending on your industry, this might mean radio, print ads, or commercials to spread the word about your referral business.
Look at your market, see which medium(s) they are most likely to use, then pursue those ad channels in order to reach more customers who are less likely to be online.
23. Include the program in other campaigns
In your general marketing efforts, you can mention your referral program in addition to any other promotions you might be having. This two-layer approach lets folks know about your service, as well as how they can earn through your reward program. Don't forget to include info on, and links to, the referral program to get more folks involved.
Even if it's not in your original message, you can follow up with customers with the referral link for a better chance at increased ROI and customer participation.
24. Automate promotions with referral software
Referral promotions can be made easy with the help of referral software. Avoid keeping track of rewards the old-fashioned way thanks to automated programs that handle it for you. Referral software helps you keep better track of ROI, categorizes your best referrers, and more. Consider this smart addition in order to help your referral program thrive, without the stress of added human error.
Learn more about using automated referral software here.
25. Conduct an A/B test
Language matters with your referral program marketing. But don't guess at what language will entice more customers. Know you're using the best language, layout, and visuals possible. This can be done with A/B testing, a method where you try two options and find which version has the best results. A/B testing gives you good insight as to what your customer base finds appealing. Plus, it provides the added peace of mind that you're on track with how you promote your referral marketing.
26. Promote your program regularly
When it comes to promoting your referral program, frequency is key. By getting your program in front of folks often, you can ensure they have access to your referral program. You never know who may have overlooked a mention, or who might be enticed on the second go-round when hearing about your referral program. Be sure to mention it frequently in order to gain customer referrals, and to remind customers about the rewards that they could be earning within your brand.
Conclusion
Marketing your referral program is a great way to increase your customer base, and to bring in more dollars for your brand. Help your company grow through word-of-mouth marketing by using promotional best practices within your referral programs. There are several ways in which you can spread the word about your brand. Follow these best tips, and choose the steps that are most on-par with your industry and marketing efforts in order to create success within your marketing referral program template.
Find out more about asking for referrals directly or indirectly here. Or, for more ideas on growing a referral program, check out this comprehensive article.