A referral email is often the introduction point of your referral program between your company and an existing customer. It's the message they see that first shows what your referral program has to offer – what's in it for them if they share your brand with friends.  Today, we'll cover the essentials for writing compelling referral emails that drive shares, plus the best examples of referral emails to inspire you.
What is a referral email?
A referral email goes to your existing customer to tell them about your referral program through the magic of email marketing. Because you have an existing relationship with the customer, they are likely to open and read your email. Plus, jazzing it up with a snazzy headline – outlining what they can earn by sharing – won't hurt either.
A referral email promotes your program and introduces it to the customer. In it, you'll tell them what they can gain, how they can share your brand, and any specifics of the program itself, such as limits and/or tiers toward higher earning potentials.
This email should be informative but get to the point. Keeping it short and explaining benefits can excite the customer and get them ready to jump on board.
Writing a referral email: What to keep in mind
When writing your referral email, you'll need to follow a few key guidelines.
First off, who's your audience? In other words, who will be reading the email? And what will grasp the attention of your current customers? Knowing what might excite them best can keep you moving forward. Understand your target and how to best reach them.
Next, consider the best time to send. When should your email go out? There are key times when you can get your audience on board for signing up for your referral program. This is usually when they are most excited about your brand. For instance:
Right after making a purchase, or
After having a successful customer service experience (in person, in chat, or over the phone).
Also, choose a time and day when the recipient is most likely to respond positively. Again, this can come from knowing your audience.
You can even combine your email with another brand email, like one thanking them for being a loyal customer, messaging customers about a sale, and so on.
When customers are familiar with your brand, these kinds of messages can be well received.
Essential elements of a referral email template
Now it's time to consider what you'll put in the email itself.
The compelling subject line
First up, you'll need a compelling subject line. Why should readers open your message? Give them a reason to click and read through. One great way to pique their interest is to share the incentive right in the line – a clickable email subject line. For example:
How to Earn $50
$100 Off Your Next Purchase
Free Swag When you Refer a Friend
The enticing incentive
Of course, this also means you'll need to include an enticing incentive to get them to sign up. A referral reward is one of the biggest reasons referral programs work. With an incentive to refer their friends – and convince them to sign up – users are far more likely to join the program. Share the potential bounty with your customer base, and maybe excite them with an emoji or two.
Determine what would be most motivating to your audience and incorporate it into your referral program. Some customers are motivated by cash. Others will enjoy store credit. And some may want a chance to win a contest – it all depends on your company's industry and your price point. Look at these key factors to find a great solution for what your audience will want and become excited about.
Don't be afraid to follow up to earn a great referral either. This can only increase your open rate and your entire referral process.
The clear call-to-action
Finally, you'll want to close the email with a call-to-action that asks for a referral. Don't leave any doubt about what they should do next. Create a button that says "Sign Up Now" or "Click Here" so customers know where to click, and what they should do next – share with friends.
You can also close your email by telling them what to do, for instance:
Sign up today and earn
Click to get started
Gain cash back when you refer
These clear CTAs can help audiences move in the right direction. Use a referral link to help the process along even further.
17 best referral email examples
Take a look at these stunning examples of referral emails and how they helped grow referral programs by enticing users to sign up and start earning. When done correctly, you can even increase customer retention, gain subscribers, and referral requests all through your successful referral email marketing program. Now that's word of mouth at its finest!
Outdoor Voices
Outdoor Voices offers a nice image with its email newsletter – not only in size, but that it shows friends having a good time together. They cut straight to the chase, telling customers they can do something good and earn – and exactly what they'll earn — all in one fell swoop. Ending it with a clickable button makes things easy peasy.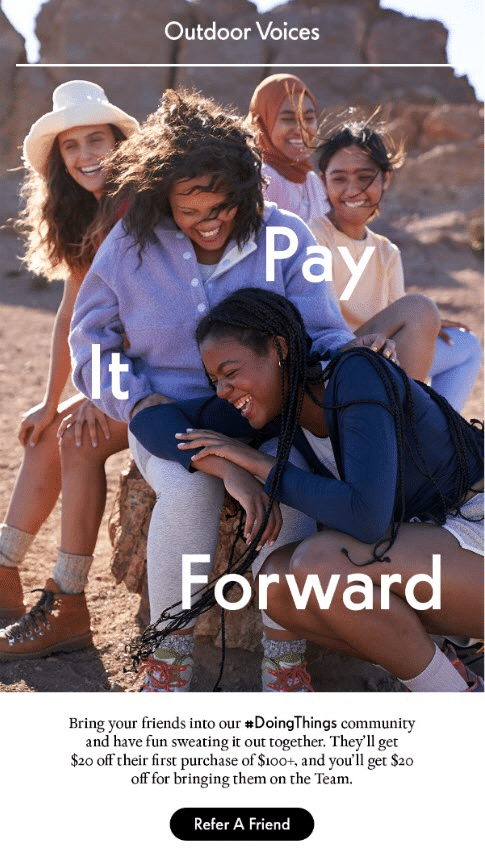 Omsom
Next, Omsom visually reaches customers with a fiery headline and a graphic that shows two parties getting and receiving. They provide a quick thank you note to customers, introducing the program, then explaining what everyone can receive when using the referral program. Meanwhile, a clear CTA ends the messages, encouraging all to one click location.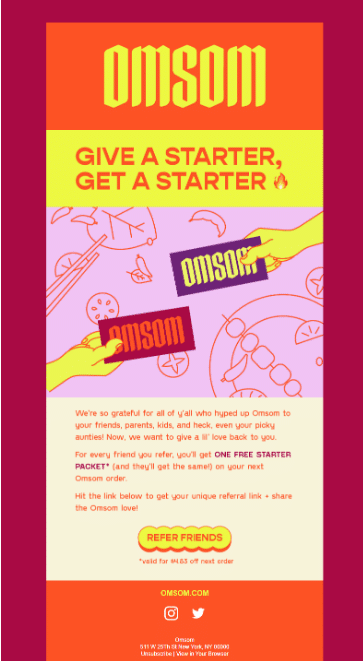 Bombas
Refer a friend, receive a reward. Bombas lays it out for customers in a visual outline that includes all of the program's details. They also highlight folks wearing their socks for good measure. A nice color contrast with their CTA button also draws attention and ensures that it won't be missed.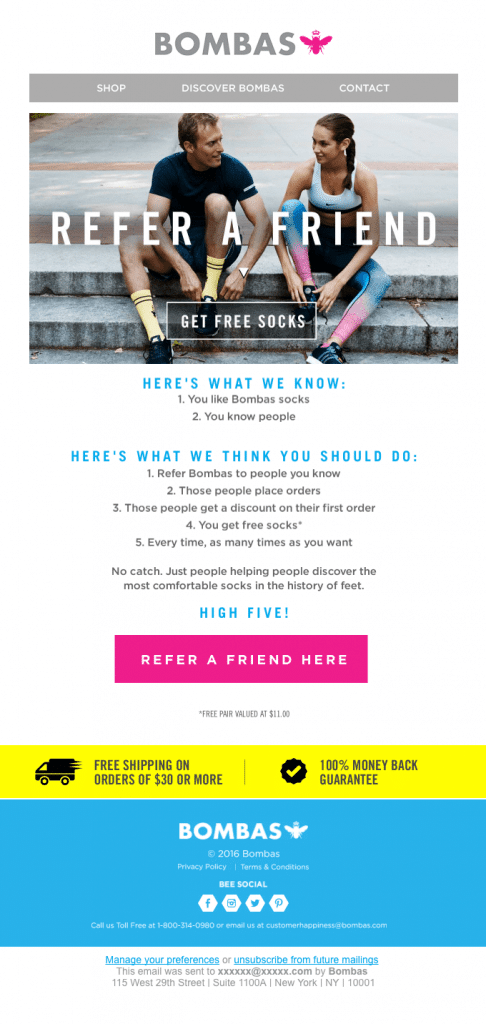 Goby
With their email, Goby keeps it simple. With a simple, yet colorful graphic, users learn what they can get for the referral. There's also a signup link. No mess, no fuss, just key info and a quick way to get started. We also love the branded tie-in to referrals: "it's time to use that big mouth of yours."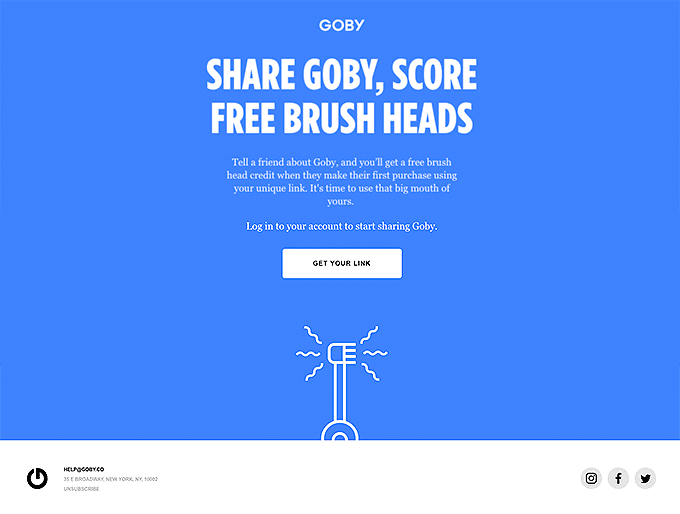 Little Spoon
Who isn't excited to see a happy baby? This image shows just how happy your own baby can be with new food items – all the more reason to sign up! Little Spoon certainly hits their audience in the feels before hitting them with the details of the referral program and how to join in on the fun.


Postable
Sometimes, visual cash is just as effective as the real stuff. This graphic of $5 shows customers just how much they can earn for each referral – it's a method that works. Their super-short message also confirms that the credit can be earned over and over again – a win-win all around.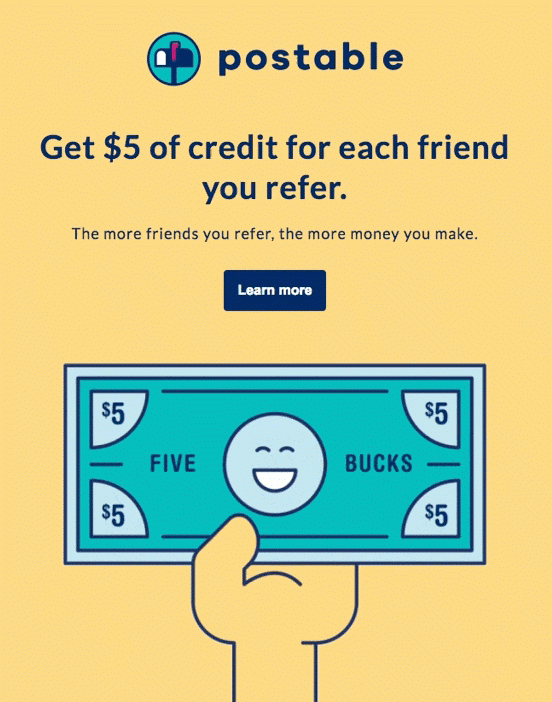 Treehouse
This company sets their message up a little differently. First, they address the customer personally (nice touch). Second, they explain that a user can refer five friends and earn a free account. This is a fast way of talking about max earning potential and explaining how the program works overall.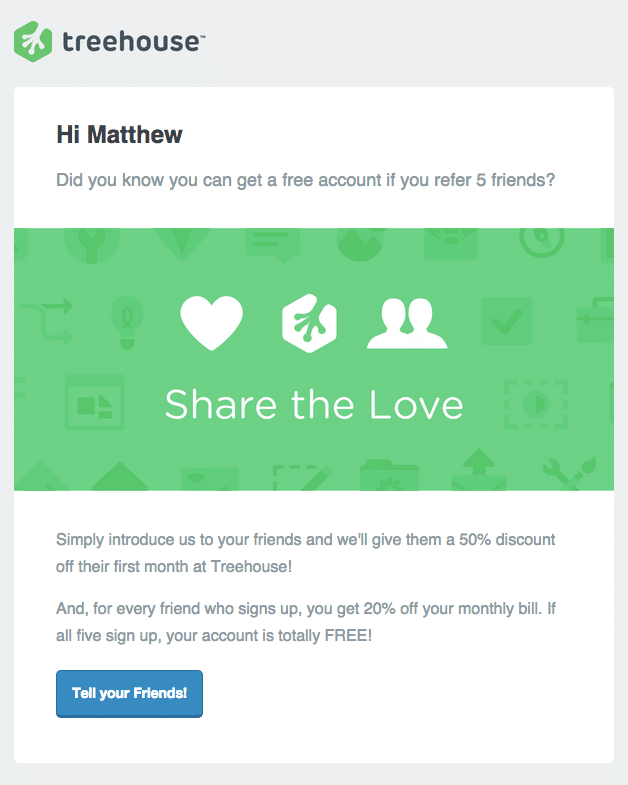 Stitch Fix
With a headline like Free Clothes, it's hard to be missed. Showing stylish options helps push the message even further. Users can read on to see how the program works, with a quick link to get them there. This attention-grabbing method can bring in huge referral numbers.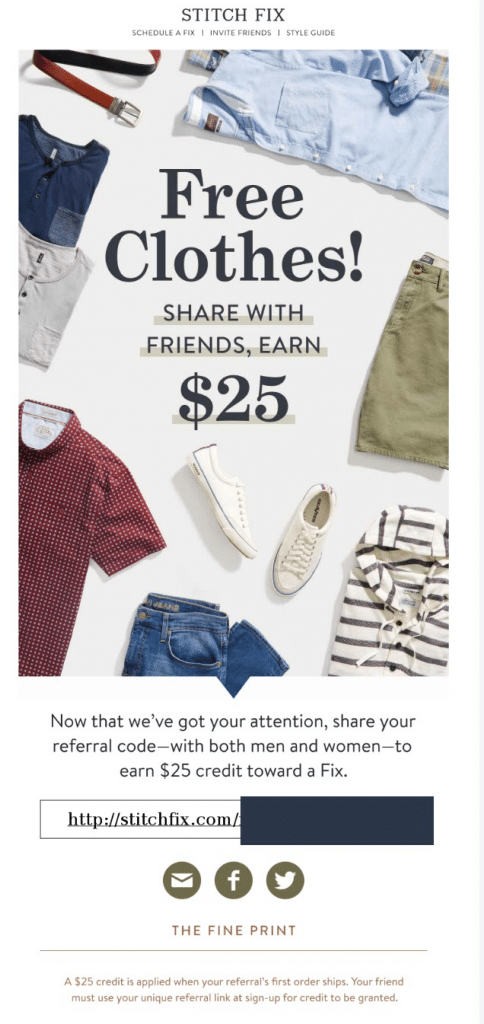 Rocksbox
Rocksbox shows an image of people celebrating, then talks about the referral program in a quick, simple message. An added graphic ("it's a win-win!") nicely highlights the CTA button … just in case it was overlooked.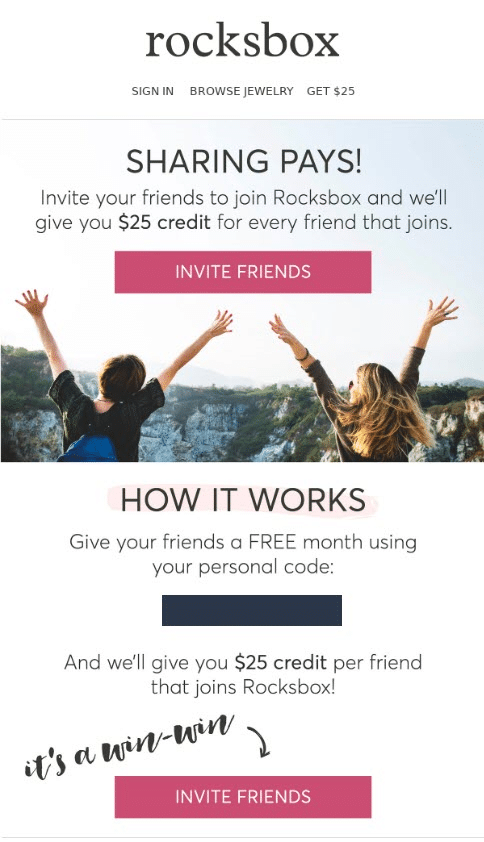 MeUndies
It's people in undies! But also not graphic – MeUndies shows the happier side of wearing one's skivvies, which is comfort, and makes a store discount available. Below that there's a quick click button, as well as access to customer service, just in case it's needed.


Digital Ocean
We love this custom graphic that ties into the company's name to explain their referral program. The SS Referral comes with a custom referral code, unique to that customer. This is a great way to keep track of leads and stay up-to-date with rewards.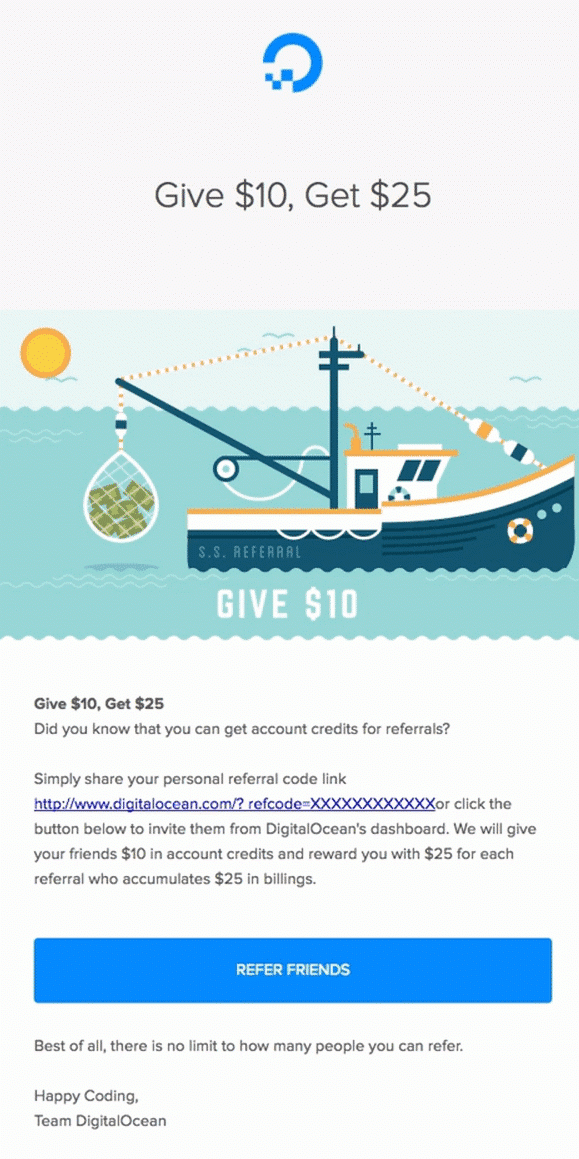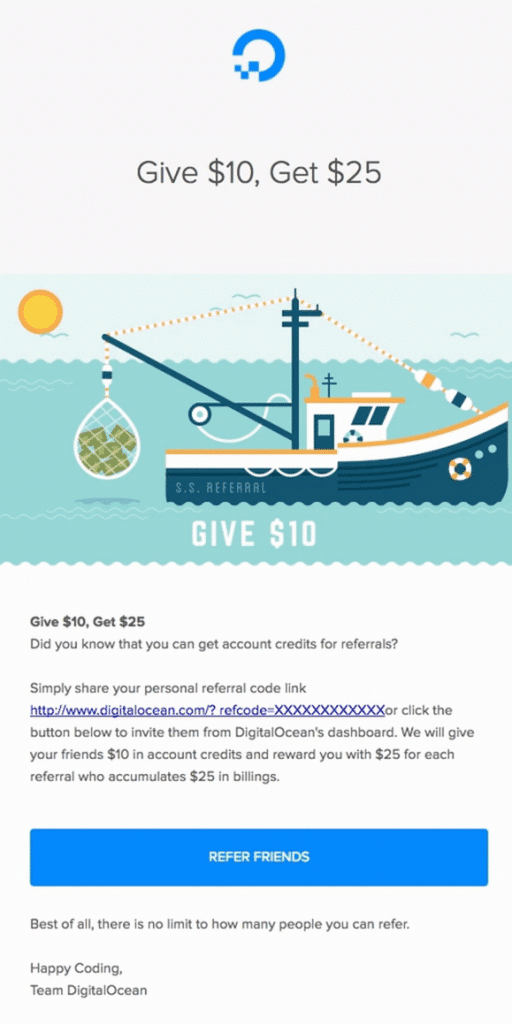 Purple Carrot
We love this style because it shows off the product – food – and it tells the customer they've unlocked a reward. This can be a huge motivating factor. When customers feel like they're in on something exclusive, they can be far more likely to participate in a referral.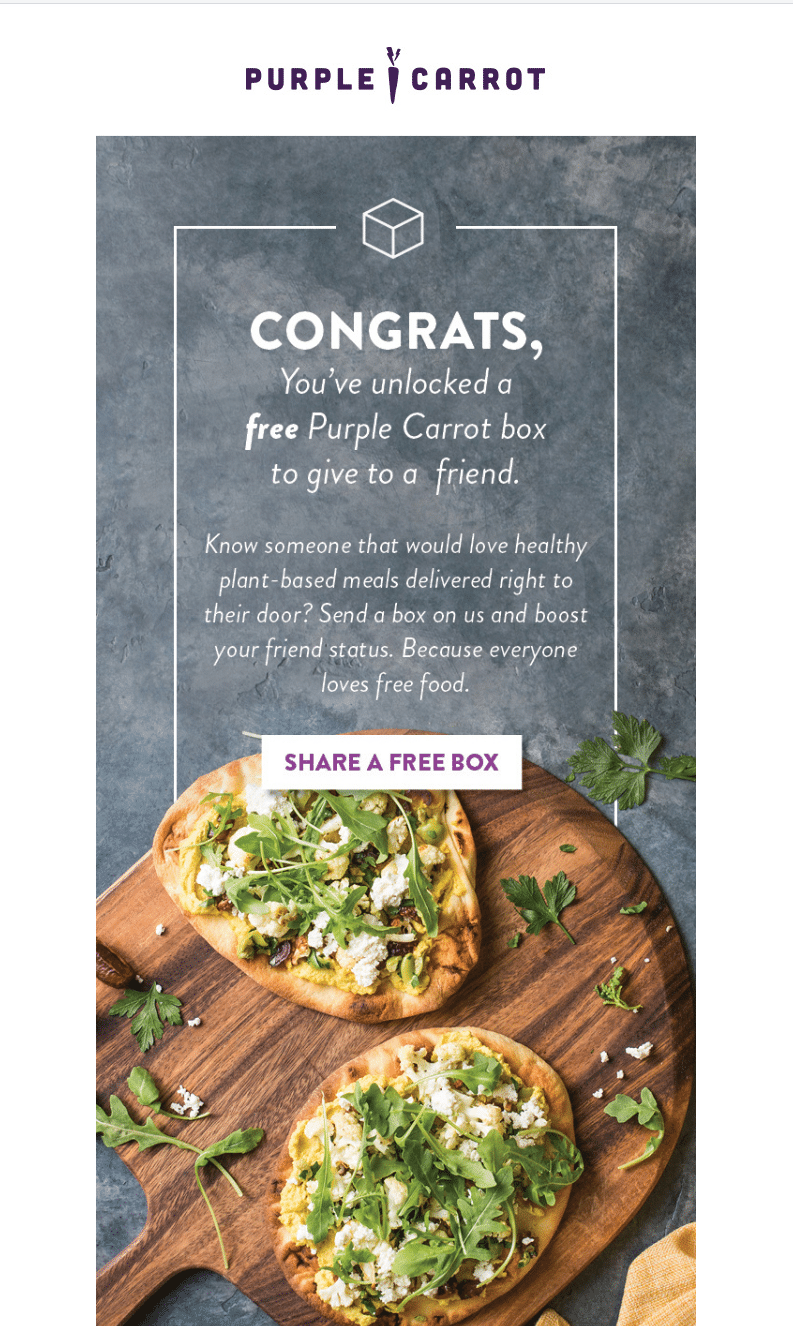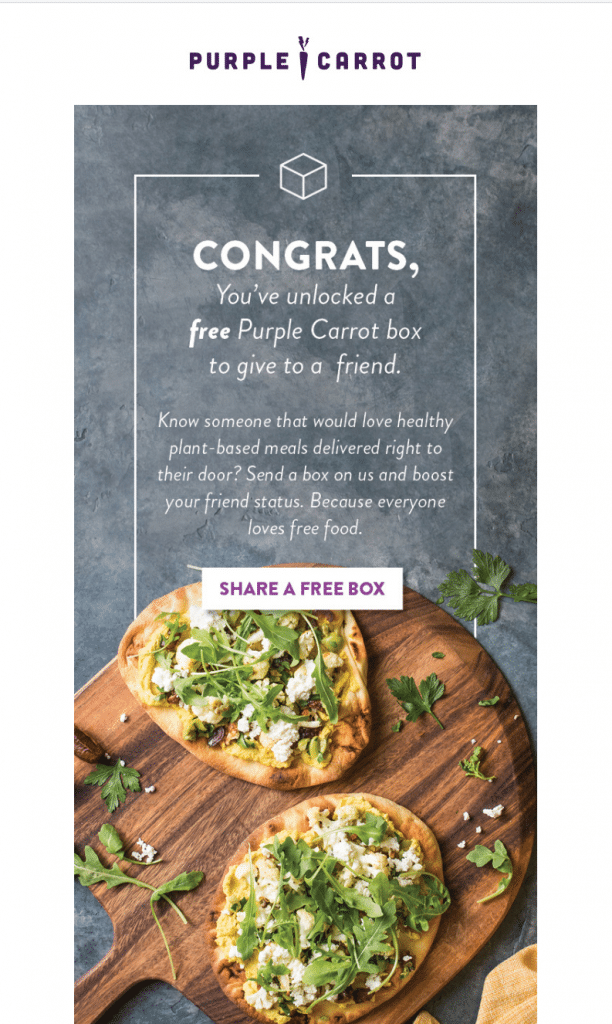 Daily Harvest
Meanwhile, Daily Harvest markets itself as a gift to others. Do a fun thing by giving something to a loved one, while also earning yourself. This mindset of giving a gift can also motivate, as the referrer is providing something for others too.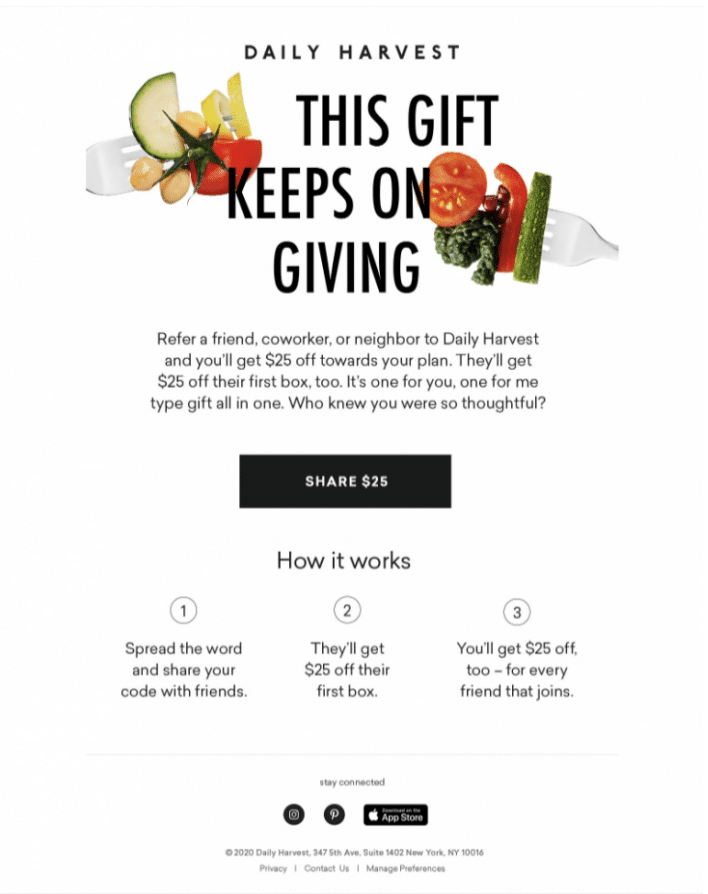 Home Chef
Yes, we want free credit!! Who doesn't? By setting up their graphic with this question, the customer gets to contemplate a life with store credit, and it's one they very much want. This can be a great approach to reaching new customers with your referral program.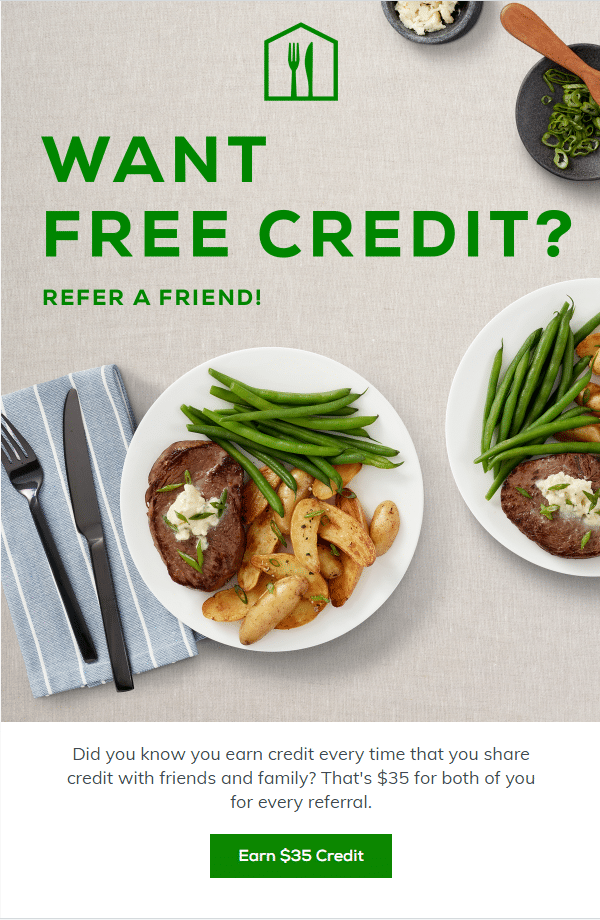 Kate Somerville Skincare
Confused about how much you get and give with this program? Nope! They made it clear from the get-go, while using fun products to display the message. We also love the addition of an old-school coupon cutoff for the CTA.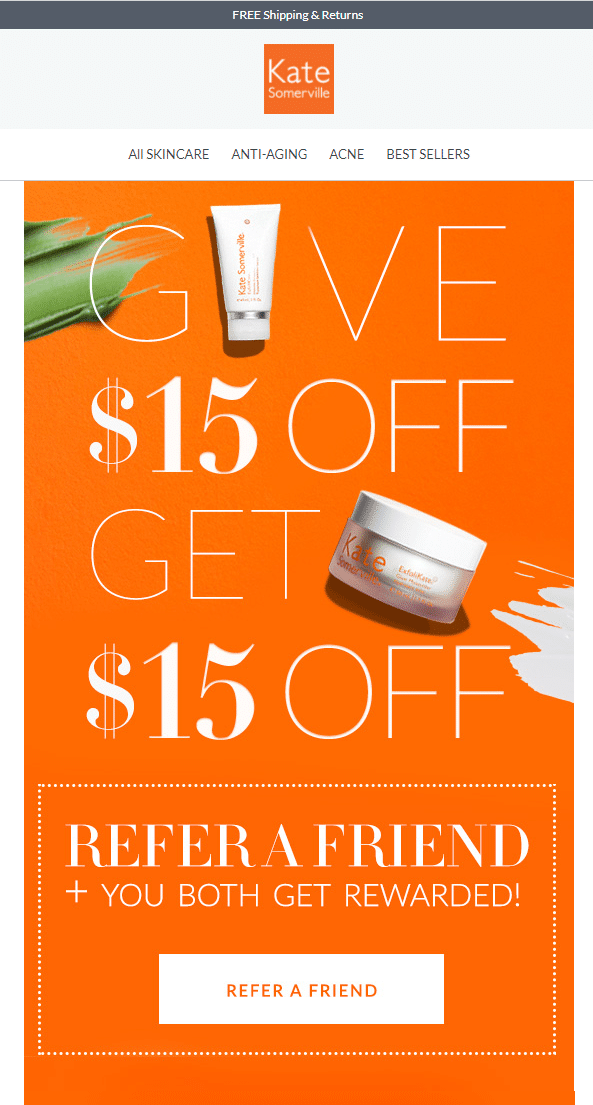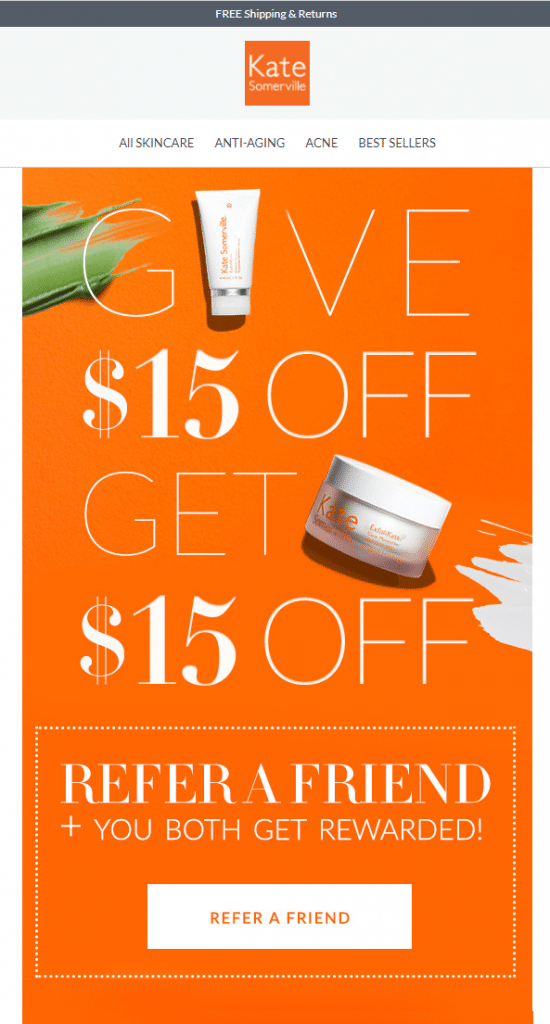 Primary
This program is unique in that it shares the company's values right in the referral email. New users can learn what the brand is all about right away, when receiving their referral email. Meanwhile, it has all the best features of offering up reward info and a quick way to sign up.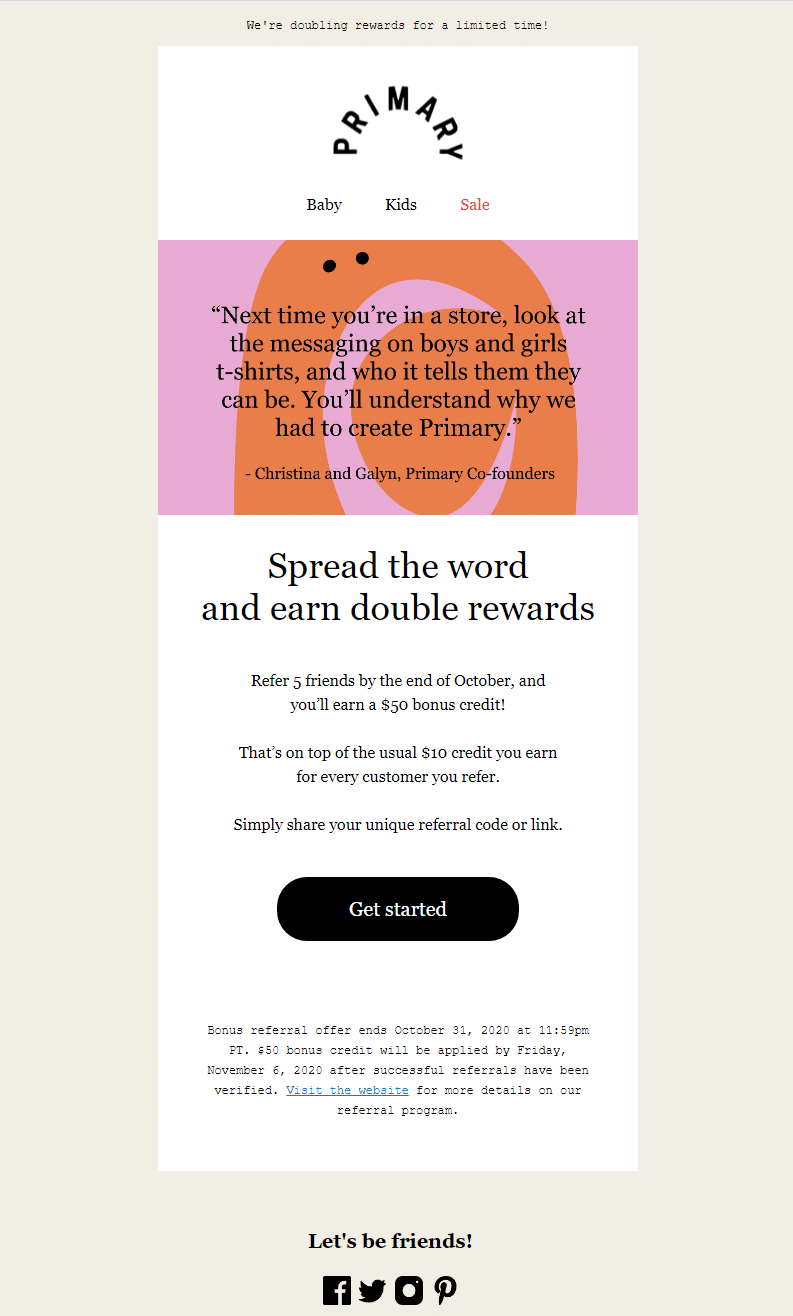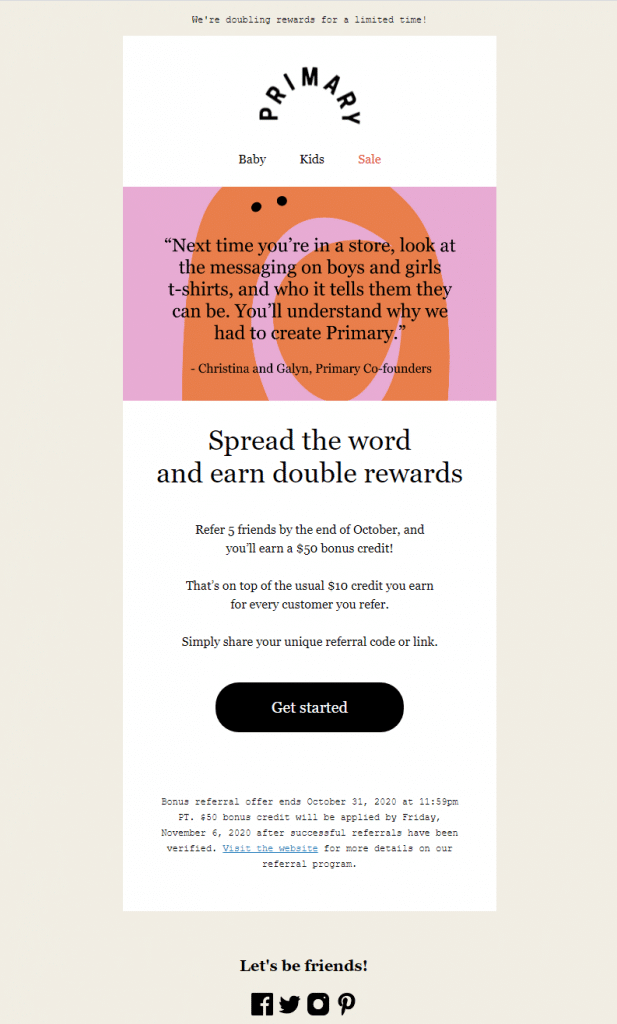 Brain.fm
An image of friends enjoying a common program accurately describes what users can get with Brain.fm. An inclusive graphic, plus a short message and a CTA and this email has everything users need to sign up.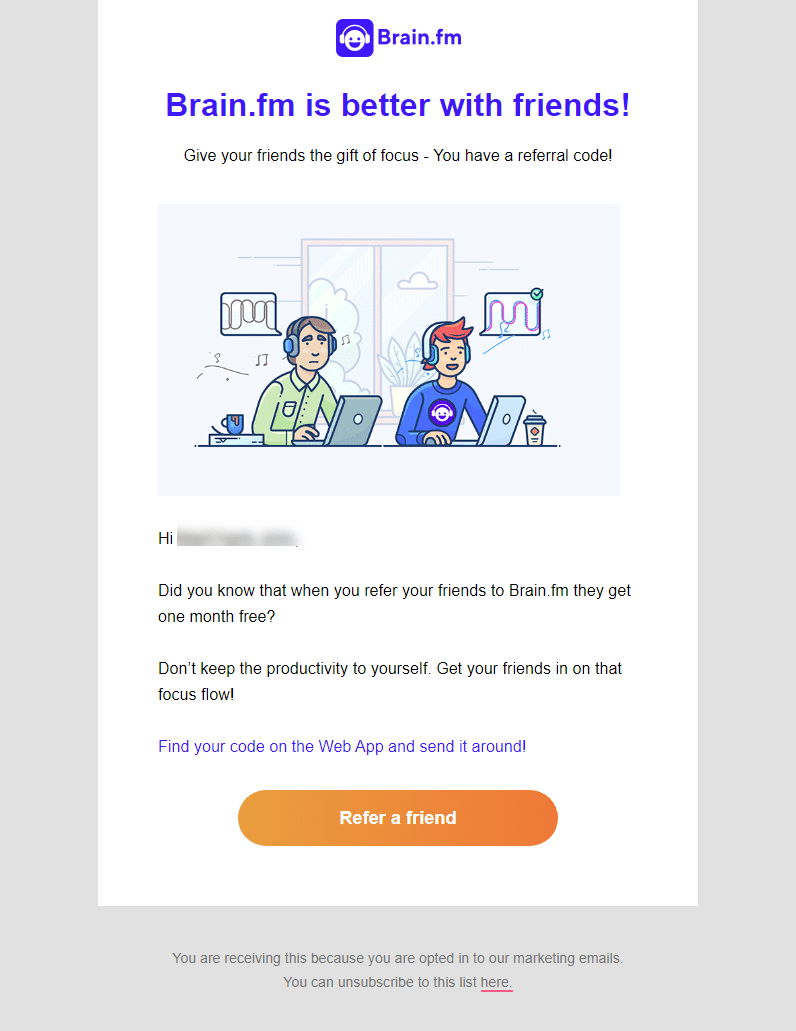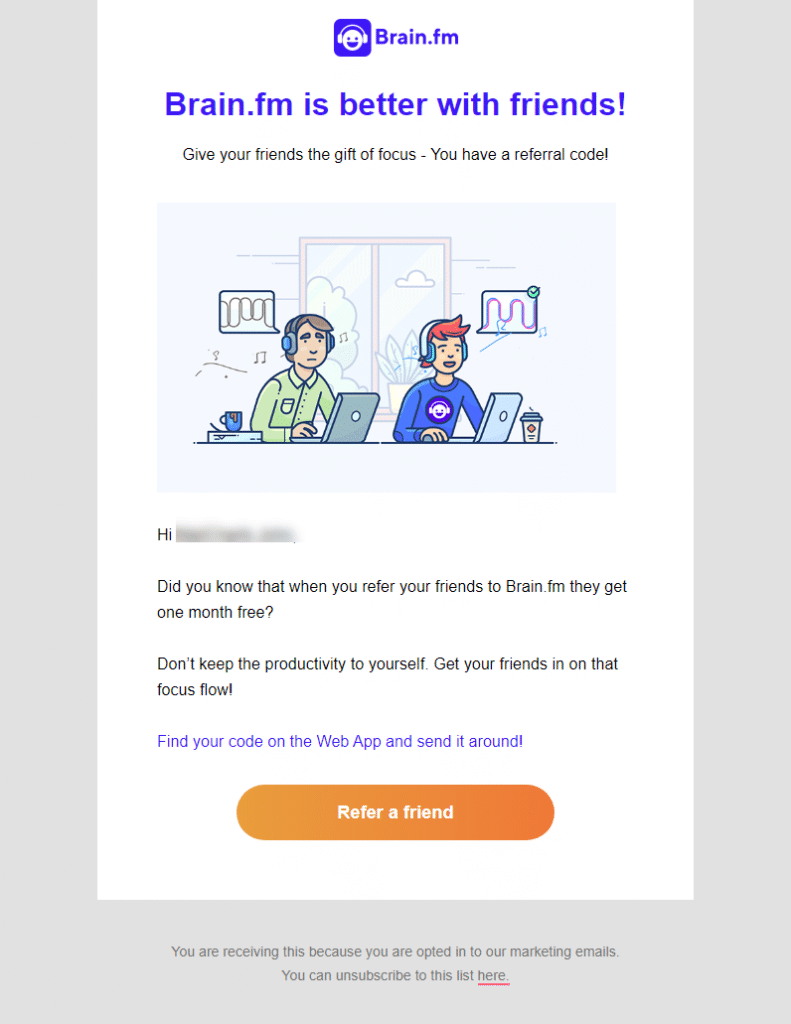 In conclusion
Follow these smart steps in order to capitalize on your company's referral program, and in reaching customers by email. These best practices can help you expand your reach, bring in more income, and create a larger, more pointed referral program that continues to increase ROI.
To learn more about creating your own referral email, head to this article.
Or, check out these related resources: