Affiliate marketing involves finding and recruiting representatives to place links to your business on their blog, website, or social media profile. When someone clicks on an affiliate's link to your site and makes a purchase, you reward the affiliate with a commission on the sale.
A successful affiliate marketing program can be an effective source of revenue for your business. So, getting prepared for an affiliate program means learning how to make a website that's engaging, how to create an interactive blog, and other steps.
According to Business Insider, 15% of digital media marketing revenue can be attributed to affiliate marketing.
But affiliate marketing isn't without its challenges. You need to determine the best way to find and recruit affiliate marketers. And then, you'll have to figure out the best commission to attract and retain the affiliates you want. You also need to protect your program from fraud, as there are many spammy and unethical affiliates out there to take advantage of anyone they can.
Best practices for affiliate marketing success (top affiliate marketing strategies)
How do you overcome these affiliate challenges? Don't worry – we're here to help. Follow these 16 affiliate marketing best practices (affiliate program best practices), and you'll set your business up for affiliate marketing success.
1. Set measurable campaign goals
All digital marketing strategies require a plan to be truly successful, and that success needs to be easily gauged at a glance. To determine whether or not your affiliate program is successful, you'll need to set measurable goals, or KPIs, for your program.
The two most important goals are typically affiliate sales and conversion rates.
Affiliate sales: How much revenue would you like affiliates to bring in per month, per quarter or per year?
Conversion rates: How often do you want people who click on affiliate links to make a purchase?
You can also set average order value and unique sale goals, as a way to further track your program's success:
Average order value (AOV): How much revenue do you want your average affiliate-driven order to bring in?
Unique sales: How many unique buyers do you want affiliates to drive sales from in a given month, quarter, or year?
In addition, consider setting goals for the impressions, clicks, and leads you'd like affiliates to bring in within a month, quarter, or year.
2. Build your own affiliate base
When deciding how you want to build and manage your base of affiliate partners, you'll need to choose one of two options: use an existing affiliate network, or build an affiliate network on your own.
Your best bet is to build an affiliate network on your own. This allows you to save money and have more control over your affiliate program.
Although an existing affiliate network will find and manage affiliates for you, it charges its own fee for these services, on top of any commissions you pay affiliates. (Sometimes, this fee is up to 30% of the commission you pay affiliates.) Plus, an existing affiliate network doesn't give you control over your own affiliate data.
If possible, choose to form your own affiliate network instead. But how to find affiliates on your own? We cover this in the succeeding affiliate best practices in this article.
(To streamline the process of creating a DIY affiliate network, you'll need to select a powerful affiliate software program. More on this in #6 below.)
3. Choose affiliate marketers based on your target audience
Identify potential affiliates who have the same target audience as yours, who your audience trusts, and who have an authentic relationship with their followers. You don't want to waste your time with affiliates whose audience doesn't match yours, aren't truly engaged with the content, or have fake followers.
One of the best ways to find affiliates who resonate with your target audience is to search for credible bloggers and social media influencers in your industry, who are already producing great content.
After all, they are experts within your niche and usually very professional, as they've already turned content marketing (blogging or social posting) into their own online business.
Reach out to a selection of these content creators, and ask if they would be interested in becoming your affiliates.
4. Have a thorough application and screening process
Alternatively, you could let potential affiliates come to you, and apply to your affiliate program via a form on your website. But don't just let anyone participate in your program – if you go this route, you'll leave your business vulnerable to fraud.
Implement a rigorous application and screening process, and narrow your applicants down to only the best affiliates.
What should your screening process involve?
Set detailed parameters for the types of affiliates you want – what exactly are you looking for in an affiliate?
On the application form, ask questions to find out a potential affiliate's primary niche, audience demographics, their reach (pageviews, unique visitors, followers, approximate audience size), and the engagement they receive on content (comments and shares).
Consider asking about previous affiliate relationships they've had, or about how they might promote your brand if recruited.
Screen every application manually.
Look into potential affiliate backgrounds, making sure they understand marketing best practices and haven't used fraudulent or shady methods.
Consider conducting a personalized interview in the final stages of your screening process.
Think about using business intelligence tools (like SimilarWeb or Alexa) as another way to screen potential affiliates. These tools reveal the way applicants operate their channels, as well as the sources of traffic they bring in, and help weed out applicants who raise potential red flags.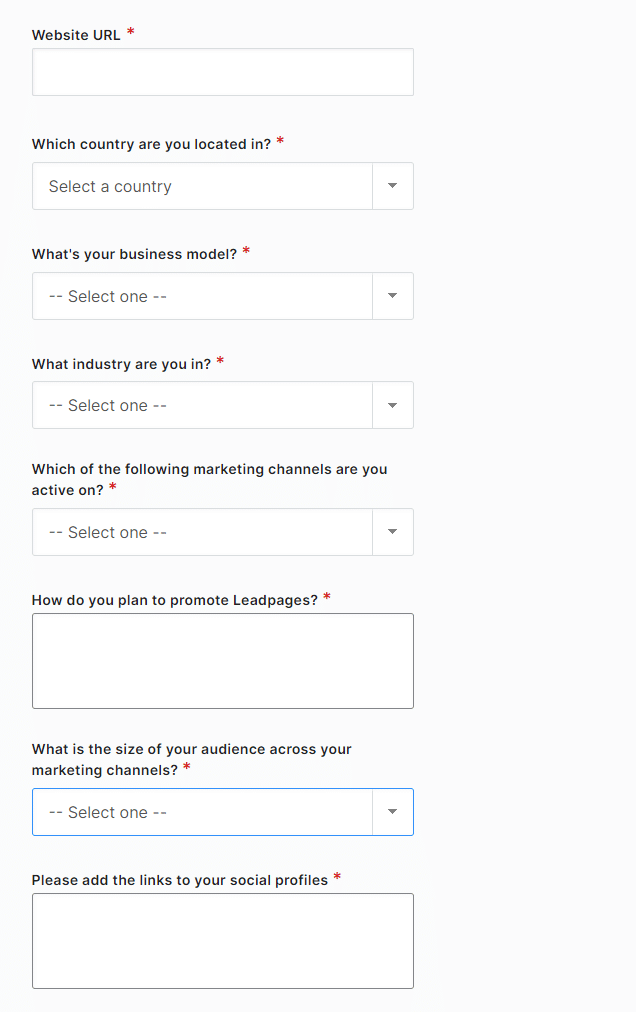 A sampling of questions from the Leadpages affiliate application.
5. Make your program easy for potential affiliates to find by applying SEO
Even though you need to be discerning about the affiliates you accept into your program, it's still important to grow your program and make sure potential affiliates can find the application. This is especially important when you first start an affiliate program.
Use SEO to optimize your affiliate program application page for niche keywords and the phrase "affiliate program," so it can easily be found on search engines. (If you don't have anyone in-house who can do this, there are several top SEO companies available to perform this service.)

Baby brand Finn + Emma optimized their affiliate page for the keyword "organic baby clothing affiliate program."
Consider placing links to the application page on your homepage, in your company newsletter, in other email marketing messages, or on any of your brand's other marketing channels where you'd like potential affiliates to find you. To boost your SEO efforts, consider learning more about determining relevance in link building and ensure that your links are always relevant.
6. Use affiliate marketing software
When forming your own personal network of affiliates, affiliate software is a must. It enables you to track affiliates efficiently and compensate them automatically. Similar software may also work due to AI and ML model integrations and promise better results. These models, in turn, work great with the help of annotations that create data for ML models.
With affiliate marketing software, you'll always know which affiliates are responsible for which sales, and keep them happy by paying them on time.
Usually, the software will cost much less per year than the fees you'd have to pay to use an existing affiliate network. Plus, the software gives you full control over the data you need – and all other aspects of running a program. It also lets you set up an affiliate dashboard or portal, where affiliates can track their progress and contact you. This engagement keeps affiliates motivated and lets you offer the support they need in a streamlined way.
How to choose the right affiliate program software? Our comprehensive software guide covers everything you need to know.
7. Set up clear terms for affiliates to follow
Once you've selected affiliates, you must be extremely clear about what they can and cannot do.
Create an affiliate agreement – a document with your program's terms and conditions – including:
Where you will allow affiliates to share their affiliate links
What must happen in order for them to earn commission
What constitutes fraudulent or unethical activity
Make it available on both the affiliate application page and within your affiliate portal. Include it in the first briefing you send to new affiliates, then have them sign it. Be sure the document is easy to understand!
A terms and conditions document isn't just a way to onboard affiliates – it will also protect you if an affiliate is fraudulent. If needed, you'll be able to remind affiliates what they agreed to, whether they violate any terms, or just have a question about the agreement.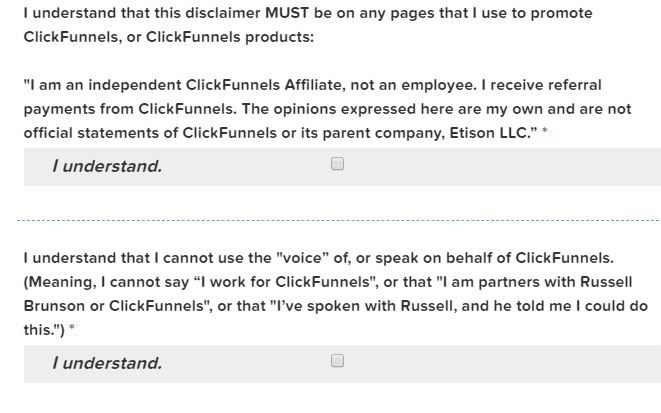 A selection of terms from the ClickFunnels affiliate program.
8. Set competitive commissions
Setting the right affiliate commission is key to your affiliate program's success.
Usually, your commission will be a fixed percentage of every sale an affiliate brings in, paid either in cash or store credit. However, you could also offer a fixed commission amount on each purchase made through an affiliate's link.
You want the commission to be competitive, compared to both your direct competitors and any other niche companies that could potentially attract the same affiliates.
For example, if most competitor affiliate programs offer a 10% commission, your program probably won't work well if your affiliate commission is 5%.
But one-upping competing affiliate programs isn't always your best strategy.
You'll need to determine the commission your business can consistently afford to pay out, while still considering your niche's average payouts. Set your brand up to compete, but look out for yourself.
9. Only pay a commission for sales (not leads or impressions)
No matter how other affiliate programs structure their commissions, it's recommended to only pay commission when a sale is made through a given affiliate's link.
You should also note that affiliates can only keep their commission if the product isn't returned or the service isn't cancelled within a certain time period.
This makes your affiliate program low-risk: You only pay when your business knows it has received a return on investment.
Never pay affiliates for impressions or clicks. These commission structures leave you vulnerable to fraud, because it's easy for unethical affiliates to game the system.
10. Vary the commission to keep things interesting
Your affiliate commission doesn't have to stay fixed. In fact, to stay competitive, it shouldn't be fixed.
Regularly changing up your commission helps keep your affiliates engaged. It also ensures you're staying ahead of the competition. After all, if a competitor's commission significantly surpasses yours, it might draw some of your affiliates away.
An easy way to change up commission is to identify a month or period where you can afford to offer a temporary commission boost, or where a temporary commission boost has the potential to increase sales by the greatest amount. This type of "commission surge" is a great way to drive more sales during a slower month.
You could also A/B test two different commission rates or structures to determine which one generates the best results. Just make sure the affiliates with the less lucrative structure don't find out about the more lucrative structure.
11. Pay commissions on time
This may seem obvious, but paying commissions on time is crucial to maintaining a healthy relationship with your affiliates. If you're late on paying commission, you risk an affiliate leaving you for a competitor. Fortunately, affiliate marketing software lets you automate commission payouts, so you'll never miss a payment.
12. Reward successful affiliates with more incentives
Your top affiliates deserve greater rewards for bringing in the most revenue – and added rewards will make them even more motivated to continue with your program.
Consider offering commission bonuses (or valuable gifts) to affiliates who meet certain lifetime revenue goals, or who fall within a given top percentage of your affiliates. You could also offer a "streak bonus," where a given amount of monthly or quarterly sales unlocks a temporary commission rate boost, or a meaningful gift.

Booking.com's affiliate program uses a streak bonus. Top affiliates earn higher commissions if enough bookings are made through their affiliate link. Source
13. Train and nurture affiliates
Once you've recruited an affiliate, don't leave them hanging.
Your relationship with an affiliate shouldn't be limited to recruiting and paying them.
When first recruiting affiliates, train them on brand and program fundamentals, including standards for how your brand should be represented.
Make sure to regularly supply affiliates with promotional resources and brand updates, such as descriptions and images of products, which they can include in their content.
You might even send them free products to try out, so they have firsthand experience with what your brand offers.
Most importantly, make a plan to regularly check in with affiliates at set times. Be sure they know how to contact you as well, in case they have any questions.
How to update and check in with affiliates? Consider these ideas:
Create an affiliate portal or dashboard to train and update affiliates, as well as provide assets and check in on their progress. The portal can provide affiliates with everything they need to be a successful representative of your brand. (Tip: Affiliate software can help you create an affiliate portal.)
Send out an affiliate-only email newsletter or create an exclusive Facebook or LinkedIn group. These will serve as other mediums to send out brand news, promotion assets, spotlights on top affiliates, and exciting updates on your program and commissions.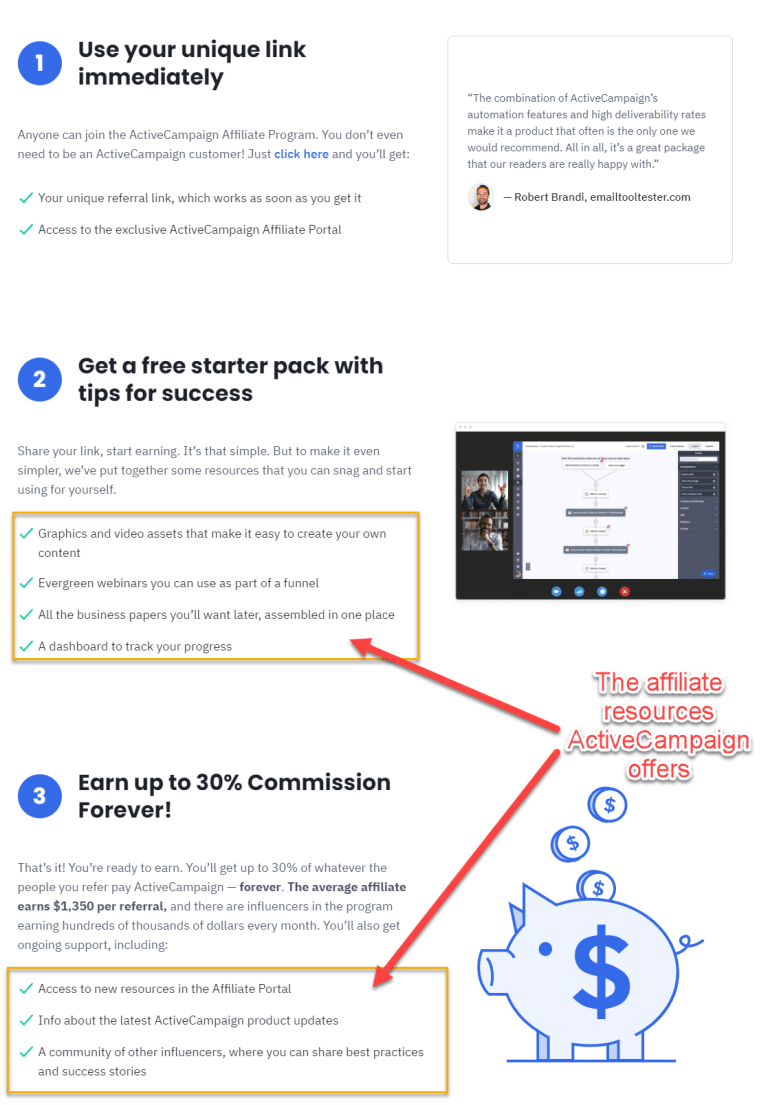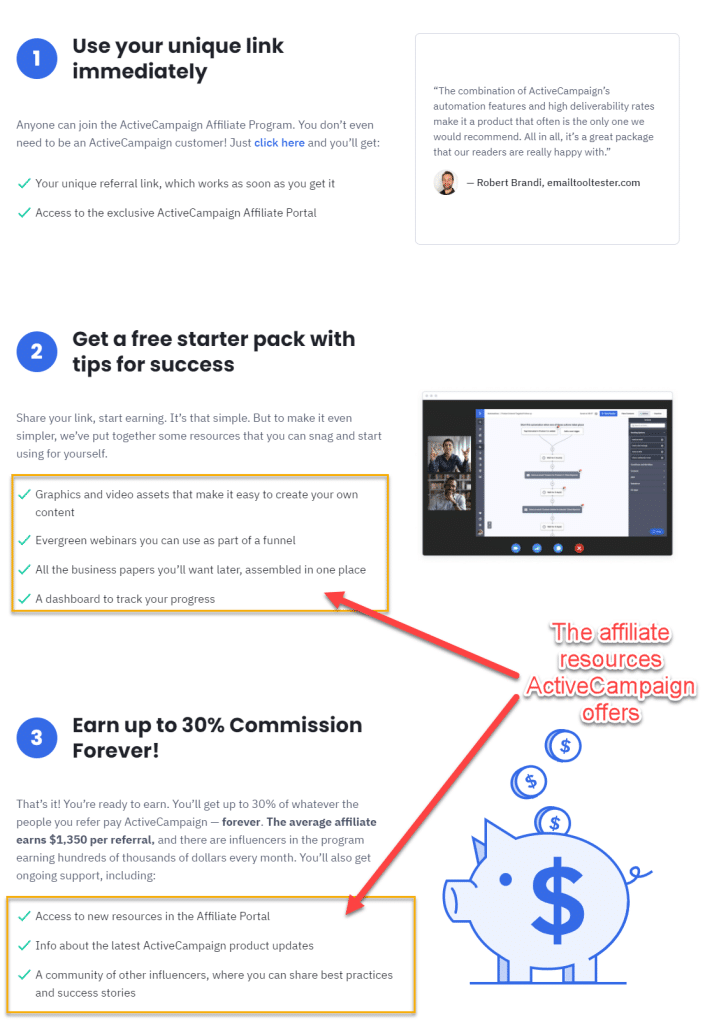 ActiveCampaign offers plenty of resources for affiliates, including a detailed portal, visual assets, webinars, product updates, and a community to interact with other affiliates.
14. Know the signs of affiliate fraud (and nip it in the bud!)
At its core, fraud is any instance where an affiliate violates your terms and conditions.
Common types of affiliate fraud include:
Placing pay-per-click ads with their affiliate link in the keyword of your brand's trademark
Sending out a series of spammy emails with their link to every email address they can get their hands on
Using other credit cards to make purchases via their affiliate link
Sending fake traffic to your page
"Cookie-stuffing" or secretly dropping cookies (affiliate link trackers) into a user's computer without their knowledge
Making exaggerated or untrue claims about your product
Disregarding your brand's voice and identity
Marketing products without approval from your brand
To check for fraud, monitor each affiliate's sales metrics carefully, so you know what seems normal and what doesn't. For example, is there an abnormally high amount of sales from a given affiliate in a short time? Or, do leads from an affiliate seem to convert much faster than normal? These may be red flags.
If you see a sign of potential fraud, check in on how an affiliate is promoting you and remind them of the terms you agreed to. In the case of serious fraud, you'll easily be able to terminate the relationship, thanks to the terms and conditions of the affiliate contract signed at the beginning of the relationship.
15. Optimize your program for mobile
People are spending more and more time on their mobile devices – they spend an average of almost three and a half hours per day on mobile. Your affiliates, and the leads they'll bring in, are no different.
Make sure your affiliate application page and your affiliate portal are mobile-friendly. Do the same with any pages your affiliate links will lead to, providing a frictionless purchasing experience that benefits both you and your affiliates.
After all, studies show over four in 10 online purchases are made on mobile.
16. Refine your affiliate program based on data
Regularly track your affiliate program's success, and make any adjustments based on your findings.
Using detailed analytics from your affiliate software, keep track of which affiliates are bringing in the most sales.
It's also good practice to check how well your affiliate program is meeting the KPIs you set during planning, including the amount of revenue, conversion rates, unique sales, and AOV.
If your program isn't meeting your goals, it may be time to adjust your commission structure or rework your affiliate lineup. For instance, you may decide to let some of your lower-performing affiliates go, and focus on your top representatives, to generate a higher ROI.
Or, if you notice you can afford a higher affiliate commission during a certain month, test that adjusted commission, and see just how much more it motivates affiliates to generate sales.
Affiliate best practices: Wrapping things up
Follow these 16 tips and you'll set your affiliate program up for success. Many of these best practices for affiliate marketing, from tracking affiliates to automating commissions, depend on selecting the right affiliate marketing software program. Our comprehensive guide to affiliate marketing software will help you make the best decision for your business.
Or maybe you're more interested in starting a referral program. In that case, we also have a list of the top referral marketing software tools for you to try.