If you decide to run an affiliate program, the right affiliates can ramp up your word-of-mouth marketing and grow your leads and sales. But if you end up accepting low-quality affiliates, or even spammy or fraudulent ones, their behavior could end up ruining your brand reputation.
How do you make sure you recruit high-quality affiliates? We asked marketers across all industries, and came up with 11 proven tips for finding the best affiliates for your affiliate program. To help you find the best quality affiliates, and stay away from the less reputable ones, marketers offered these tips:
1. Create a program and product worth promoting
If you don't have an existing quality product or service, and you haven't generated any of your own word of mouth, it will be difficult to get any affiliate to promote you – let alone a quality one. Make sure you have these key foundations in place before actively seeking out affiliates.
"Your core affiliates will generate most of your affiliate revenue. That's why it's important to find quality affiliates," says Dylan Gordon of HustlerSource. "Most of this is done through referral and word of mouth, and creating an affiliate program and product worth promoting."
2. Choose affiliates based on your target audience
Hamna Amjad of Heart Water recommends, "The key element to consider while choosing the affiliates for your brand is their audience. First, you need to define whom you're targeting. This will help you identify those people who have followers with similar interests as your target audience.
"Another important thing is the engagement they have with their followers, their site ranking, and their authority. The right affiliates are those who have a real audience, connect with their followers, and have an authentic relationship with them. Only then, their audience would be interested in the affiliate products and services shared by them."
3. Create a rigorous application process
When it comes to finding quality affiliates, marketers agree: A detailed application process is essential. Start by setting parameters for the types of affiliates you want, and screening each applicant manually. Consider adding a phone conversation or other personalized questioning to your screening process. This may take time, but the investment is worth it to build a team of high-performing, ethical affiliates.
Kevin Duffield of KRD Marketing Solutions says, "Being professional will help, including having affiliate contracts in place, offering a decent commission and bonus structure, and having an application process so you can reject the low-quality, less reputable affiliates."
Ilir Salihi of FreedomRep.com shares, "Many businesses have affiliates fill out applications and even get on a phone interview before handing over the keys to their program. Some businesses may want to know about the affiliate's audience, their email list, number or monthly visitors, or other information to gauge the affiliate's ability before approval.
"Having all affiliates go through an application process may be time consuming, but can ensure your affiliate team is professional, and won't spam the internet or do anything that could negatively affect your brand reputation."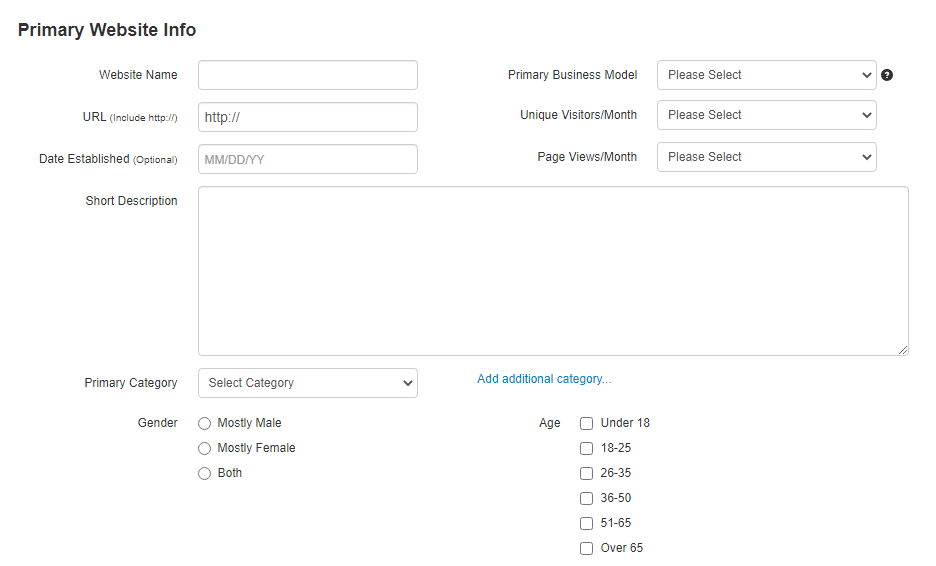 A portion of the Bloomingdale's affiliate application, where potential affiliates describe their website and readership.
4. Manually screen and hand pick potential affiliates
Pulkit Gera of IMObsession advises to "manually screen each affiliate application. Ask them questions about how long they have been in the industry, how do they plan on promoting your products, what's the size of their audience, etc. The more questions you ask, the more likely you are to weed out affiliates who are likely to damage your brand's reputation."
Yaniv Masjedi of Nextiva tells us, "Review every single affiliate. Your company will either attract significant revenue, or be dragged through the mud based on their actions. You need to look into your affiliates' backgrounds and be absolutely sure they understand marketing best practices, and have an understanding of what is legal and illegal. Ideally we prefer to reach out to potential affiliates we have hand-selected – that way, we know we are a good fit for each other."
5. Use assessment tools to evaluate affiliates
A solid way to screen affiliates is by using business intelligence tools to understand the way they operate their channels, as well as the sources of traffic they bring in. This helps to eliminate applicants who raise potential red flags early in the process.
Christine Yaged of FinanceBuzz advises, "Always do your due diligence when assessing whether to partner with someone. Use business intelligence tools like SimilarWeb, Alexa, or Ahrefs to understand the affiliate's traffic sources, volume, and history. If possible, use your network and back channel references to better grasp whether they will be an honest, reliable long term partner."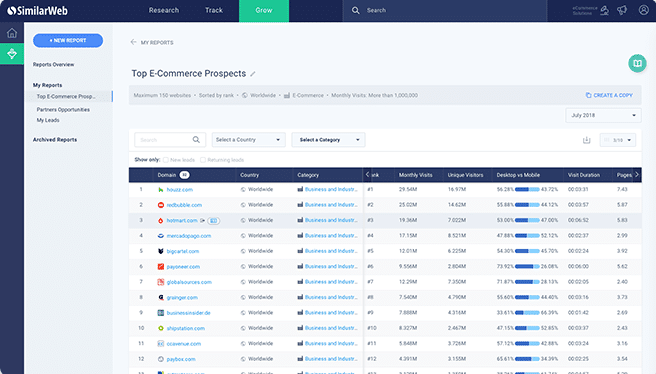 Stephen Zanette of Leesa shares, "I use various tools such as SEM Rush, SimilarWeb, and our platform's recruiting tool when looking for new partners. From there, I have a phone conversation with the majority of new partners to learn about them and their business."
6. Check  comments on the affiliate's channels
Amir Atighehchi of HabitNest says, "It's worth taking a few extra minutes to scroll through the comment sections of their last few posts or videos. Besides, checking comments will allow you to understand if the page receives engagement from real people or Instagram trolls, for instance. Also, I would ask the affiliate how he/she plans to consistently promote your product or service, [as some] platforms like Youtube and Instagram limit the visibility of a post to only a fraction of someone's following."
7. Look for affiliates using different channels
You might find new, quality affiliates as you network, both online and offline. The natural networking process will help you screen them personally.
Sam Rexford of ChillReptile says, "I'm constantly meeting new affiliates through Facebook groups, shared promotions, and networking opportunities. This allows me to form relationships with affiliates, assess their relative strengths and weaknesses, and assess whether or not they would be a good fit for my programs. If I feel they could be an asset to my promotions, I personally extend an invite to my affiliate programs."
Russell Nauta of Credit Card Reviews attests, "The best way to find quality affiliates is to hire an agency and attend trade shows, both general, and in your niche. Agencies are great at vetting affiliates and many agency employees have a strong Rolodex of marketers, as well as the ability to identify quality affiliates."
8. Reach out to credible bloggers in your industry
Ryan Roller of Bead The Change shares, "I think the best way to find affiliates is to reach out to credible bloggers in your industry. These people are subject matter experts in the niche you are trying to promote your product in, and will likely conduct themselves professionally, as their blog is their business."
9. Choose affiliates who specialize in their traffic sources
James Canzanella of Isolated Marketing Nights recommends, "You need to look for affiliates who have a proven track record and specialize in one (or maybe two) traffic sources. I used to get many requests from affiliates looking to promote my products, and one of the biggest red flags was when an affiliate said that they would use many different sources to send traffic. That's not a good sign, as some of the best affiliates are a master at one traffic source (or maybe two)."
10. Require affiliates to try your product first
Mark Aselstine of Uncorked Ventures shares, "We've started instituting a rule that an affiliate has to actually receive our product before reviewing us and posting their link.  It's costly on our end, with a base wine club shipment running close to $35, but it's removed all the one-off writing!"
11. Try out potential affiliates and evaluate their KPIs
Muhammed Mateen Khan of PureVPN says, "Evaluate affiliates on different KPIs to see if they are performing. Talk to them and inquire in a general manner about how your product competitors are performing on these affiliates. Then, crack the best deal based on learnings and suitable KPIs."
Rich Anand of Evolvez admits, "It takes a lot of trial and error. You have to engage on a trial basis and actively monitor results – not just the top-level funnel metrics, but also how engaged the audience from the affiliates are (over a certain period of time)."
Wrapping things up
Ready to find your best quality affiliates? Remember to choose affiliates whose target audience matches with yours, create a rigorous application process, and manually screen each potential affiliate.
Affiliate software is also helpful for finding, screening, and managing affiliates, allowing you to build a top-quality affiliate program. If you're looking to get started easily and quickly, we have a review of the top affiliate software programs to get you started.
On the other hand, if you're more interested in a referral program for your company, we also have you covered. Check out our comprehensive list of the best referral marketing software for every type of business.