When people join a bank, they're looking for a financial partner they can trust. 
That's why bank referral programs can be a powerful marketing tool for banks looking to increase their growth. 
Referral programs rely on recommendations from people who are already trusted – friends and family. By enlisting your bank's current customers to bring in new members, you can supercharge the already valuable phenomenon of word-of-mouth advertising. 
Today, we'll cover how to build the best referral program for your bank, so you can leverage these priceless recommendations. 
What is a bank referral program?
A bank referral program encourages existing customers to recommend your bank, credit union, or financial institution to people they know.
This program rewards members whenever a new customer they refer opens a bank account or credit card. So, it increases the likelihood that your existing customers will spread the word. 
Typically, the person opening the new account also gets a reward. This provides further incentive for them to follow their peer's recommendation and become your new customer.
Why should you start a bank referral program?
What makes a referral program so effective for promoting your bank?
Let's take a look at some of the benefits:
Empowers existing customers as advocates 
Since they offer valuable incentives for sharing, bank referral programs encourage your customers to repeatedly share their experiences and invite friends to open an account.
Effectively brings in new, loyal customers 
People trust personal recommendations from those they know above all forms of traditional advertising. 
When someone is referred by friends or family members, they already have a connection to your bank. The trust they have in the referring customer will extend to your bank, making them more likely to open an account of their own – and stick around for longer periods.
Increases brand awareness 
Even when referrals don't immediately result in new customers, referral programs still motivate people to talk to friends about your bank. This leads to the type of brand awareness that builds trust, and that may lead to new customers down the road.
Offers predictable ROI
You can't always predict how many ads it takes to get a single customer, or how much you'll spend on ads. 
But with referral programs, the exact amount you'll spend on a new customer is set – and you have total control over that amount. You'll only pay when you acquire a new customer, and for the software needed to start the program.
Is cost-effective 
A referral program's customer acquisition cost (CAC) tends to be significantly lower than that of other marketing methods. 
The Financial Brand reports that financial referral programs cost around $75-$290 less per customer, compared to other customer acquisition strategies. 
Lets you track word of mouth
Word-of-mouth advertising has long been the most powerful way to attract new customers. The problem is, it can be hard to track. 
But referral programs let you drive and track this sharing in a meaningful way.
When managed with specialized referral software, a bank referral program makes it easy for your bank to keep track of referring customers. It also lets you quickly pay out referral bonuses – both for the new customer and for the new account holder – so everyone is satisfied.
Essentials for a successful bank referral program
For your bank referral program to be a success, you'll need solid foundations in place.
Make sure you have these elements established before starting a bank referral program:
A large network of satisfied customers 
 A refer-a-friend program depends on having people to do the referring. Customers who aren't happy with your service aren't likely to recommend your bank, regardless of what type of reward you offer them. But satisfied customers are already primed to share, and the reward will give them the extra push they need.
An excellent customer service record 
As a service-driven business, you'll need to create a top-notch customer experience for your customers to willingly recommend you. By delivering stellar customer service at all times, you'll create loyal customers who are excited to help you spread the word about your bank.
The capacity to handle many new customers 
When companies begin a new customer acquisition strategy, an often overlooked aspect is the capacity to handle new customers. A refer-a-friend program could bring in a large influx of new customers – make sure that your bank employees won't struggle to handle this increase.
A profile of the ideal new customer 
Knowing your ideal new customer helps ensure you attract leads who will open an account and stick around.
 Where to get these profile details? Your best existing customers will have similar traits to the new customers you want to attract.
An idea of what motivates existing customers
Perhaps the most important part of a referral program is getting your existing customer base excited to share. 
Directly asking for customer feedback is vital to crafting the most motivating messaging and reward structure. 
Questions such as these may help:
What made them open an account with you?
Why did they choose your bank over its competitors?
Where did they first learn about your bank?
What methods do they use to communicate with friends?
What rewards would motivate them to refer friends?
Bank referral program best practices
Now that you've prepared yourself to start a bank referral program, let's get into some deeper details about how the best bank referral programs go about creating their rewards and tracking their referrals. 
Offer meaningful rewards
As mentioned earlier, it's best to reward both the referring customer and the friend or family member they referred. This will maximize the new account openings you gain from your referral program by incentivizing both sides of the interaction. 
Ideally, give the rewards immediately after the new account is created. A reward within a few days of account opening can work as well, but the sooner the better. 
Setting the referral program reward amounts correctly is another crucial piece. 
The incentive must be affordable enough so you can pay it out consistently. But it must also be high enough to motivate existing customers and leads to take advantage. 
Also, remember that different accounts and credit cards are all likely to bring differing levels of profitability. Your referral reward structure should reflect that. Offer different payout rates depending on the account or card type a referred customer opens. The more profitable the account tends to be, the bigger the referral reward it merits. 
Make sharing easy
While you should have multiple reward tiers for different services, the program can't be too complicated. Customers must be able to find and share your program in as few steps as possible.
Customers should easily be able to identify what their reward will be. Plus, give them a clear call-to-action, which shows them exactly what they must do to claim that reward. 
Also, allow people to reach their friends on multiple channels. These options should reflect the same ways they normally share exciting things with friends, whether that's on social media, in emails, or via texts. And be sure to offer a unique referral link to customers, which they can easily copy and share anywhere.
Optimize for mobile
The rise of online banking and mobile banking has brought a great deal of convenience to the banking experience. Your referral program should continue that trend. Making the program easy to use on mobile is an important part of the process, especially if you have a mobile banking app.
Track your referrals with software
With referral program software, your bank will have a much easier time tracking the progress of its referral program. 
Software makes it easy to manage all of the referrals that your customers make. It will keep tabs on how many friends your customers have referred, automatically credit referred friends to the correct customers who brought them in, and show you all the referral data you need in an easy-to-use dashboard. In addition, it lets you instantly pay out referral rewards, to keep customers happy.
Thanks to the information referral software collects, your bank can:
Quickly look at how your customer acquisition rates match up with your program goals
Track adjustments designed to improve the efficiency of the program
Measure results from year to year or month to month
See at a glance where every referral is coming from 
Promote your program
Even with all of the careful planning involved, your bank referral program won't bear fruit if customers have no idea it exists. That's why continuously promoting the program is vital. 
You can promote your referral program to bank customers in several ways:
Post about the program on social media accounts. This includes both your bank's main accounts and any local branch pages.
Place prominent information about the program on the bank's website, where it can be easily seen by visiting members. 

This includes within your online banking portal, so members see it as they log in. 
Also, place links to the program in the header and footer of your site.

Place banners and other display ads for the program in your physical bank locations, in areas where members will see them as they conduct business.
Send out mass emails to promote the program. 

Be careful not to cross the line into the email spam folder though, as that could put customers off.
 After an initial program announcement, continue to promote the program in your bank's email newsletter and transactional emails.
Any physical newsletters you send out should also contain information about the program.

Reach out directly to your top customers and ask them to participate. 

Which customers have maintained an account and consistently deposited, for the longest period of time?
Customers who have just given you a high rating on customer satisfaction surveys also make ideal targets for direct action.
Keep your program going!
You may have seen competitors offer limited-time referral programs, but this is a bad idea. Customers know more than a few people, and you want the reward they can get from a referred friend to always be top of mind. 
An ongoing, well promoted program will keep that idea in their heads. But if you discontinue your referral rewards after a short time, you've removed much of the motivation to share.
Yes, some customers may share without a referral program option, but this is hard to track. An ongoing referral program makes tracking and growing this crucial form of advertising easier. With the expense and complexity of setting up a referral program, getting those extra referrals and metric tracking benefits is vital.
The best bank referral program examples
Looking for inspiration as you build your bank referral program? Check out how these three real-world programs follow our best practices.
Provident Bank
Provident Bank offers personal and business banking services in New Jersey and eastern Pennsylvania. 
What we love about this bank referral program:
Eye-catching headline invites sharing and covers the reward
Scaled rewards based on the value of the account ($25 when a friend opens a personal account, and $50 when a friend opens a business account)
Emphasis on relationships and trust ("We take pride in building strong relationships with our customers, giving them a positive experience they'll want to share with others. And if you pass it on… we want to thank you!)
Double sided incentive rewards both the existing customer and new customer
"3 easy steps" graphic quickly fills customers in on how the program works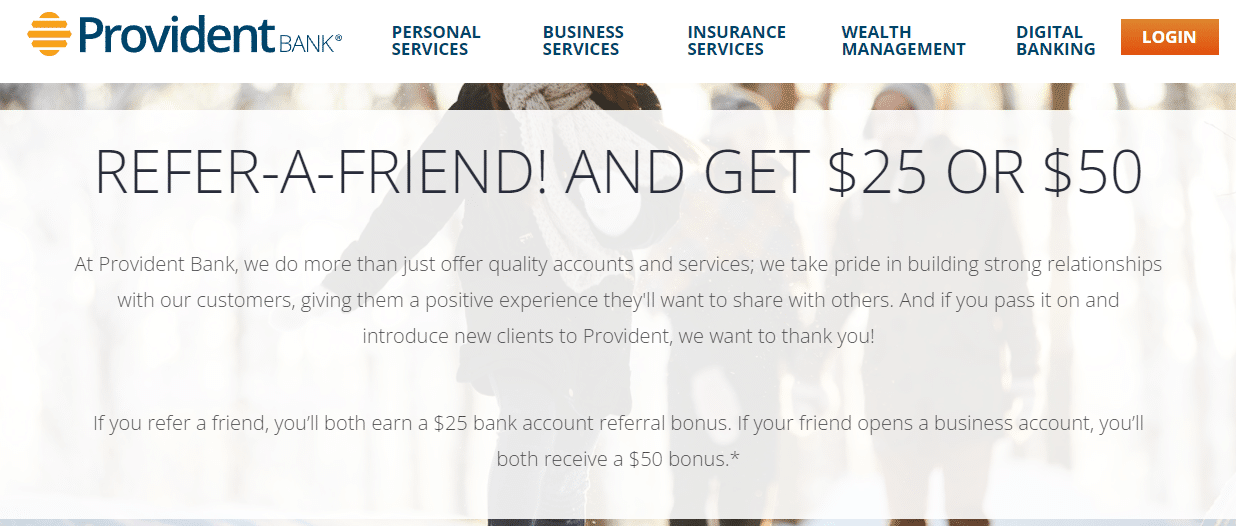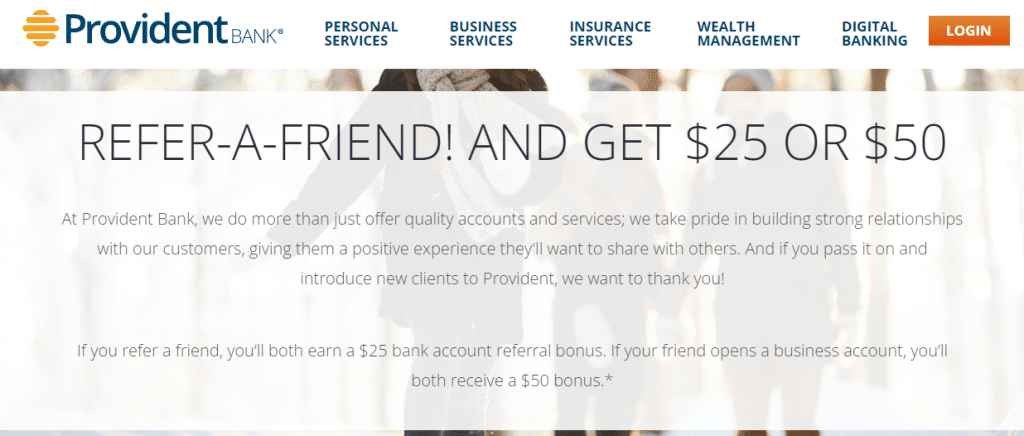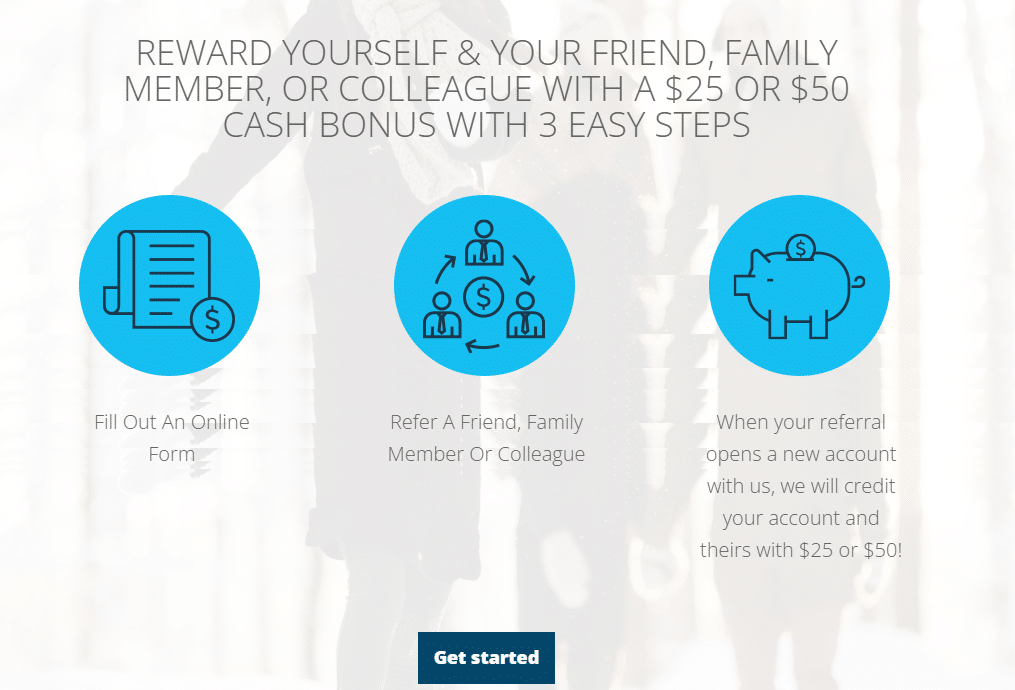 UMB
UMB offers banking and financial services in several Midwestern and Southern U.S. states. 
What we love about this bank referral program:
Unique headline draws customers in and gets to the point: those "471 Facebook friends" could bring extra money if you recommend UMB and they open an account
Eye-catching image of friends hanging out draws customers right to the "get started" button
Simple 3-step explanation of how the program works, complete with images
Referral Center app makes mobile sharing even simpler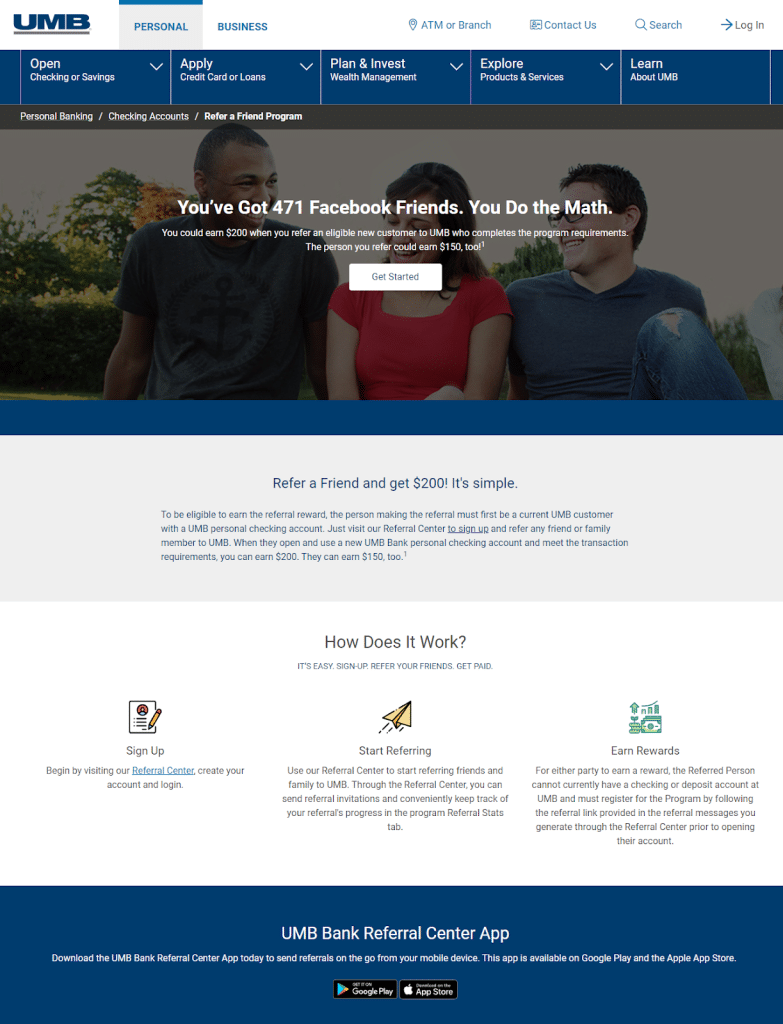 UNIFY
UNIFY is one of the leading financial credit unions in the United States, with banking and investment services available.
What we love about this bank referral program:
Catchy slogan of "Rewardiness," with a focus on the satisfaction of helping friends, draws customers in
Easy-to-understand steps mean the referral process is streamlined 
Equal rewards ($25) for both referring customer and referred friend
Option to refer several friends via email with one click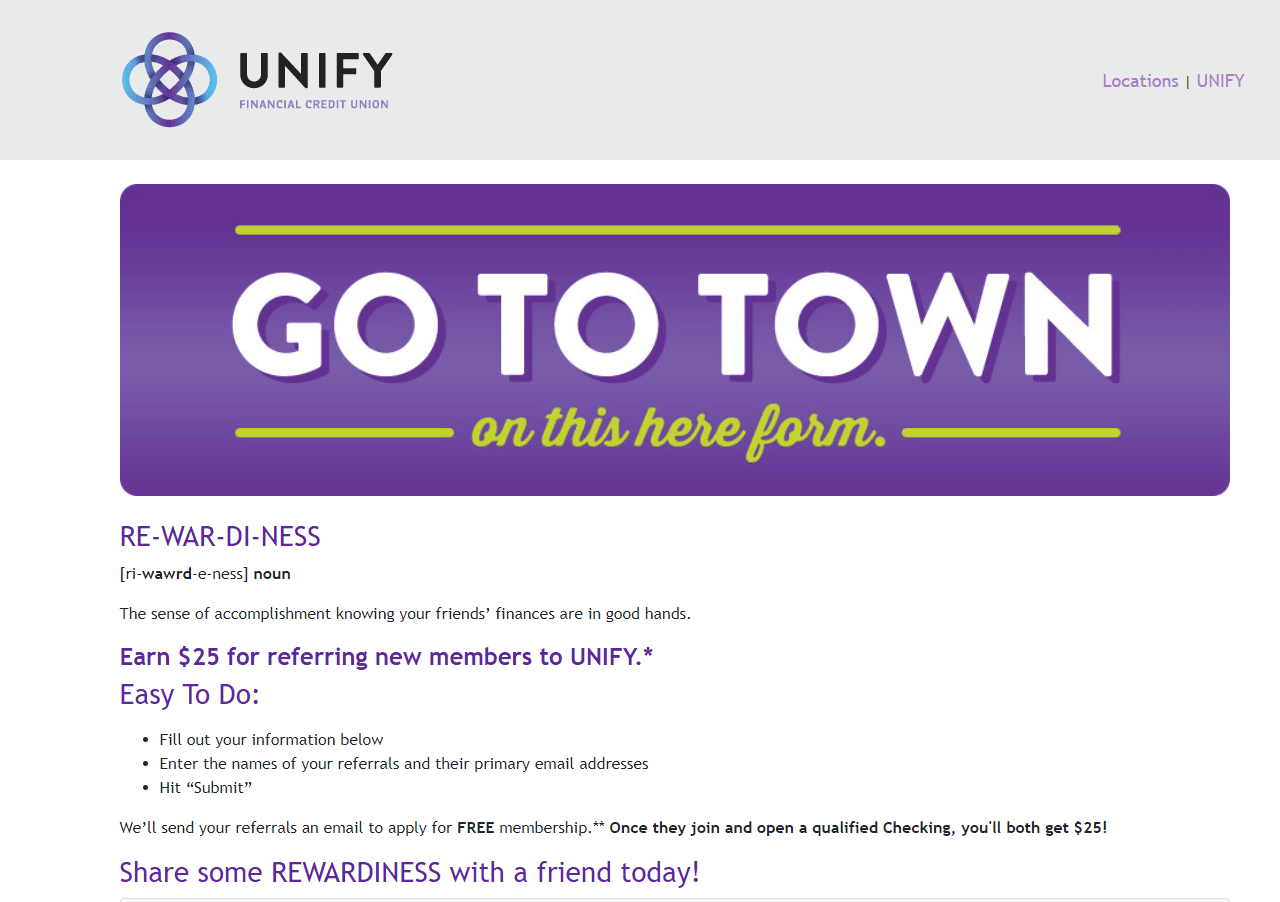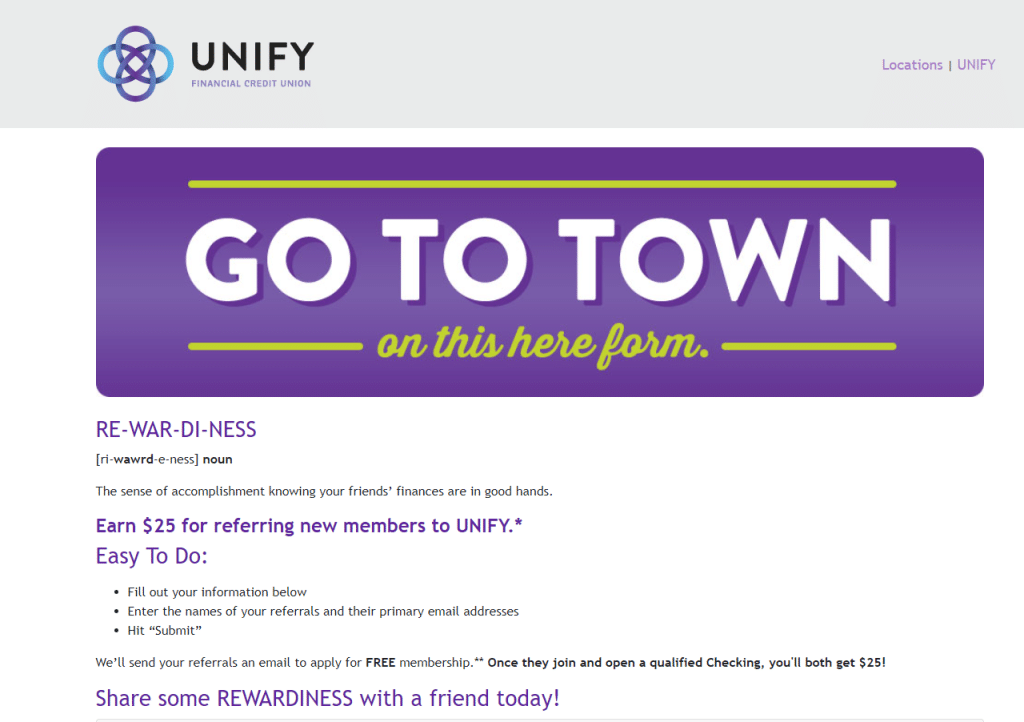 Conclusion
Financial referral programs take the tried and true value of word-of-mouth advertising and turn it into an even more profitable and easily tracked solution. 
By taking advantage of referral program software, you can track referrals in a highly cost-effective way that can be managed almost automatically. With proper planning and setup, a referral program can become a major source of growth for any financial institution.
For more resources you can use to build your referral program, check out these related articles: