Last Updated on
1

minute to read
Hey, guys! Just another month here at Referral Rock. We've been getting a lot of feedback lately so you know what that means: PRODUCT UPDATES!
We've made an awesome new addition to our functionality for all the teams out there using our product. Now, not only can you add team members to your Referral Rock account, but you can also assign different roles with different permission settings as well.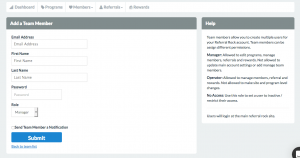 Teams no longer have to use a single login to access their program page. Everyone is assigned their own username and password and has the ability to make changes and contribute based on the permissions assigned to their role. You can read more about our roles, as well as how to manage your team, by reading our article How Do I Manage a Team?
Stay tuned and keep the feedback coming. Referral Rock just keeps getting better and better! View our last product update.