The key to a successful referral program is to not only gain new members, but to also keep your existing members engaged.
So how do you keep members engaged? Make sharing simple and easy to access. Use one of Referral Rock's prebuilt Share Widgets or custom build your own using our Member Access API.
A New Modern Share Widget
Recently, Referral Rock has debuted the Email Form Share Widget which is a modern twist on our old classic member experience. The Email Form Share Widget allows members to send a pre-drafted email in one click; all they have to do is type in the recipient's email!
The widget also introduces the universal share button (that familiar looking < with 3 dot share icon you may have seen on your mobile device) which gives the ability for members to send a share link on any platform that they wish.
The clean and modern look of this share block is guaranteed to impress your members and look great on your website.
Learn more about the Share Widget options in our Support Center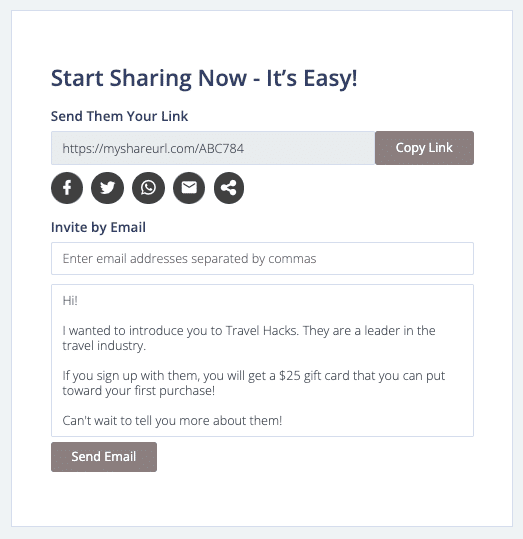 Custom Build Your Own Share Experience
Through Referral Rock's open API and Member Access endpoint you can build a custom share experience directly on your own website.
A custom widget allows you full control over the look and feel of your share experience without sacrificing on functionality.
Our Member Access API endpoint gives you full control over registration, displaying share links and buttons, as well as referral and reward statistics.
We can't wait to see the beautiful share widgets that you create!
Read more about our Member Access options in our Integration Docs