Referral Rock's most recent product updates have been focused on making your life easier by improving the administrative experience and giving you more control over your referral program.
We've added new features to help with your tax (W9 and 1099) compliance and provide more reporting options to better understand what's happening with your referral programs.
W9 and 1099 compliance
We are very excited to introduce several new features to help you stay tax compliant and better manage your W9 and 1099 requirements.
1099 reporting
The new Reports Page allows you to easily download a CSV report of all reward recipients who have earned $600 or more and require a 1099.
You can customize this report by selecting the calendar year, payout types, and recipients. We will then tell you who requires a 1099 and who may be in risk of compliance so you can get ahead of your tax filing. This report can then be sent to your accounting team to make sure everything is in order for your taxes.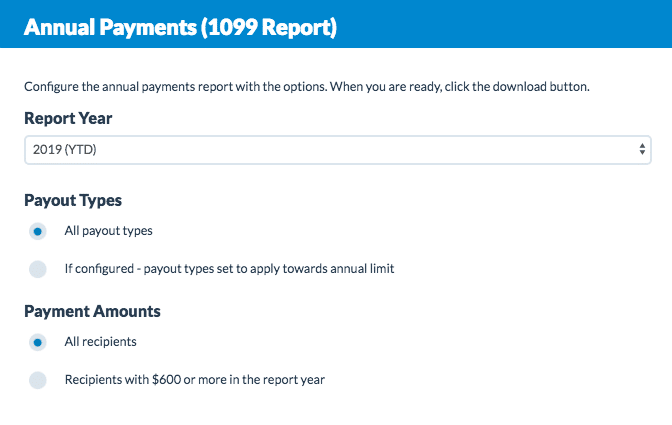 Reward payment limits
In some cases, you might not want to deal with W9s and 1099s or limit rewards until you have all the tax documentation in order. The reward payment limit feature allows you to prevent rewards beyond the annual U.S. taxable limit of $599 (USD), unless you allow it on a per member basis. Referral Rock will track all qualified rewards and only allow rewards to be paid out up to the $599 limit.
The Rewards Payment Limit can be turned on from the Payouts Page (Settings > Payouts > Tools). Note that this feature is only available for Growth and Established Business plans.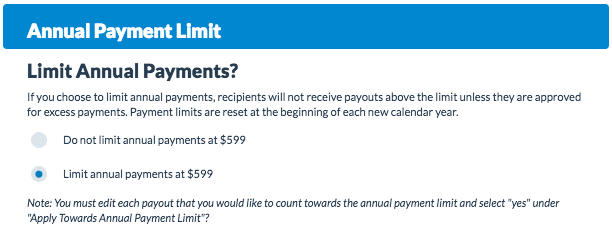 Once turned on, you will then designate which payouts apply to the annual payment limit by editing that specific payout type.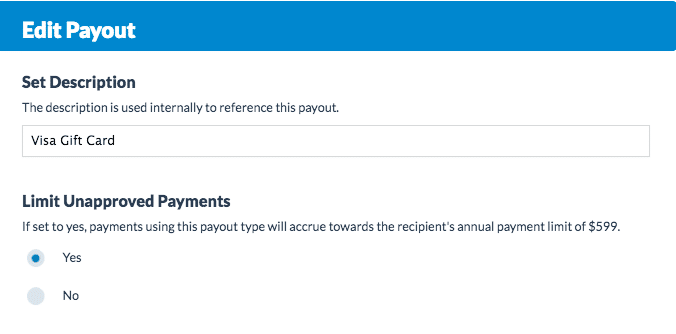 The annual limit will retroactively apply for all reward payments made in 2019 and will reset at the end of the calendar year.
Once enabled, rewards that exceed the annual $599 limit, will remain in pending status until you have confirmed the recipient is in compliance and is approved for excess rewards (see below).
Excess reward approval
If the reward payment limit is turned on, you can still allow your members to earn rewards in excess of $599 by granting them individual approval.
Once you have collected the W9 outside of Referral Rock and confirmed that a recipient has qualified for excess annual rewards, you will indicate that on their member profile from inside of Referral Rock. Only members that you approve will receive rewards beyond the $599 limit, allowing you to stay tax compliant.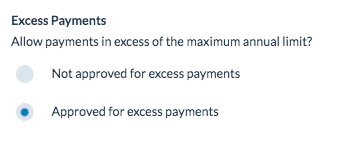 You read more about W9 and 1099 compliance in our knowledge base.
Audit trails and additional reporting
As an administrator, we know how important it is for you to find and track the activity and changes happening within your referral program. As such, we've created administrative logs to view all activity occurring within your account and programs, as well as made other reporting more accessible.
Administrative activity logs
Administrators within Referral Rock now have access to program and configuration activity logs. This is a great tool to audit your program and monitor any changes.
The Program Activity Log will allow Administrators to see all member, referral, and reward updates that have occurred within their program, as well as the team member who made the changes.

The Program Activity Log in Referral Rock
You can read more about the Program Activity Log by visiting our knowledge base.
The Configuration Activity Log will show administrators recent account logins, account updates, and all changes related to any of their referral programs.

The Configuration Activity Log in Referral Rock
These two logs are a great addition for admins on accounts with multiple team members to manage. You will be able to see what changes are being made in your program that may affect how it's run, as well as any updates made to members and referrals.
You can read more about the Configuration Activity Log by visiting our knowledge base.
Additional reports
In addition to the 1099 Report, the new Reports Page is also home to other CSV downloads on your members, referrals, and rewards.
These reports are a great addition because they will make it easier to collect and digest the data that Referral Rock keeps for your referral programs. No more digging for key information to send to your accounting department!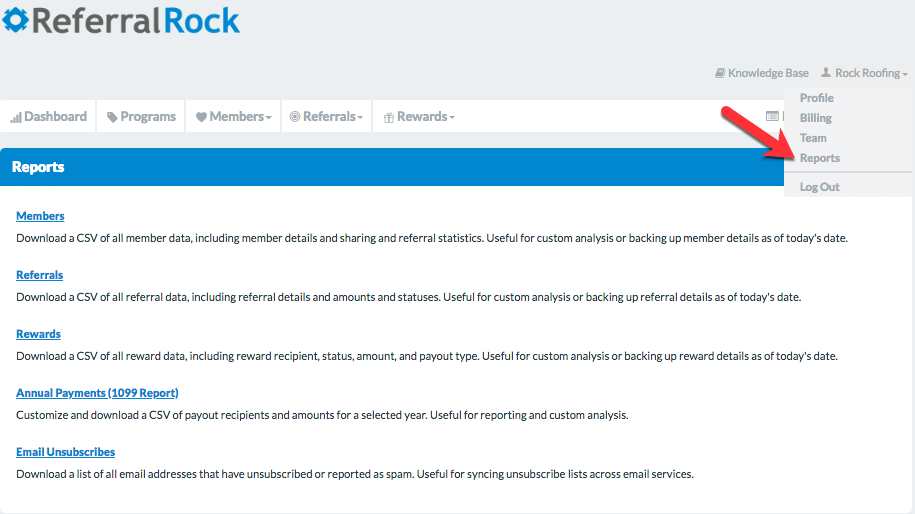 The new Reports Page in Referral Rock with access to downloadable .csv files
You can read more about the new Reports Page in our knowledge base.
Wrapping up
We've got an exciting year ahead with a strong product roadmap. Continue to watch this space for new exciting features and please get in touch if you'd like to learn more or need help setting anything up. See what we'll be up to next, or check out our last product update.