Welcome back to our monthly product update blog series. This month, we've got a big one for you.
Here at Referral Rock, we understand that making a good first impression is key to attracting new referrals to your business. We have spent many hours working with you, our customers, to make sure your referral pages follow industry best practices. And during that time, we received a lot of feedback on what works and what doesn't.
We've taken a cue from all that feedback and launched a new Referral Page Builder to help you create higher converting referral pages, without any additional integrations.
Our new Referral Page Builder
Our new page builder lets you create beautiful and dynamic referral pages that are easy to build and customize to your brand. With pre-built templates, sections, and content blocks, you no longer have to rely on custom CSS to make your page look the way you want. Our full-page typography themes and drag-and-drop editor allow you to edit the content of your page in ways that you weren't able to before.
Within minutes, you can now design a referral page that drives more referrals and better matches your brand without the need for a third-party system.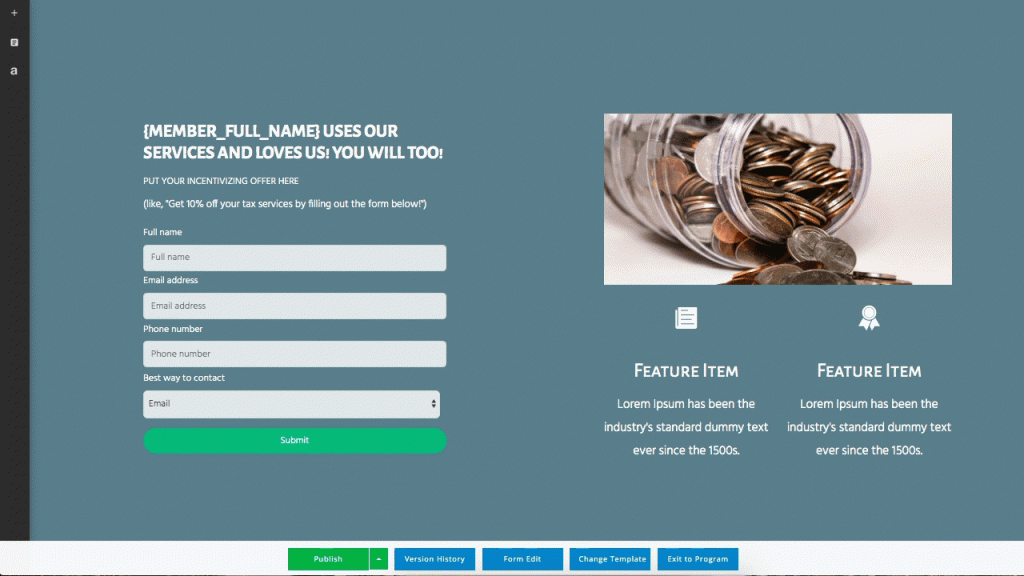 Building out a Referral Form Page inside the new editor
Getting started
If you are a newer Referral Rock customer, you will immediately see the new experience when you go to the Referral Page. If you've been with us a little longer then you'll need to switch to the new referral experience. Now, when you go to the Referral Page you will see the option to check out the new referral page experience.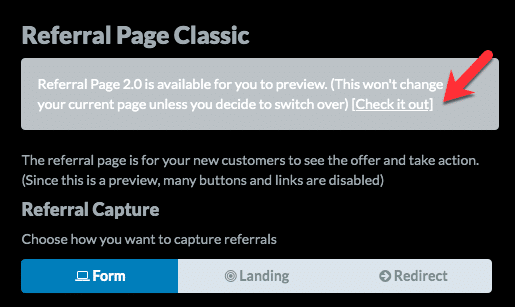 Switching to the 2.0 experience from the classic referral page
This will allow you to preview and build out a page in the new page builder, but we will not make your page public-facing until you select "Switch to 2.0" in the orange box.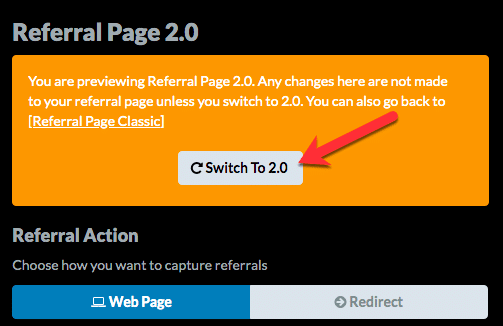 Selecting "Switch to 2.0" will replace your current page with the new one
Important: If you are currently using our classic form or landing page, we do not recommend switching to 2.0 until your new page is fully built out in the new editor.
Templates
Inside of the Page Builder, you will be prompted to choose from our pre-built templates for either a form or call-to-action landing page. These templates will help you get started quickly with an initial layout. Once selected, you can start editing the page to fit your brand and vision by changing background images, theme colors, font style, etc.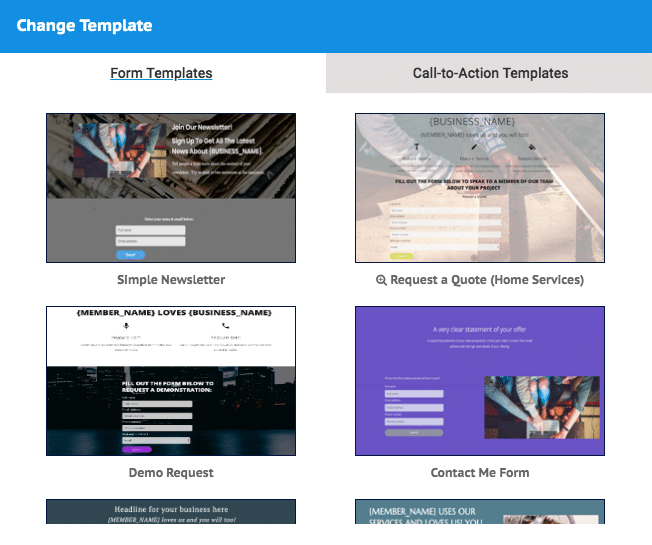 It's easy to get started with our pre-built page templates
Form templates
Using Referral Rock's form templates is the easiest way to get your referral program off to a fast start. Our pre-built forms allow you to collect referral information directly inside of Referral Rock with no integrations required. Plus, with our new page builder, you can now make these forms look better than ever.
Call-to-action templates
If you want to tell people a little more about your product or service before driving them to another site, we highly recommend using one of our new call-to-action (CTA) templates inside the new page builder. This is a great way to personalize and enhance the referral's experience before sending them to your website to convert and capture their information.
The CTA templates give you the ability to create a dynamic page to sell your products and services. And for the first time, you can now host multiple CTA buttons on your referral page. Do you want to drive people to different events or products? You can do that now with our multiple product CTA template!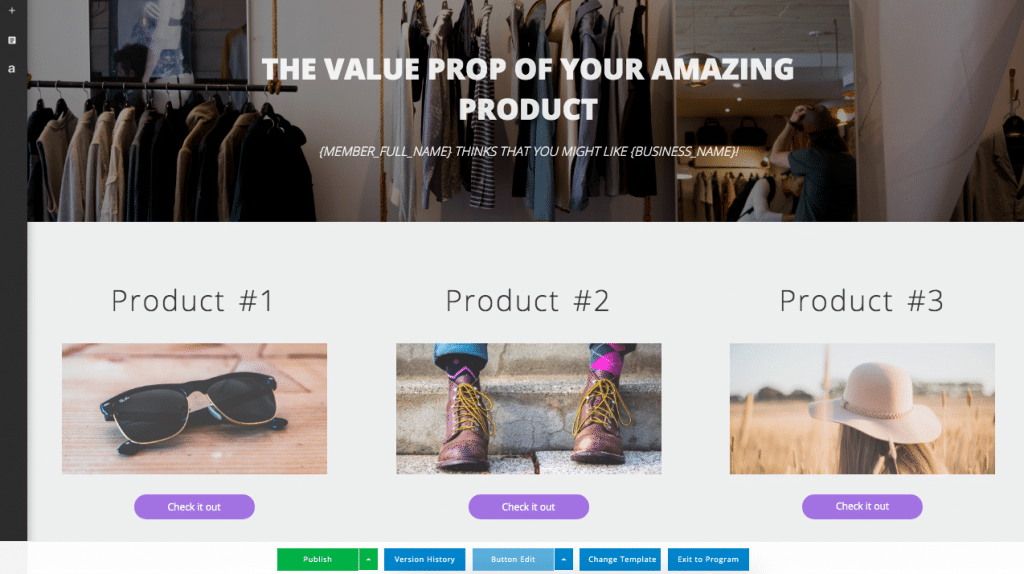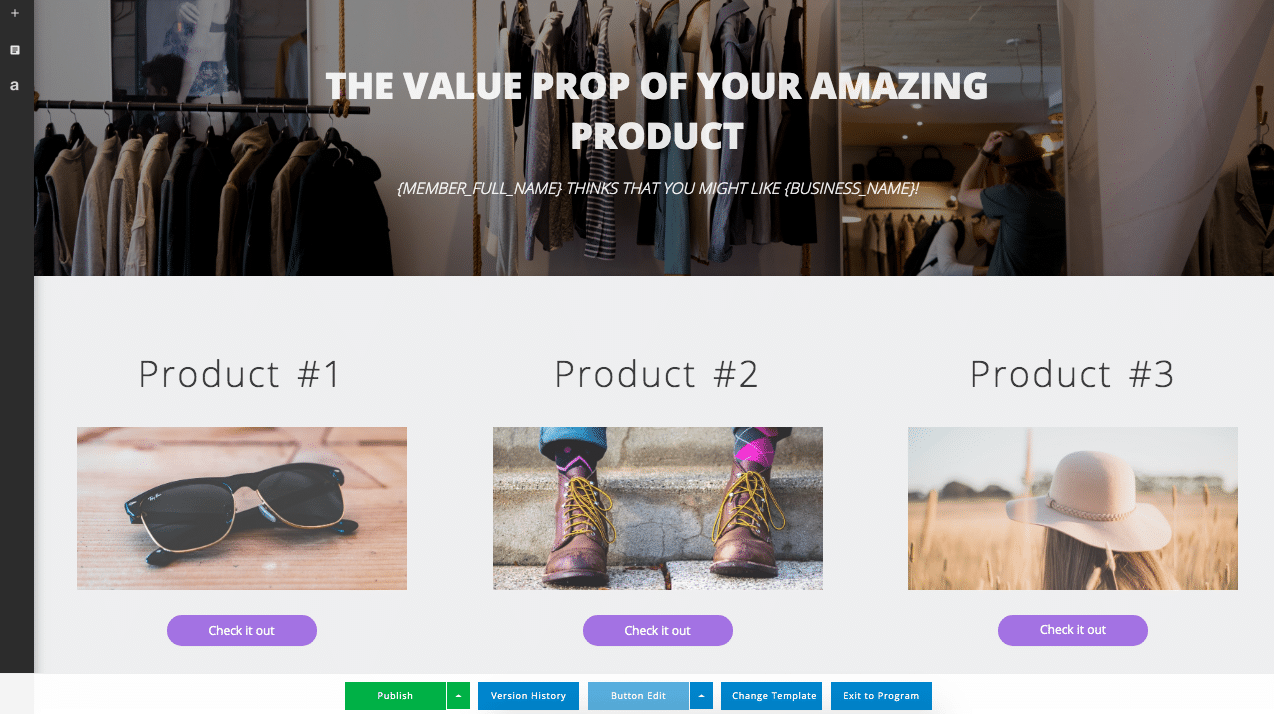 Multiple Product CTA Template inside the new Page Builder
Watch this video to learn more about how to get started with the Referral Page Web Builder. Then, head to your own program to start building better referral pages.
We also suggest checking out our knowledge base article to learn more about the features and functions of our new page builder.
Wrapping up
The new referral page experience is the first of many facelifts that you will see from Referral Rock over the coming months. We're so excited about the upcoming new features and updates to our platform, and hope you've been enjoying these monthly updates. Don't forget to see what's new in our improved rewards and payouts, too.