It's (almost) officially summer in the States, and we are looking forward to a season of sunshine, BBQ, and time spent outside. But that doesn't mean things have slowed down here at Referral Rock.
This month, we are excited to announce improvements to reward rules, as well as some additional gift card options based on customer feedback.
Improved rewards
We made it easier to manage and control your reward rules with time-based rewards and cloning/disabling. You can now set up more advanced reward structures within the same referral program, without having to try and hack at the system.
Time-based rewards
The addition of time-based rewards, or the ability to define a time frame for when rewards are available, gives your team greater flexibility when designing your reward options.
Let's say you want to run seasonal or one-off referral programs. Now, you can set up your reward rules to indicate a start and end date for each reward. This ensures that the reward is only valid during that specific time period.
You control which rewards fire at what time, giving you the ability to apply new reward rules after a specified time or completely "reset" your rewards each season. Start setting up time-based rewards.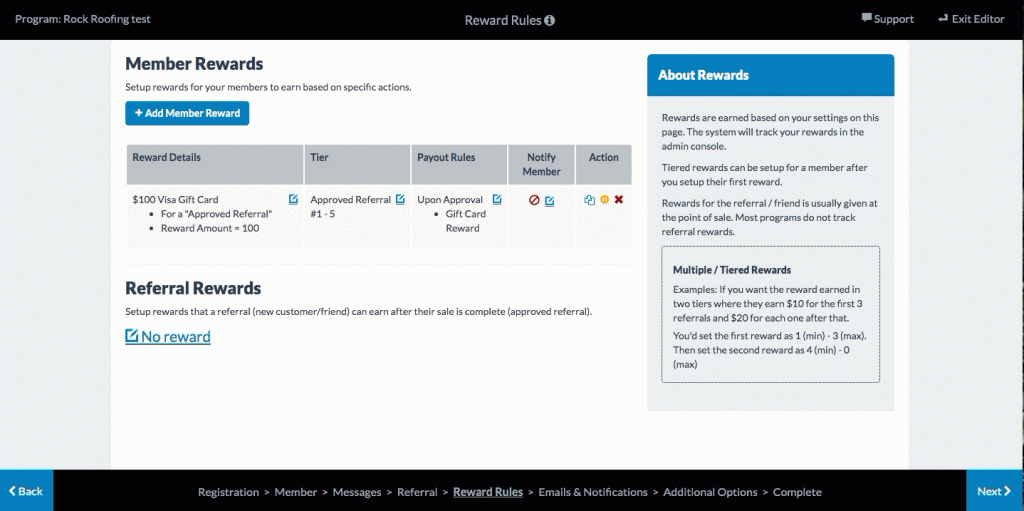 Setting a time limit for your reward rules is easy with time-based rewards.
You can read more about how to set up time-based rewards in our knowledge base
Cloning and disabling rewards
If you have a more complex reward structure, it can take a lot of time to create each individual reward rule. We've simplified this process by now enabling you to easily clone different member reward rules. Check it out.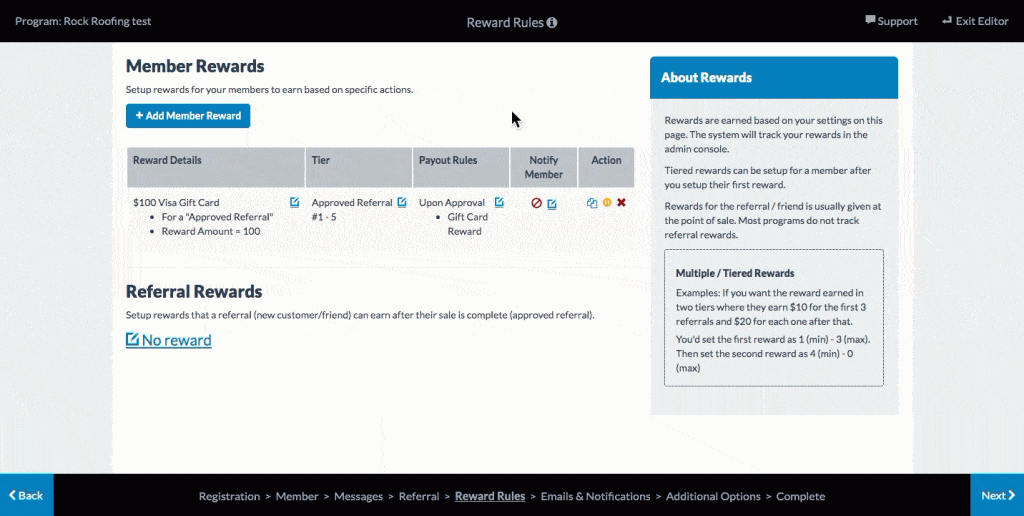 Cloning a reward rule
Also, if you have rewards that have expired (see time-based rewards section above), or reward rules are no longer active, you now have the ability to disable them. Disabling a reward rule will make it inactive, but keep it under the "View Disabled Rewards" section until you re-enable or delete it.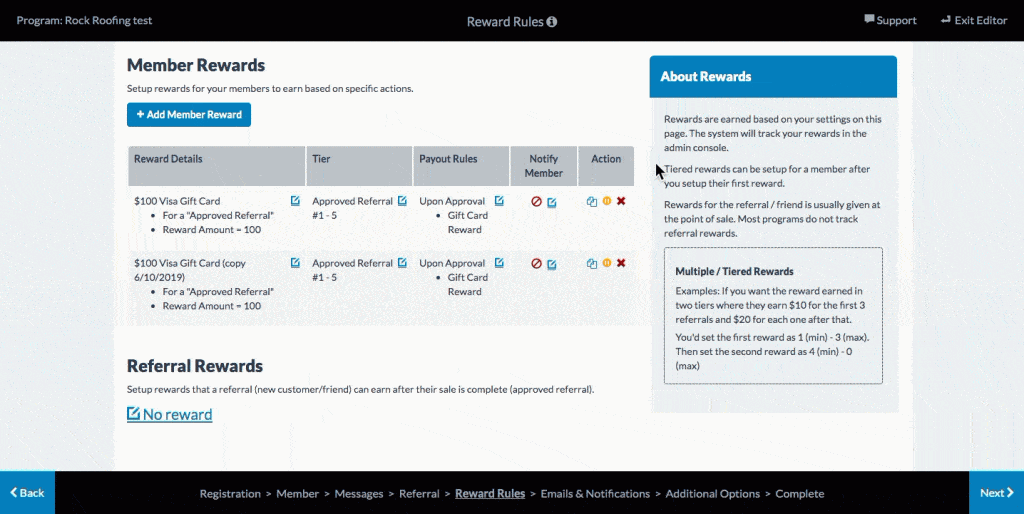 Disabling a Reward Rule
New gift card payout options
A big priority for our team recently has been to offer more options for reward payouts within Referral Rock, especially for our international customers. While we still have a little more to do in this space, we have made some additions to our gift card offerings that we wanted to make sure you're aware of.
Reward link + Visa (US)
Reward link is a great option to allow your members and referrals to pick their own reward. Historically, these choices were limited to retail cards but now, for our customers rewarding in US Dollars, you can now offer a reward link + Visa option, allowing reward recipients to choose between a cash or retail gift card.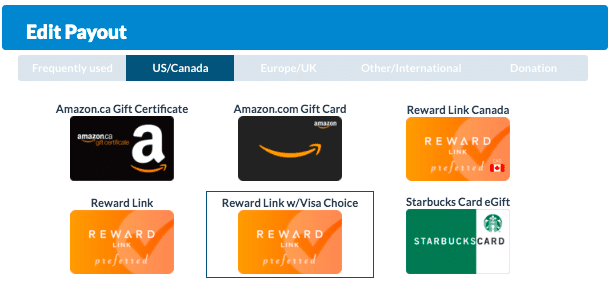 Reward Link with Visa gift card choice
Donation-only rewards
In addition, you can now choose a charitable donation gift card as your reward type. This is a great option for organizations to offer their members and/or referrals to chance to make a difference in the world.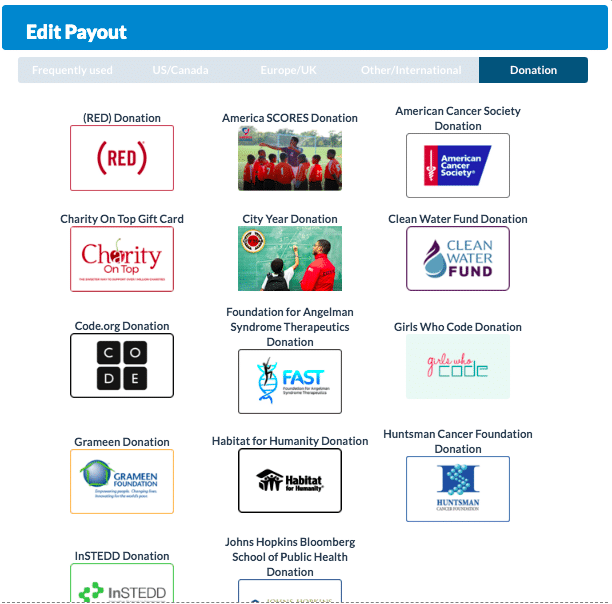 You can now choose a charitable donation as the reward type
More non-US options
Non-US customers can now offer more reward options in their local currency. Just navigate to your Payout page, add/edit a gift card reward, and select relevant tab.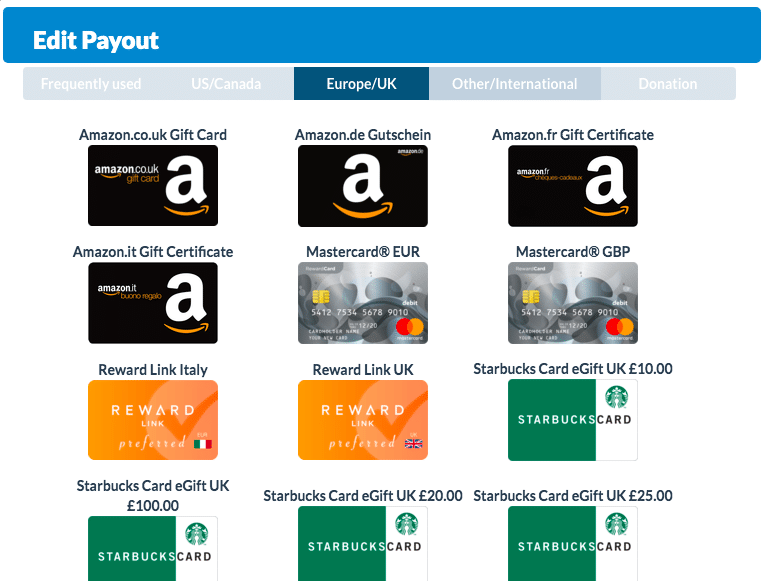 Choose from a list of gift cards in International currencies
Coming soon: PayPal Direct
Our team is currently building out functionality to connect your individual business PayPal account directly to Referral Rock. We'll still handle all the reward logic but now the funds will come directly out of your account (no need to send money to Referral Rock before it becomes available on your account).
This is very beneficial for non-US customers wanting to offer PayPal rewards in a non-US Dollar currency. Just connect your local currency PayPal account.
Apply now for our PayPal Direct beta!
Wrapping up
If you have been keeping up with the last few months of updates, you have probably caught on that a big focus in 2019 is how to make the Referral Rock platform function better for you. Most of the updates you have seen recently have been a direct reflection of your customer feedback (for example, our branded. higher converting referral pages), so please keep the product requests coming.
Be on the lookout for some more exciting product updates and new features in the second half of the year. We're just getting started!