It has been a busy last few months at Referral Rock. We've welcomed some new team members and introduced new processes that we know are going to vastly improve and impact the way that you use our product.
We are so excited for our product roadmap and cannot wait to show you everything that we have been working on.
But before we get ahead of ourselves, we wanted to send a quick update on some new things that you may or may not have already noticed inside your Referral Rock account.
ICYMI: Gather better insights via our new Dashboard
Our old dashboard was great for giving you a quick snapshot of your member and referral data, as well as any actionable items for your programs that needed your attention.
However, we knew that the dashboard could be even more valuable to you, which is why we recently released our new and improved Dashboard Homepage experience!
This new dashboard provides you and your team with even more valuable insights into your members and referrals, such as where your members are coming from and how often they are sharing. See how your referral program is impacting your organization's overall brand with our new brand visits statistic.
Plus, keep track of valuable data happening inside of your account, such as the number of invite emails being sent or if any of your referrals have been blocked by fraud.
Using the Activity Section, manipulate the date filters to dive deeper into the statistics of your programs. Each line graph shows you comparison data for the previous date period that you selected.
All of this valuable information will help you stay ahead of any potential issues and more accurately reflect the ROI of your referral program.
Watch the short video below to learn more about the new dashboard: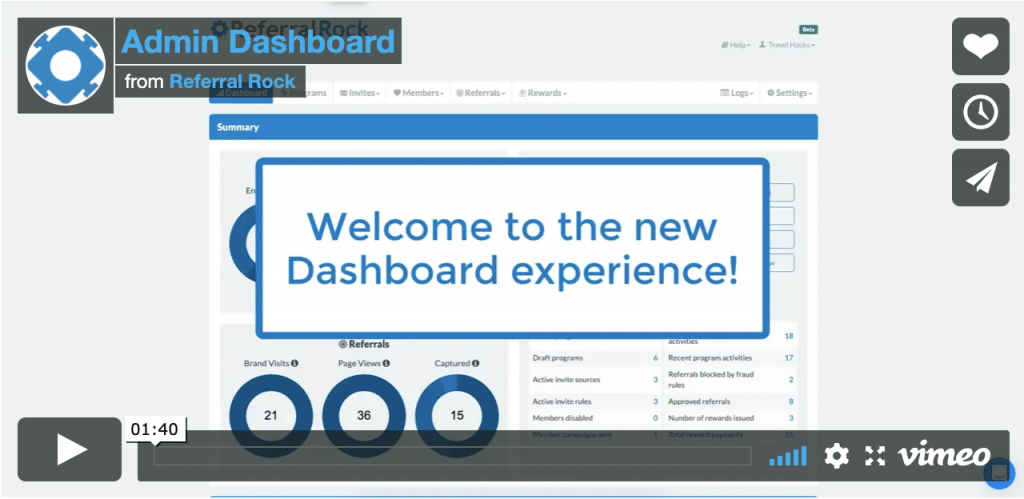 We want your feedback!
Submit your product feedback and bugs
Whenever we debut a new feature, we want to hear from you, our customers. This is why we have recently created a more streamlined process for submitting product feedback and technical issues.
Now, inside of Referral Rock, under the Help section, you will see an option to "Submit Feedback." If you have any feedback about the new dashboard, or any other area of our product, please send us a quick note.
Submit a feature request or technical bug.
Take our recurring rewards survey
Have you thought about issuing recurring rewards through your referral program? Recurring rewards involve sending members repeated rewards for the same referral. This is common with affiliate or partner programs where your partners may expect a monthly commission for successful referrals.
Historically, setting up recurring rewards is complicated and cumbersome. We are looking to change that.
If you are interested in recurring rewards for your referral program, please fill out our short survey to ensure we build a feature that meets your needs.
Take the recurring rewards survey.