The updates to our product over the last month have been centered around helping you create get your program designed faster, as well as giving your team more control over your member registration process.
Build your Referral Page faster
The debut of our new web page builder was a big hit in 2019. We have loved seeing the beautiful referral pages your teams have created, and at lightning speed!
Recently, we've released an updated and enhanced version of the Referral Page Builder. Our newest version of our Referral Page builder made leaps and bounds on its ease of use.
It's just flat-out faster and offers some great new features, such as pre-designed section templates and a responsive preview option. One of my favorite changes is it's so much easier to move elements around to control the layout
Along with this recent release, we've also added new form templates. Whether you are looking for a basic form or something more detailed, these new templates will get your referral page off the ground in no time.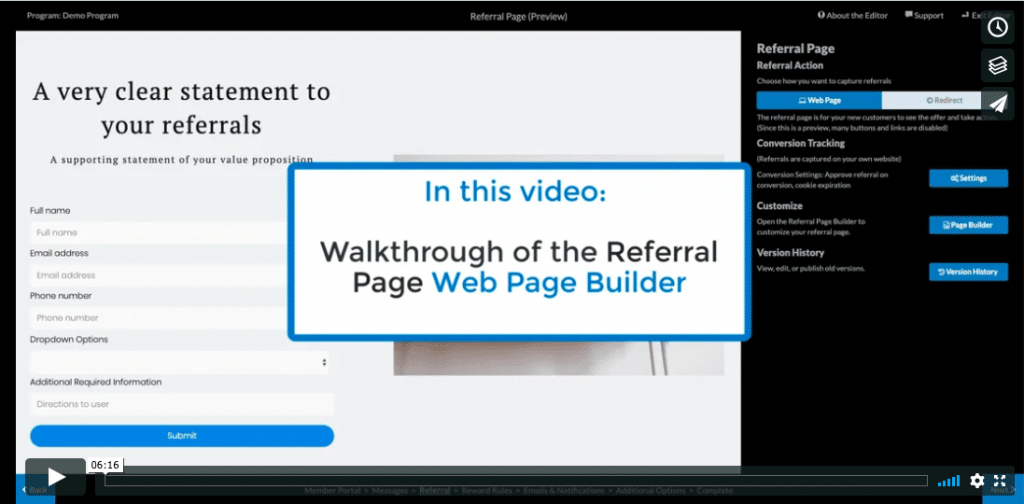 Interested in using our Page Builder for your Referral Page? Watch this quick tutorial video to get acclimated with the editor.
More control over your registration process
Our new portal was designed to make registration as easy as possible for your members. While this simplified registration process works for many, we understand that some referral programs may require some additional control in order to register new members.
When setting up your referral program, you can now add up to four custom fields to your program's registration experience. When enabled, members will be brought to a second registration page requesting the additional required information. Read more about how to set up custom registration fields.
In addition to custom registration fields, now, on the Additional Options Page within the Program Editor, you can protect your program's membership to only the individuals who are qualified to join.
This is a great option for our customers who are running affiliate or influencer programs. Similarly to when you hit your member limit, once enabled, you will manage all pending members from your Member Requests Page.