5

minutes to read
Guest Post
Kimberly Maceda
 is a Content Writer for 
ActiveTrail
. She writes for some top online marketing sites and blogging advice on email marketing and marketing automation. ActiveTrail is a leading provider of professional-grade email marketing and automation software for growing businesses.
A lot of marketers focus on customer acquisition tactics these days. In their heads, more customers are better for business. However, one factor is missing from this equation. The better way to look at it is, the more loyal customers, the better it is for the business. What use is it if a business cannot maintain their existing customer pool. Some people go to email marketing automation software to keep a sense of loyalty but what they do not know is that there are so many tactics available out there.
To solidify the importance of customer retention, here are some quick statistics for you to munch on:
It costs five times more to acquire a new customer than to maintain an existing one
Marketers spend less than 30% of their time on customer retention tactics
Loyal customers tend to increase their purchases for up to 67% more than new customers
A boost in customer retention of up to 5% can help increase profitability by up to 95%
The success rate of selling to an existing customer can be as high as 70% while it is only up to 20% for new customers
Convinced yet? And to further push you to also focus on customer retention, here are 5 tactics that are easy to execute and can help for a great Customer Retention Strategy.
1. Build Solid Customer Relationships
Once customers are in, one great way to keep them is to build a relationship. How? Simple, keep in touch with them through email campaigns. Crafting visually stunning and well-thought of email campaigns can be a great way to keep people interested in your business.
Keep your existing customer database in the loop by sending out email campaigns about new products, promos and other exciting news about the business. But these aren't the only means to build a relationship. It's a two-way thing. You can also send out a feedback form to know what they currently think about your business. In this way, they would feel that you care about their experience and want to improve.
Spice up your campaigns by checking out the templates of your own email marketing automation software.
2. Personalize Your Engagement
Build trust among your existing customers by personalizing your engagement with them. It shatters the notion of being too professional and that you're really after their wellbeing. With personalized engagement, customers know that they can reach out to you any time they can!
With this kind of relationship, you're sure to build trust in no time. And a customer that trusts in a brand, explores it. This means that they are more susceptible to suggestions and other products or services that your business has to offer.
3. Provide Excellent Customer Service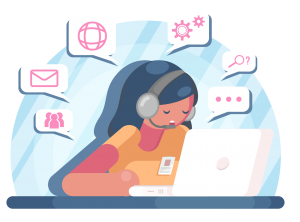 Customer service is a very crucial aspect of any business. It can sometimes make or break your customer relationship. In fact, 89% of customers changed to a competitor business all because of bad customer service.
In this digital world, it is very easy to start any customer service effort. However, maintaining it is another story. But if you get to do it right, you'll be glad you started in the first place.
Being reachable all the time is the key – whether it be via email, message over social media or website chatbox. Even if you can't reply immediately, a simple acknowledgment will suffice. Just make sure to get back to them within the next 24 hours if possible.
4. Offer Quality Loyalty Programs
Loyalty Programs and referral programs are great ways to hook customers to your business. It not only offers an opportunity for them to try out your services but it's a great way for you to treat them for being a customer in the first place.
Quality rewards programs are good for the business in different ways – satisfied customers can help grow the business and they can boost business revenue. Time and again, we've stated how important relationships are and loyalty programs are one way to further establish it. In fact, 75% of customers believe that loyalty programs are part of their relationship with the business. So, put thought and heart into this tactic if you decide to push through.
For those that have yet to be part of the program, send out a witty campaign with the help of your email marketing automation software to lure them in.
5. Create Great Customer Experiences
A great motivating factor for customers to stay with your business is a positive experience. Whether it is through your employees, customer service or the actual product, it doesn't matter. As long as the customers experienced a moment of joy, it is a huge plus for you!
Customers want to know that they can be heard and you're paying attention. So turn the tide around on customers who had bad experiences by providing them a satisfactory solution to their concern and not just the standard or templated reply to any query. Showing a bit empathy for those who've had it tough can go a long way for your business.
Start to Improve Your Customer Retention
Loyalty pays well for any business who is wise enough to conduct customer retention strategies. It doesn't have to be complex. Keep it true to the brand and just always remember that the goal is to make every move a means to improve relationships with your customers.